BitTorrent Token Airdrop: What You Need to Know
The BitTorrent Token (BTT) is determined to stay in the limelight for as long as possible. This includes monthly airdrops started by its backing project Tron, starting today and running until February 2025, getting bigger with every passing year as a reward for Tron's long-term investors.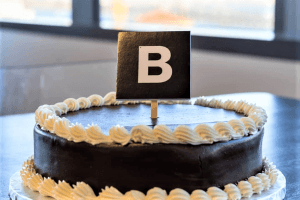 Tron has created a total of 990 billion BTT Tokens on its blockchain network. 10.1% of the total BTT tokens are assigned for airdrops to TRX holders over the next six years. When the Tron blockchain reaches a block height of 6.6 million, the team will take a snapshot of TRX balances and split up the first airdrop proportionally to all TRX holders. The first 12 airdrops should each distribute 990 million BTT tokens. Holders of one TRX should receive 0.11 BTT today, according to major cryptocurrency exchange Binance.
Users don't need to hold their tokens solely on Binance to receive the BTT airdrop. A number of exchanges have pledged their support for the BitTorrent Token (BTT) airdrops. Some of them include OKEx, Huobi, Bithumb, Upbit, Gate.io, Bibox, BitForex, Coinsuper, Kucoin, Bittrex and others. Also, Tron Wallet and Trust Wallet have confirmed supporting the airdrop for other BTT-like TRC-10 tokens as well as this one.
As the total monthly airdrop increases, it will max out at 1,402,500,000 BTT per month in February 2025. "Think of Tron and BitTorrent like a razor and a blade," Justin Sun, founder of Tron and CEO of BitTorrent, told CoinDesk. "You need both together to create a new internet economy driven by decentralization. We are seeding BTT to deliver a marketplace of innovations and applications across the web."
However, as reported, it seems that BitTorrent users are hiding their interest in the new token successfully, as their forums lack any discussions pertaining to them.
BTT price chart: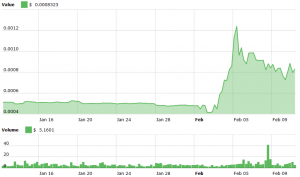 Meanwhile, Sun also took the time to take a jab at Vitalik Buterin, co-founder of competing smart contract platform Ethereum. "Now we are both [at] 832k [followers]. We started six year [sic] after you but we always know it is never too late." Buterin has not replied to him, while the rest of the community is pretty miffed at this tweet, deeming it unnecessary.
Tron plans another surprise for their users this coming Valentine's Day. Sun recently tweeted, "We'll have a secret campaign released on Valentine's Day for TRON and BitTorrent! Numerous celebrities will be on board. FYI, one of the main character in Friends, one winner of 3 Golden Globe Awards & one winner of 4 Super Bowl titles."
Tron price chart: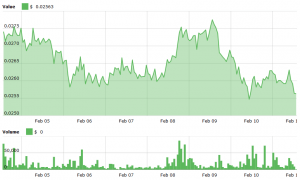 ---