How Sustainable is the BitTorrent Token Rally?
Only a week ago, the new BitTorrent Tokens (BTT) sold out within minutes, and now their price is shooting up, having gained more than 800% since its sale on January 28, more than 120% in a few days in February and jumping by almost 60% in the past 24 hours (UTC 10:00 AM.) However, the questions still remains how sustainable this rally is, as it seems that the people using file-sharing systems BitTorrent and uTorrent are not all that fazed by the new token.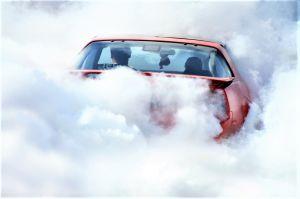 Part of the reason of the jump in price is the fact that since the token sale, a number of cryptocurrency exchanges have listed BTT for trading, including major players such as Binance and Upbit.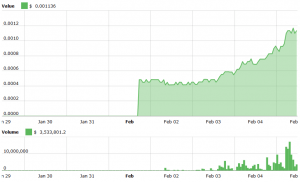 The increase in price, as well as the amount of trading volume (USD 582.6 million on nine active markets as of the time of writing) shows that the community is very interested in BTT. The obvious questions is - which community? Interestingly, it seems that BitTorrent and uTorrent users are hiding their interest in the new token successfully, as their forums lack any discussions pertaining to them. Instead, most of the interest comes from cryptocurrency traders, as social media is full of discussions about charts, graphs, and price movements.
"We decided to take a look at a place where the potential BTT users reside – in the BitTorrent and uTorrent forums, for example. Interestingly, there is not even a single mention of the new token, Tron, or the "BitTorrent Speed" project in general," Ernesto Van der Sar, founder and editor-in-chief of TorrentFreak, a filesharing-focused media publication, wrote.
"This doesn't mean that there's no interest all, but it looks like most of the outreach is targeted at crypto investors instead of uTorrent and BitTorrent users. Perhaps that will change later, but it certainly seems odd. After all, these uTorrent users are the ones who are expected to actually use BTT as "currency," he added.
Meanwhile, the token is traded in high volumes on both Binance and Upbit. However, Binance lists it as Bitcoin (BTC), Tether (USDT) and Binance Coin (BNB) trading pairs, while Upbit only trades BTT against the Korean Won (KRW).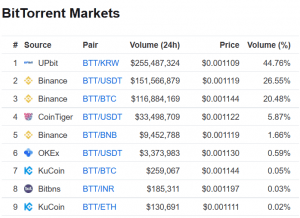 The token sale came months after BitTorrent was acquired by Tron last summer for reportedly USD 140 million, and weeks after a new cryptocurrency was announced that would be integrated with BitTorrent's peer-to-peer file-sharing tech. The public sale was worth around USD 7 million on Binance's token sale service Launchpad. The Launchpad platform was actually dealing with technical difficulties during the sale, and Binance CEO Changpeng Zhao tweeted, "Both sessions concluded. Took about 18 minutes, due to a system issue, would have taken 18 seconds otherwise. Demand was astronomical."
Those in the community that managed to acquire the tokens during the sale are already making profits. Reddit user u/Raiz83 is one of them, and on topic of whether BTT is a good investment he wrote: "It doesn't matter if you invest your small amount of money in coin A or coin B. If it goes up 10%, you make 10%. I see BTT as a 'penny stock' coin. If it goes up just a few sats you have big profit. But on the other hand, if it goes down a bit.... high risk high reward etc."
Meanwhile, another Redditor, u/W1ldL1f3 offers a different perspective. "Do people pay for torrents now? No. Will they ever start? Very, very doubtful. It's a pump and dump coin imho," he wrote. This sentiment is often echoed: torrents, as a type of filesharing, are popular exactly because they're free, so the token will lose its value as it loses its utility, skeptics believe.
However, according to the whitepaper of BTT, "there should be nothing mandatory about this ecosystem and users will retain the right to opt out for any reason." BitTorrent claims has "more than 100 million monthly active user and millions of additional new installs every week."
"In one giant leap, we can introduce blockchain to hundreds of millions of users around the world and empower a new generation of content creators with the tools to distribute their content directly to others on the web," Justin Sun, founder of Tron and CEO of BitTorrent, said in January.
---