Justin Sun Denies Bid to Enlist 13.6m-sub YouTuber as Tron 'Shill'
A YouTuber with over 13.6 million subscribers and over 5 million followers on Twitter said he was approached about promoting the tron (TRX) token – a charge which Tron chief Justin Sun has rushed to deny, despite skepticism from the crypto community.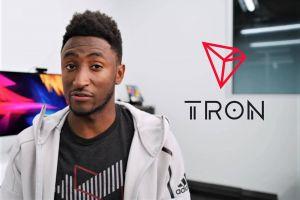 The controversy began when the YouTuber in question, Marques Brownlee (aka MKBHD) live-streamed an explanatory video about the dogecoin (DOGE) phenomenon. Around midway through the video, however, he began to describe an email he received, claiming that it was from Tron or someone representing the network.
He stated that the email detailed information on how Tron had paid high-profile influencers such as pop stars Lindsay Lohan and Ne-Yo to make sponsored tweets on their social media posts, without publicly revealing they were affiliated with Tron – reiterating allegations that may land Sun in trouble with the American regulatory Securities and Exchange Commission.
Brownlee went on to say the email contained links to the celebrities' posts, who had engaged in what he termed "cringe behavior."
And the emailer went on to ask Brownlee if he would be prepared to accept sponsorship in return for posting about Tron on his own social media platforms.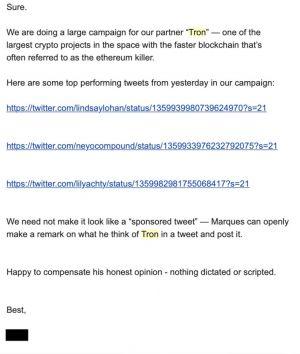 But Brownlee took a dim view of the approach, claiming that it was an example of the very antithesis of a project like DOGE, where growth was organic.
He said of Tron,
"They clearly take themselves way too seriously. They have people with stakes in it, paying people to talk about it to hopefully get it more attention and to boost volume and to boost prices and a strategy like that comes off as so insincere and so try hard that like."
Then, referring to the live comments on his stream, the YouTuber added,
"Just look at the comments, everybody! People are already turned off by it. Actually people kind of hate it."
Recruiting paid "influencers" to subtly promote companies, products and services is a common practice in the public relations world, and a common tactic for agencies.
Regardless, Sun rushed to deny the allegations that he had anything to do with the Tron governing body – replying to Brownlee's post on Twitter, writing,
"Sorry, this was not authorized by the Tron Foundation. We will work with our community and see if we can find out any information about this incident."
And in a separate series of tweets, Sun distanced himself yet further from the approaches, writing,
"There have been rumors lately of third party celebrities being paid to promote Tron. The Tron Foundation is not involved in these activities. Nor is the foundation aware of the actors behind this."
He wrote that Tron "believes that transparency is key," adding, "If any celebrities are paid to promote Tron, we require them to disclose."
On Twitter, a number of commentators seemed unimpressed, with the EthHub co-founder stating that the email was evidence of Tron asking Brownlee to "shill" the token "for payment."
The Block's Director of Research Larry Cermak opined that it was "clear" that the move did not originate with the Tron Foundation, but added that it was still a "really bad look" as "someone is paying for this campaign and surely aware of the strategy."
Others were far more suspicious, with one expressing disbelief that "three D-list celebrities just got up and decided to tweet about TRON on the same day."
The third alleged Tron-sponsored celebrity is the porn actress and director Kendra Lust.
One crypto podcaster decided to turn the sarcasm up to 11.
Sun's year is off to a decidedly torrid start. In addition to the latest allegations, he is also fighting fire from leading American politicians, with DLive, a decentralized streaming platform under his BitTorrent (BTT) umbrella, accused of allowing right-wing extremists to share their views ahead of the storming of the Capitol building in early January.
Politicians say that DLive allowed streamers to raise funds in crypto via the platform, with some even receiving payouts for streaming video posted from within the Capitol building.
And Sun has also admitted that he lost a whopping USD 8m on an investment in GameStop shares, compounding the misery for the Tron chief.
At the time of writing (08:53 UTC), TRX trades at USD 0.053 and is up by 2% in a day and 30% in a week. It rallied by 75% in a month.
___
Learn more:
- Justin Sun Incites SEC With Tron Shilling After Suffering USD 8m GameStop Loss
- Active Addresses Number of Tether's Tron Version Eclipsed Ethereum Version
- Tron's Justin Sun Jumps On the GME Purchase Bandwagon With USD 1M Bag
- Tron's Justin Sun Forced To Explain Himself Over Dictatorship Accusations Again
- Justin Sun Says Only These People Question Him
- The Tron/Justin Sun Scandal Gets Hotter as Cryptoverse Seeks Explanation
---