Japanese Bank Joins Stablecoin Frenzy
Another Japanese bank has begun experimenting with a digital fiat "stablecoin." Per Nikkei, the First Bank of Toyama has launched a pilot scheme for its own blockchain-powered stablecoin, with a view to commercializing the token in October 2019.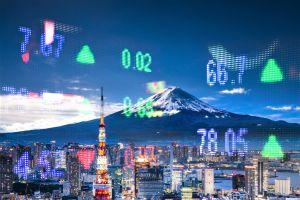 The token will reportedly allow consumers and vendors access to fee-free remittance and payment options.
Tentatively named the First Bank Coin (FBC), Nikkei states that the token will initially be used to make remittances to its employees via a smartphone app. Stores in the bank's headquarters in Toyama will also accept FBC payment. The token will be pegged at a rate of 1:1 with the Japanese yen.
The First Bank of Toyama was founded in 1944, its market capitalization stands at almost USD 26 billion.
The regulatory Financial Services Agency last week told a media outlet that it did not consider stablecoins to be cryptocurrencies – a factor that could likely see yet more Japanese financial services companies join the fray.
Japanese banks have been keen to climb aboard the stablecoin boat, and have launched similar ventures in recent months. Mitsubishi UFJ Financial Group, the largest bank in the country, is now in advanced stages of its own stablecoin testing. The bank is currently running an unmanned store at its headquarters where employees can buy drinks and snacks in its MUFG stablecoin.
Last month, GMO Internet, operator of one of the country's largest cryptocurrency exchanges and its own GMO Aozora Net Bank, announced the launch of a stablecoin project. GMO stated that its project had already won support from other banks in the country.
Meanwhile, tether, the largest stablecoin by market capitalization, once again experienced a sharp drop this weekend. The stablecoin that is supposedly tied to the US dollar at a 1:1 ratio, dropped to USD 0.95 on Sunday before recovering to USD 0.99 at the time of writing.
On Friday, Tether said it has a bank account with Bahamas-based Deltec Bank & Trust Ltd and the account holds USD 1.8 billion as of October 31st. However, the community does not feel that their concerns that the company does not have the fiat holdings to fully back the tokens in circulation have been laid to rest with this declaration.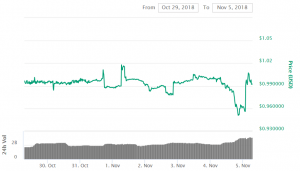 ---