It's Best Time Ever to be a Black Friday Bitcoin Shopper
Turns out, there are all sorts of things one can pay for with their crypto, with options increasing each holiday season. Admittedly, we're still far from being able to buy absolutely all we need/want, but we're definitely closer than ever.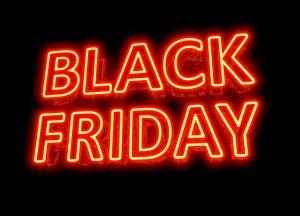 Thursday, November 28 is Thanksgiving in the United States, and this holiday is followed by one of the largest shopping phenomena, called Black Friday. It's the first day of the Christmas shopping season, and retailers make numerous special offers to please their customers, who usually make some very good deals on this day. Pretty much anything can be purchased for a lower price – but in fiat.
We were wondering what the Thanksgiving / Black Friday season is offering to those wanting to pay with their hard-earned and/or hard-hodled crypto. "I have decided not to continue running the Bitcoin Black Friday event," said founder Jon Holmquist in a statement. "After 7 years, and 6 successful events, I have fallen out of love with using bitcoin as a means of consumer payment." And that marked the end of one of the best-known events in the Cryptoworld, but worry not, as there's an abundance of other events waiting for your crypto.
Crypto wallets and charts
There are various ways that crypto-wallet-related businesses and apps enable you to do your Thanksgiving / Black Friday shopping. A major crypto wallet-maker, Ledger, has a 30% off sitewide sale, announcing that "it's Black Friday all week." The promotion is live from November 25 to December 2, for Nano X, Nano S, Backup Pack and OTG Kit bought through the site. Furthermore, another major wallet, Trezor, also has a special offer of 30% off with a promocode from November 26 to December 3, with free shipping to EU and the U.S.
But if you need different kind of tools, for two more days, TradingView, a web-based charting package and trading social network, offers 40-60% on its Pro, Pro+ and Premium plans.
Through an app into a major shop
This option alone will get you inside many large shops to buy anything they offer. You can use an app, such as SPEDN, a product of a payments startup Flexa and cryptocurrency exchange Gemini, to shop at certain large retailers, such as Bed, Bath & Beyond, Whole Foods, Nordstrom, and Barnes & Noble. You can pay in Bitcoin (BTC), Ethereum (ETH), Bitcoin Cash (BCH) and Gemini Dollar (GUSD). You can also go through the U.S.-based crypto payments startup Fold, also known for its Lighting Pizza, to shop at a variety of major retailers. Just like offering additional discounts on the Prime Day, Fold announced "unprecedented" cashback in BTC for Black Friday season, up to 20% satsback on every purchase.
Directly to retailers
There's actually a number of retailers you can shop at directly using your crypto. You can search among thousands of available items over on the crypto-friendly Overstock.com, all of which are 70% off as a part of their Black Friday sale, in addition to free shipping, according to their website. This Friday will also see a 60% discount on all crypto-themed fashionable items over at Kryptoez, as well as up to 90% discount on Newegg on a variety of different items during their Black Friday sale.
Miners rejoice
Every holiday luckily offers special deals on mining equipment – which is excellent news given their high price. Crypto Courier Mart, for example, is having a special Black Friday event now, offering 30%-50% off on a number of popular products, including Antminer from mining hardware giant Bitmain, which you can pay for in crypto.
Charities
Give crypto. Give education.
This is a motto of Pencils for Promise (PoP), a non-profit organization that builds schools and works on increasing educational opportunities in the developing world. They announced that they now accept donations in crypto - to be precise, in BTC, ETH, BCH, GUSD, Litecoin (LTC), and ZCash (ZCH). The site states that 100% of tax-deductible crypto donations go towards educating children globally. "Pencils of Promise received a significant cryptocurrency donation from the Pineapple Fund in 2017," said Tanya Ramos, CEO of PoP. "We have experienced the power of cryptocurrency in the social impact space firsthand."
Bitcoin Tuesday
Speaking of donations, Pencils of Promise partnered with The Giving Block, a team of nonprofit strategists and cryptocurrency investors that helps nonprofits to fundraise crypto. They are the organizers of Bitcoin Tuesday, held on the Tuesday after Thanksgiving, which falls on December 3 this year. Anybody can join and donate to one of many crypto-friendly nonprofits. In an emailed press release, Alex Wilson, co-founder of The Giving Block said that "Giving Tuesday inspires millions around the world to support and give to the causes that matter to them. But, despite the enhanced tax benefits that crypto donations can offer donors, the day has failed to capture the attention of crypto donors in years past." Co-founder Pat Duffy added that "Bitcoin Tuesday will introduce a largely traditional audience to Bitcoin and other cryptocurrencies, driving crypto adoption. When nonprofits accept crypto donations, the world sees crypto as the force for good we know it to be."
CryptoGivingTuesday and BitGive
Crypto can be given any day of the week. These two organizations do not offer one-day/seasonal/Thanksgiving-related events, but should still be mentioned as options for your donation this holiday season. CryptoGivingTuesday will enable you to donate different cryptos to a number of nonprofits and NGOs. BitGive, founded in 2013, takes less than 1% in fees, while providing transparency and accountability, as its GiveTrack project allows the donors to see how the money is being spent in real time, the website claims.
Earning through extensions
Not everything's about spending/giving. Something's about earning too. There are options for you to use fiat to shop but earn crypto back. Besides Fold, we've reported previously on two extensions that let you earn money: Moon and Lolli. New York-based Moon is a browser extension for Chrome, Brave and Opera, that allows you to pay with Bitcoin, Litecoin, Ether or Bitcoin Cash on certain e-commerce sites, with more sites to come, and earn crypto back upon purchase. Lolli, available via website or browser extension for Chrome and Firefox, enables their users to earn BTC when they shop from Lolli's partner merchants, such as Bloomingdale's, Office Depot, Gap, Old Navy, and more. They partnered with a major goods and food delivery service, Postmates, at the end of August and have announced a new partnership to be launched tomorrow.
Crypto sale!
OK, not a sale per se, as crypto is being sold 24/7, but it just so happens that the entire market had a little bit of a tumble two days ago, coinciding with the Thanksgiving week, so you can get some crypto for yourself for a lower price than we've gotten used to in the past few months. The last 24 hours are already green for the majority of the market, but as we know, the prices can go up, or they can go further down, really quickly - so this type of a 'sale' is a risky business. In either case, top 10 coins by market capitalization are now 11%-26% cheaper than a month ago, but seven of them are 12%-230% pricier than a year ago. As the cliché goes, 'only time will show' whether this 'sale' was a good time to buy some cryptos.
---