Gemini Dollar
GUSD
Gemini Dollar
Gemini Dollar (GUSD) is a regulated stablecoin pegged at a 1:1 backing with the US dollar and issued by Gemini Trust Company, the company running Gemini digital currency exchange.
| Market Cap | Volume 24h | Circulating Supply |
| --- | --- | --- |
| $211,299,217 | $8,767,495.11 | 210106380.0 GUSD |
What Is Gemini Dollar (GUSD)?
Gemini Dollar (GUSD) is a stable cryptocurrency which links traditional banking system and the rapidly evolving crypto economy. It combines the price stability and creditworthiness of the US Dollar and enables instant global transactions. Its US dollar reserves are held at a United States bank and are eligible for FDIC "pass-through" deposit insurance.
GUSD is regulated by the New York State Department of Financial Services (NYDFS), Its custodian is State Street, one of the oldest operating bank in the United States.
Gemini takes the risk of printing tokens because, as they state, "the amount of Gemini dollars issued and in circulation must never exceed the underlying US dollar balance."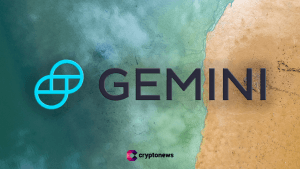 What is a Stablecoin?
Stablecoins are cryptocurrencies pegged to external assets. They can be pegged to fiat currencies, precious metals, oil, other crypto assets or even algorithms. The entire point of doing so is for the coin to maintain a steady value instead of going through dramatic price swings which are typical for the crypto market.
Stablecoins retain the same value as their underlying asset. For example, if a coin is pegged 1:1 to US dollars, the coins value revolves around the value of one USD. The general idea here is to have a stablecoin which sustains value over a more extended period.
Stablecoins play an essential role in the crypto markets. They let people make use of the benefits of the distributed ledger technology without having to go through extreme volatility. Also, traders and other players use them to hedge their earnings. Most of the stablecoins can be redeemed for their underlying assets and generally serve as a precaution against the market volatility.
Despite proving to be more stable than other cryptocurrencies, there are also many stablecoin critics in the crypto space. The main criticisms of stablecoins are they are more likely to be centralized (one or few entities have complete control over them) or that they derive their value from real-world assets, whose value also changes over time.
Who Stands Behind the Gemini Dollar?
Gemini is led by Cameron and Tyler Winklevoss, brothers who are also known as the Winklevoss twins. Together, they founded the Gemini Exchange.
The official website also states Gemini Dollar was created with the aid of "top technologists and security engineers."
On the regulatory front, GUSD is overseen by the NYDFS. Unlike other stablecoins, like PAX or TUSD, Gemini keeps the USD deposits stored at one bank only - State Street. Also, the company employs an accounting firm BPM for periodic audits.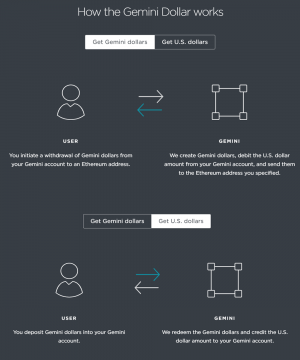 How Does Gemini Dollar Work?
Gemini Dollars are issued on the Ethereum blockchain. Thus, it's always possible to inspect the tokens and see how they circulate using the provided smart contract address.
In brief, they are produced when you deposit funds into Gemini's custodian account and "destroyed" upon redemption of USD. The distributed ledger confirms the supply of coins, while the auditing firm ensures the corresponding number of USD holdings. Each GUSD token represents USD dollar held in reserves.

In more technical terms, Gemini oversees Gemini Dollars using layers of smart contracts that perform different functions. There are three critical layers in the Gemini system:
The Proxy Layer. The governance layer which specifies eligible on-chain actions. It is also responsible for the creation and transfer of GUSD coins and includes a mechanism to stop specific on-chain activities if needed.
The Impl Layer. It contains all the data for the execution of the smart contract. It's responsible for creating, transferring, and "burning" of the tokens. The Impl layer also ensures every GUSD token is printed for every USD in reserves. However, the increasing and decreasing token supply must be approved by the supervising custodians first.
The Store Layer. The ledger which calculates the balances and makes them public on the blockchain.
The entire Gemini Dollar ecosystem is briefly summarized in the following picture.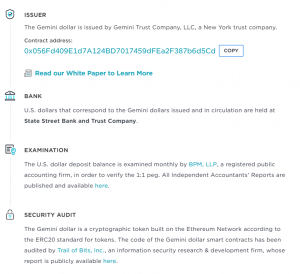 Source: Gemini.com
GUSD Security Features
Gemini Dollar uses the following security measures:
1). Offline Keys. They approve risky actions and are stored in Gemini's proprietary cold storage.
2.) Key Generation. Gemini uses hardware security modules (HSMs) to generate, store, and manage keys.
3). Multi-signature. Risky actions need approval from minimum two signers. Such an approach provides security and fault tolerance.
4). Time Lock. Activities that are identified as risky also are locked for an unspecified period prior execution. It provides a necessary period to detect and respond to potential security breaches.
5). Revocation. Malicious actions can be revoked just before execution.
GUSD monthly attestation reports can be found here.
How Gemini Dollar (GUSD) Differs From Other Stablecoins?
Like other recently released stablecoins, GUSD was conceived in the light of the Tether controversy.
Fundamentally, Gemini Dollar (GUSD), TrueUSD (TUSD), USD Coin (USDC), and Paxos Standard Token (PAX) are like Tether (USDT), since all of them rely on a centralized entity that keeps assets in a trust account and issues corresponding tokens. Everyone who holds these coins is entitled to 1:1 claim to their underlying assets, which, here, are US dollars. Unlike Tether, all these companies are more transparent and are open about their partner organizations like holding entities, accounts, and regulatory compliance.
Although the stablecoins mentioned above use different code and partner organizations for their operations, the fundamentals remain pretty much the same. Also, all these coins have some centralized features like freezing funds or suspicious transactions. Hence, they aren't censorship-resistant in a way that Bitcoin or Ethereum is.
One popular stablecoin that stands out is the DAI coin by Maker, which, technically, is the only censorship-resistant stablecoin maintaining 1:1 peg with the US dollar. To mint one DAI, a user must send crypto collateral (e.g., ETH) to a smart contract, which in turn creates a collateralized debt position (CDP). Thus, DAI extracts its value of the original collateral. Due to smart contracts, price feeds and oracles, the token maintains a stable 1:1 peg to USD.
Where to Buy and Store GUSD?
At the moment, Gemini Dollar (GUSD) is listed on these exchanges:
HitBTC, Bgogo, LATOKEN (paired with BTC, ETH).
Bitfinex, Coinsuper, BCoin.sg, OKCoin (paired with USD).
OEX, CPDAX, CoinMex, CoinExchange, LBank (paired with BTC).
Bitrue (paired with BTC, ETH, XRP, USDT).
ABCC, BitForex, OKEx (paired with BTC, USDT).
BCEX, FCoin, BitMart, Iquant, CoinBene (paired with USDT).
Hotbit, DigiFinex (paired with BTC, ETH, USDT).
Bibox (paired with BTC, ETH, USDT, BIX).
Exmo (paired with BTC, USD, RUB).
The Rock Trading (paired with BTC, EUR).
YoBit (paired with USD, DOGE).
DEx.top (paired with ETH).
COSS (paired with COSS).
Gemini Dollars (GUSD) are issued on the Ethereum blockchain and can be stored on any ERC20 compatible wallet.
Current State of the Project

Gemini Dollar continues to expand its circle of partners. In the latest news, CEX.IO exchange announced it is going to list GUSD pairs with EUR and USD. The stablecoin is also about to reach $100 million market cap.
Other project partners include the companies from the image below.

Similar Projects
USD Coin (USDC) - USD-backed ERC-20 token by Circle.
TrueUSD (TUSD) - USD-backed ERC-20 token by TrustToken Platform.
Paxos Standard Token (PAX) - An ERC-20 stablecoin backed with USD.