Is Bitcoin Set to Benefit from the Twitter Hack?
Disclosure: Crypto is a high-risk asset class. This article is provided for informational purposes and does not constitute investment advice. By using this website, you agree to our terms and conditions. We may utilise affiliate links within our content, and receive commission.
Presumably, millions of people who have never heard of bitcoin (BTC) have been exposed to the world's most popular cryptocurrency – as Twitter reels from a hack that filled the social media feeds of some of the planet's most influential people with crypto scam messages.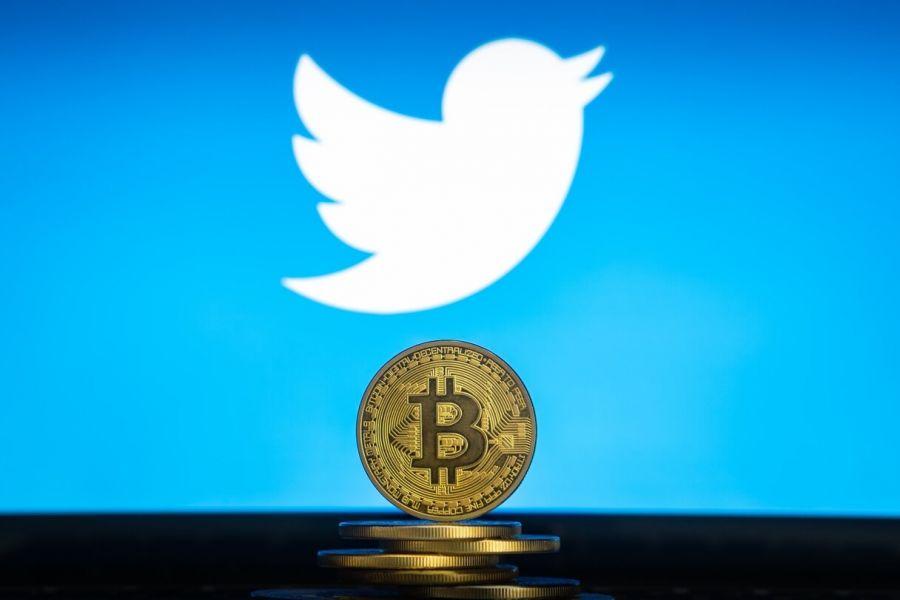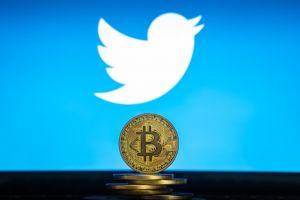 As reported today, the bitcoin haul from Twitter's biggest hack in history are already on the move after scores of social media accounts belonging to A-listing celebrities, world leaders and sports stars were hacked and filled with bitcoin scam messages promising to double followers' money if they sent crypto to hacker-held wallets.
Dmitry Volkov, chief technical officer at the CEX.IO exchange, told Cryptonews.com,
"In the first 20 minutes, the scammers got their hands on BTC 1.7. By the end of July 15, they already had BTC 12.8 in their possession."
Among the Twitter accounts affected were those belonging to Barack Obama (120m followers), presidential hopeful Joe Biden (6.9m) and Israeli leader Benjamin Netanyahu (1.8m).
Early reports say the hackers used social engineering attack methods to target Twitter employees.
Business leaders and entrepreneurs like Bill Gates, Elon Musk, Michael Bloomberg, Amazon's Jeff Bezos and Warren Buffet had their accounts hacked.
As did boxing star Floyd Mayweather, as well as rappers xxxtencion, Wiz Khalifa and Kanye West (and his wife Kim Kardashian West). YouTuber MrBeast's account was also affected.
A number of prominent crypto people's accounts were also updated with bitcoin scam posts – including those of Binance's Changpeng Zhao, Litecoin (LTC)'s Charlie Lee and TRON (TRX) boss Justin Sun.
But some say that although the hack was regrettable and has seen a lot of innocent people cheated out of their hard-earned funds, bitcoin's reputation is unlikely to take a hit.
Gina Kim, a South Korean computer security expert, told Cryptonews.com,
"I think the only party that comes out of this with damage to their reputation is Twitter. A social engineering attack (if that's what it was) really doesn't involve much in the way of sophisticated tech wizardry. Twitter is a big enough and wealthy enough company to be able to afford to train its employees to recognize a possible social engineering attack."
Kim added that bitcoin "won't be demonized" by the attack as its part in all this is more or less incidental. She stated,
"I don't see why this should impact bitcoin in any way. The hack is the story – a huge, shiny, American tech firm got hacked by some lowly bitcoin scammers. If anything, that should be a wake-up call."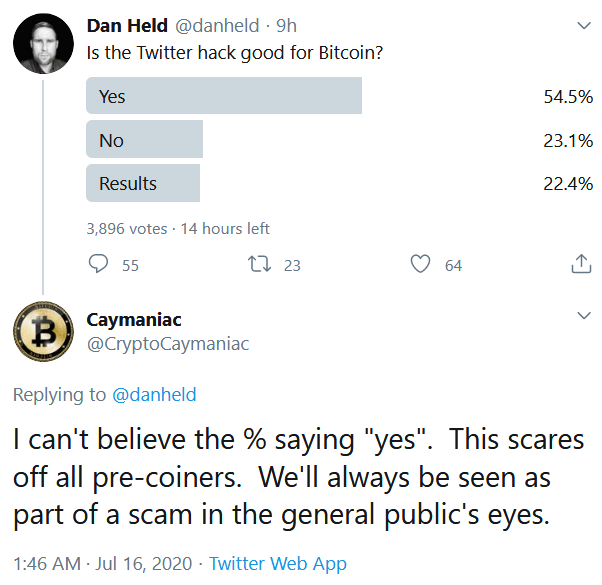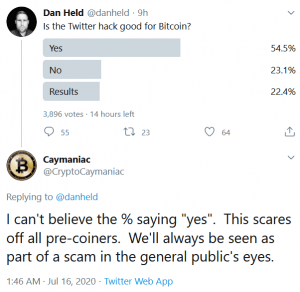 Kim's sentiments were also echoed by Cory Klippsten, the founder of crypto buying app Swan Bitcoin, who told a Forbes contributor that the hack would likely "result in an influx of new bitcoin users."
Klippsten reportedly stated,
"Any regulatory action in response to the hack is likely to focus on Twitter, rather than on bitcoin. I could see some sort of change in policy against bitcoin or crypto giveaways, with similar posts being automatically flagged or removed."
Many would argue that this would not be a bad thing. Some claim that the hack has already boosted public awareness of the token beyond most people's wildest dreams – testing the truth of the old adage "there's no such thing as free publicity."
Klippsten added that a lot of people who've never given it a thought are going to be reading about bitcoin over the next few weeks, "and wondering why the scammers chose it as the vehicle to pull off their scam."
Per Lunarcrush, which monitors social media and news coverage data, bitcoin had a "record-breaking" day, publishing the following stats:
100,055 social contributors within a single hour
465,394 social post mentions +387.2%
2,786,134,617 social engagements +736.8%
1,256 news articles +26.7%
43,562 shared URLs +53.4%
Observers took to social media to claim that there "wasn't much negativity" being shown toward bitcoin in early reports.
Regardless, crypto scams are no laughing matter for those on the losing end of them. And the experts agree that they are now very much on the rise.
Volkov said that scams of this sort have been on the rise since "around April this year." These scams, he adds, pray on "people's greed, gullibility and ignorance."
He stated,
"Gullible investors send their crypto to scammers and, of course, get nothing in return. With such schemes, scammers have already managed to get away with more than BTC 200."
It does seem, however, that the hack has caused a stir in the world of social media, where bitcoin is currently the hottest topic in town.
Some opined that the hack was in fact "extremely good" for bitcoin.
So what measures do they experts think the public should use to protect itself against crypto scammers in the future?
Volkov opined,
"It's quite simple. If someone is asking you to send your crypto somewhere and promises that you will immediately receive more in return, or they simply promise to return the full amount right away, then these are scammers. That's the case even if you're being asked by Apple or the President of the United States."
Social media stars, it seems, heartily concur.
At pixel time (08:27 UTC), BTC trades at USD 9,158 and is down by 1% in a day and almost 3% in a week.
___
Other reactions:
---