India's Crypto Market is More 'Mature' Than Vietnam's and Pakistan's - Chainalysis
There are several major differences in the level of crypto growth among the top three countries by adoption in Central and Southern Asia, according to blockchain analysis company Chainalysis.
Central and Southern Asia and Oceania (CSAO) is the fourth-largest crypto market studied by the company, having received USD 572.5bn in value between July 2020 and June 2021 - 14% of global transaction value in this period. CSAO also contains the top three countries in Chainalysis' Global Crypto Adoption Index: Vietnam, India, and Pakistan, respectively.
"The differences between Central and Southern Asia's biggest markets may reflect the fact that these countries are at different stages of cryptocurrency market development," said Chainalysis in a recent report.
While the three countries all have high levels of grassroots crypto adoption, they're different in two several key aspects:
India and Vietnam's markets are much larger than Pakistan's.
India has a much bigger share of activity happening on decentralized finance (DeFi) platforms: 59% compared to 47% for Vietnam and 33% for Pakistan. That said, all three grew "substantially" over the past year, with Pakistan taking the lead and growing 711%, followed by India's 641%.
They are very different in terms of the raw transaction value. Looking at the breakdown of transaction value by currency, ethereum (ETH) and wrapped ethereum (wETH) make up a bigger share of Indian activity than that of Vietnam or Pakistan – unsurprisingly, as these currencies are commonly used for DeFi. Among the three, bitcoin (BTC) makes up the biggest share in Pakistan.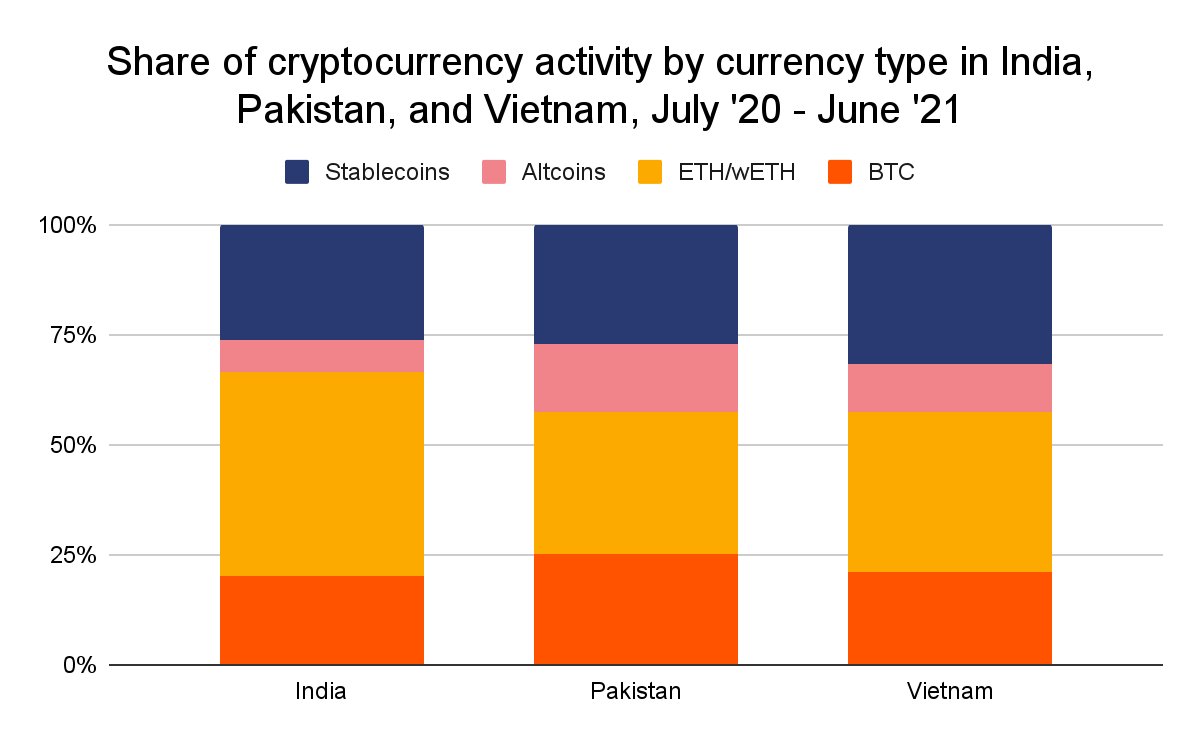 In markets such a Vietnam and Pakistan, the report explained further, many people look to crypto primarily in search of quick returns on speculative trading of a variety of investments, which can be done on centralized services and conventional P2P platforms.
Per Binh Nguyen, the Senior Program Manager of Finance and the Fintech-Crypto Hub coordinator at RMIT Vietnam, there exists "a technologically savvy contingent" of crypto community in Vietnam "interested in changing the future of money and building innovative projects," DeFi included, but many crypto investors don't have high financial literacy or experience managing risk.
"Low financial literacy is a driver of excessive risk-taking and may create lucky financial rewards for crypto-investors during a bull market. Lots of sophisticated investors may be waiting five to ten years and missing out," he was quoted as saying.
Meanwhile, in India, which is a type of market in which the crypto community has managed to grow and attract outside investment, "we see more development and usage of innovative projects like DeFi protocols," said Chainalysis.
42% of transactions sent from India-based addresses are large institutional-sized transfers above USD 10m worth of crypto – this is compared to 29% for Vietnam and 28% for Pakistan. "Those numbers suggest that India's cryptocurrency investors are part of larger, more sophisticated organizations," it said.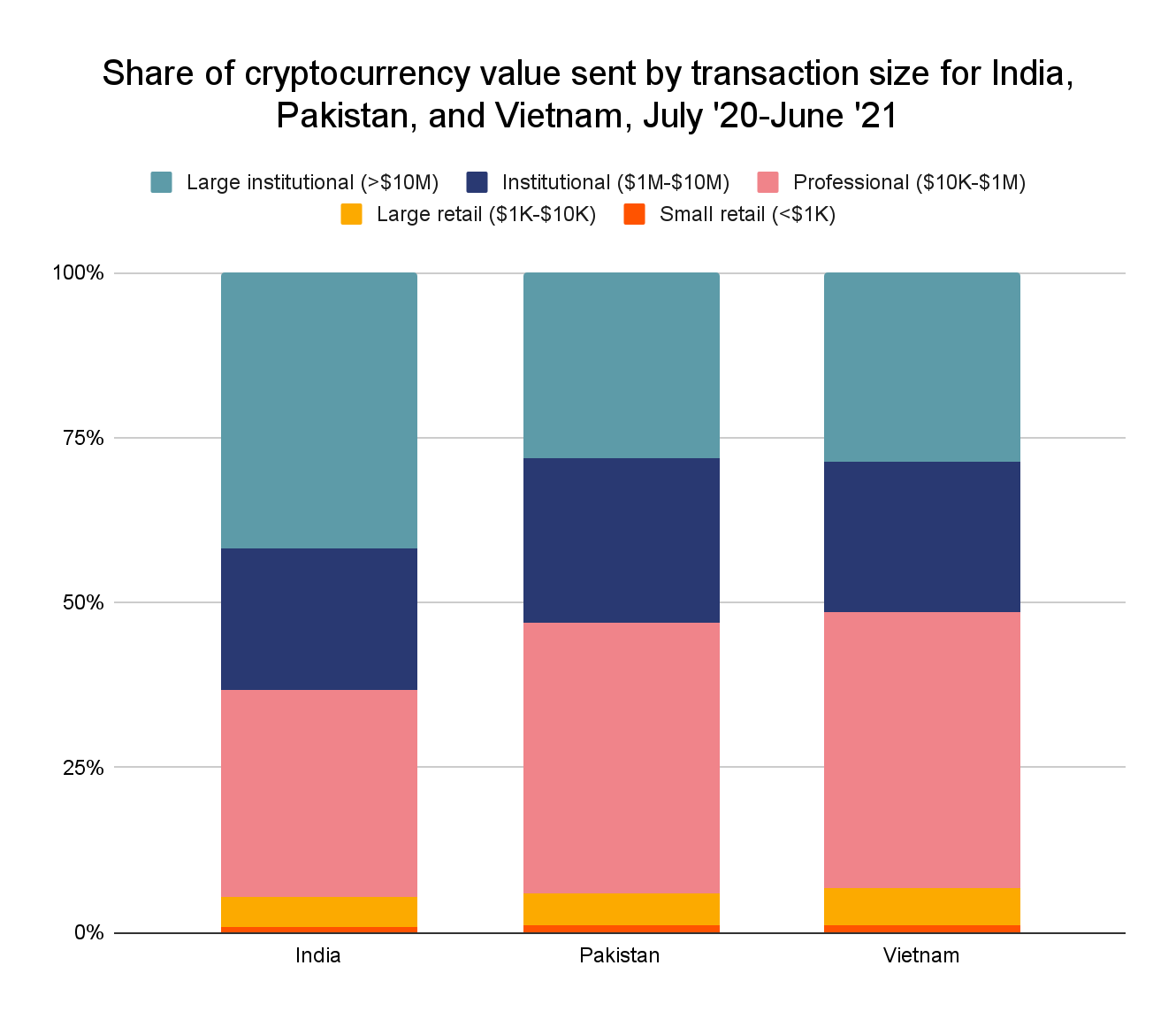 Joel John, a principal at India-based crypto investment firm LedgerPrime, told Chainalysis that investing in equities in India is "a long, painful process" that requires numerous documents and several days, but "investing in crypto takes less than an hour." Per his estimate, there are four times as many crypto investors as there are equity investors in the country.
Krishna Sriram, Managing Director at Quantstamp, emphasized the relevance of the development of India's crypto-focused media and influencer ecosystem, also stating that many Indian developers, fund analysts, and independent freelancers working for overseas employers have started requesting to be paid in crypto. Many of these choose ETH or USDC, receiving payments through centralized or decentralized exchanges (DEXes).
"Centralized exchanges are becoming more stringent and harder to use for people in certain jurisdictions. DeFi doesn't discern where you're from or care if it has a relationship with your bank," Sriram said.
Top five DeFi platforms in CSAO by total crypto transaction volume (July 2020-June 2021) are Uniswap, Instadapp, dYdX, Compound, and Curve Finance, followed by AAVE.
____
Learn more:
- DeFi Adoption Driven By Seasoned Traders, Investors From High-Income Countries - Report
- India Will Regulate Crypto as Ban Talk Binned - Report
---