India's Crypto Community Fights Back As Ban Bill Turns Into Tiresome Soap Opera
Crypto enthusiasts in India have run out of patience with unsourced reports of the government's alleged forthcoming crypto crackdown – and have challenged New Dehli to come clean with its intentions.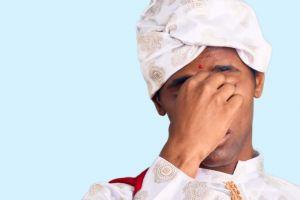 On Twitter, Indian crypto community members say that they are tired of the government allegedly leaking info to reporters about crypto "bans" – and want a high-level official to make the government's stance on the matter clear at the earliest possible opportunity.
Speculation about a possible crackdown has been almost relentless in India for years now and has reemerged in recent weeks.
One exasperated observer wrote,
"I'm honestly getting tired of every news platform using 'sources.' Please, government, if you [want to] do something, just do it!"
He was reacting to this report:
However, if unsourced reports are true, the government is edging ever closer to doing just that.
Per India-based media outlet Bloomberg Quint, an unnamed "senior Finance Ministry official said on condition of anonymity" that a bill enforcing "a ban on transacting directly via foreign exchanges" was heading for parliament, and would seek to enforce a "complete ban on investment in cryptocurrencies."
The proposals would allow crypto holders a transition period to "exit their holdings," before closing the door on "all forms" of crypto usage – and come after weeks of speculation that New Delhi was planning a move of this sort.
But while no official statement has yet been made on the matter, the nation's crypto community does not appear keen to sit idly by and allow the government to enact a China-style shutdown without a fight.
Nischal Shetty, the founder and CEO of Indian crypto outfit WazirX, owned by crypto giant Binance, is one of the many India-based critics of the bill, and has been one of those seeking to re-popularize the #IndiaWantsCrypto hashtag, first rolled out in 2018 in opposition to the central bank's attempted crackdown on bitcoin (BTC) and altcoins.
That was a battle that the community, ultimately, won.
Shetty urged crypto advocates to write to their MPs to make their opposition to the bill known.
He wrote,
"Competitors of India will be secretly hoping India bans crypto. India is a strong competitor in the field of software. Banning crypto gives others an edge over the Indian software sector. I'm sure no elected MP would want India to lose [its innovative] edge."
Many replied that they had taken up his call to contact their local political representatives – the hope of driving up resistance to the bill in parliament.
And Balaji Srinivasan, an angel investor and entrepreneur, the former Chief Technology Officer of crypto exchange Coinbase and General Partner at Andreessen Horowitz, hit out at the government, tagging Indian Prime Minister Narendra Modi in a post urging a policy u-turn.
He wrote,
"India should support crypto as a pillar of its foreign & domestic policy. It defends national security by preventing deplatforming, deters fraud via on-chain accounting and offers a decentralized alternative to a new Cold War."
____
Other reactions:
____
Learn more:
- Can't Beat Crypto Regulators? Educate Them
- OKEx CEO Says Indian Crypto Ban 'Unlikely', Has 3 Scenarios in Mind
- Nigerian Senators Blast Central Bank For Its Crypto Ban
- 'World's First' Physical Crypto Banking Branch Opened in India
- Investors Keep Ignoring Indian Crypto Ban Rumors As Tim Draper Backs Unocoin
- India's Crypto Ban to 'Get Thrashed', while Unocoin Gains 100s of Users Daily
- Hacking of PM Modi Happened at Bad Time for Indian Crypto Industry
- India's Crypto Ban Overruled, But the Battle is Far From Over
- What Effect Could an Indian Ban Have on the Global Crypto Industry?
---