IMF Chief Speaks of Crypto 'Pyramid' Concerns – But Also 'Begs' Not to Abandon Crypto Progress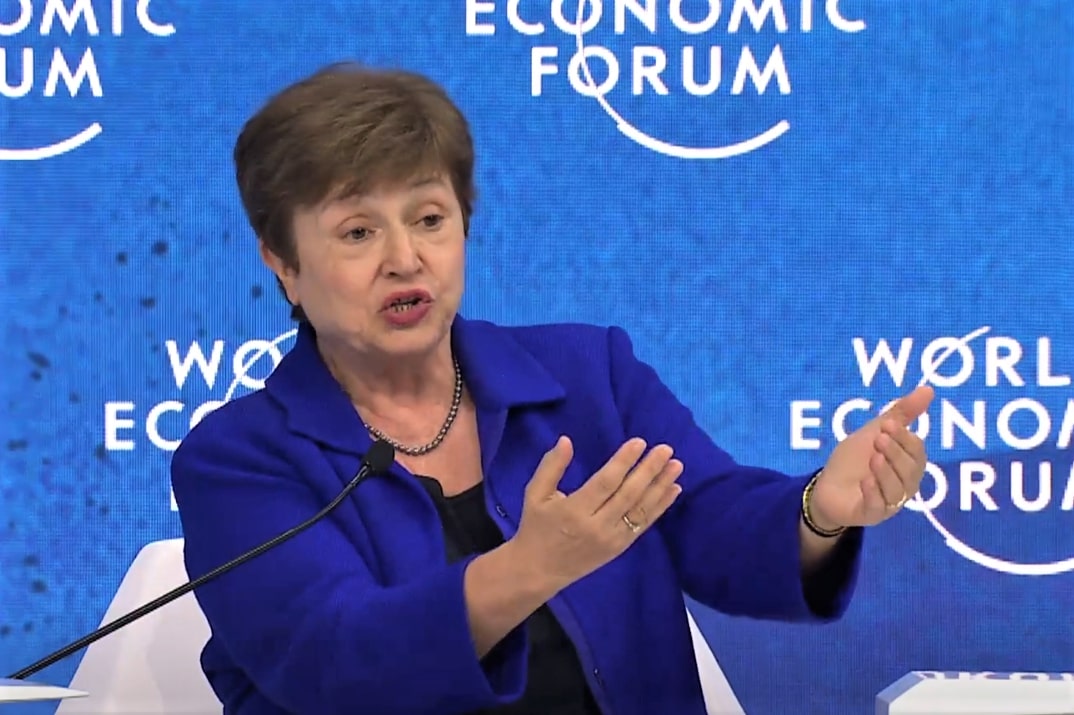 The head of the International Monetary Fund (IMF) has waded into the terra (LUNA) and UST fallout – seemingly labeling the project a "pyramid," while also urging regulators to consider the "importance" of the world of crypto and central bank digital currencies (CBDCs).
Bloomberg quoted Kristalina Georgieva, the IMF's Managing Director, as telling attendees at the World Economic Forum in Davos.
"I would beg you not to pull out of the importance of this world. It offers us all faster service, much lower costs, and more inclusion, but only if we separate apples from oranges and bananas."
On stablecoins, she added:
"The less there is backing it, the more you should be prepared to take the risk of this thing blowing up in your face."
Francois Villeroy de Galhau, the Governor of the Central Bank of France, was also speaking at the same event, and claimed that crypto had taken more of a battering than the traditional financial sphere of late, adding:
"My impression is more that in recent weeks, citizens have lost trust in crypto, more than in central banks."
In a panel event hosted by CNBC, Georgieva further claimed that it was financial leaders' "jobs" to explain the difference between "real" stablecoins, unbacked stablecoins, digital currencies, and crypto – and began by calling the recent terra/UST crash a "big mess." She also had a few words to say about bitcoin (BTC).
She opined:
"When a [coin] is not backed with assets, but promises to bring 20% returns, it's a pyramid. What happens to pyramids? Eventually they fall to pieces. Regulating stablecoins, ensuring interoperability of CBDCs and recognizing that bitcoin may be called 'coin,' but it's not money – all of this we need to work on."
De Galhau, meanwhile, stepped up his calls for regulation. He said:
"We said clearly during the [recent] G7 meeting that we appeal for a quick, global and strong regulation of cryptoassets worldwide. This will protect investors and preserve the world from an unnecessary fragmentation."
He added that an EU-wide approach to regulation was now paramount, and added:
"It's more innovation friendly to say we regulate crypto than to [ban, like China has]. But it's an emergency question now. I strongly hope we will have this regulation in Europe this year. […] Crypto regulation is not red tape. It's giving our citizens the feeling that globalization can be fair."
The Governor also called crypto regulation a "burning political question."
Jane Fraser, the Chief Executive Officer of Citigroup, was also speaking at the event, where she explained:
"We are unbundling from […] the old world financial order. [...] On crypto [...] the imperative is that we bring with that the safeguards, the independence of the institutions, and the software to ensure that crypto fulfills the promise of [inclusive financial solutions for developing economies]."
She warned against "economic opportunism," and added that "we love the technology," but was "not sure about some of the crypto products."
David Rubenstein, the co-founder and co-chairman of the private equity firm The Carlyle Group, meanwhile, opined at the same session that many individuals were currently using crypto in a bid to avoid paying taxes.
____
Learn more:
- IMF Not Happy About Bitcoin Again
- Financial Stability Board, IMF Warn of 'Cryptoization' Risks in Wake of Russia-Ukraine War

- Argentinian Senate Passes USD 45B IMF Debt Deal That Discourages Crypto Use
- Sand Dollar CBDC Could 'Foster Financial Inclusion' in the Bahamas - IMF

- SWIFT, Capgemini Team Up On Developing Global CBDC Interlinks
- G7 Keeps Pushing for Crypto Regulation, Here's What's Already Happening
---