Hope in S Korea as Ruling Party Says 'Let's Institutionalize Crypto'
There may be fresh hope for the South Korean crypto sector as the ruling Democratic Party launched a crypto task force – with the new body talking in relatively upbeat terms about the industry and the need to "institutionalize" crypto with potentially groundbreaking legislation.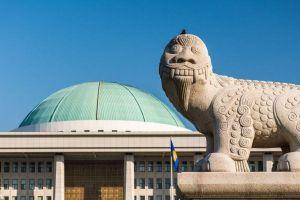 Despite the regulatory Financial Service Commission (FSC)'s relatively strict and inflexible position on policing the crypto industry – measures that could leave the nation with just four crypto exchanges in September this year – the Democratic Party appears to be having second thoughts.
Earlier this year, senior government ministers began talking about the need to "crack down" on an "overheated" crypto market.
The FSC sparked ire when its Chairman Eun Sang-soo spoke about the need for older, wiser heads to "lead" younger people out of the dangers of crypto investment. Eun's comments led to a slew of petitions calling for his resignation. And the Democratic Party, which goes to the polls in a general election in spring 2022, has become all too aware that its core support – younger voters – have become increasingly crypto-keen. Some claim that crypto investment is "no longer optional" for the 20-39 age group.
But spiraling real estate prices, a sluggish stock market, and a stagnant, coronavirus pandemic-hit job market have left many railing at the government, accusing it of sidelining and demonizing the crypto sector at a time when all other money-making avenues have been closed off to them.
Opposition politicians have gleefully seized the chance to criticize the government for its policies, with the main opposition party claiming Seoul has "neglected" the crypto industry and investors – and one even claiming that lax security policies have allowed North Korean hackers to raid some USD 310m worth of crypto from South Korean wallets in the past two years.
The Democratic Party has thus apparently responded by creating its own task force – intent on softening the regulator's stance and proposing progressive legislation.
Per EDaily, as well as News1 and EToday, the task force is comprised of MPs, some of whom worked on South Korea's first piece of crypto-specific legislation back in 2019.
One of these MPs remarked, at a press conference:
"I know that the Financial Services Commission has a negative view on cryptocurrency, but as the market is growing, the number of participants in the sector is increasing."
Another claimed that the task force was prepared to "discuss" the issue of delaying the start of crypto taxation rules. The South Korean parliament has already agreed to begin taxing crypto profits at a flat rate of 20% as of January 1 next year. But a private member's bill is on the table from an opposition MP who wants the measure delayed until 2023. The ruling party's task force stated that it was ready to assess the value of the bill.
The task force also spoke about introducing a system that would grant crypto-related firms the same kind of business rights that are enjoyed by other companies in the nation. Currently, crypto exchanges and other service providers are legally classified in the lowest rung of enterprises, putting them on a legal par with nightclubs and karaoke venues.
The task force stated:
"There are quite a few laws related to virtual assets in foreign countries, but we believe that there are probably no countries that have independent business rights laws [pertaining to crypto operators]. If we create a law like this, we will probably be the first."
Kim Byung-wook, the task force's secretary, was quoted as stating:
"It's time we brought the cryptocurrency industry into the institutional system."
Questions remain, however, as to whether this softening of the government's hard-line on crypto-related affairs will come in time to save most of South Korea's crypto exchanges from closure.
Per Asia Kyungjae, crypto exchanges that will not be able to meet the FSC's long list of requirements before September 24 could start closing as early as next month – with peer-to-peer (P2P) finance platforms set to join them.
Some 20-30 exchanges have indicated that they are attempting to gain the necessary permits required to continue trading before September, but at least 30 others appear to have made no significant efforts thus far. Around 100 P2P finance operators could also be set to fold.
An unnamed financial industry insider was quoted as stating:
"A 'coin run' may take place in September, when users all attempt to withdraw their funds at once, and some of the funds [will] not be returnable. There is a high possibility that they will turn to banks in a bid to help them retrieve their funds instead of the soon-to-be-closed exchanges."
____
Learn more:
- South Korean Crypto Exchanges Ready for Legal Fight Amid Closure Threats
- 'Crypto Crisis Summit' in South Korea – as No Ministry Wants to Take Charge
- China Is Not Done Yet With Its Crackdown On Crypto Mining - Researcher
- Binance Comes under Scrutiny in Singapore, Thailand & Cayman Islands Too
- 4,000 German Funds Can Now Start Investing In Crypto
- Leaders in France, US Urge Crypto Regulation 'Before It's Too Late'
---