Upbit Hack Worries Continue as Irregular ETH Transfer Confirmed (UPDATED)
South Korean market-leading crypto exchange Upbit has confirmed it is looking into a suspicious Ethereum (ETH) transfer of ETH 342,000 (USD 49 million) made from its platform to this wallet address at KST 1:06pm (4:06 UTC). (Updated at 10:15 UTC: updates throughout the entire text.)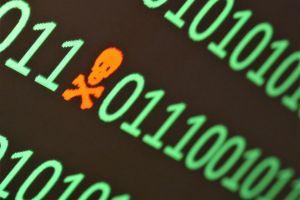 In an announcement from Upbit operator Dunamu, the platform stated that the exchange has moved all funds from hot wallets to cold wallets as media outlets in the country continue to report about a possible USD 79 million hack on the platform, with a number of other altcoins also allegedly involved. However, in its announcement, the company mentioned only ETH withdrawal.
Upbit says it is continuing its investigation, but has stated that it will cover the cost of any customer losses in what is looking increasingly like a raid.
Per Chosun, a series of large altcoin transfers were made out of Upbit accounts at just after 1pm KST (4:00 UTC ) on November 27, including some USD 49 million worth of ETH, and smaller amounts of XLM, BTT and TRX.
Crypto tracking Twitter account Whale Alert has also reported a series of huge transfers from Upbit accounts to unknown accounts, including this large ETH transfer.
Janet Chun, a Seoul-based Upbit customer, told Cryptonews.com,
"I can't make transactions on my account, and I'm reading news of a hack online now. I'm afraid that perhaps I've lost funds, along with hundreds of others. The company has barely said anything, and I find that particularly worrying."
Minutes after the transactions were made, Upbit posted a seperate announcement on its website stating that cryptocurrency transactions and trading has been suspended while the exchange performs "server checks," although customers may still make fiat withdrawals and deposits.
According to the company's latest announcement, customers can expect services to resume "in around two weeks."
Cryptonews.com has reached out to Upbit for comment on this story.
Upbit is the only major South Korean exchange that has never experienced a hack, and its major investors involve chat app giant Kakao.
Upbit offers over 200 trading pairs and is ranked 50th in the world in trading volume. The platform processed USD 94 million in the past 24 hours, according to data from Coinpaprika.
Learn more: Upbit Fosters Global Expansion With USD 71m Investment War Chest
Trading volume on Upbit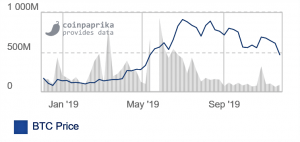 __
Top 10 markets on Upbit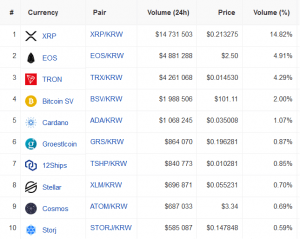 ___
Reactions:
---