Greenest Cryptocurrencies to Invest In – Beginner's Guide for 2023
Disclosure: Crypto is a high-risk asset class. This article is provided for informational purposes and does not constitute investment advice. By using this website, you agree to our terms and conditions. We may utilise affiliate links within our content, and receive commission.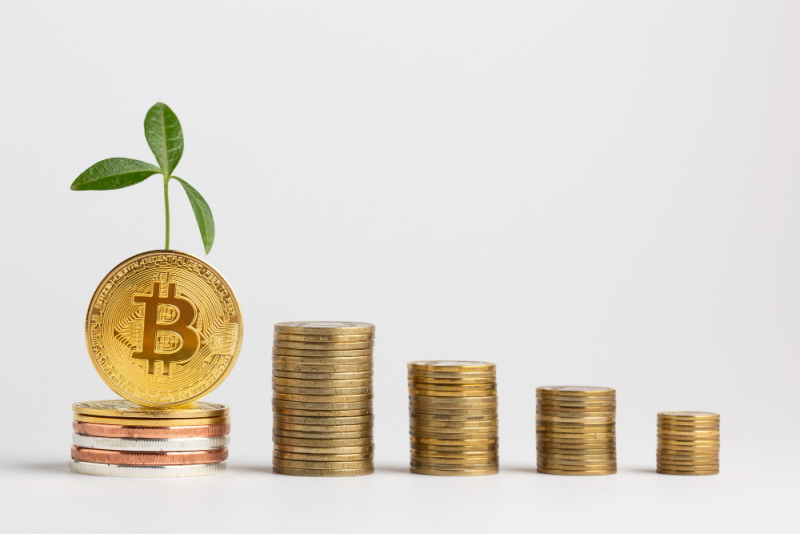 Disclaimer: The Industry Talk section features insights by crypto industry players and is not a part of the editorial content of Cryptonews.com.
Although Bitcoin's colossal energy consumption has tainted some people's view of the crypto market, many new projects have sprung up in recent years that look to limit their carbon footprint. These so-called 'green cryptos' use different consensus mechanisms to restrict their energy requirements, making them more appealing to environmentally-conscious investors.
This guide discusses ten of the greenest cryptocurrency projects available right now, covering what they are, how they work, and why green cryptos are so crucial in today's world.
The 14 Greenest Cryptocurrencies to Buy in 2023
Although Bitcoin is still considered one of the best Proof-of-Work coins, its energy requirements have been found to equate to those of a small country. However, the ten green cryptos listed below take a different approach to Bitcoin, enabling them to actively reduce their contribution to global warming. 
Bitcoin ETF Token – Latest environment-friendly token presale with over 2,000% staking APY and token burn mechanics that has raised over $200,000 within the first few days of the presale.
Bitcoin Minetrix – New eco-friendly presale with 1,106% APY introduces world's first stake-to-mine model to upgrade BTC cloud mining. 
Chimpzee – Greenest Crypto with Multiple Earning Mechanics
eTukTuk – Cardano-based green crypto replacing traditional TukTuks with electric ones. Partnering with The Capital Maharaja Group and launching in Sri Lanka, eTukTuk is set to increase driver income and reduce carbon emissions.
Chia (XCH) Chia – Popular Green Cryptocurrency of 2023
Ethereum (ETH) Ethereum – Best Green Cryptocurrency for dApp Developers
Solana (SOL) Solana – Greenest Crypto with Low Energy Requirement
Tezos (XTZ) – The Most Green Cryptocurrency with Minimal Carbon Footprint
Avalanche (AVAX) – Eco-Friendly Blockchain Offering High Throughput
Algorand (ALGO) – One of the Greenest Crypto Projects in the Blockchain Sector
Flow (FLOW) – Low-Energy Blockchain for NFT Creators
Polkadot (DOT) – Environmentally-Friendly Blockchain Focused on Interoperability
Polygon (MATIC) – Popular Carbon-Negative Layer-2 Blockchain
Cardano (ADA) – Leading Blockchain with Dedicated Sustainability Director
An In-Depth Examination of the Most Green Cryptos to Invest In
Many of the projects listed above are thought of as the cryptos with the most potential since their low energy requirements make them appealing to ethical investors with a focus on longevity. Let's take a closer look at these green energy crypto projects, exploring the technology that makes them so eco-friendly:
1. Bitcoin ETF Token – New Eco-Friendly Crypto Presale With Over 2,000% Staking APY And Token Burn Mechanics
Bitcoin ETF Token is an ERC20 token built around the spot Bitcoin ETF approval by the Securities and Exchange Commission (SEC). What makes this token eco-friendly is the use of staking mechanics instead of mining with expensive hardware and a lot of electricity.
Because of that, early supporters get to enjoy a generous staking APY of over 2,000%. Of course, this number will drop as more tokens are staked, which makes it prudent to stake early.
Buy $BTCETF tokens on the Bitcoin ETF Token website by connecting your Ethereum-based wallet. You need ETH, USDT or card to complete the transaction. There's the option to buy with MATIC and BNB as well, but you won't be eligible for the staking APY if you buy with these two coins.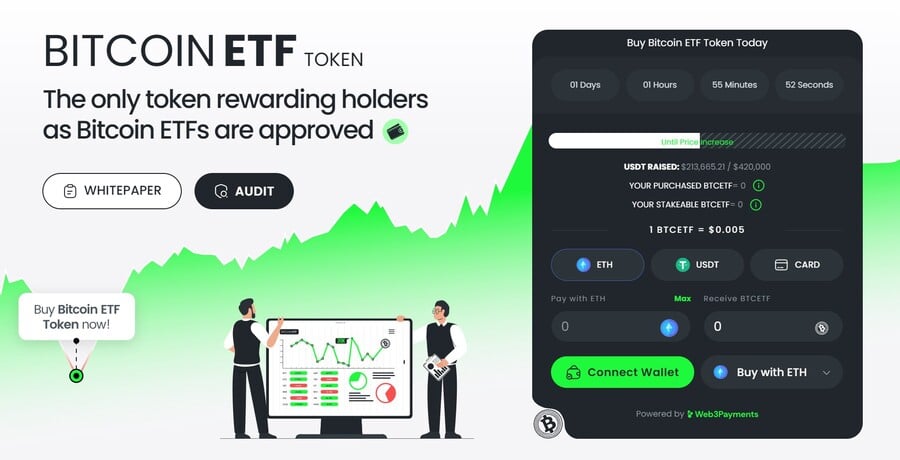 The token presale runs in 10 stages with each stage having a slightly higher token price. During the first stage, you can buy $BTCETF tokens at a price of $0.0050 apiece, which goes up to $0.0068 in the last stage. If you're looking to buy the presale, it may be prudent to do so in early stages.
Another potentially rewarding feature is the token burn mechanics. This will start as a 5% burn tax on every transaction, which will drop to 0% once all five milestones around the spot Bitcoin ETF approval have been reached. These milestones will also remove 5% of the total token supply each. This includes milestones like the ETF approval, the launch of the first ETF and a total of $1 billion in assets under management by the spot Bitcoin ETFs. 
Follow Bitcoin ETF Token on X and join the Bitcoin ETF Token Telegram channel to stay up to date about the project and the Bitcoin ETF approval procces. Also, read the Whitepaper to learn more about the project. 
| | |
| --- | --- |
| Presale Started | 6 Noe 2023 |
| Purchase Methods  | ETH, USDT, BNB, MATIC and Card |
| Chain | Ethereum |
| Min Investment | None |
| Max Investment | None |
2. Bitcoin Minetrix – Sustainable ERC20 Crypto To Upgrade BTC Mining, Raises $100k Within Hours of Launch 
Bitcoin Minetrix ($BTCMTX) is a recently launched Ethereum powered campaign aimed at cleaning up the Bitcoin mining industry while providing a legitimate means of passive income for users. It introduces the world's first stake-to-mine, whereby BTCMTX tokens are staked, cloud mining credits are generated, and these credits are burned in return for Bitcoin.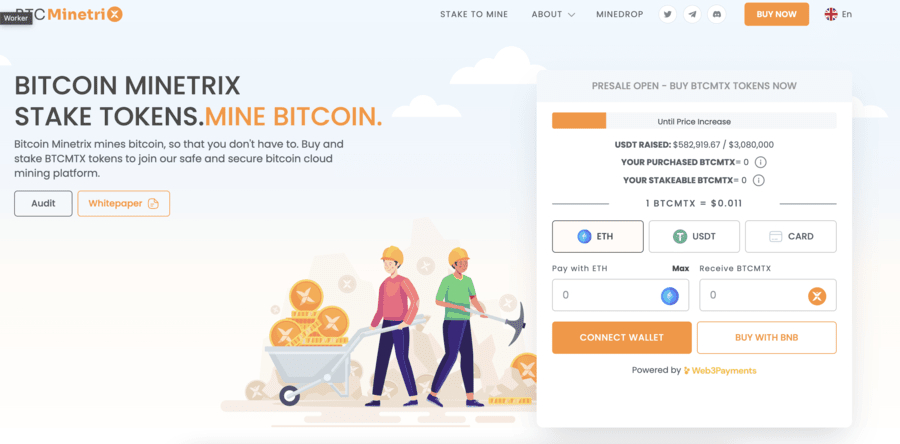 This is done over an Ethereum architecture, which is known to be far more eco-friendly in comparison to Bitcoin's proof-of-work blockchain. But it also offers impressive yields (currently 1,106%) with good price appreciation potential. This is due to its new mechanism which introduces non-transferrable ERC20 cloud mining credits.
The users have complete control over the assets through a neat interface with all relevant metrics on display. They can select whether to burn, stake, or burn tokens. So users can benefit from staking, from price appreciation, or from BTC rewards in this new platform. A mobile application is set to be released in the near future, which will add to the user experience significantly.
Now only is Bitcoin mining damaging to the environment, but it is also very expensive and requires significant technical expertise. Bitcoin Minetrix breaks it up with Ethereum-based tokenization, with just a $10 upfront investment. The campaign has also completed a smart contract audit from a reliable third party and zero issues were located throughout the rigorous tests.
The price per token is discounted to $0.011 in its early presale stage, but this will rise to $0.0119 by the final stage.
For more information, users should read the official Bitcoin Minetrix Whitepaper.
The project socials, Twitter and Telegram, may also be of interest. 
| | |
| --- | --- |
| Presale Started | September 5 2023 |
| Purchase Methods  | ETH, USDT, BNB |
| Chain | Ethereum |
| Min Investment | $10 |
| Max Investment | None |
3. Chimpzee – Greenest Crypto with Multiple Earning Mechanics
Chimpzee is a new Web 3 project that aims to revolutionize the green crypto ecosystem by introducing a unique mechanic which gives multiple ways for investors to earn passive income while also protecting the environment and the endangered species.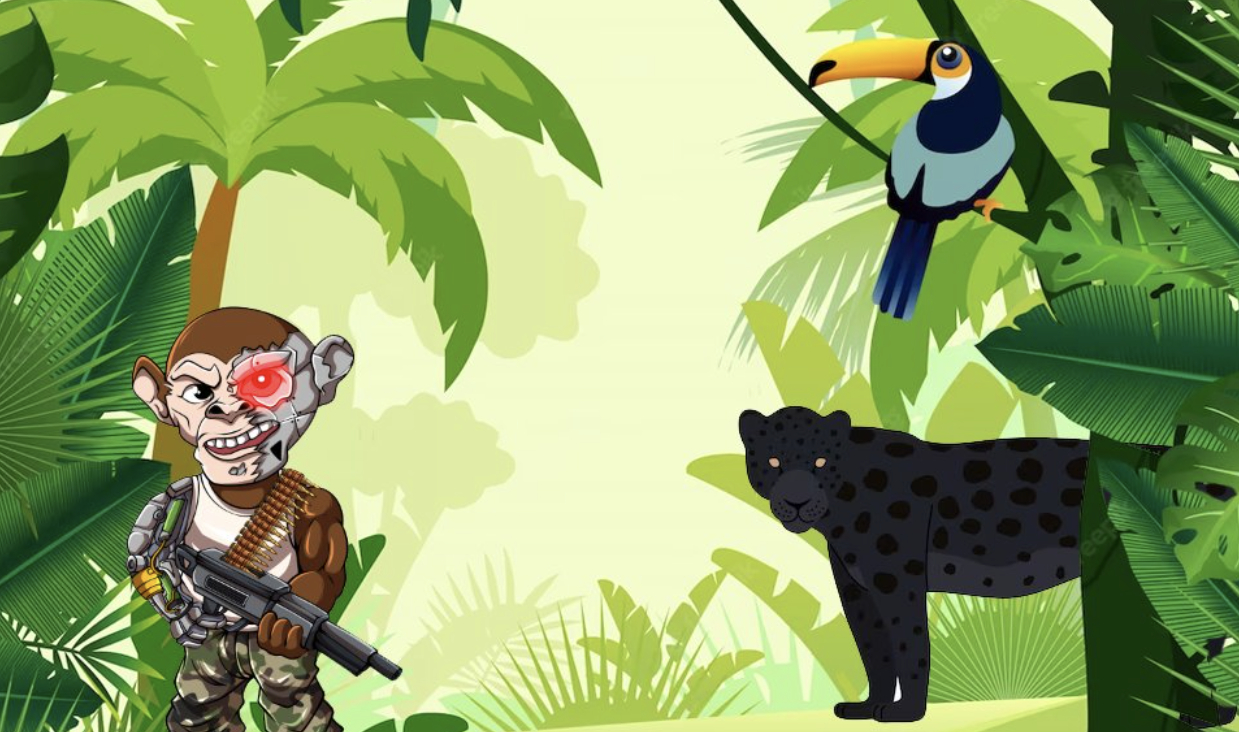 Built on the top of the Ethereum blockchain, the Chimpzee ecosystem is powered by the CHMPZ token. And at the core of this ecosystem exists the Chimpzee NFT passports. Chimpzee NFT passports are the key to enhancing your gains in the three earning mechanics present in this project. 
Trade2Earn – Trade2Earn stems from Chimpzee's unique NFT marketplace that shares trading fee profits with everyone interacting with the platform. While traders will receive a fair share of CHMPZ coins for interacting with the ecosystem, those holding with Chimpzee NFT passport will earn more tokens and more perks. 
Shop2Earn – The Shop2Earn mechanic signifies the commerce hub of the ecosystem. Buying a variety of Chimpzee gear available in this ecosystem will allow users to earn CHMPZ coins. And those holding the Chimpzee NFT passport will get more coins and additional perks. 
Play2Earn – The Chimpzee ecosystem constitutes a game known as the Zero Tolerance Game. The Zero Tolerance game will focus on how the Chimpzee and his "army" has zero tolerance against those who try to harm the environment. While the activities that will be added to this game are yet to be introduced, what we know is that playing the game will allow users to earn CHMPZ coins.
Chimpzee is currently organizing a presale, in which it is selling 45 percent of its total supply of 200 billion CHMPZ coins. Those who participate in the first stage will make gains as early movers as well as get the opportunity to get their hands on unique Chimpzee Diamond NFT passports and additional perks. 
| | |
| --- | --- |
| Symbol | CHMPZ |
| Network | Ethereum ERC-20 |
| Total Supply | 200 Billion |
| Buy with | ETH, USDT, Card |
4. eTukTuk – Platform Offering Greenest Crypto Solutions By Incentivizing Switch To EVs & Staking Rewards For $TUK
eTukTuk, a new green crypto, is set to launch in Sri Lanka with a mission to address two significant concerns: carbon emissions and financial exclusion. The project focuses on transitioning traditional TukTuks from fossil fuel-reliant vehicles to electric ones.
The benefits of this transition are twofold: environmental and economic. Electric vehicles, unlike their combustion engine counterparts, emit no carbon. Moreover, eTukTuks are cost-competitive, reducing operational expenses and potentially increasing driver income by a staggering 400%.
The upcoming presale of the $TUK token is currently in the whitelisting stage while it prepares for launch. 

With its extensive TukTuk fleet and growing environmental concerns, Sri Lanka is an ideal launch pad for this eco-friendly project. 
As per the eTukTuk whitepaper, it intends to make electric vehicles and charging stations affordable and accessible. 
The platform also has backing from a large Sri Lankan conglomerate, The Capital Maharaja Group, with a 20% stake in eTukTuk.
It leverages the power of blockchain to assign digital identities, promoting financial inclusion for all. Thus, eTukTuk serves as a socio-economic tool that seeks to narrow the economic divide.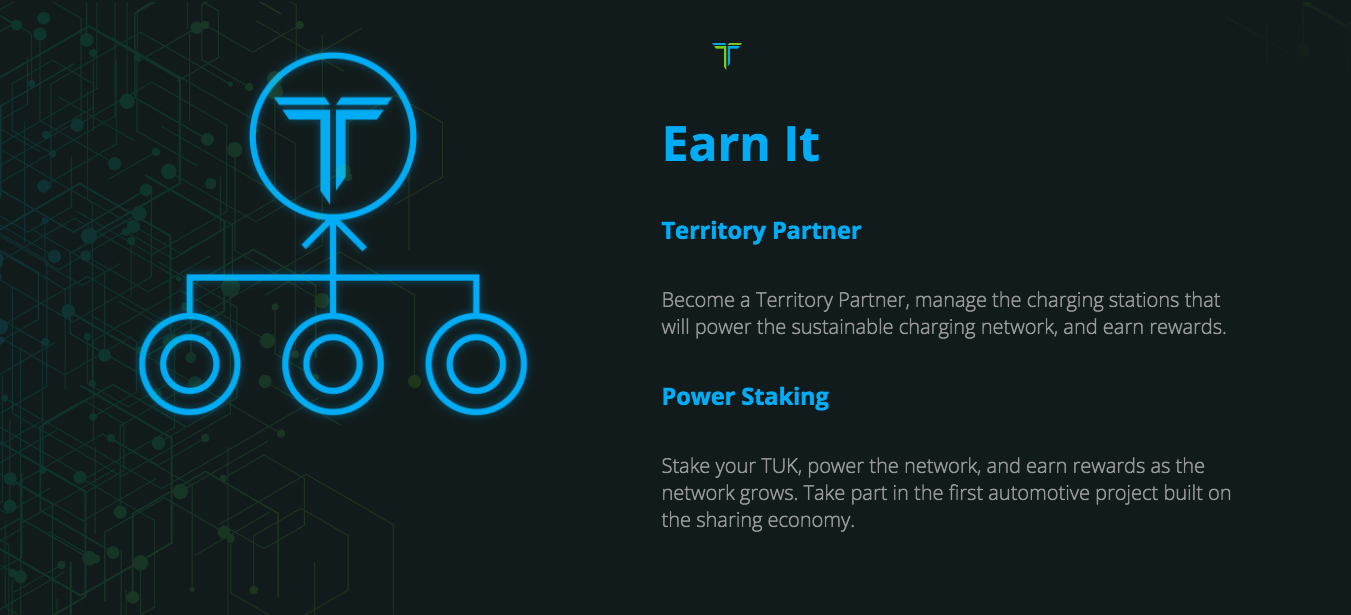 Token holders can stake their tokens, supporting charging stations' operation, and earn annual yields.
With a vision of a future where transport and economic gains coexist without risking planetary health, eTukTuk looks to sets a benchmark for industries navigating the blockchain era.
Join the eTukTuk Telegram channel for the latest updates.
5. Chia (XCH) – Popular Green Cryptocurrency of 2023
The Chia blockchain network has a clear focus on its environmental impact, aiming to offer a more eco-friendly alternative to the likes of Bitcoin and Ethereum. Chia does this through an innovative 'Proof-of-Space-and-Time' mechanism.
This green crypto mining alternative utilizes free space on network participants' hard drives, writing 10GB 'plots' on them. These plots are then used to validate new blocks on the network, albeit in a low-energy manner. According to Chia's website, this approach means that Chia consumes up to 500 times less power than the Bitcoin network.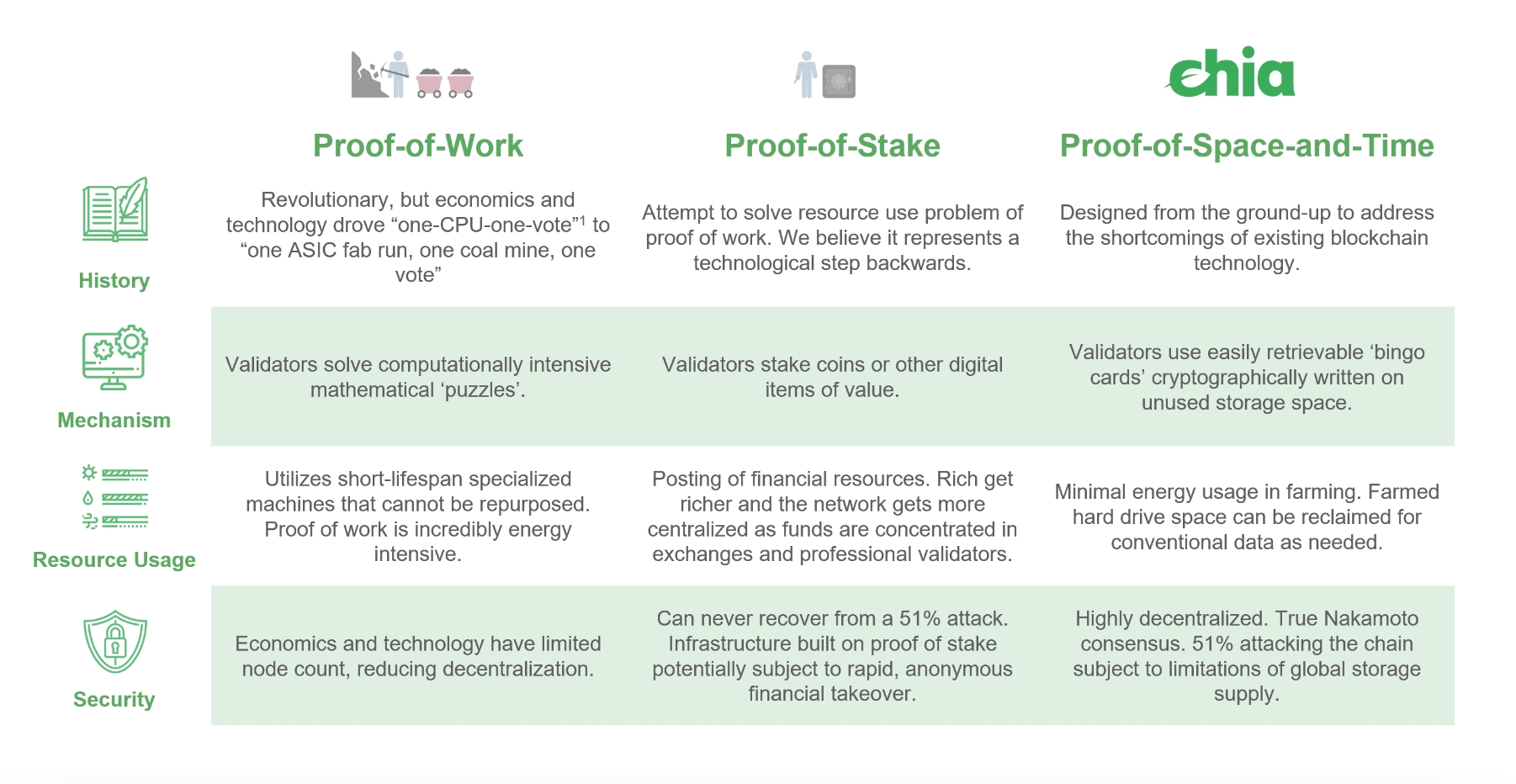 Due to this, Chia is considered one of the best long-term crypto projects, with the network's native token, XCH, experiencing multiple bull runs. For example, Chia's price surged over 110% in June 2022 after generating immense publicity through social media.
Looking ahead, this environmentally green cryptocurrency project looks likely to continue gathering momentum – mainly due to the 'Green Paper' authored by creator Bram Cohen. This academic journal presents in-depth information on how Chia's network will continue to expend low amounts of energy over the long term, making it the greenest cryptocurrency on our list.
Cryptoassets are highly volatile and unregulated. No consumer protection. Tax on profits may apply.
6. Ethereum (ETH) – Best Green Cryptocurrency for dApp Developers
Ethereum needs no introduction, as this green cryptocurrency remains the go-to for decentralized application (dApp) developers worldwide. As a smart contract-enabled blockchain, developers can create applications operating in various niches, such as decentralized finance (DeFi) and NFTs. 
ETH also emerged as one of the best metaverse coins, as this sector exploded in popularity. However, the network's PoW consensus mechanism has hindered its growth, prompting other blockchains to pick up the slack.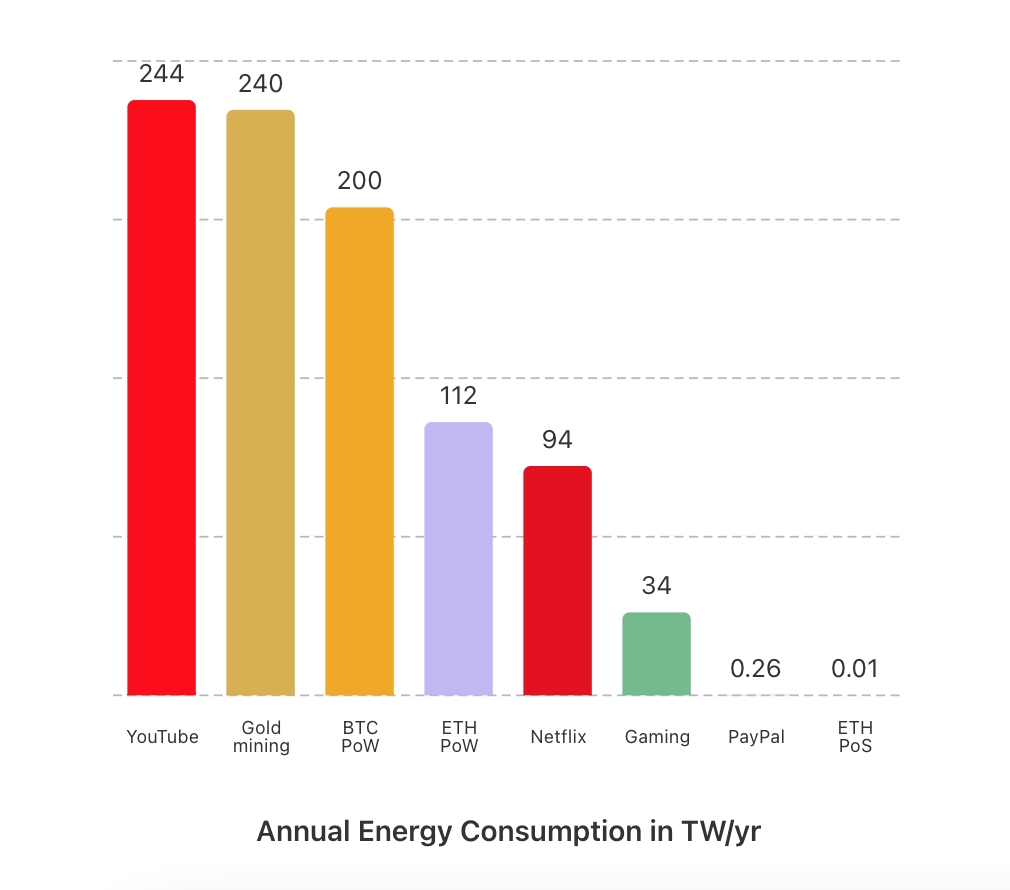 This trend looks to have reversed following 'the Merge', which has seen Ethereum transition to a PoS consensus mechanism. This removes the need for energy-intensive crypto mining, significantly reducing Ethereum's carbon footprint. 
According to Ethereum's website, the network will now expend only around 0.01 TWh per year – a reduction of 99.9% according to the Ethereum Foundation.
In addition, this transition also makes becoming a validator more accessible since it doesn't require advanced computing hardware. Due to this, Ethereum can now be referred to as an environmentally green cryptocurrency – paving the way for others to follow suit.
Cryptoassets are highly volatile and unregulated. No consumer protection. Tax on profits may apply.
7. Solana (SOL) – Greenest Crypto with Low Energy Requirement
Another of the greenest cryptocurrencies to be aware of is Solana. Solana emerged as one of the top trending cryptos in 2021 due to the network's high level of scalability. This is evidenced by the fact that Solana can theoretically handle 65,000 transactions per second (TPS) – far higher than Bitcoin and Ethereum. 
Solana achieves this by using a hybrid consensus model, employing 'Proof-of-Stake' (PoS) and 'Proof-of-History' (PoH) mechanisms simultaneously. The latter was introduced in 2017 by Solana's founder, Anatoly Yakovenko, to significantly increase transaction times.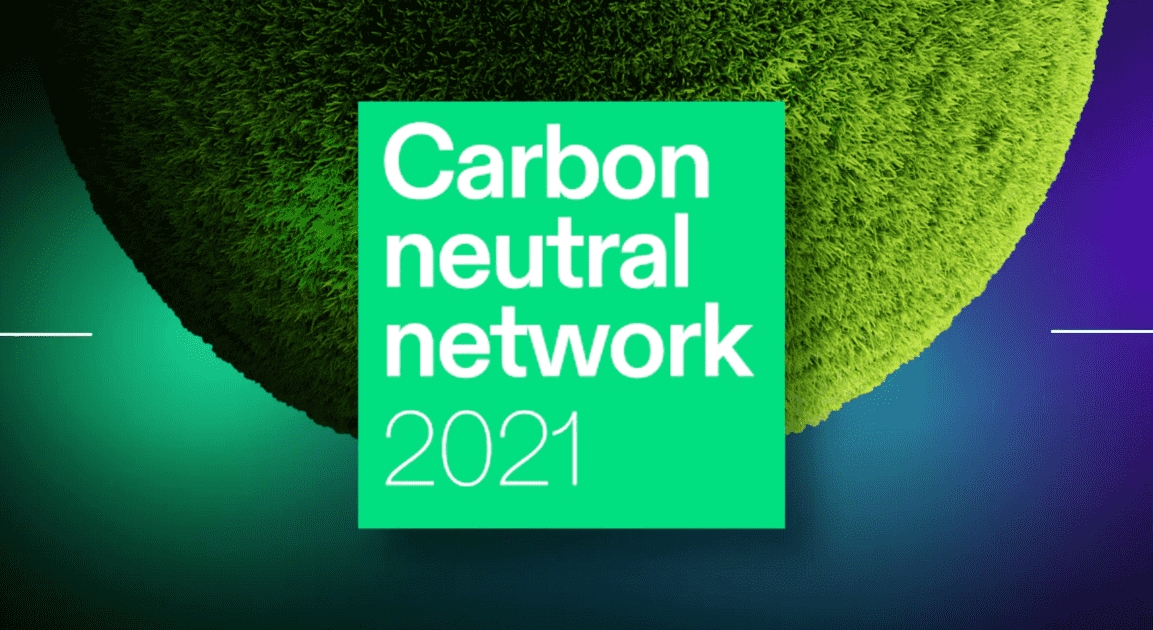 As an added benefit, this approach to scalability has arguably made Solana the most green crypto in the blockchain space. According to a recent energy use report from Solana, an average transaction on the network uses just 2,707 Joules – which is less energy than three Google searches. 
This green crypto cryptocurrency is also fully transparent, as everyone can see the network's energy usage on its website, with data verified by an independent energy and climate advisor. Solana is even funding refrigerant destruction in conjunction with Watershed Climate, which has been shown as one of the best ways to offset CO2 emissions.
Cryptoassets are highly volatile and unregulated. No consumer protection. Tax on profits may apply.
8. Tezos (XTZ) – The Most Green Cryptocurrency with Minimal Carbon Footprint
Tezos is a green energy crypto blockchain similar to Ethereum in that it supports smart contracts and can be used to mint NFTs. However, Tezos differentiates itself by being as decentralized as possible, allowing XTZ holders to make proposals and vote on potential upgrades.
Tezos isn't a new cryptocurrency, having been around since 2017 when it raised over $230 million through its initial coin offering (ICO). The developers opted to use a 'liquid Proof-of-Stake' protocol, which means that anyone with at least 8,000 XTZ tokens can become a validator.
However, those with less than 8,000 XTZ can still become a 'delegator', meaning they can receive a share of the staking rewards from the associated validator – also known as a 'baker'. According to the Tezos website, this approach means the network has an annual carbon footprint of only 17 global citizens.
What's more, Tezos also has 'scalable efficiency', meaning that as on-chain activity increases, the network's energy consumption actually decreases. Finally, this green cryptocurrency ensures the validity of all energy use data by employing PricewaterhouseCoopers Advisory to analyze the network's carbon footprint.
Cryptoassets are highly volatile and unregulated. No consumer protection. Tax on profits may apply.
9. Avalanche (AVAX) – Eco-Friendly Blockchain Offering High Throughput
Those looking for the best crypto to buy for long-term potential may wish to consider Avalanche. Avalanche is an innovative blockchain network that uses multiple chains to increase scalability. Due to this multi-chain approach, Avalanche can handle an impressive 4,500 TPS.
Avalanche also has near-instant transaction finality, which means the network is ideal for dApp developers operating in high-growth niches. Interestingly, Avalanche even has a feature called the 'Avalanche Bridge', which allows developers to port their creations to Avalanche if they wish.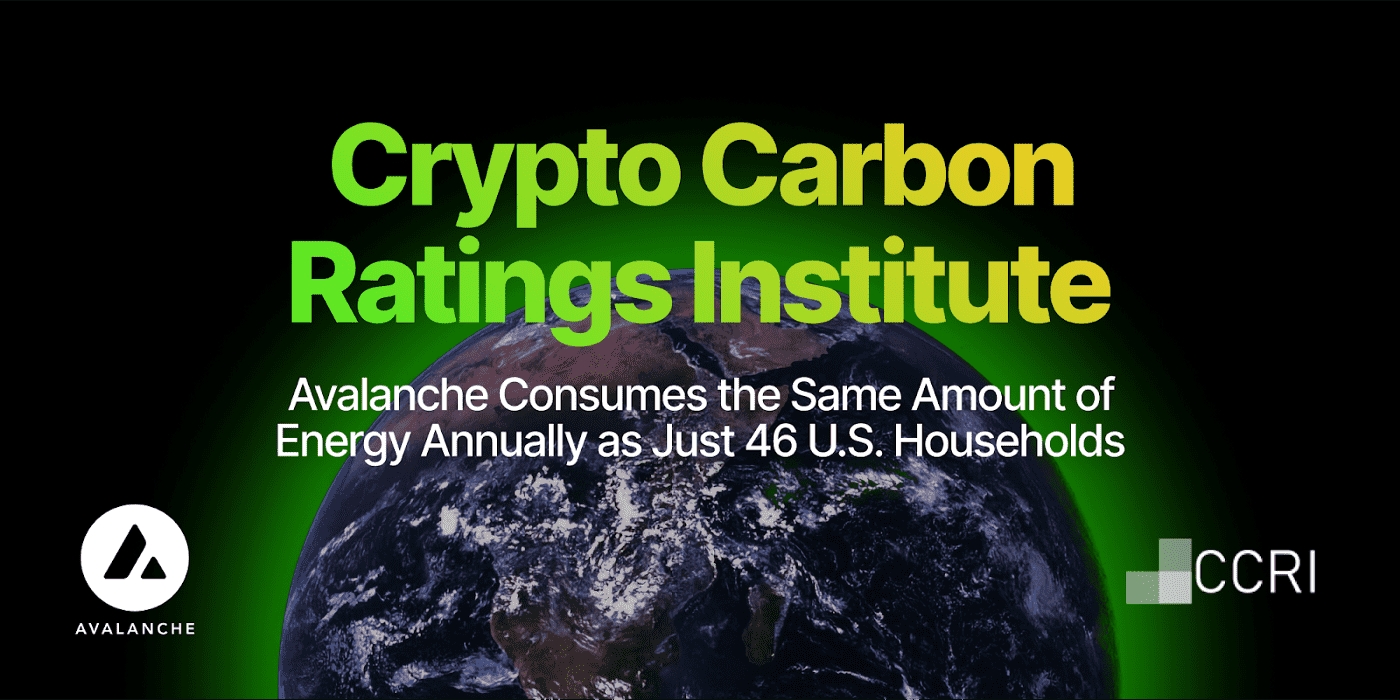 In addition, Avalanche is also one of the greenest cryptos on the market, as a recent report by the Crypto Carbon Ratings Institute (CCRI) found that it uses only 0.0005% of the energy that Bitcoin does. This equates to an annual energy consumption of just 46 US households.
In addition, the leading crypto analytics firm, Messari Crypto, also found that Avalanche's annual energy consumption is actually less than many other green crypto mining alternatives, such as Solana and Cardano. Thus, although the AVAX token has taken a dip in recent months, Avalanche is still an appealing prospect for environmentally-conscious investors.
Cryptoassets are highly volatile and unregulated. No consumer protection. Tax on profits may apply.
10. Algorand (ALGO) – One of the Greenest Crypto Projects in the Blockchain Sector
Algorand has long been considered one of the best Proof-of-Stake coins on the market, thanks to the network's advanced technology. However, Algorand's consensus mechanism is actually defined as 'Pure Proof-of-Stake', which bases a validator's influence on the number of ALGO tokens they have staked. 
However, those with a lower stake can still be chosen, meaning that the network's security level is based on all participants rather than just those with the most ALGO. Algorand's team believes this approach is superior to all other consensus mechanisms and has backed this claim with a well-researched whitepaper.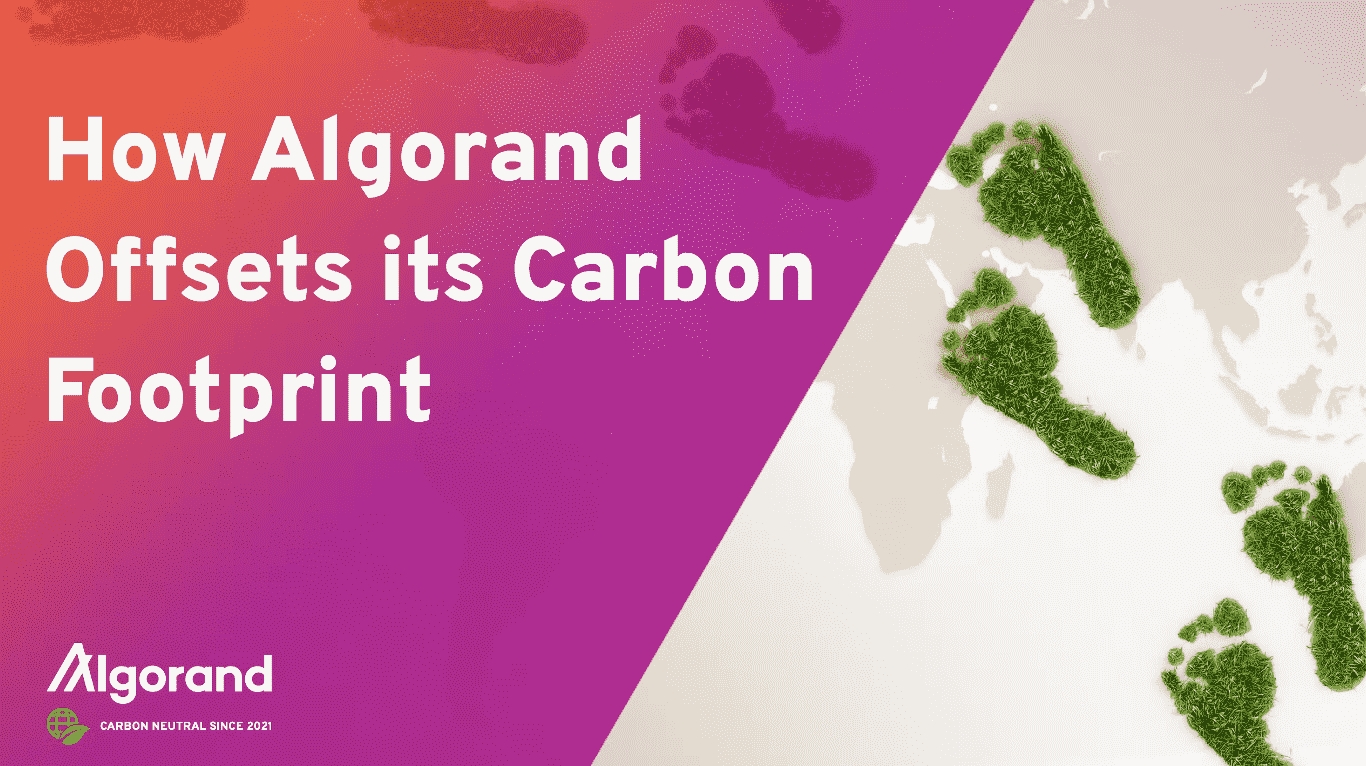 This approach makes Algorand one of the greenest cryptocurrency projects on our list since the network is entirely carbon neutral. In a recent press release, Algorand's team also announced a partnership with ClimateTrade to ensure that emissions data is as accurate and transparent as possible. 
What's more, Algorand has actively promoted its blockchain to eco-friendly organizations, with PlanetWatch and Global Carbon Holding just two of the many enterprises to leverage the power of the network. Given founder Silvio Micali's clear desire to minimize Algorand's carbon footprint, this green crypto cryptocurrency is a viable option for ESG-focused investors. 
Cryptoassets are highly volatile and unregulated. No consumer protection. Tax on profits may apply.
11. Flow (FLOW) – Low-Energy Blockchain for NFT Creators
One of the greenest cryptocurrencies to emerge over the past year is Flow. The Flow blockchain was created by the founders of CryptoKitties – one of the first-ever blockchain games. Thanks to Flow's super-fast PoS consensus mechanism, the network has been able to partner with leading entities like the NBA, UFC, NFL, and LaLiga. 
More than 8,000 developers have now hosted their creations on Flow, with a total of 14 million active wallet accounts. Flow's popularity has skyrocketed recently due to the 'Flow Ecosystem Fund', which offers $725 million in grants to support growth and innovation on the blockchain.

Flow is also one of the greenest cryptos on our list, with the network using just 0.18 GWh of energy each year. Furthermore, Flow's energy use has been independently verified by Deloitte, ensuring accuracy and transparency.
Those looking to get started with NFTs can also use Flow to mint their creations with super-low energy expenditure. To put this in perspective, minting one NFT on the Flow blockchain uses less energy than posting on Instagram – making the network more energy-efficient than Solana and Polygon.
Cryptoassets are highly volatile and unregulated. No consumer protection. Tax on profits may apply.
12. Polkadot (DOT) – Environmentally-Friendly Blockchain Focused on Interoperability
Polkadot is an open-source blockchain platform that occupies a unique place in the sector. Instead of focusing solely on the network's growth, Polkadot's developers have placed great emphasis on interoperability, allowing different chains to interact and share information.
Polkadot does this by offering 'parachains' which connect to a central 'relay chain'. These parachains operate like individual blockchains, yet their transactions are processed on the relay chain. In turn, this means developers do not need to focus on the validation aspect and can place more attention on dApp creation.
Interestingly, a recent article from Bloomberg highlighted that Polkadot has the lowest total electricity consumption and carbon emissions of the six leading PoS chains. Although Solana was found to use the least energy per transaction, Polkadot was deemed to have the lowest carbon footprint. 
Finally, DOT holders are the ones who vote on governance proposals, meaning there's every chance that further upgrades could be implemented that make Polkadot even more eco-friendly. Therefore, those looking for the greenest cryptocurrency from a carbon footprint perspective will likely find Polkadot an appealing prospect.
Cryptoassets are highly volatile and unregulated. No consumer protection. Tax on profits may apply.
13. Polygon (MATIC) – Popular Carbon-Negative Layer-2 Blockchain
Polygon emerged as one of the best altcoins of 2021 due to the scalability services it offers the Ethereum network. As a 'Layer-2 blockchain', Polygon works in tandem with Ethereum to improve transaction speeds and lower network fees.
Through Polygon's PoS consensus mechanism, dApps hosted on Ethereum's blockchain could process their transactions through the Polygon network. Since Polygon can process around 65,000 TPS, this approach became much more popular after the explosion in popularity of NFTs.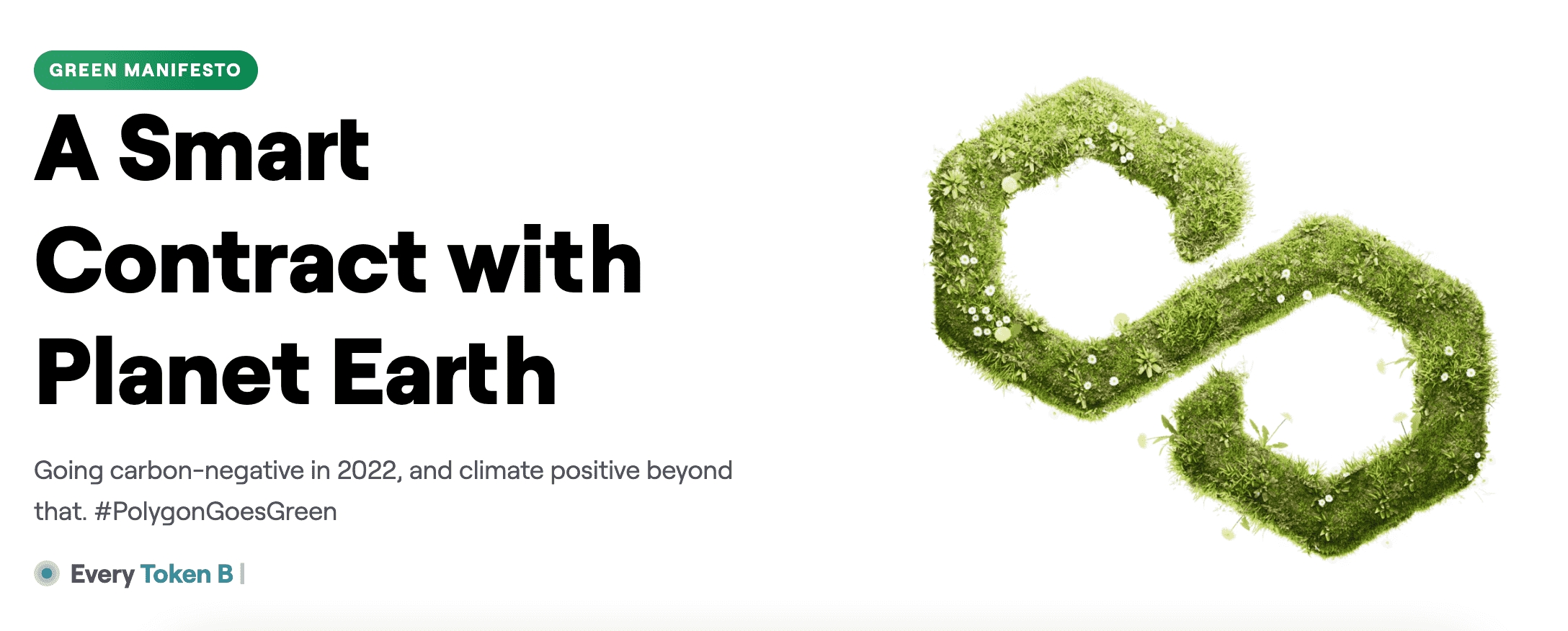 Polygon is also making waves regarding its positive environmental impact, with a recent blog post noting that the network aims to go carbon-negative in 2022. In addition, Polygon's team is freeing up $20 million in funding, which will be given to various initiatives that use technology to combat climate change.
Polygon has even pledged to buy $400,000 worth of carbon credits, aiming to gradually retire these to effectively 'remove' CO2 from the atmosphere. Finally, these moves are coming directly from Polygon's co-founders, highlighting how important sustainability is to Polygon's team.
Cryptoassets are highly volatile and unregulated. No consumer protection. Tax on profits may apply.
14. Cardano (ADA) – Leading Blockchain with Dedicated Sustainability Director
Concluding our list of the most green cryptocurrency projects is Cardano. Cardano is a smart contract-enabled blockchain network that bases all of its technology on peer-reviewed research.
Cardano uses a PoS protocol called 'Ouroboros', which selects validators based on the number of ADA tokens they have staked. The more tokens stakes, the more likely a network participant will be chosen and given validation rewards.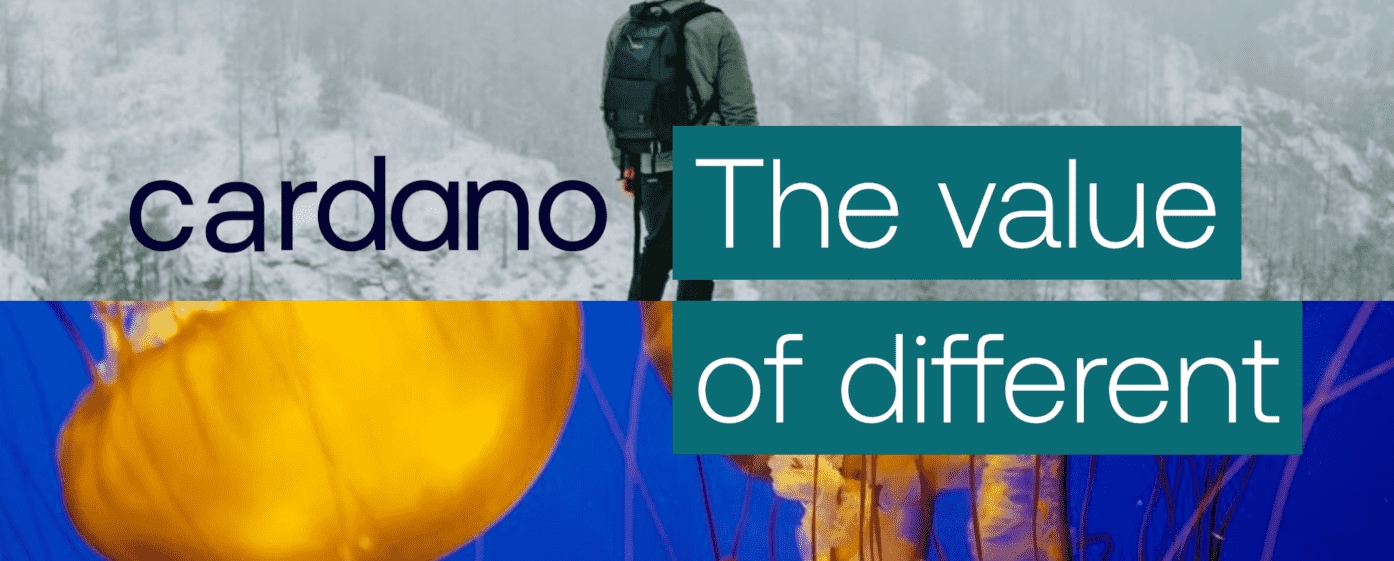 This network also aims to become the most green cryptocurrency on the market, as it targets net zero emissions whilst still providing solid returns for investors. Moreover, Cardano's website also notes that any investments made by the management team are thoroughly vetted to ensure they make a positive real-world impact. 
Interestingly, sustainability is so essential to Cardano that the network even has a dedicated 'Group Head of Sustainability' who works with climate-change academics to ensure Cardano is as green as possible. Combine this with Cardano's low energy requirements, and it's clear why the network is considered one of the greenest cryptos on the market.
Cryptoassets are highly volatile and unregulated. No consumer protection. Tax on profits may apply.
Overview of Green Cryptocurrency
Now that we've listed the most green crypto projects of 2023, let's focus on what green cryptocurrency actually are. In essence, green cryptocurrencies tend to be blockchain projects that limit their energy use. Although blockchains offer numerous benefits, such as transparency and anonymity, they do require considerable resources to run.
A famous example is Bitcoin, which uses a PoW consensus mechanism. This mechanism requires 'miners' to solve complex mathematical problems to validate transactions on the network. As expected, this uses vast amounts of electricity, which has harmed Bitcoin's reputation from an eco-friendly perspective.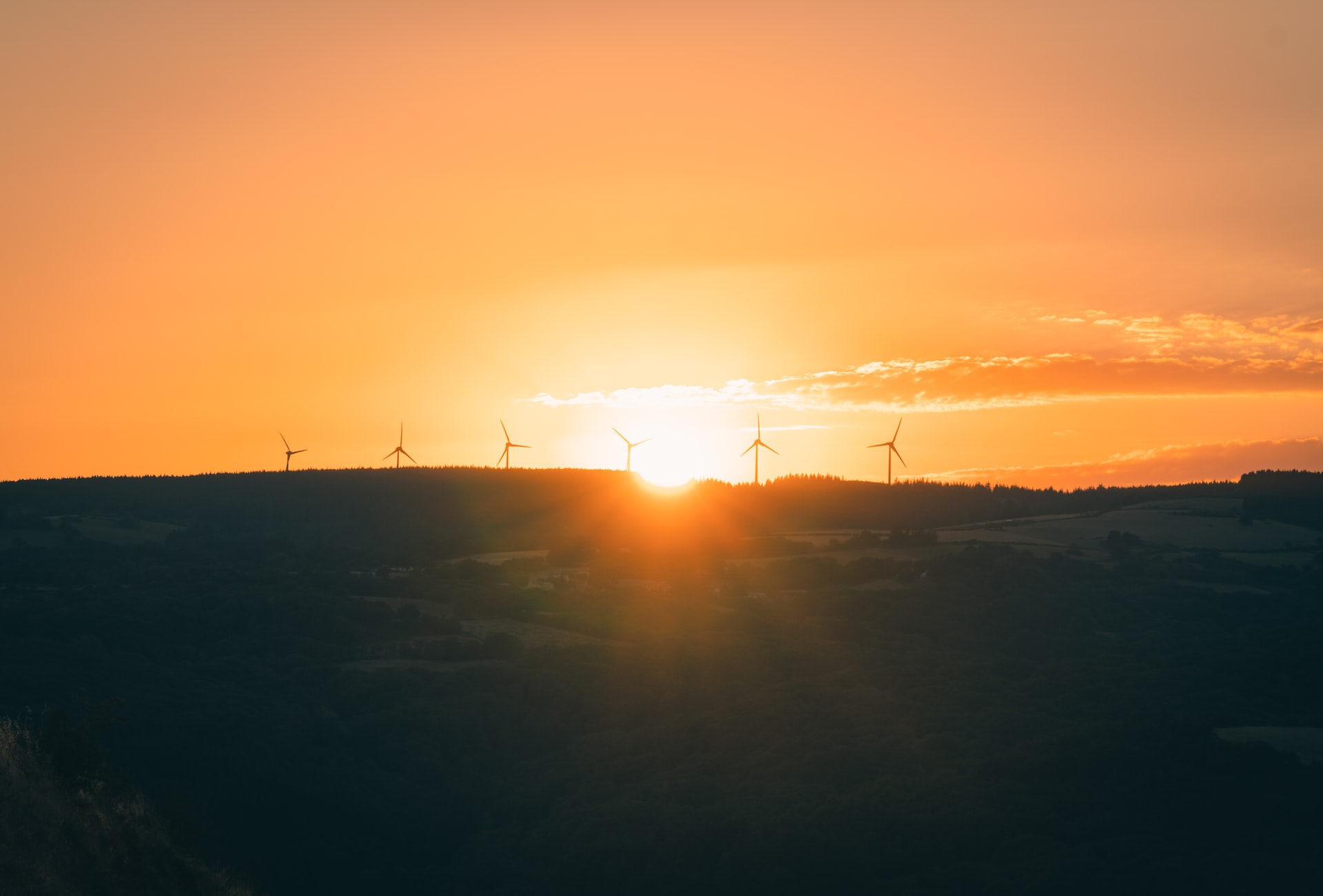 To put this into context, a report from the University of Cambridge found that the Bitcoin network consumes around 97.11 TWh of electricity per year – more than the entire country of Argentina. Once this revelation began filtering throughout the community, blockchain developers worldwide began altering how their networks run.
This is where green crypto comes in, which tends to refer to blockchains that use an alternative to the PoW mechanism that Bitcoin employs. The most common option is 'Proof-of-Stake' (PoS), which completely removes the mining process in favour of staking. This drastically reduces the energy requirements needed to operate the blockchain.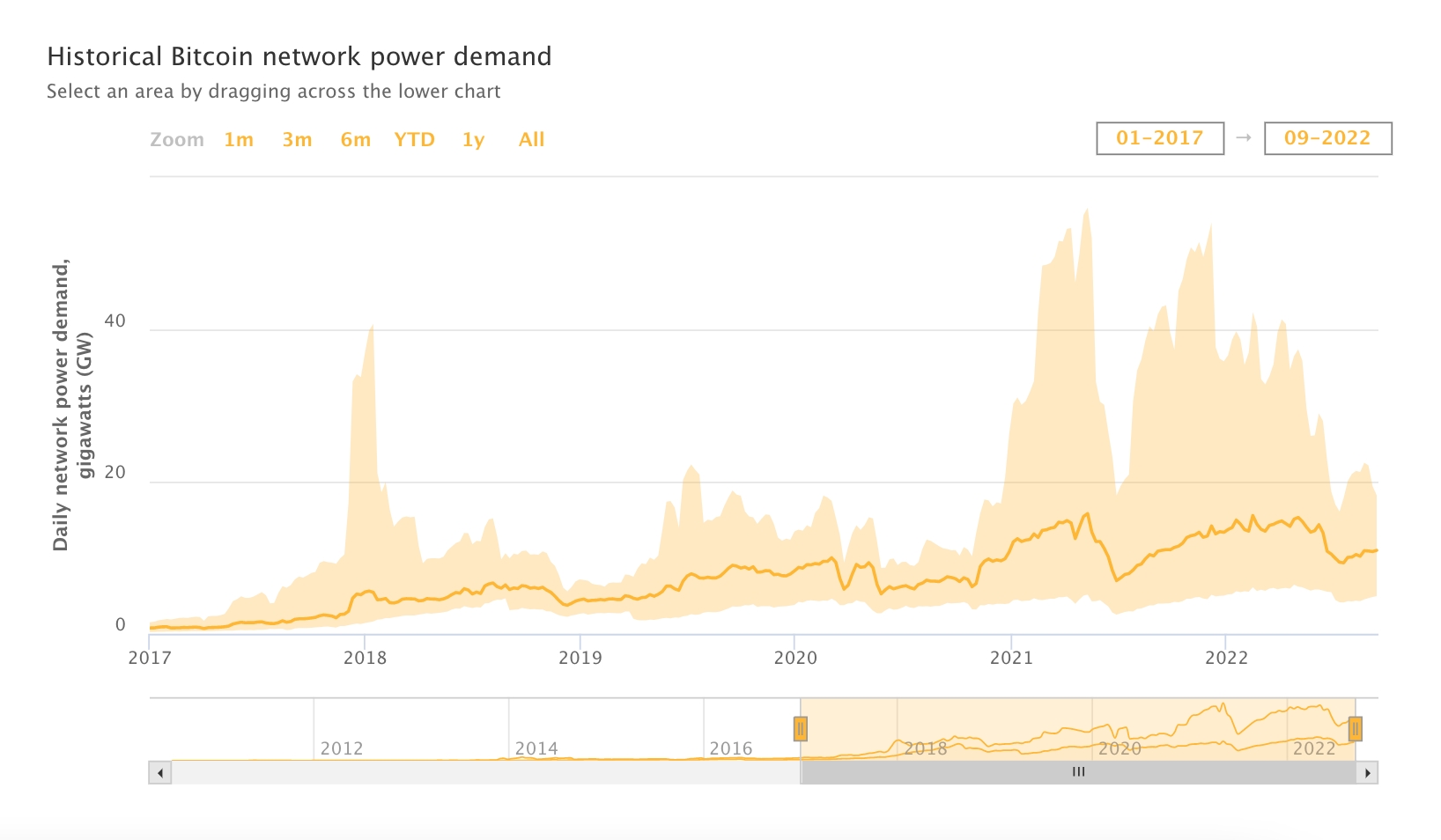 However, many blockchain technology innovations have occurred over the past year that aim to improve energy efficiency even further. For example, the previously-mentioned 'Proof-of-Space-and-Time' mechanism employed on the Chia network utilizes unused disk space for validation. In addition, Solana's 'Proof-of-History' protocol helps reduce electricity consumption while remaining scalable.
Aside from technology, many green cryptos are also identifiable by their partnerships with climate change enterprises. Cardano and Polygon are two prominent blockchains that make targeted investments to reduce the effects of climate change, making them popular with environmentally-conscious investors.
Why is Green Crypto So Popular?
Green cryptocurrency projects have had a dramatic uptick in popularity over the past year – but why is this? To answer this question, detailed below are four reasons why investors have gravitated toward these projects: 
Has a Lower Carbon Footprint
Needless to say, green cryptos have a much lower carbon footprint than their non-green counterparts. This is because the reduced electricity consumption directly leads to less carbon dioxide being pumped into the atmosphere. In turn, this means green cryptos have less of an impact on global warming.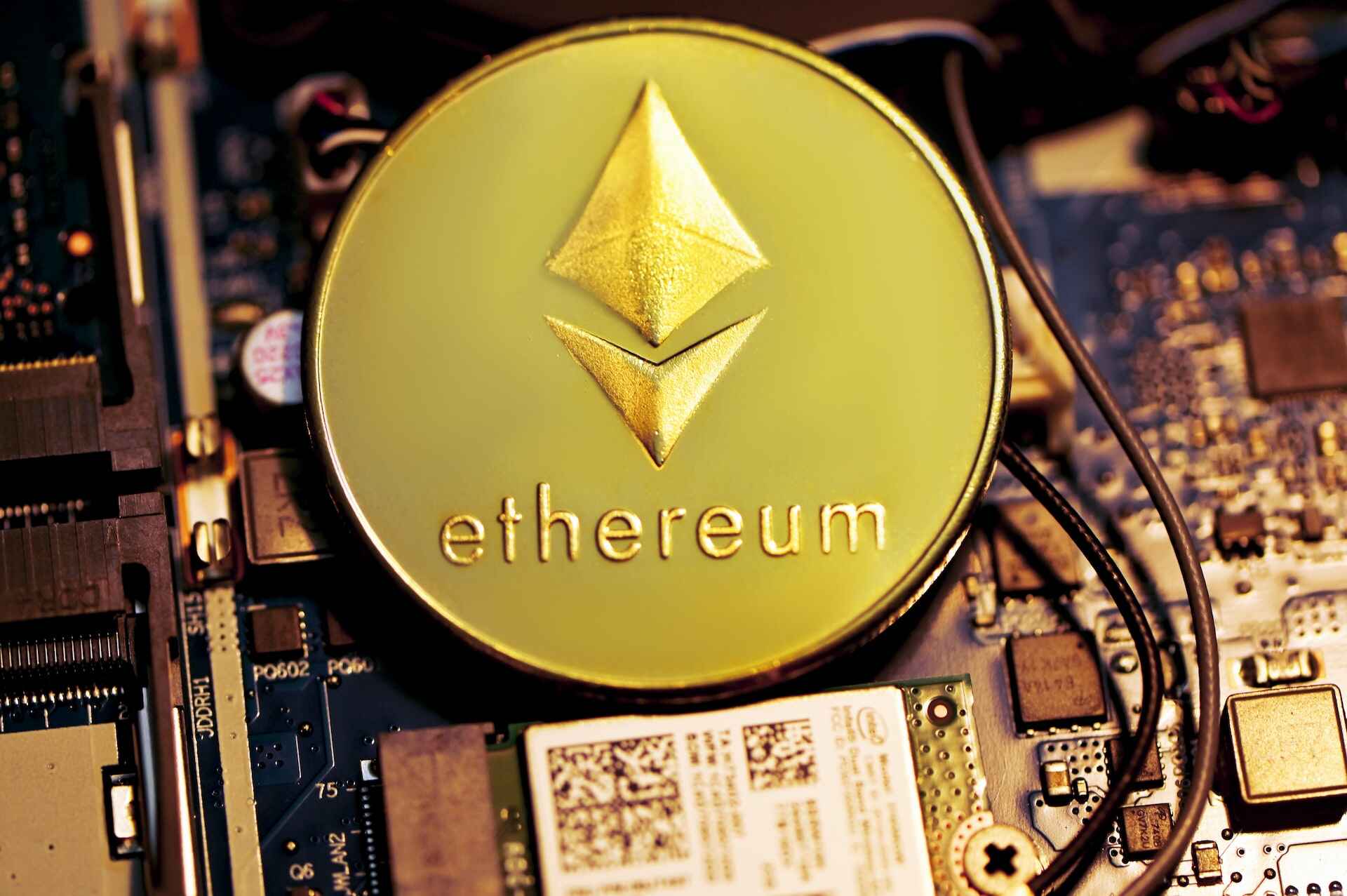 Following 'the Merge', Ethereum 2.0 now has a much lower carbon footprint than it did when using the PoW consensus protocol. According to reports, Ethereum's carbon emissions are now 99.9% lower than they were previously. 
Encourages Eco-Friendly Investing
Green crypto is also popular because it encourages investors to include an asset's environmental impact in their decision-making. Although a considerable percentage of investors still focus solely on financial gain, the growth of green crypto has helped change many people's minds on what is really important.
As green cryptos become more prominent, the non-green cryptos will naturally become less popular. As they fall by the wayside, so too will their negative impact on the environment. 
Promotes Technological Innovation
According to an article by the New York Times, climate change continues to accelerate, bringing the world ever closer to irreversible effects. Due to this, the technological innovations brought about by green cryptos have become more critical than ever.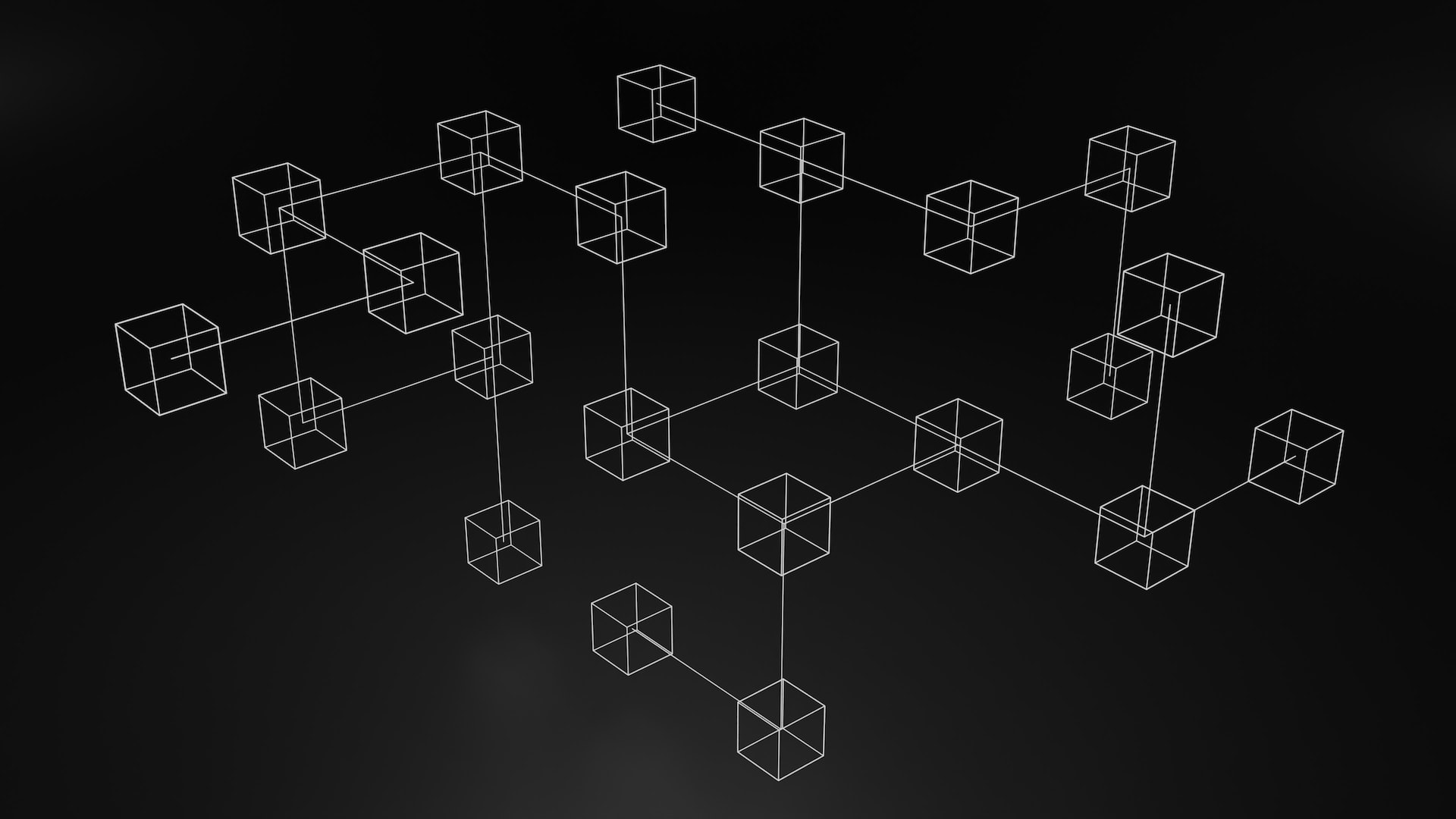 The crypto market is an inherently competitive space, which is seen as a good thing for the environment. As crypto projects attempt to outdo each other, the technological upgrades will naturally make them more sustainable – leading to lowered carbon footprints across the board and more sustainable cryptos to invest in.
Changes People's Perception of Crypto
Finally, the growth of green crypto is also essential in terms of changing people's perceptions of the market. Bitcoin's colossal energy use has undoubtedly soured people's views on crypto, yet the emergence of green projects like Chia has begun to change these views.
If this trend toward sustainable technology continues, there's no doubt that people will begin looking at cryptocurrency in a more positive light. Especially the most energy efficient cryptocurrencies. Not only will this benefit green cryptos directly, but it will also benefit the market as a whole.
Top Strategies to Find the Greenest Cryptocurrencies
There's no doubting the positive impact of green cryptocurrencies on the environment. Yet, investors looking to gain exposure to these projects must conduct additional research to ensure they are as eco-friendly as they claim. Listed below are three strategies investors can employ to identify these green cryptos:
Be Aware of Current Affairs
One of the best ways to identify green cryptocurrencies is to be aware of the pressing issues in today's world. By being aware of the hot topics, investors can identify which crypto projects are looking to offer solutions. 
For example, reforestation has become a widely-discussed topic in eco-friendly circles, leading Cardano's developers to partner with the leading sustainability firm, veritree. Through this partnership, Cardano has created its own 'Cardano Forest', with the overarching goal being to plant one million trees.
Review a Project's Whitepaper
Green cryptos can also be uncovered by thoroughly reviewing the project's whitepaper. The whitepaper is an excellent resource for investors as it discusses the technology underpinning the project and its roadmap for the future.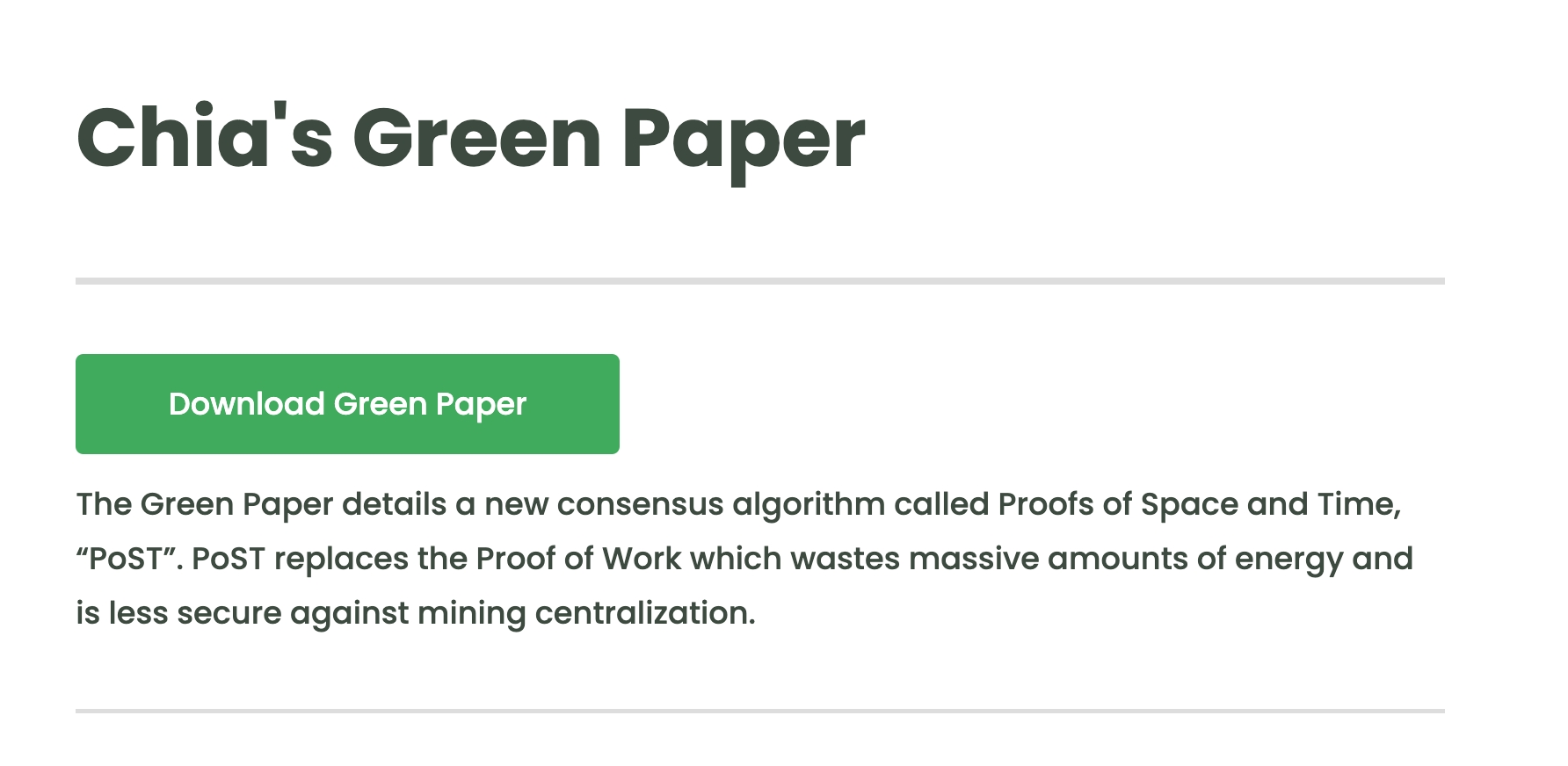 The latter is crucial for eco-conscious investors, as any sustainability plans and goals should be noted here. If a project doesn't mention anything related to sustainability or the environment, chances are that these elements are not important to the developers. 
Look for Eco-Friendly Partnerships
Finally, investors can find green cryptos by keeping an eye out for partnerships that look to foster improvements in the environment. When crypto projects partner with other enterprises, it allows them to put their resources to good use and helps increase awareness of the project.
Greenest Cryptocurrencies to Invest In – Conclusion
In conclusion, this article has taken an in-depth look at the 12 greenest cryptocurrency projects on the market, covering what they are, how their technology works, and why they are so important in today's world. 
Those looking to buy green crypto today can do so by partnering with eToro – one of the world's leading trading platforms. eToro allows clients to open positions from just $10, with over 75 cryptocurrencies available to trade. Clients can also easily fund their accounts via credit/debit card, bank transfer, or PayPal – all with no deposit or monthly account fees.
However, our top pick is Bitcoin Minetrix, a new campaign that aims to change the BTC mining industry, which is known to be very environmentally destructive. It introduces a new stake-to-mine model that makes the ecosystem accessible to everybody, with a mere $10 investment. 
FAQs
Are any cryptocurrencies green?
Yes – more cryptocurrencies than ever are employing cutting-edge technology to reduce their carbon footprint. This tends to come in the form of a 'Proof-of-Stake' (PoS) consensus mechanism, which removes the need for mining – thereby reducing energy requirements. New green projects such as Bitcoin BSC use this mechanism to reward stakers with a high APY.
Which crypto is the greenest in 2023?
Our pick for the most green crypto in 2023 is Bitcoin ETF Token, a new speculative token based around the spot Bitcoin ETF approval by the SEC, due to it's high staking APY, which is environment-friendly.
 
---