Gamemaker Buys Stake in Coinone Exchange as Gambling Charges Dropped
The South Korean crypto exchange Coinone has been feting a double windfall – with a gaming giant snapping up a minority stake in the company and a legal boost leaving its CEO in the clear over gambling allegations.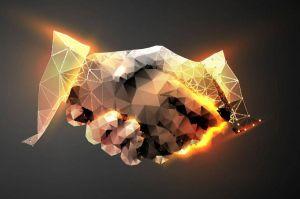 While three domestic gaming firms have been variously linked to deals to take over the Coinone rival Bithumb, Gamevil – a top-300 KODAQ-listed mobile gamemaker – has stolen a march on its own rivals by agreeing a deal that will see it take control of 13% of the crypto exchange's shares. The deal is worth over USD 28m.
In a document filed with the financial regulator, Gamevil wrote that the deal would be completed on June 11.
Per Money Today, Coinone explained that the deal was not a "simple investment," but a "partnership that will create diverse business opportunities" for both companies.
Gamevil, the media outlet added, is "planning to step up its interest in blockchain technology and cryptocurrency platforms at the enterprise level," and will also look to explore crypto-related avenues through its Com2uS gaming subsidiary. Both Gamevil and Com2uS have business interests in Europe and North America.
The fintech accelerator Gowid remains the largest single Coinone shareholder, with almost 42%, while TheOne Investment owns a further 28.9%. The remainder of the shares is owned by the firm's CEO and mastermind Cha Myung-hoon.
And in a further development, Cha and a number of Coinone employees were bolstered by the news that potentially damaging charges against them for violating gambling and loans laws have been dropped.
Asia Kyungjae reported that prosecutors have decided not to press ahead with a case put together by the police. Officers had accused Cha and his staff of creating an "environment that promoted illegal gambling" by offering margin trading services between November 2016 and December 2017.
Gambling in almost all forms is prohibited in South Korea, although until March this year, the crypto exchange industry was almost completely unregulated. The police had suspected that the practice was mimicking credit trading services offered by securities trading platforms without obtaining prior financial regulatory clearance.
The police referred the case to the prosecution all the way back in summer 2018, but the prosecution has belatedly responded with a ruling of "no charges," adding that it would not reveal any further details about the case.
Founded in 2014, Coinone is currently the third-largest crypto trading platform in South Korea and has been enjoying a bumper 2021 with trading volumes skyrocketing in the country. Crucially, it is one of only four exchanges that currently have the real-name banking services and anti-money laundering protocols in place that will allow them to continue trading after September 24, when a grace period for last month's regulations comes to an end.
Trading volume on Coinone: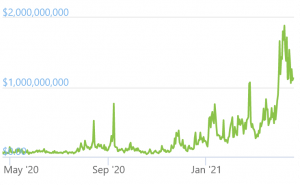 ___
Learn more:
- Gaming Giant WeMade Wants to Buy Bithumb – Report
- Crypto and Traditional Finance To Merge Via M&As
- Crypto Exchanges to Spend 2021 Focusing on DeFi, UX, and New Services
- Dunamu Nasdaq Listing 'Could Raise USD 17.9B' – Analysts
- Mitsubishi, Banking & Telecom Giants Invest USD 62M in DeCurret
---