Expert Warns Japan is Lagging 'Six Years Behind China' in CBDC Race
Japan could be as much as six years behind China in digital currency progress – and may also be lagging behind its largest East Asian rival in the tech stakes when it comes to blockchain, according to a Japanese expert.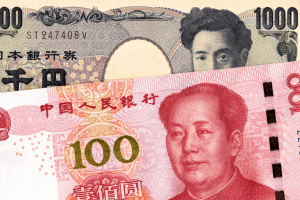 Source: Adobe/Alexandr Blinov
Per a column published by Japanese media outlet Record China, former Pan Pacific director and long-time China observer Yusuke Takano, China is now attempting to "lead the world in the [blockchain] sector through a concerted national effort."
Takano claimed that while Japan was clearly making blockchain-related efforts, these often paled in comparison to those being made in the Middle Kingdom.
The columnist stated that a look at blockchain conference diaries proved how sincere Beijing is about all things blockchain-related. He pointed out that although a major event co-hosted by the chief financial regulator, the Financial Services Agency, and the Nikkei media group was held in August, four major blockchain events were held in China in the same month.
What is more, four more major blockchain conferences are slated to take place in China before the year's end, while Tokyo may have to wait until 2021 for its next major blockchain event.
When it comes to central bank digital currency (CBDC) progress, Beijing also has the upper hand, the columnist added, as the Chinese central bank launched a CBDC research unit all the way back in 2014.
Takano noted that a slew of news articles have appeared on Chinese state-affiliated websites of late, pointing out the similarities between the digital yuan and e-pay platforms like WeChat Pay and Alipay – a possible sign that a rollout is forthcoming.
The central People's Bank of China (PBoC) spoke about replacing cash with digital currency all the way back in January 2016, and it was at this point that the digital yuan project was launched "in earnest," Takano noted.
He added that in mid-2018, Chinese state TV broadcasters aired a series of programs denouncing cryptoassets, but championing blockchain technology, extolling the virtues of "no-coin blockchain technology."
The columnist noted that China has been relatively transparent about its objectives of refusing to deal with cryptoassets and aiming to issue its CBDC – as well as attempting to lead the world in the blockchain industry.
He wrote,
"China's blockchain strategy is clear."
The author noted that practical, real-world blockchain projects in areas "such as healthcare and trade finance are already underway" in China.
By contrast, Japan has gone back and forth with its own CBDC policy, with digital yen issuance projects only starting in earnest this year. Blockchain progress in Japan has also been slower than in China.
The author concluded by asking,
"Japan started [its CBDC project] six years behind China. Only experts are really paying attention to the relatively few blockchain conferences [that are held in Japan]. Is Japan really OK with this?"
__
Learn more:
Japanese Central Bank Creates Digital Currency Unit – Led by Satoshi!
How CBDCs Might Change Our Daily Payments
How Would Digital Yuan Change China's Economy?
Japan Might Give Green Light for ICOs Under New Guidelines
---