Expat Salvadorans 'Clash' in LA Park over Bukele, Bitcoin
Disclosure: Crypto is a high-risk asset class. This article is provided for informational purposes and does not constitute investment advice. By using this website, you agree to our terms and conditions. We may utilise affiliate links within our content, and receive commission.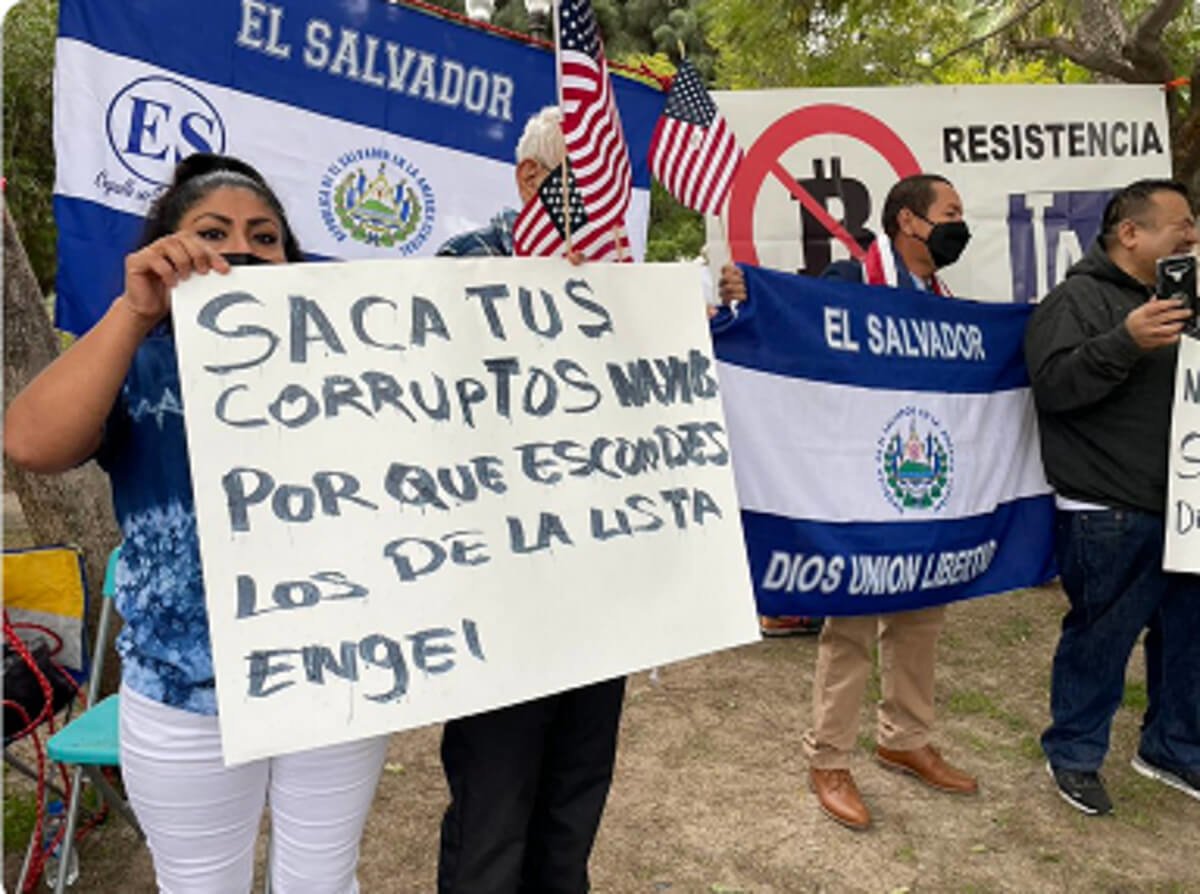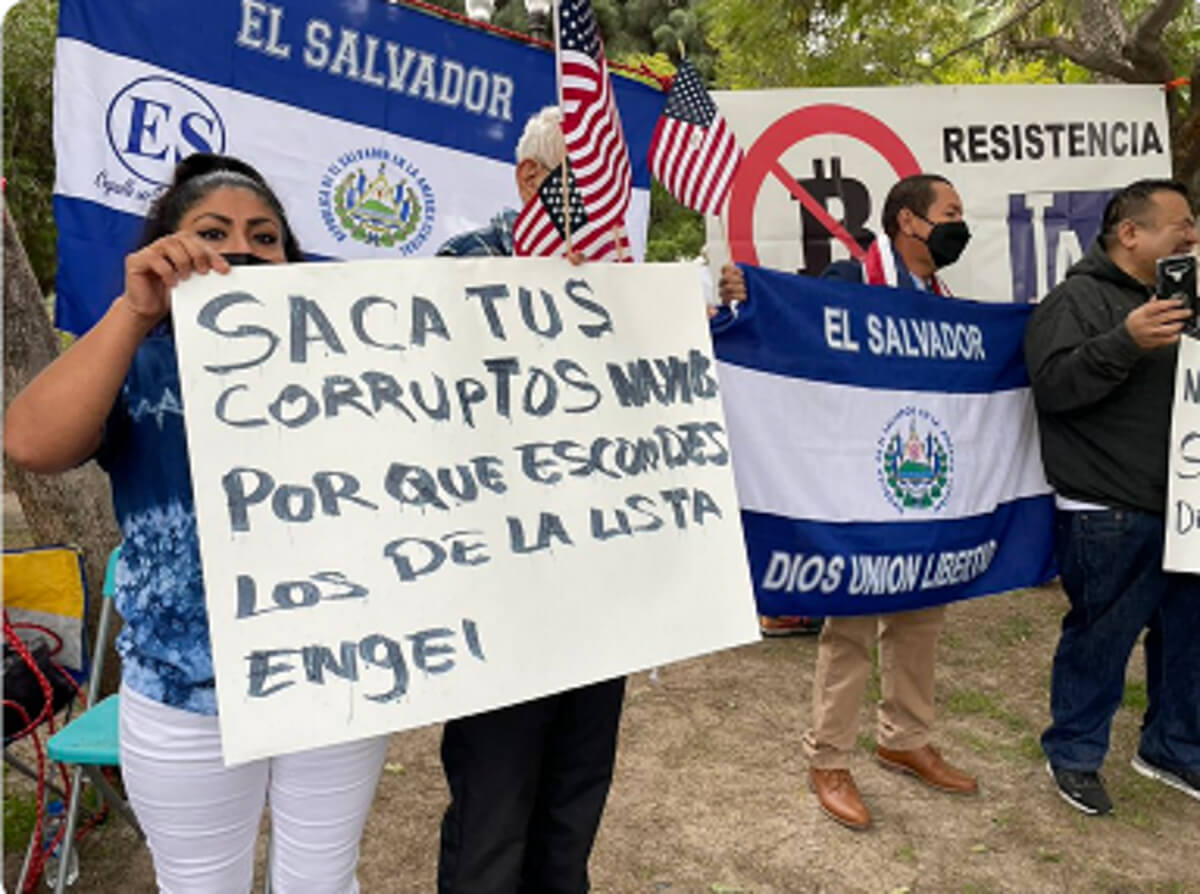 Salvadorans in Los Angeles, USA, gathered in a public park on Saturday to vent their disdain for President Nayib Bukele and his bitcoin (BTC) adoption policies – while rival groups convened to voice their support for the crypto-keen leader.
ElSalvador.com reported that "heated clashes" ensued as supporters and anti-bitcoin critics of the Bukele regime came face to face in LA's MacArthur Park, forcing police officers to "intervene" – although "by the end of the day" no major incidents had been reported.
Images and videos were published to Twitter by Soudi Jiménez, a reporter for the Spanish-language version of the Los Angeles Times.
In one image, protestors were shown holding signs featuring crossed-out bitcoin logos. In a video, a man standing in front of such a banner explained that he opposed the "corruption" ushered in by Bukele's regime.
Others claimed that the fact that members of the Bukele administration had been placed on the Engel List – a United States-compiled list of "corrupt and antidemocratic actors" operating in the world of Central American politics – was proof that the regime was taking El Salvador into a world of "fraud."
But one Twitter user posted a photo showing a very small-looking group of protestors, claiming that they numbered "only 10."
Jiménez's videos did show a very large pro-Bukele contingent, however, with Salvadoran expats calling for Bukele to serve another term as President, and chanting their support for the controversial leader.
Así luce la concha acústica del MacArthur Park, en Los Ángeles, en donde se han congregado los seguidores de #NayibBukele pic.twitter.com/M5yQybiMrM

— Soudi Jiménez (@SoudiJimenez) January 15, 2022
One video showed a police officer speaking to a pro-Bukele supporter, attempting to convince him that his group should not engage with the Bukele critics also gathered in the park.
Algunos simpatizantes de #NayibBukele insisten en traspasar la área en donde están concentrados los que protestan contra el mandatario salvadoreño. pic.twitter.com/GGTZ4iuHxv

— Soudi Jiménez (@SoudiJimenez) January 15, 2022
The media outlet quoted a protestor as stating:
"We are against the corrupt way that the Bukele government is leading the nation. As Salvadorans, we are not happy at all about the relationship the state has with the United States. The [United States] is still home for many of us."
The protestors appeared to demand the reversal of the bitcoin adoption law that promulgated in September last year, as well as the "removal of officials accused of corruption" on the Engel List.
Some 19 Salvadorans, including a number of high-ranking Bukele government officials, were placed on the list last year, with some names added last week.
A protestor was also quoted as stating that Bukele had been following a playbook already made familiar by other authoritarian Central American leaders – including the Venezuelan Presidents Hugo Chávez and Nicolás Maduro, as well as Nicaragua's leader Daniel Ortega.
The protestor claimed that all three claimed to be working "for the people" – but were actually using strong-arm and corrupt tactics, stating:
"Ortega also does it in the name of the people. Ortega puts opponents in prison; he persecutes his opponents. […] That's the direction we're going toward in El Salvador."
____
Learn more:
– New El Salvador Laws Will Help Bitcoiners Who Want to Move to the Country, Says Gov't
– Bukele Teases Further Bitcoin Developments in Year Ahead for El Salvador

– El Salvador Bitcoin App Should Have Been Audited Long Ago, Claims Ex-Central Bank Chief
– Lack of Transparency Blighting El Salvador's Bitcoin Adoption, Critics Say

– 1B Crypto Users, Friendlier Regulations, Countries Adopting Crypto – Crypto.com's 2022 Predictions
– Insiders Predict: NFTs the 'Gateway Drug to Crypto', More Countries May Adopt Bitcoin in 2022
---