Ethereum, XRP Making Gains on Bitcoin in Crypto Pay Stakes – BitPay Stats
Data from major crypto payment gateway BitPay suggests that major altcoins are slowly gaining ground on bitcoin (BTC) in the payments sector.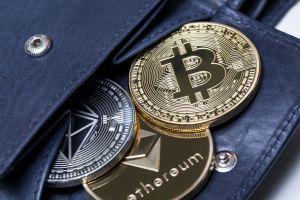 In a release shared with Cryptonews.com, the firm wrote,
"While bitcoin remains the most popular crypto used by consumers for purchases (representing 79% of all BitPay transactions), ethereum (ETH) [accounts] for 7.43% and XRP 8.6%."
That might not sound like much, but over the course of the year, it is relatively significant.
BTC's dominance over the chasing altcoin pack has been cut by over 10 percentage points since June 2020, when it enjoyed a dominance rate of 89% on the platform. At the same time, ETH's share was 3.93%, XRP's - 2.39%. Meanwhile, bitcoin cash (BCH) has also increased its share from 3.62% in June to 4.13% in November.
The most recent statistics from the firm show that crypto payments for November grew month-on-month by over 2% on the platform (just under 80,500 transactions), although they are down from a high of almost 110,000 transactions recorded in July this year.
The company also revealed,
"For ETH, the biggest purchases are with gift cards, computer software/gaming, electronics and precious metals. Likewise, XRP's biggest purchase was with gift cards and then followed by electronics, FX exchange, precious metal and online gaming."
Indeed, prepaid and gift cards represented over a third of all the purchases made on the platform in November in all tokens.
BitPay also claimed that it believes "the increase in the value of bitcoin, the holiday season and the coronavirus pandemic have contributed to these results," adding that some are "loading their BitPay Debit Card for spending at retailers that have yet to accept crypto."
"This increase," the firm said, "is for day-to-day expenses for food, travel, electronics, and clothing."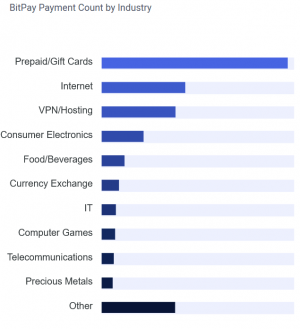 ___
Learn more:
Bitcoin Pay Gets Traction in Venezuela While Crypto Gathers Pace in Argentina
Spain Gets Bullish for Bitcoin as Hotel Booking Site Inks Crypto Pay Deal
Crypto And Blockchain Adoption Depends on Security, Trust & User Experience
Travala in Crypto Transactions Boost, Bitcoin Outstrips Credit Card Sales
Bitcoin Rewards "Farming" Is Coming
---