Ethereum Shortly Flips Bitcoin on Google Amid USD 5,000 Per ETH Forecasts
For a moment, search interest in ethereum (ETH) surpassed that in bitcoin (BTC) in the past day, but dogecoin (DOGE) swiftly eclipsed them both for a while, still battling it out with ETH. However, the world's second cryptoasset outperforming the first one in a number of metrics does not seem to surprise insiders who claim BTC no longer has an influence on ETH's price, and that the latter may hit prices greater than the now forecasted USD 5,000.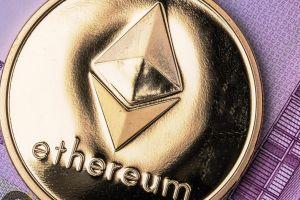 Google trends saw quite an interesting play in the last day between the three coins - or rather the public's interest in them, to be precise. While the search in the term 'bitcoin' was higher for a while, 'ethereum' started rising, at one point and very briefly surpassing the search interest in the number one coin by market capitalization.
But from underneath the 'fight' between the two, dogecoin pushed higher, first surpassing the interest in ethereum a couple of times, then jumping above both the top coins.
On average, in the past day, the search interest in ethereum and dogecoin is at the same level (represented by the value of 40/100), while bitcoin stands somewhat higher (value of 61).
DOGE has been rallying recently, fuelled by certain celebrities' tweets, spectacularly entering the top 10 coins by market capitalization list, where it currently sits at the 5th place. It hit a new all-time (ATH) high on May 4, reaching USD 0.45. It's up 16.5% in a day and 63% in a week.
All this comes as the price of ethereum makes strong steps upwards too, hitting a series of all-time highs, as well as surpassing the USD 3,000 level, and then hitting USD 3,450 in a day. At 7:30 UTC, it's trading at USD 3,367, after it appreciated 7.5% in a day and 32% in a month. Much of this appreciation has been attributed to the growing institutional interest, the continued growth of decentralized finance (DeFi) applications Ethereum, and the upcoming developments like EIP-1559.
"At any rate, Ethereum is certainly not growing due to Bitcoin's influence, as the world's largest cryptocurrency is still stuck in the mid-[USD]50k's, as it has been for quite a while now," global payment network Mercuryo Co-founder and CEO, Petr Kozyakov, told Cryptonews.com.
Unlike ETH and DOGE, bitcoin last hit an all-time high on April 14, dropping from that almost USD 65,000 since, and remaining relatively stable, currently at USD 56,269. It's down 4% in a day and is up 2.6% in a week. It's also the only among the three to see a drop in the past month.
Additionally, there's been a change in ranking when it comes to the 24h trading volume: bitcoin currently ranks 4th, with a volume of USD 55.85bn, while ethereum takes the 2nd place, with USD 71bn (behind tether (USDT) - USD 155bn). Dogecoin follows the two, sitting on the 5th place, with USD 19.63bn.
On the other hand, ETH surpassed BTC in one more way - liquidations.
Over the past 24 hours, USD 444m worth of trading positions in the BTC derivatives market were liquidated, compared with ETH's USD 523m.
(Learn more: Obsessed Amateur Crypto Traders Are 'Disproportionately Liquidated')
The USD 5,000 narrative
According to BitBull Capital CEO Joe DiPasquale, ETH's potential for appreciation can be assessed by looking at the ETH/BTC pair, which is still trading well below its all-time high of over BTC 0.15.
The most recent resistance level on this pair of 0.05 has been broken, and it can be expected for ETH to trade as high as 0.07 before meeting any significant resistance, said DiPasquale. However, he noted that a retracement towards USD 3,000 is likely, given the swift rise, before ETH makes another move up.
"Keeping the ETH/BTC ATH in mind, we wouldn't be surprised to see a [USD] 5,000 ETH soon," the CEO said.
And it seems like DiPasquale is not the only one seeing this price in ETH's charts - and quite soon. Nigel Green, CEO and Founder of deVere Group, said that ETH's rally over the past months has been fuelled by the rising institutional interest and "growing recognition that borderless digital currencies are the future of money," as MarketWatch reported. "This momentum is likely to build further in the near-term and I believe ether will hit [USD] 5,000 within seven days," he said.
Whether this will be the case, and how high ETH can go "is anyone's guess," stressed Kozyakov. After the USD 5,000 mark, it "might continue going further up, it might stop in the vicinity of USD 5,000, or it might correct to some lower point. Predictions are many, and ETH has already outperformed quite a lot of them, so all that anyone can really do is keep a close eye on the market and see what will happen next."
Meanwhile, according to Jeff Dorman, the Chief Investment Officer (CIO) of US-based investment management firm Arca, the demand is expanding away from BTC.
"There is a real, fundamental, and persistent demand shift happening right now," he said. "New investor money has been flowing into digital assets since the 3rd quarter of last year, but the investor goals are changing," and have changed to "can I specifically diversify away from Bitcoin into Ethereum and other digital assets?"
According to him, "Ethereum has now crossed the rubicon into the mainstream, and despite the difficulty understanding it, investors of all sorts are finding reasons to add ETH to their portfolios."
But others are warning of an ongoing speculative frenzy.
"What we're seeing right now is the definition of speculative excess," IG Markets analyst Kyle Rodda told Reuters. "There's money being thrown at anything in the crypto space."
Nonetheless, Qiao Wang of the DeFi Alliance accelerator tweeted of "a nonzero probability of ETH flippening BTC around July." He added that he doesn't think the probability is high, "based on how euphoric the ETH camp is in the replies and how triggered the BTC side is."
Even with the new high in ETH, "there is still a USD 725bn market cap gap between it and BTC. The ETH overtaking BTC "flippening" is still a long way off, but ETH continues to eat away at BTC's dominance which now stands at under 50% (47% at the time of writing) and ETH at 15% of total cryptos," said Justin Chuh, Senior Trader at the regulated digital asset investment manager Wave Financial
At the time of writing the article, the difference in market cap is USD 665bn, per Coingecko.com data.
And speaking of the ETH and BTC camps, many argue that the Bitcoin maximalists are too dependant on the 'Ethereum is a scam' line, while the ETH camp relies too much on the narrative surrounding Ethereum 2.0.
_____
Other reactions: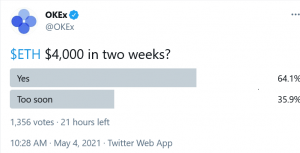 __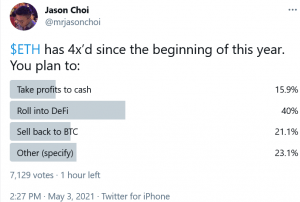 __
__
__
__
__
____
Learn more:
- The Ethereum Economy is a House of Cards
- Bitcoin's Correlation with Altcoins is Declining Again. What Does it Mean?
- Ethereum Exchange Inflows More Concentrated, Fewer Insiders Dominate
- Binance Chain is On 'a Parabola', Surpassing Ethereum in Several Metrics
- Ethereum Won't Hide From Quantum Computers Behind PoS Shield
- Are Wall Street Giants Playing the 'Make-Bitcoin-Cheaper' Game Again?
- 'Fulfilment of Satoshi's Dreams' Ethereum Gets a Nod from JPMorgan
---