Ethereum Price Prediction as $9 Billion Trading Volume Comes In – Can ETH Overtake Bitcoin?
Disclosure: Crypto is a high-risk asset class. This article is provided for informational purposes and does not constitute investment advice. By using this website, you agree to our terms and conditions. We may utilise affiliate links within our content, and receive commission.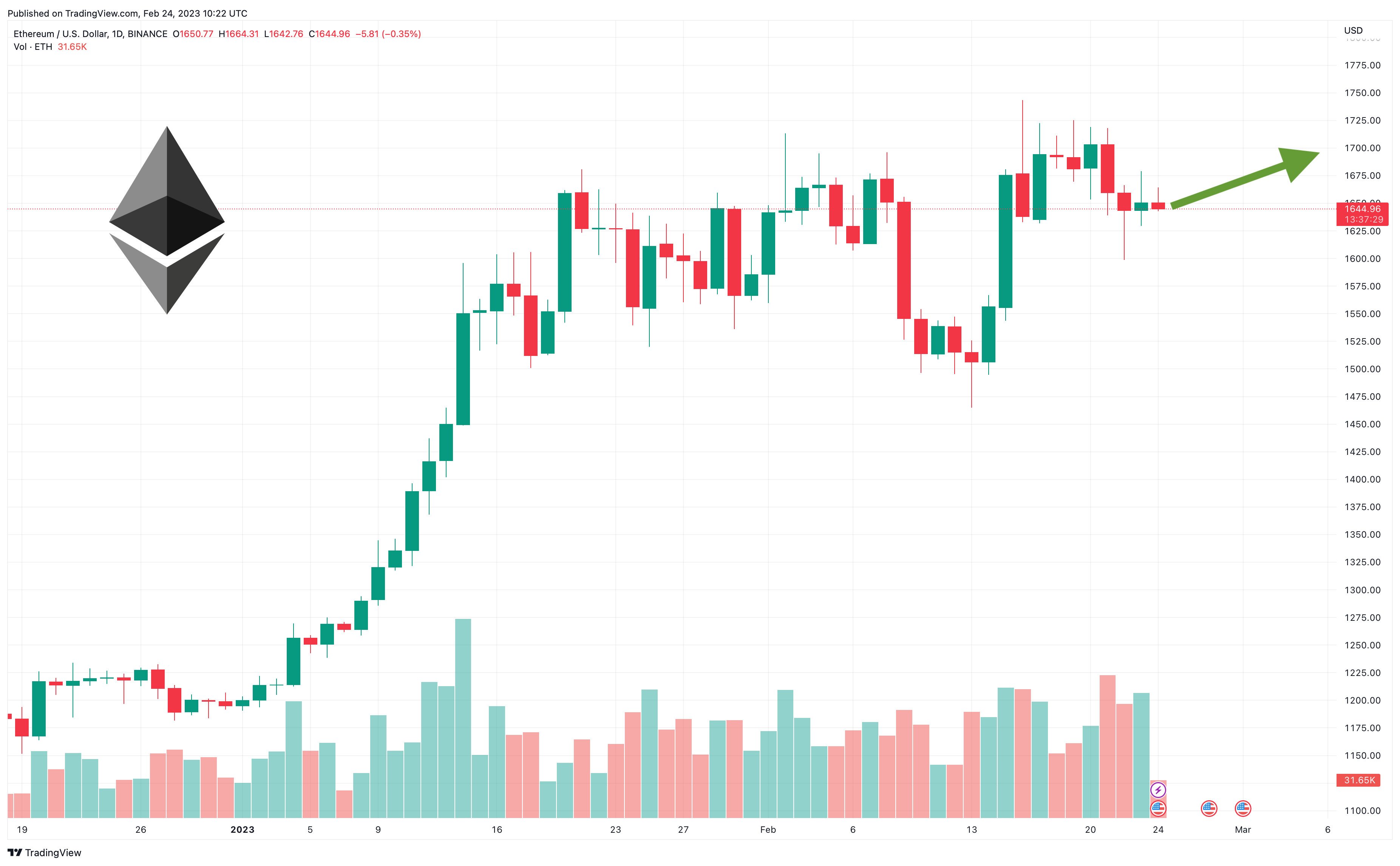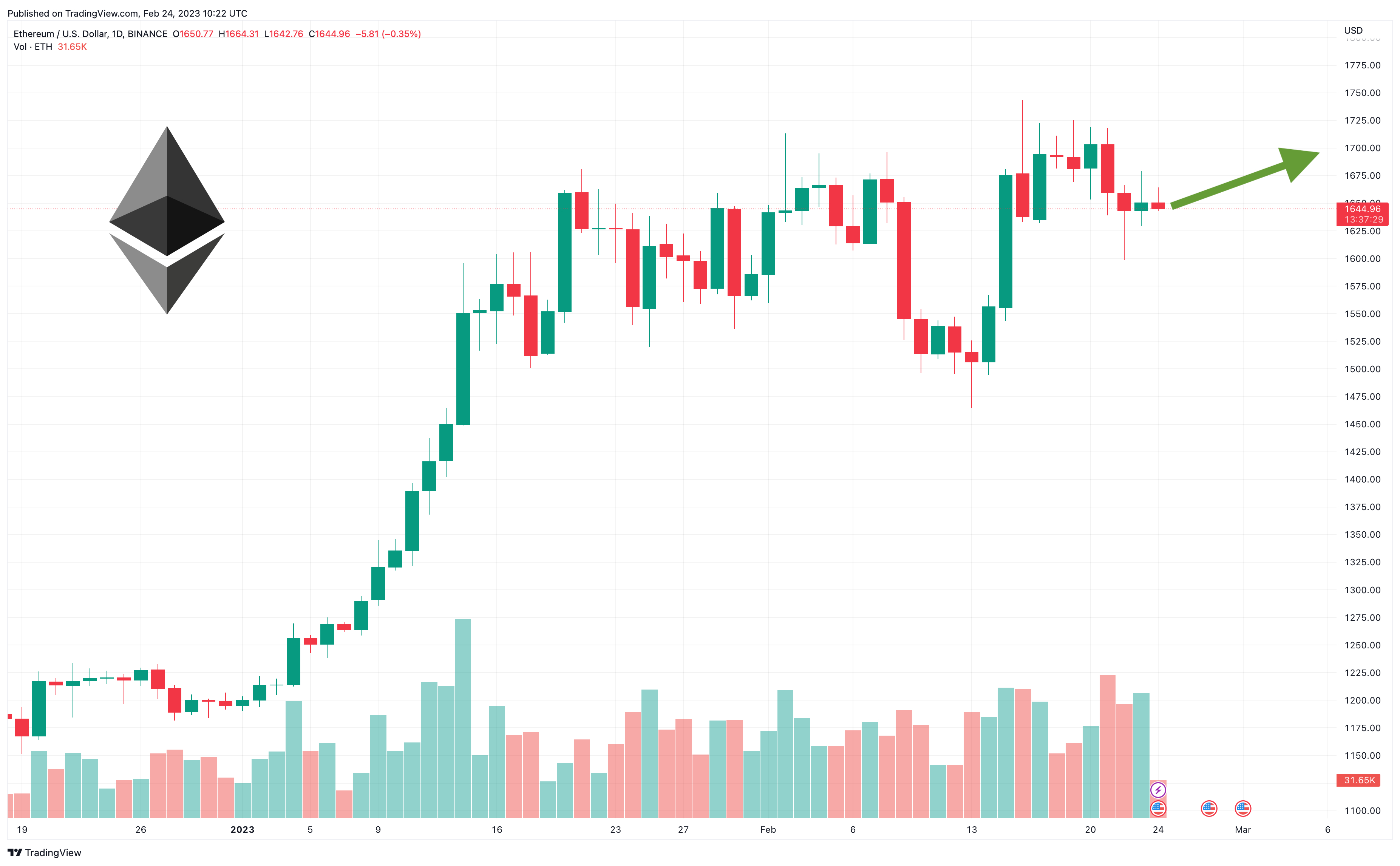 The Ethereum price has dropped by 1% in the past 24 hours, amid a 1.5% decline for the cryptocurrency market as a whole. At $1,649, it has barely changed after a week and is up by 6% in the last 30 days, with the biggest altcoin also rising by 38% since the start of the year.
While ETH is down today, there are various good reasons to expect it to rally soon. Because not only does it continue to be the biggest layer-one network by total value locked in and apps, but Coinbase has just announced its own layer-two sidechain for Ethereum, something which will undoubtedly boost usage of the latter.
Ethereum Price Prediction as $9 Billion Trading Volume Comes In – Can ETH Overtake Bitcoin?
ETH's chart reveals that, despite bullish news, the altcoin is down probably because it was due a fall, as suggested by its technical indicators. For example, its relative strength index (purple) had spent much of January above 70, and have now begun slipping down this month, while falling close to 50 in the past few days.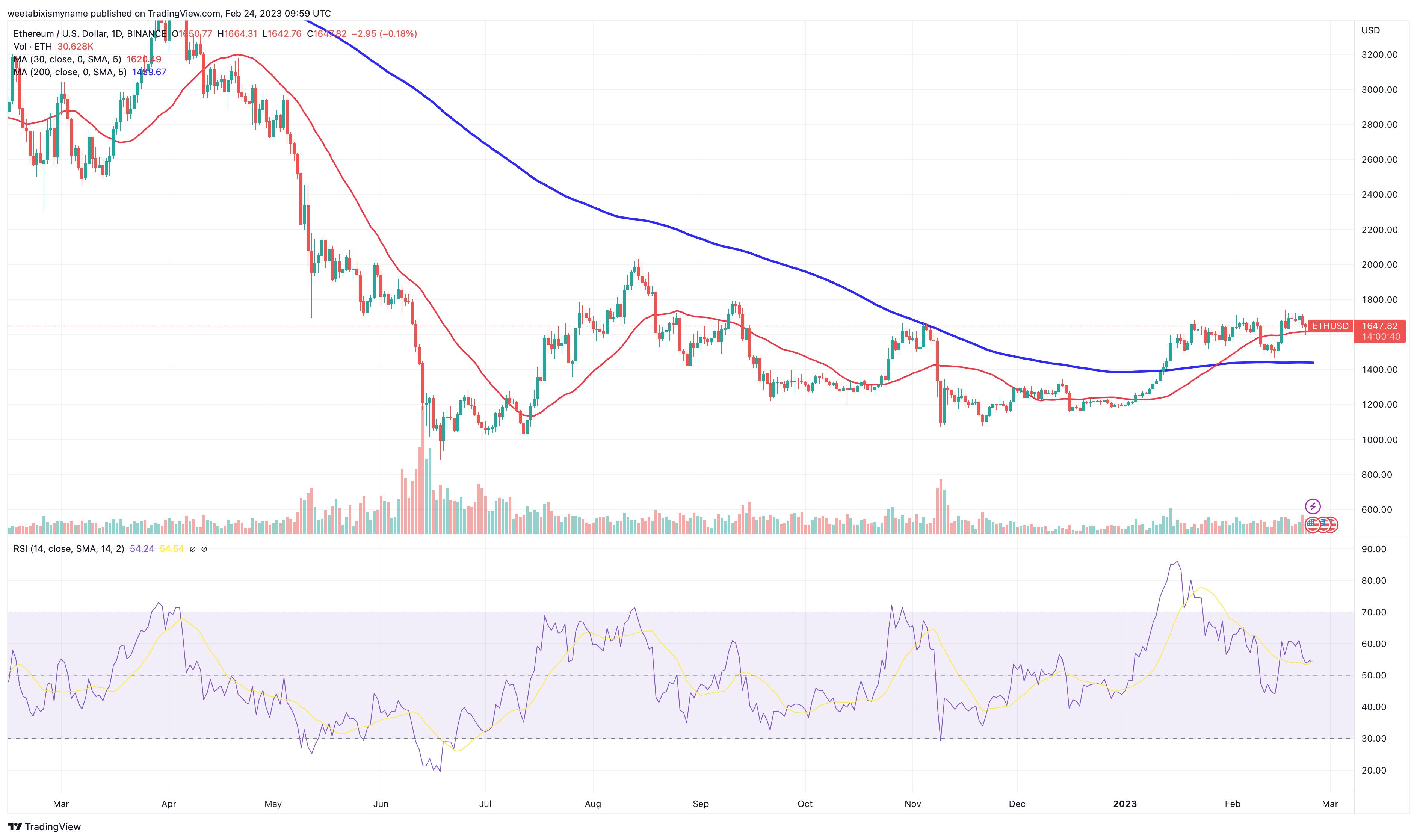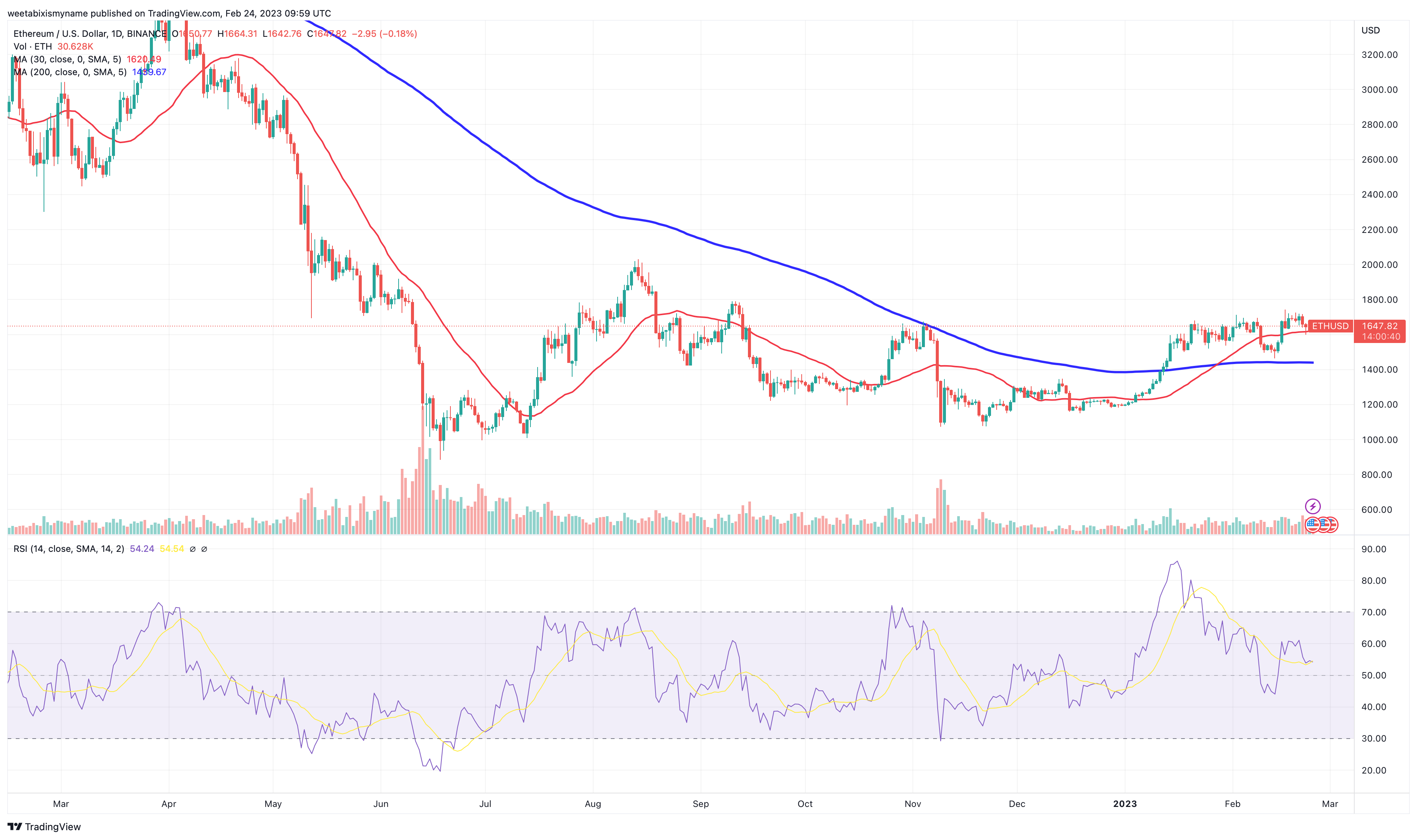 At the same time, ETH's 30-day moving (red) has peaked in relation to its 200-day average (blue). Again, this suggests that it may be due a few more losses before it can begin rising again.
However, so far, ETH has stuck to its support level of $1,600. It hasn't fallen below this price since the beginning of the month, and it's this author's view that it's unlikely to do so anytime soon.
There are various reasons for this view, with Coinbase's announcement of Base, its layer-two solution for Ethereum, being massively bullish for ETH.
1/ 🔵 We're excited to announce @BuildOnBase.

Base is an Ethereum L2 that offers a secure, low-cost, developer-friendly way for anyone, anywhere, to build decentralized apps.

Our goal with Base is to make onchain the next online and onboard 1B+ users into the cryptoeconomy. pic.twitter.com/RmwZFJzGGs

— Coinbase 🛡️📞 (@coinbase) February 23, 2023
For instance, Coinbase has declared that its aim for Base is to "onboard 1B+ users into the cryptoeconomy." This effectively means onboarding one billion or more users into the Ethereum ecosystem, since Ethereum will obviously be the underlying settlement layer for Base.
As such, Ethereum is only going to experience growing usage in the coming months and years. And with it, there will be greater demand for ETH, which implies a rising price.
Just as importantly, Ethereum was going to experience growing usage and adoption anyway over the next few years, given its shift to a proof-of-stake consensus mechanism in September. This shift has provided the technological foundations for it to become more efficient and scalable, something which will enable it to build on its dominant position even further.
Indeed, Ethereum currently accounts for 58% of the total value locked in of the entire cryptocurrency sector, and this position was secured during the time when the network was a proof-of-work blockchain. In other words, it can only become more dominant from here on out.
And it's not only Coinbase that's throwing its weight behind Ethereum, but even bigger corporations as well. This includes Visa, which, aside from being a supporter of Ethereum in general, revealed earlier this month that it's testing USDC stablecoin payments on the Ethereum blockchain.
Visa has been testing how to do large settlements using $usdc on #ethereum. #crypto is going to be an everyday part of everyone's lives soon. Get ready.

— Lark Davis (@TheCryptoLark) February 6, 2023
This all points to the growing usage of Ethereum over time. Meanwhile, in the short term, Ethereum is gearing up for the Shanghai update, which will enable the withdrawal of staked ETH.
Shanghai marks the completion of Ethereum's shift to a proof-of-stake consensus mechanism, given that it enables stakers to withdraw their rewards. For this reason, it could encourage more people to engage in staking, seeing as how they'll know they'll be able to withdraw at any time.
As a whole, such growth really paints a bullish picture for ETH, with some analysts predicting that the altcoin is likely to experience higher returns that Bitcoin (BTC) this year.
Bitcoin crosses series; Ethereum may be top candidate to continue outperforming the first born crypto –#Ethereum's advances vs. #Bitcoin have been unshaken by 2022 deflation in most risk assets and may be gaining underpinnings. pic.twitter.com/mLRMO4vpQr

— Mike McGlone (@mikemcglone11) December 20, 2022
Indeed, ETH could easily rise to $1,700 in the next few weeks or even days. After that, the completion of the Shanghai update could push it up to $1,800 or even higher, with ETH possibly reaching $2,000 again by the middle of 2023.
While such increases will depend on a recovering market and global economy, it's worth remembering that ETH's tokenomics lend themselves to greater price appreciation. For example, EIP 1559 and other updates have given ETH a tendency to become deflationary during periods of higher network activity, in that more ETH ends up being burned than issued.
#Bitcoin and #Ethereum remain in early adoption days, with increasing demand vs. declining supply and related price implications. Our bias is why complicate it — unless something unlikely reverses the proliferation of the nascent technology, prices should rise over time. pic.twitter.com/SAgqWrfIMV

— Mike McGlone (@mikemcglone11) January 29, 2022
And given the likely growth of staking, there remains a very good probability that ETH will experience a contraction of supply that will heighten price rises. As a result, 2023 could be a very good year for the biggest altcoin in the market.
Alternatives to Ethereum
While ETH is hugely undervalued right now, it may not see a really big rally for several months. Consequently, we've taken a look at other high-potential coins and put together a list the top 15 cryptocurrencies for 2023, as analyzed by the CryptoNews Industry Talk team.

The list is updated weekly with new altcoins and ICO projects, so be sure to check back for new entries.
Disclaimer: The Industry Talk section features insights by crypto industry players and is not a part of the editorial content of Cryptonews.com.

Related:
-Ethereum Price Can Hit $3,000 This Month, and Ecoterra Can Raise $3 Million – Time to Buy?
---