Ethereum Price Prediction as $4.5 Billion Trading Volume Comes In – Where is the ETH Bottom?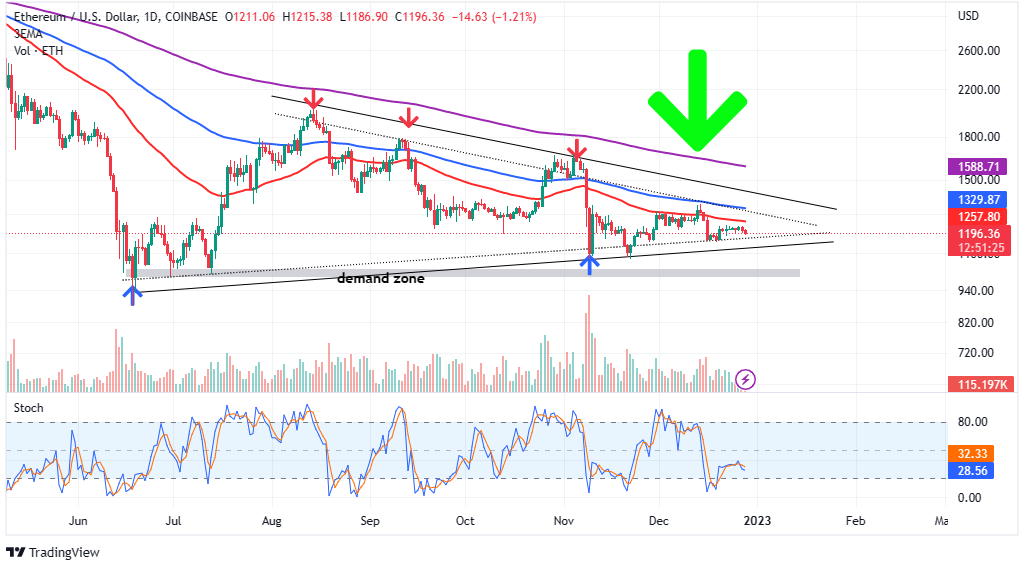 Ethereum has a bearish outlook, which could lead to further price drops. It recently fell below the $1,200 level despite last week's positive price movements. There is a risk of it falling below the support level of a triangle pattern.
In the past 24 hours, trading volume for Ethereum increased by 23% to $4.5 billion. The cryptocurrency's market cap is $146 billion, having declined by 2% in the same time period.
Ethereum Price Prediction: How 2023 Could Be a Big Year For ETH
Ethereum has had a difficult year, with its value dropping 70.4% in one year and 75.5% from its all-time high.
However, according to a popular crypto analyst, Guy of Coin Bureau, next year could be an exceptional year for the largest smart contracts token.
Guy believes that the upcoming Ethereum Shanghai upgrade scheduled for Q1 2023 could lead to a bullish trend reversal for Ether. The analyst believes that the unlocking of billions of dollars worth of tokens from smart contracts will attract investors to stake their own tokens for a potentially stress-free investment experience.
"When they see that that ETH can in fact be unstaked and easily sold, then it might incentivize them to actually stake themselves. So, I really think it could go either way. Now, I wouldn't at all be surprised if it was slightly bearish in the short term if we do see some selling," said Guy in his Q&A video.
"I think the future for ETH is so, so bright, and I think Shanghai, assuming it goes off without a hitch as the Merge did, then I think 2023 could be a really big year for Ethereum and for ETH," Guy continued.
According to a crypto expert, it is unlikely that Ethereum will reach five digits in 2023. Instead, Guy predicts a sideways trend for the cryptocurrency during the year.
Similarly, Rekt Capital, a pseudonymous crypto trader and analyst, told their 330k followers on Twitter that the Ethereum price must hold support at $1,062 to avert a possible drop to $843.
There is certainly a bearish mood in the crypto markets but as has been the case before, the crypto markets are known for making rapid turnarounds.
Ethereum Price Eyes Last Capitulation
Ethereum is currently experiencing a downward trend, with its price falling below $1,200 and being rejected by the 50-day Exponential Moving Average (EMA) at $1,257. Support is expected to be found at $1,177, as indicated by the triangle pattern on the daily chart.
The Stochastic oscillator in the same timeframe affirms the strong bearish grip on the Ethereum price. Southbound momentum will likely gain traction as this technical index reenters the oversold region – below 20.00.
If Ethereum's price falls below the triangle pattern on the daily timeframe, it is expected to fall to around $990, as indicated by the gray band. This confirms a bearish trend for the cryptocurrency.
On the upside, Ethereum's price must reclaim support at the 50-day EMA to detangle from the stubborn bearish shackles. However, bulls must push the price past the 100-day EMA (in blue at $1,329), the upper triangle trend line (continuous line) and the 200-day EMA (in purple at $1,588) to reverse the trend upward for a bullish long-haul flight in 2023.
To see a positive trend in Ethereum's price, it must break through various levels of resistance including the 50-day EMA at $1,257, the 100-day EMA at $1,329, and the 200-day EMA at $1,588. If these levels are successfully surpassed, it could signal a long-term bullish trend for Ethereum in 2023.
Other Altcoins to Consider
With broader cryptocurrency markets going sideways now for weeks and not showing much promise of a near-term bounce, some investors might be thinking about diversifying their crypto holdings. Here are a few altcoins of promising up-and-coming crypto projects that are currently being sold on the cheap in pre-sale fundraising.
FightOut (FGHT)
The young move-to-earn crypto niche has shown a lot of promise, but early success stories like STEPN have significant limitations that have, so far, prevented them from conquering the mainstream.
FightOut, which touts itself as the future of move-to-earn, wants to change that in 2023. FightOut is a brand new web3 fitness application and gym chain that rewards its users for working out, completing challenges and competing within a first-of-its-kind fitness metaverse.
While existing M2E applications such as STEPN only track steps and require expensive non-fungible token (NFT) buy-ins to take part, FightOut takes a more holistic approach to tracking and rewarding its users for their exercise and activity, and doesn't require any expensive buy-ins to take part. FightOut seeks to combine the physical and web3 worlds.
The project aims to eventually acquire gyms across all of the world's major cities, whilst simultaneously promoting an integrated web3 fitness experience. At the center of FightOut's digital ecosystem will be its smartphone application which, according to FightOut's whitepaper, is scheduled for launch in Q2 2023.
FightOut's FGHT tokens are currently selling for 60.06 per 1 USDT, and interested investors are encouraged to move fast to secure their tokens, with the pre-sale having already raised over $2.43 million in just a few weeks. FGHT is the token that will power the FightOut crypto ecosystem.
Dash 2 Trade (D2T)
Those interested in investing in a promising crypto trading platform start-up should look no further than Dash 2 Trade. The up-and-coming analytics and social trading platform hopes to take the crypto trading space by storm with a host of unique features. These include trading signals, social sentiment and on-chain indicators, a pre-sale token scoring system, a token listing alert system and a strategy back-testing tool.
Dash 2 Trade's ecosystem will be powered by the D2T token, which users will need to buy and hold in order to access the platform's features. Dash 2 Trade is currently conducting a token pre-sale at highly discounted rates and sales recently surpassed $11.1 million. The pre-sale dashboard is going to be released soon, with the development team currently running ahead of schedule. Tokens are currently selling for $0.0533 each and D2T will be listed on its first CEX on Wednesday the 11th of January.
C+Charge (CCHG)
The carbon credit industry is projected to be worth $2.4 trillion by 2027. Democratizing access to accrue these benefits is going to massive business in the years ahead and this is something crypto start-up C+Charge hopes to achieve. C+Charge is currently building a blockchain-based Peer-to-Peer (P2P) payment system for EV charging stations that will allow the drivers of electric vehicles (EVs) to earn carbon credits.
C+Charge aims to boost the role of carbon credits as a key incentive for the adoption of EVs. At present, large manufacturers of EVs like Tesla earn millions from selling carbon credits to polluters. C+Charge wants to democratize the carbon credit market by allowing more of these rewards to find themselves in the hands of the EV owners, rather than just the big businesses.
C+Charge has just started its pre-sale of the CCHG token that its platform will use to pay at EV charging stations. Tokens are currently selling for $0.013 each, though by the end of the presale this will have risen by 80%. Thus, investors interested in getting in early on a promising environmentally friendly cryptocurrency project should move fast.
IMPT
Amid the growth in popularity in recent years of environmentally and socially friendly investments, investors looking for a green cryptocurrency should consider the IMPT token. IMPT.io has partnered with thousands of the world's largest retailers to help offset their carbon footprints and allows users to trade carbon credits on the blockchain.
IMPT listed on exchanges back on the 12th of December and, at the current price of $0.019 per token, are currently selling on the cheap. Tokens can be bought on LBANK.

With IMPT listing on Bitmart Exchange on today, IMPT is set to explode in the coming weeks.

Visit IMPT Now
---