Ether Hit USD 200; On its Way to Surpass BTC in Daily Transaction Fees
After a strong rally in the past week, the second largest digital token by market capitalization, ether (ETH), climbed above the USD 200 level today, where it was almost a month ago. Moreover, researchers claim that Ethereum is also overtaking Bitcoin in daily transaction fees. A major reason behind the latter development: Tether.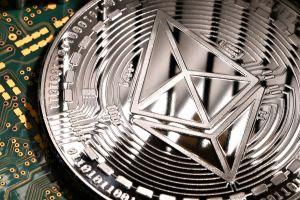 At pixel time, (15:14 UTC), ether trades at c. USD 202 and is up by almost 6% in the past 24 hours and by 12% in the past week. While the price increased in the past month by 4%, it's still down by 7% compared to where it was a year ago. The recent jump coincided with the news that major crypto payments processor, BitPay said it plans to start supporting payments in ether in the coming weeks.
In either case, that's not all in ETH news. Crypto market analysis firm Coin Metrics said today that Ethereum is "on the verge of overtaking Bitcoin in daily transaction fees". The report explains that while, as of September 15th, Ethereum had USD 182,899 daily transaction fees, BTC had USD 185,993.
However, Coin Metrics says that this would not be the first time for ETH to surpass Bitcoin's (BTC) daily transaction fees, as that has in fact happened several times before in 2019 alone, such as on February 19th, then again on March 18th.
The report takes a particular notice of the reversal in the BTC's and ETH's fee trends – while BTC's have been declining in the last thirty days, ETH's fees have been rising. One of the major elements that could've contributed to this development, the report finds, is that the most popular stablecoin, Tether migrated to Ethereum from the Omni protocol on which it was originally built. The Omni protocol itself is built on top of the Bitcoin blockchain.
USDT on Omni has been rising during the larger part of 2019, and "USDT transaction count even began hitting new all-time highs [...] peaking at 91,513 on August 7th," says the report. However, "USDT-ETH has skyrocketed" since then, reaching an all-time high on September 9th, with 187,912 daily transactions. It "accounted for over 25% of all Ethereum transactions on September 8th, and has consistently accounted for more than 10% of all Ethereum transactions since mid-August."
According to the Ethereum gas price provider, ETH Gas Station, Tether paid USD 524,000 in fees in the past 30 days.
The report concludes that, if the reversal in BTC/ETH daily transaction fees is indeed fueled by the migration from Omni (USDT) to Ethereum (USDT-ETH), then "the fee flip could continue to grow moving forward as more users switch from over to the Ethereum version of the protocol."
Meanwhile, the Cryptoverse shared its reaction on the "flippening," with SetProtocol product marketing manager and Ethhub developer Anthony Sassano saying that, given that this particular revers is driven by Tether, it "should be a constant source of demand."
---