Dogecoin Tops Liquidation Charts On Elon Musk Live Weekend
Those predicting an eventful weekend for dogecoin (DOGE) were proved correct after the token reached all-time high status before slumping spectacularly – with massive sell-offs following Tesla and SpaceX supremo Elon Musk (jokingly or otherwise) calling the token a "hustle."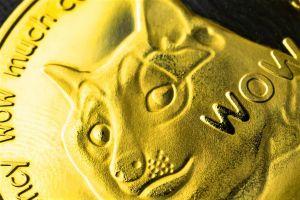 At the time of writing, per Bybt data, almost USD 151m worth of DOGE trading positions in the derivatives market has been liquidated in the past 24 hours, more than any other token besides ethereum (ETH) (USD 172m) and bitcoin (BTC) (USD 169m). And while DOGE is on an almost even footing with BTC and ETH, no other altcoin has experienced anything like as much liquidation in the past day – the fourth-placed token on the liquidation stakes was EOS (EOS), with a relatively paltry USD 26m.
Musk had warned of fun and potential trouble ahead of the weekend, reposting a DOGE-themed video and saying,
"Cryptocurrency is promising, but please invest with caution!"
DOGE hit its new all-time high of USD 0.73 (per Coingecko) on Saturday and then crashed to USD 0.43 on Sunday (UTC time), before somewhat recovering. At 07:54 UTC, DOGE trades at USD 0.547 and is up by almost 3% in a day. The price more than doubled in a week and rallied by 791% in a month. It's up by 21,162% in a year.
DOGE price chart: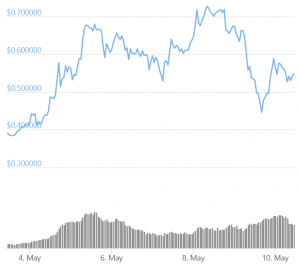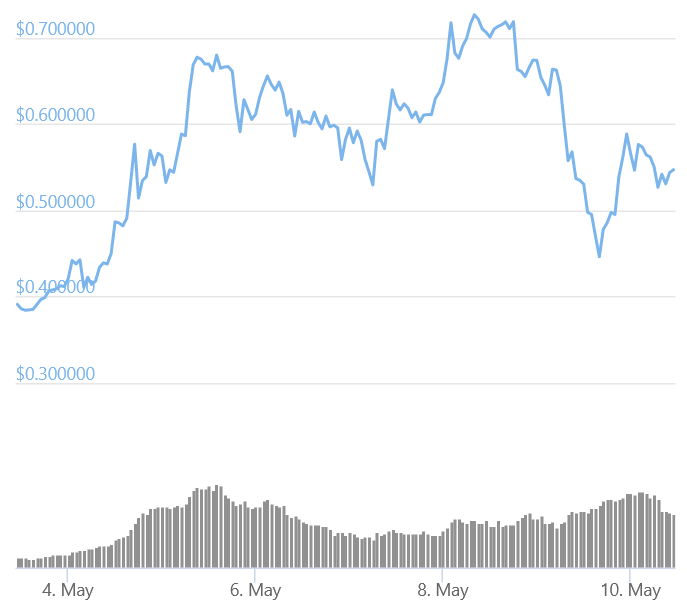 Barry Silbert, the founder and CEO of the Digital Currency Group, wrote ominously:
"Okay DOGE peeps, it's been fun. Welcome to crypto! But the time has come for you to convert your DOGE to BTC."
Silbert, who pioneered the Grayscale Bitcoin Trust, added that the firm had "gone short DOGE" via a new offering at the FTX platform, which its masterminds described as "an ERC-20 token that seeks a return that corresponds to -3 times the daily return of dogecoin."
Despite claiming that it would be "all paws on deck, all weekend" earlier in the weekend, the trading platform Robinhood said it experienced several "high trading and volatility"-related slowdowns after Musk's appearance on the comedy show Saturday Night Live.
Also, the Gemini exchange gave DOGE HODLers some hope, announcing that it would be offering customers 2.25% annual percentage yield on the coin with its interest-yielding accounts program Gemini Earn.
Meanwhile, Musk played "Financial Expert Lloyd Ostertag" on a skit, where he asked to be referred to as the "Dogefather" – and repeated a number of DOGE-related slogans. He then talked about DOGE in detail, foundering when repeatedly asked to answer the question: "What is dogecoin?"
Eventually, his character was challenged to answer the question: "So it's a hustle?" Here, Musk's character conceded:
"Yeah, it's a hustle."
In his opening monologue, Musk added a DOGE-themed gag, with his mother joining him on stage to say: "I hope my Mothers' Day gift isn't dogecoin."
To which, Musk responded,
"It is! It sure is!"
In either case, Musk's strange love affair with DOGE is far from over, it would seem, as over the weekend, his SpaceX commercial spaceflight venture is set to take a DOGE rocket to the moon next year. Literally.
Per Bloomberg, SpaceEx will launch a cubesat-type research mini satellite with Canada's Geometric Energy in a deal entirely funded by dogecoin payments – although neither party revealed the size of the payment.
The media outlet quoted Geometric as stating,
"DOGE has proven to be a fast, reliable, and cryptographically secure digital currency that operates when traditional banks cannot and is sophisticated enough to finance a commercial Moon mission in full. It has been chosen as the unit of account for all lunar business between SpaceX and Geometric Energy and sets precedent for future missions to the Moon and Mars."
The mission has been named DOGE-1, and will see a 40kg cubesat loaded on a SpaceX Falcon 9 rocket.
Musk confirmed the news on Twitter, writing:
"First crypto in space. First meme in space. To the mooooonnn!!"
_____
Reactions:
__
___
Learn more:
- Dogecoin Needs 3 Conditions Fulfilled to Move Beyond USD 1
- Cuban & Musk Turn up the DOGE Again – Critics Ring Warning Bells (Again)
- 'The Most Honest Sh*tcoin,' Dogecoin, Will Survive Alongside Bitcoin - Analysts
- Who Let the DOGE Clones out? Dogecoin Knockoffs Dominate DEX Trading
- DOGE's Rally Has Revived Dogecoin Development, But For How Long?
- Are GameStop-Style Surges In Crypto Any Different From Old Pumps & Dumps?
---