Crypto Market Sentiment Slips, Still Remains Positive
After reaching a new all-time high last week, the combined moving 7-day average crypto market sentiment score (sentscore) for the top 10 coins by market capitalization has corrected a bit lower, from 6.24 out of maximum 10 points, to 6.14 this week, shows crypto market sentiment analysis service Omenics.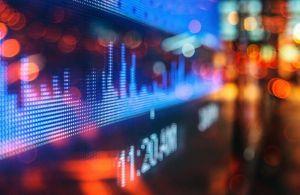 While the entire crypto market continues its ascend as bitcoin (BTC) hit USD 12,000 again today, the crypto market sentiment is not trailing behind. BTC remains in a very positive of with a sentscore of 7.6/10, followed by Ethereum's (ETH) positive 6.8/10. Aside from the two major coins, last week was good for Chainlink (LINK) and Binance Coin (BNB), both of whom entered the positive zone and increased their market sentiment the most, by 8.1% and 7.7% respectively.
The week wasn't as good for Tether (USDT), whose market sentiment fell from 5.8/10 to 5.3/10 (-10,1%), Bitcoin Cash (BCH), whose sentiment dropped to 5.5/10 (-7%), and Litecoin (LTC), which remains in the positive zone despite a -5.8% drop in its sentscore, from 6.4/10 last week, to 6.1/10 today.
The sentscore for the rest of the top 10 coins remains mostly unchanged.
Sentiment change among the top 10 coins*:
Interpreting the sentscore's scale:
- 0 to 2.5: very negative
- 2 to 3.9: somewhat negative zone
- 4 to 5.9: neutral zone
- 6 to 7.49: somewhat positive zone
- 7.5 to 10: very positive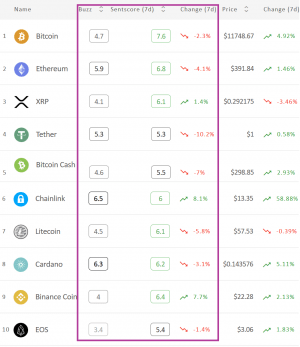 Meanwhile, the combined moving average sentscore for the top 10 coins in the last 24 hours (12:20 UTC) stands at 6.17 - precisely the same as last Monday's 24-hour score. In this timeframe, BTC is still the only digital asset in a very positive zone (7.7), while four coins, namely ETH, XRP, ADA, and BNB have a somewhat positive sentiment. The remainder of the top 10 shares a neutral sentiment during the last 24 hours, which is slightly lower than their general 7-day moving average score.
Daily Bitcoin sentscore change in the past month: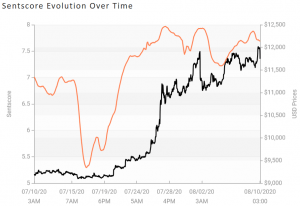 Diving into all top 39 cryptoassets rated by Omenics, the last week was good for Decred (DCR), Nano (NANO), Tezos (XTZ), and 0x (ZRX) protocols, all of whom increased their sentscore by more than 10%. Outside of the top 10, the coins with a positive sentscore (equal or above 6) are Tron (TRX), NEM (XEM), NANO, Cardano (ADA), Stellar (XLM), Zcash (ZEC), IOTA (IOTA), DCR, and Monero (XMR).
Last week wasn't generous to Ethereum Classic (ETC), which experienced yet another 51% attack. In turn, its market sentiment tumbled by 30.8%, reaching the somewhat negative zone. Sentiment-wise, it was also a tough week for OMG Network, as OMG coin lost -12.9% of its last week score.
Regardless, none of the top 39 coins are in the negative zone yet.
___
* - Methodology:
Omenics measures the market sentiment by calculating the sentscore, which aggregates the sentiment from news, social media, technical analysis, viral trends, and coin fundamentals-based upon their proprietary algorithms.
As their website explains, "Omenics aggregates trending news articles and viral social media posts into an all-in-one data platform, where you can also analyze content sentiment," later adding, "Omenics combines the 2 sentiment indicators from news and social media with 3 additional verticals for technical analysis, coin fundamentals, and buzz, resulting in the sentscore which reports a general outlook for each coin." For now, they are rating 39 cryptocurrencies.
---