Coinbase Listing Effect May Be 'More Muted' than Believed - Report
Despite often being referred to as one of the most sure-fire ways to pump the price of a cryptoasset, a listing on the popular fiat-to-crypto platform Coinbase may not be as lucrative for token holders as some have thought, a new study from crypto analytics firm Coin Metrics has found.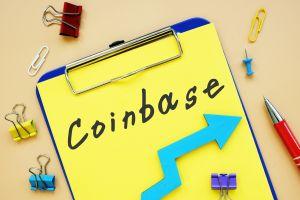 In the study, Coin Metrics looked at how the various assets had performed on the market for 10 days before and after a Coinbase listing was announced.
And although it admitted that listing announcements have historically made "a positive impact" on an asset's price, the impact is "more muted" than some may have believed, it said, while generally being "skewed toward the broader market trend at the time."
According to the firm, the average effect of a Coinbase listing announcement ranged from -1% to +14% for the assets studied, with a few exceptions.
All in all, Coin Metrics writes that most tokens ended up higher 10 days after a listing was announced, although some tokens also suffered from a "sell the news" effect where traders sold it lower immediately after the listing became known.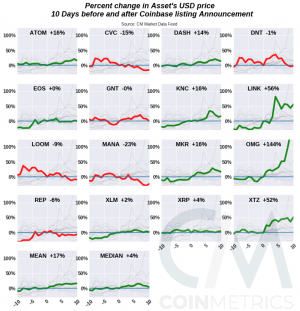 According to the study, the assets that did not rise in price over the 10 days following a listing announcement were CVC, DNT, GNT, LOOM, MANA, and REP.
On the opposite side of the spectrum, however, were LINK, OMG, and XTZ, which all saw massive gains of more than 50% in the 10 days following the announcement of their listing on the popular retail trading platform.
Lastly, the study also said that Coinbase's well-known exploration announcements, where the exchange says it is "exploring the addition" of certain assets, yielded even worse performance. The price movements that occurred following such announcements were "less significant" and "largely related to the general market regime at time," the study said.
__
Learn more:
Altcoins Rally as Coinbase Explores More New Assets for Listing
VeChain Among Top Performers, Price Doubles In a Month
---