Bitcoiners May Change Their Mind on PoS, 'Who Knows,' Says Buterin
In a few years, perhaps Bitcoin (BTC) fans will think better of the proof-of-stake (PoS) consensus mechanism, finds Vitalik Buterin, co-founder of Ethereum (ETH).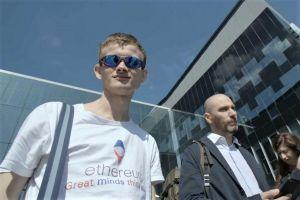 In an interview at the ETHWaterloo 2, an Ethereum Blockchain Hackathon organized by the core ETHGlobal team and volunteers last week, Buterin shared, entering "a joyful heretic mode," that in five years from now "who knows […] maybe even Bitcoin will be looking at proof-of-stake a little more favorably." Currently, Ethereum is in the process of switching from the proof-of-work (PoW) system, used by Bitcoin, to a PoS system. However, it's unknown when this change might happen exactly.
A lot of cryptos are committed to a capped issuance schedule, Buterin says. They are "really committed to this idea that issuance is evil, and we must have a hard cap, and because a hard cap is the Austrian way, and we must take a strong stance that we are not like those hyperinflations fiat goldbugs." As reminder, only BTC 3 million left unmined, as well as 120 years to get them all.
However, miners must be paid for security, and it is generally presumed that the transaction fees will be used for this purpose, but "looking at the reality," Buterin said, the last time he checked BTC numbers, the daily block reward was about USD 7 million and the daily transaction fees about USD 140,000, which is about a factor of 50 difference, he explains. (Seven-day average of the total value of block rewards paid to Bitcoin miners stood at more than USD 15.6 million on November 10, while they received USD 350,000 from fees, or 45 times less, according to blockchain.info data.)
Miners revenue
Total value of coinbase block rewards and transaction fees paid to miners, seven-day average, in USD.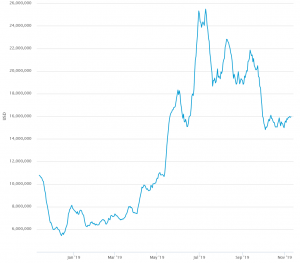 __
Total transaction fees
Seven-day average, in USD.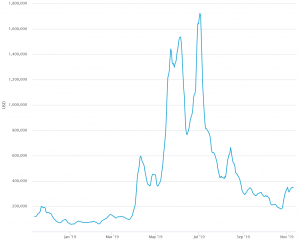 Buterin then compares Bitcoin to Ethereum, saying that the block reward is about ETH 2 and the transaction fees are usually ETH 0.03-0.28. "Basically, it's not at all clear that blockchains are gonna continue to be secure […] once the amount going to the security providers, or miners, or stakers, is 50 times lower than it is now," he says.
On the other hand, when he asked the ETH community at a conference if they wanted ETH to have a hard cap, their answer was "universally no," he claims, as people seem to appreciate a pragmatic approach more, finding it a better idea that "instead of optimizing for predictability of issuance, we're gonna optimize for predictability of security, because the platform's surviving is the most important thing, and if the platform doesn't survive we're all screwed anyway."
"We don't know"
The problem is that "we don't know the ratio of security-to-issuance ahead of time," which is "a variable a real world has" and something that may take a decade or two to learn about, but Ethereum chose to focus on stabilizing security over stabilizing issuance, which Bitcoin supporters dislike, Buterin finds, but Ethereum supporters are fine with.
Buterin believes that PoS does better than PoW with lower-security budgets. "But even with PoS, I'm not confident that Ethereum would prove a stake with zero issuance […] Even past PoS, we are decreasing issuance heavily, but there is still some issuance." Nonetheless, he finds that even a hybrid PoS is a good way to get more security with lower reward and issuance.
While the common opinion seems to be that cryptos will be much more popular in a decade, which will solve these issues, the co-founder of the second largest network by market capitalization believes that:
"you're not allowed to make crazy, super-optimistic assumptions if you're gonna argue that about the security of a system that protects people's life savings;
that's not even a correct argument because if a system gets 50 times bigger, then sure the security budget becomes 50 times bigger, but the size of the attackers who care about breaking it becomes 50 times bigger," says Buterin.
"I think the relative actually matters more than the absolute, and that's an area where kind of the people that focus on the absolute being canceled out by growth of the ecosystem are just wrong."
For the end of this part of the discussion, Buterin clarified that: "It's not just about Bitcoin, […] I hope Litecoin adopts proof-of-stake as well," he says. "I hope Bitcoin Cash adopts PoS, I hope Bitcoin Satoshi's Vision adopts PoS. I think the thing is a scam, but I think scams running PoS is still less environmentally harmful than scams running PoW."
Meanwhile, a recent report by Binance Research found that once Ethereum introduces its staking, it will be a game changer as the volume of staking activity "will more than double." The report stated that currently the increasingly-popular staking accounts for USD 8 billion in crypto activity, while USD 15.4 billion of all crypto tokens can be staked.
At the time of writing (15:00 UTC), ETH is trading at USD 188. It's almost unchanged in the past 24 hours and is up 0.7% in the past seven days. Meanwhile, BTC is changing hands at USD 8,766, being down 1% in the past day and 6% in the past week.
______
Learn more:
Christmas Fights: Vitalik Buterin vs. Proof of Work Camp
Vitalik Buterin on The Five Biggest Misconceptions in Crypto
______
Watch the whole interview with Vitalik Buterin.
He's also discussing the following topics:
- Is ETH money?
- How the Ethereum developer experience has improved since 2017
- The legacy of the ICO craze of 2017
- Is Ethereum undervalued relative to technical progress?
- DeFi and whether Ethereum should be a finance-only chain
---