Bitcoin Salaries a No-go, Confirms El Salvador as Adoption Worries Rise
El Salvador's President Nayib Bukele's plans to launch a bitcoin (BTC)-powered society could be hampered by internal concerns about the most popular cryptocurrency – with the government apparently bowing to public pressure and ruling out the notion of bitcoin salaries.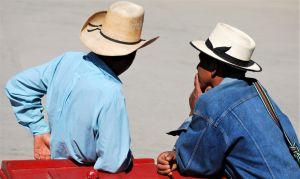 As reported yesterday, the Salvadorian government's labor chief had suggested that the cabinet was set to debate the issue of whether firms in the state should pay employees in BTC rather than USD. This led to an outcry, with the same minister later watering down these claims, and stating that the matter would be determined by the government's finance officials.
But per ElSalvador.com (the publisher of the El Diario de Hoy newspaper), a survey conducted by the Salvadorian Chamber of Commerce has found BTC may be in for a lukewarm reception in the nation. (However, the report did not specify how many respondents participated in the survey.)
The survey saw business players and ordinary civilians interviewed – with a whopping 93% of workers responding that they did not want to receive their salary in BTC. In a further blow, 82.5% said that they were not interested in receiving their remittances in bitcoin either. (Remittances account for 23% percent of El Salvador's gross domestic product and benefit about 360,000 households, per AP data. The money sent home to El Salvador by migrants hit a record high of USD 5.92bn in 2020.)
The participants were also asked what they would do if they were to receive payments in bitcoin, with over half stating they would convert tokens to USD immediately.
Entrepreneurs were asked about their expectations about BTC adoption, with 11% agreeing that the move would bring investment to the country.
But 17% claimed the move would not change anything for El Salvador, while 48% said that BTC adoption would not attract investment, fail to generate employment, and would do nothing to improve the economy.
And it appears the government has taken note: Alejandro Zelaya, the Minister of Finance, confirmed that salary payments would continue to be made in USD, not BTC. The same media outlet reported that Zelaya stated that "we are not replacing the dollar" with the new BTC law.
On Twitter, one commentator pointed out that many ordinary Salvadorians were not sure what the BTC world had in store for them.
In answer to those who have leveled accusations of BTC's role in international money laundering efforts, meanwhile, Zelaya retorted:
"There is no currency that does not have the risk of being used to facilitate money laundering."
But this will likely not be enough to convince some of the sagacity of the move.
Lawyers have warned that failure to meet Financial Action Task Force (FATF) standards on crypto exchange policing will lead to the nation being classified as a "tax haven." (Learn more: FATF Makes Small Crypto Platforms Easy Prey For Big Players)
José Rolando Monroy, the former head of the Salvadorian Financial Investigation Unit, was quoted as stating that adopting BTC without implementing additional Anti-Money Laundering (AML) and Countering the Financing of Terrorism (CFT) protocols would lead to moves "not only by the FATF, but also by the international community as a jurisdiction that is vulnerable to both money laundering and terrorist financing."
Monroy added that "El Salvador could receive a visit from a high-level FATF employee or a letter from the president of the FATF" as "a form of pressure to prevent money laundering and similar crimes," while the body might also "issue a statement asking financial institutions to pay attention to commercial relationships and transactions with people, companies or institutions that violate their standards" – in this case, Salvadorian firms.
And per La Prensa Gráfica, a new paper from political experts at the Francisco Gavidia University has urged the government to force crypto miners to register with the Ministry of Finance "in order to create a record of their activities and corroborate their legality." The paper also recommended taxing miners on their incomes.
Meanwhile, the Central American Bank for Economic Integration (Banco Centroamericano de Integración Económica or BCIE) has doubled down on its support for Bukele's bitcoin adoption plans.
After earlier promising to create a support network, the BCIE has now revealed that it has set aside a USD 12m war chest to help a new team of specialists to help El Salvador make the switch. Its Executive President Dante Mossi was quoted as stating that the BCIE was "happy to provide technical assistance to El Salvador," claiming "we have to be innovative," and concluding:
"This change will help small businesses and people who receive remittances."
Meanwhile, Google Trends data indicates that some BTC fans are possibly weighing up Bukele's calls for international crypto entrepreneurs to relocate to the Central American nation.
Searches for both "El Salvador property" and "El Salvador real estate" have surged in recent weeks, with most searches originating in the United States, Canada, and Australia.
____
Learn more:
- World Bank Accused Of Ignorance & Hypocrisy As It Refuses to Help El Salvador
- El Salvador Gov't Mulls BTC Pay as Int'l Bitcoin Players 'Roll into Town'
- JPMorgan on El Salvador's Bitcoin Move
- Bitcoin Beach Provides Clues about El Salvador's Greater BTC Intentions
- Stakes Get Higher As El Salvador Offered Volcanic BTC Leverage In Talks With IMF
- El Salvador Brings New Global Puzzle - What Is Bitcoin & How To Tax It?
---