Bitcoin Royalty Flock to Bukele's Court as President Talks of 'Short Delay' to BTC Bonds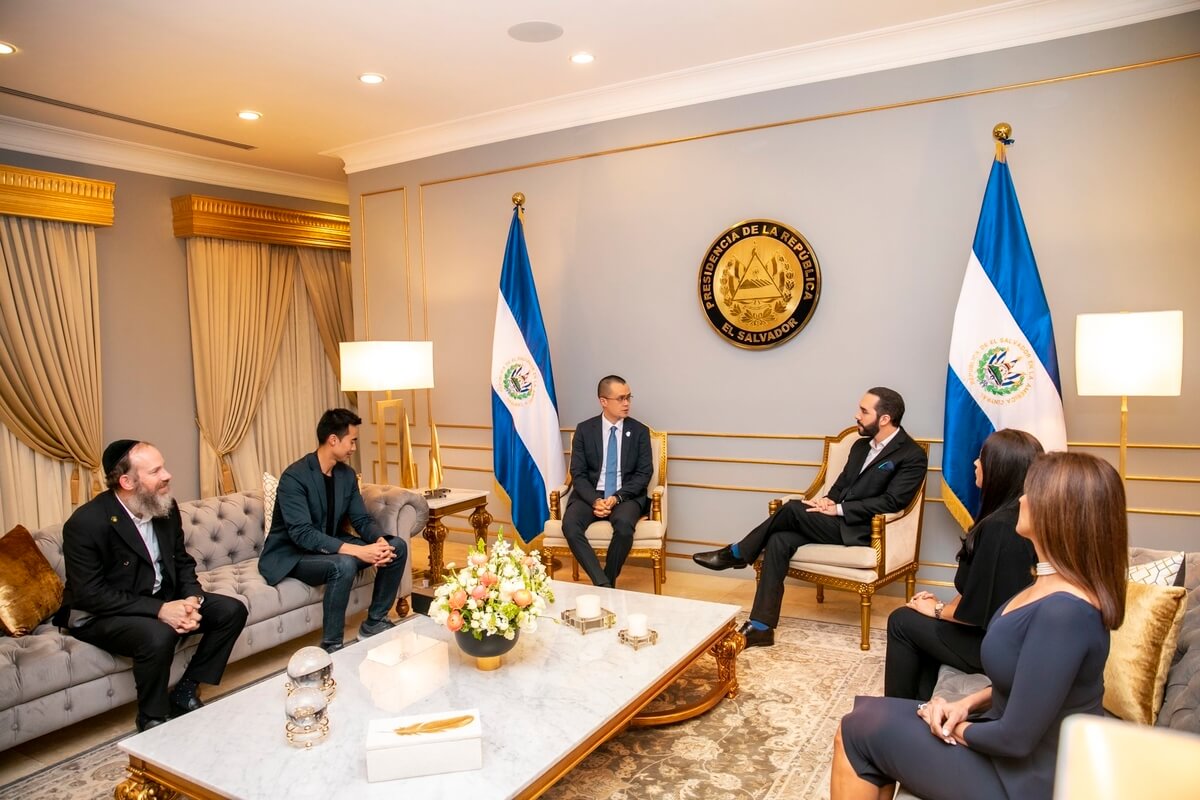 El Salvador's President Nayib Bukele is playing host to a dazzling array of international bitcoiners – while also taking the time to "flex" on American Senators on Twitter.
In the past few hours, Bukele has posted pictures of himself with Ricardo Salinas Pliego, one of the richest men in Mexico. Since 2020, Salinas Pliego has become one of the most vocal and high-profile proponents of bitcoin (BTC) in the Latin American region.
Also paying a visit to the country and Bukele's offices was Changpeng "CZ" Zhao, the CEO of the crypto exchange giant Binance.
And a crowd that also comprised the outspoken bitcoiner Max Keiser and his broadcaster wife Stacy Herbert alongside Salinas Pliego, Bukele, and others was also photographed and posted to the social media platform.
Samson Mow of Exellion – a key ally of Bukele's BTC adoption plans – was also photographed alongside Zhao and Salinas Pliego.
In a number of tweets, Bukele referred to Salinas Pliego as "tío" (Spanish for "uncle") and "Uncle Ricky."
And "Uncle Ricky" decided to join Bukele in making a series of BTC-themed barbs aimed at American Senators, some of whom have attempted to push through a bill that would oblige American agencies to prepare reports on El Salvador's bitcoin adoption.
The Mexican wrote that "all freedom-loving people of the world must support" Bukele's "brave stance," adding:
"It's totally unacceptable for the US [government] to interfere like this in El Salvador."
Bukele, meanwhile, played to a captive social media crowd, claiming that he sometimes traded BTC "while in the toilet," and bragging that "bitcoin is FU money."
He was retorting to a charge from the American Senator Bill Cassidy, who claimed:
"Salvadoran residents in the United States don't like [the BTC adoption] policy. We are being responsive to their concerns. Perhaps they don't trust a president who brags about trading bitcoin 'naked.'"
Meanwhile, EFE (via Yahoo) reported that the Central Reserve Bank of El Salvador has classified data on remittances received through the state-run Chivo BTC wallet and app – and will not disclose the information to the press.
The bank has reportedly refused to reveal data about remittances in the period September 2021 to January 2022, and has pledged to preserve "the confidentiality of the individual data provided by the institutions, entities, and individuals" who have used the app to send money to and from the country.
Bukele also took to his favorite social media platform to clarify news stories surrounding the delay to the nation's much-talked-about bitcoin bond issuance – which had been slated for last week.
Earlier this week, his finance minister Alejandro Zelaya had claimed that the delay was due to the government wanting to choose an opportune moment for the issuance. The minister had claimed the delay could see the bonds issued as late as September this year.
But Bukele asked crypto media outlets to "please" refrain from "spreading Reuters FUD." He claimed that the bonds would be "issued with" the Bitfinex crypto exchange – noting also that his meeting with "CZ" was unrelated to the bonds.
Bukele wrote:
"The short delay in the issuance is only because we are prioritizing internal pension reform and we have to send that to congress before."
The media outlet ElSalvador.com reported that Bukele's announcement had "contradicted" Zelaya's earlier statements on the matter.
____
Learn more:
- El Salvador's Bitcoin Bonds May Be Delayed Until September, Says Finance Chief
- Ukraine War Throws Timing of El Salvador's Bitcoin Bond Debut into Doubt

- El Salvador's President Bukele Silent on Ukraine War
- El Salvador's Bukele Says 52 Bitcoin Reforms Are 'In the Oven', Critics Hit Out at Lack of Adoption Benefits

- 'Developing Economies' Tracking El Salvador's Bitcoin Moves with Interest
- Panama Eyes Bitcoin & Crypto to Spark Tech Investment
---