Bitcoin Price Prediction: Nearly 3% Drop Raises Concerns of Additional Downtrend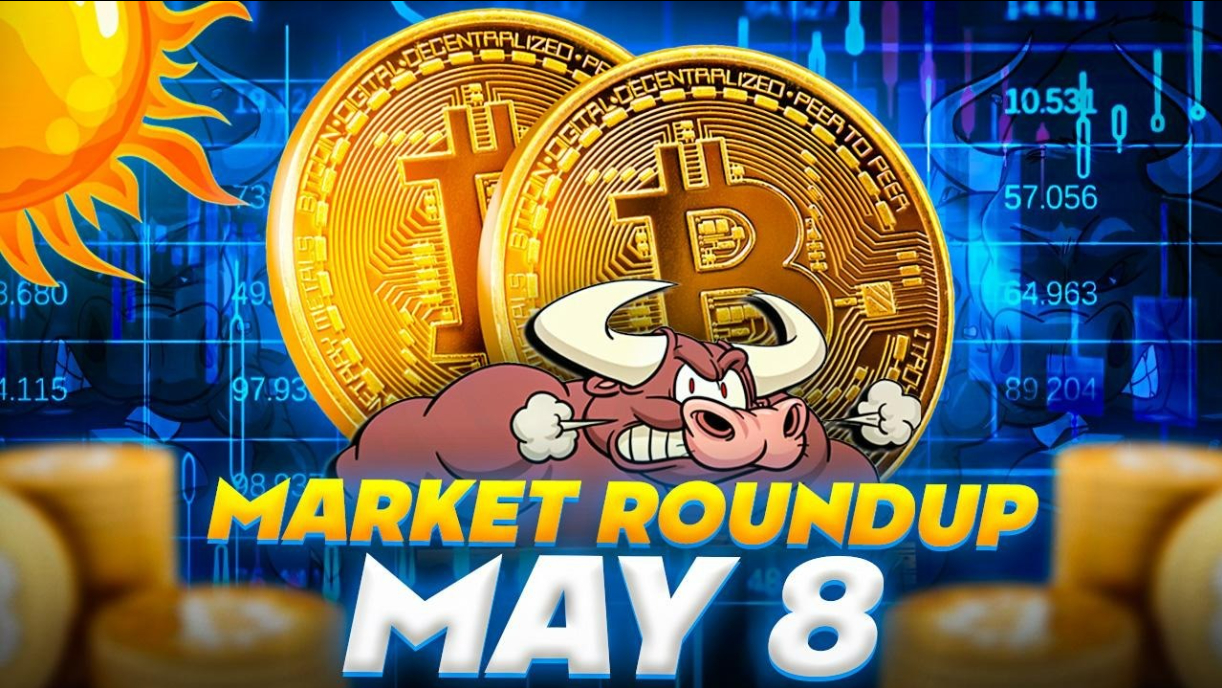 With the recent dip in Bitcoin prices, there are concerns among investors about a further downtrend. The popular cryptocurrency saw a nearly 3% drop, leading some to believe that the market is entering a bearish phase.
This latest development has left many wondering about the future of Bitcoin and whether it can recover from this setback.
In this update, we'll take a closer look at the recent dip in Bitcoin prices and provide insights into what it could mean for the cryptocurrency market as a whole.
Binance Suspends Bitcoin Withdrawals for Second Time in 12 Hours
Binance has once again temporarily stopped allowing BTC withdrawals, citing a significant backlog of outstanding withdrawal requests.
Earlier on May 7, Binance had to briefly halt Bitcoin withdrawals due to an alleged overflow of transactions on the blockchain.
Over half an hour later, withdrawals were once again permitted. However, on May 8, Binance reported again that it had temporarily closed BTC withdrawals due to the large volume of pending transactions.
There are reports of approximately 400,000 transactions waiting in the Bitcoin mempool for processing, and at the time of the second Binance withdrawal halt, the number of backlogged transactions in the mempool was around 485,000.
The mempool serves as an area where transactions are kept at a "waiting" status before being verified by each blockchain node.
These transactions were worth more than $5 billion, and this caused Binance to halt BTC withdrawals for the second time in 12 hours.
On the other hand, the cryptocurrency exchange OKX reported that despite the high transaction fees, its Bitcoin deposit and withdrawal services remained operational.
However, the high volume of Bitcoin withdrawals added pressure on BTC/USD prices, causing them to fall below the $29,000 mark.
Liechtenstein's Prime Minister Advocates for Bitcoin as Payment Method for Government Services
In a recent interview, the Prime Minister of Liechtenstein, Daniel Risch, stated that he plans to introduce Bitcoin payments to its citizens, which could be implemented soon.
He went on to outline the European microstate's plans to accept Bitcoin payments for government services.
The national currency of Switzerland, the Swiss franc, will then be promptly exchanged for Bitcoins.
The Swiss towns of Zug and Lugano have already adopted a similar strategy for Bitcoin payments. Local authorities there have taken steps to legalize Bitcoin payments for specific taxes and costs associated with providing public services.
This news helped to cap some of the losses in BTC/USD prices.
MicroStrategy Continuously Increasing BTC Holdings for 11 Quarters
The publicly traded company, MicroStrategy, has benefited from the rise in Bitcoin's value over the past few months, enabling it to report a net profit of $461 million in Q1.
The revenue from the software division was also higher than expected. Tax benefits from the company's BTC holdings contributed to this growth.
MicroStrategy's share price has increased in the first few months of the year.
On January 1, MSTR stocks were valued at around $145; as of now, they are worth approximately $318, representing a 120% increase.
Despite the volatile nature of cryptocurrency and the bear market of last year, the business intelligence company has remained loyal to strengthening its BTC positions in recent years.
The quarterly report showed that the company has increased its BTC holdings for the 11th consecutive quarter.
This positive news also helped BTC/USD limit its losses for the day.
Rise in Popularity of Memecoin Leads to Multi-Year Highs in Bitcoin Transaction Costs
Bitcoin (BTC) transaction fees have reached a two-year high due to the increased trading activity of memecoins like Pepe.
This week, the total fees paid on the Bitcoin network increased by approximately 400% compared to late April, totaling about $3.5 million.
Memecoins have gained popularity in the cryptocurrency industry, and the BRC-20 token standard for Bitcoin has emerged as the latest development in response.
This standard has been used to create 8,500 distinct tokens.
Bitcoin Price
Bitcoin is currently experiencing a slightly bearish trend, trading at $28,978, which is mostly unchanged and has bounced off by 0.10%. The BTC/USD pair is building on its earlier daily gains and is moving towards the $30K mark.
On Monday, Bitcoin's bearish trend pushed it below the $28,500 support level, and technical indicators like RSI and MACD signal a continued bearish bias.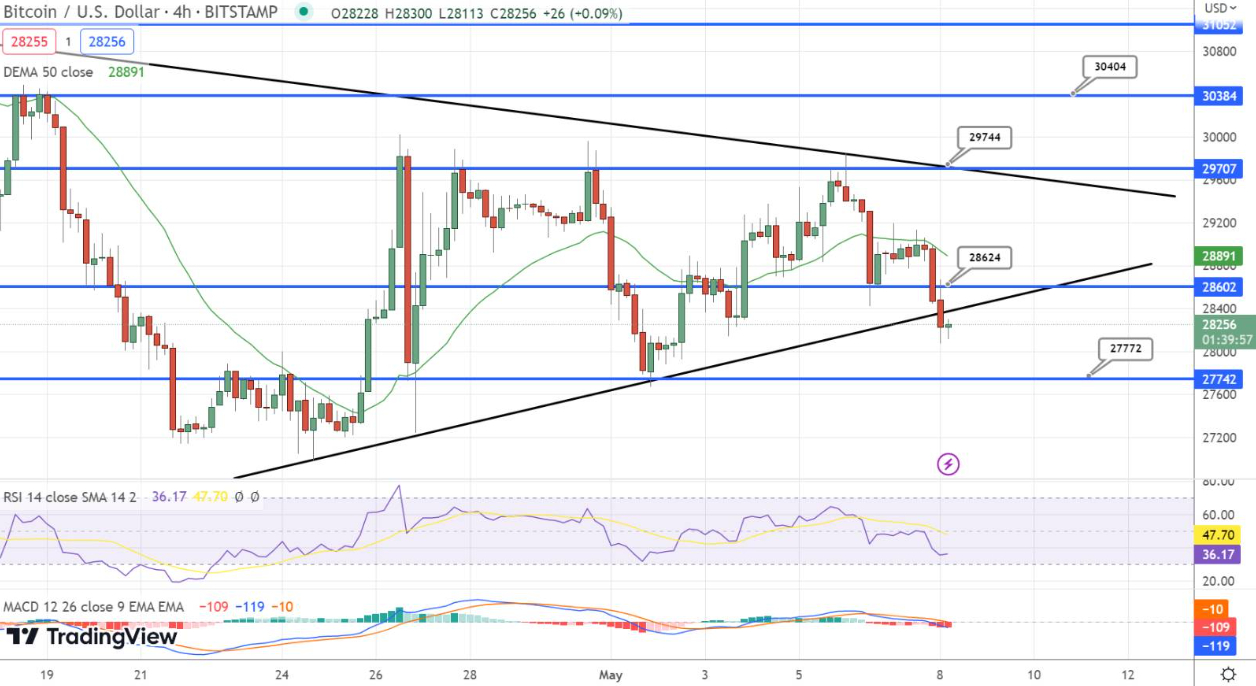 BTC has failed to cross the 50-day exponential moving average, causing it to head toward the $28,000 support level. If it breaks below, it could target $27,700.
Despite the oversold RSI, the breached trend line at $28,350 suggests that bearish momentum will likely continue.
Consider a sell position below $28,500 with a target of $27,750. If Bitcoin crosses above $28,500, it could target $29,000 or $29,750.
Top 15 Cryptocurrencies to Watch in 2023
The Cryptonews Industry Talk team has put together a list of the top 15 cryptocurrencies for 2023, each showcasing considerable growth potential in both the short and long term.
Disclaimer: The Industry Talk section features insights by crypto industry players and is not a part of the editorial content of Cryptonews.com.
Find The Best Price to Buy/Sell Cryptocurrency

---