Bitcoin Price Prediction – How High Can BTC Go in 2023?
Disclosure: Crypto is a high-risk asset class. This article is provided for informational purposes and does not constitute investment advice. By using this website, you agree to our terms and conditions. We may utilise affiliate links within our content, and receive commission.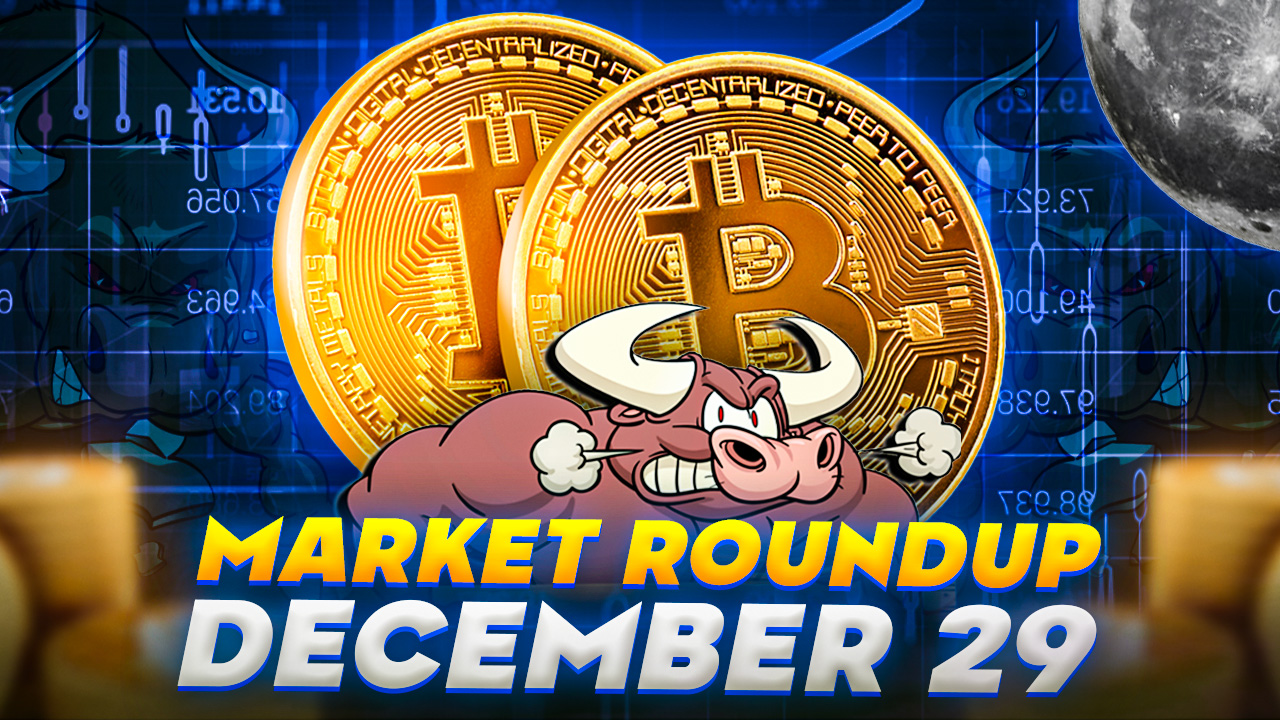 Bitcoin price prediction remains bullish after recovering above the $16,450 level. Bitcoin (BTC) and Ethereum (ETH), the two most valuable cryptocurrencies, have failed to break out of their consolidation phase and are now trading at around $16,000 and $1,100, respectively.
However, the reason for its downward rally could be attributed to the bearish cryptocurrency market, which tends to support riskier assets like Bitcoin (BTC) and Ethereum (ETH). Dogecoin (DOGE) and Solana (SOL), two popular cryptocurrencies, are also down on the day.
https://www.twitter.com/bittionaire/status/1608321170620960774?s=20&t=z74VVFpEV3zFUOVbRXAWVQ
Along with this, the currency's slow price movement could be attributed to ongoing financial insecurity and the COVID concern, which are deterring investors from riskier assets.
For quite some time, the cryptocurrency market has been plagued by serious issues. As a result of the escalating economic issues, the majority of cryptocurrency users have liquidated or intend to liquidate their cryptocurrency wallets.
Novogratz's Galaxy Digital Gave BTC Miner Argo Blockchain $100 million to Escape Bankruptcy
Argo Blockchain (ARBK) has decided to sell its Helios mining operation in Dickens Country, Texas, to Galaxy Digital for $65 million, thereby avoiding bankruptcy.
The miner will also receive a new $35 million loan from well-known investor Michael Novogratz's financial services company that specializes in cryptocurrencies, which will be backed by Argo's mining equipment, according to a statement.
UK's Argo Blockchain shares soar on deals to avoid bankruptcy https://t.co/TAc3l6h8vw pic.twitter.com/Pw1ywmcnJ5

— Reuters (@Reuters) December 28, 2022
However, the investment will assist Argo in strengthening its financial position and avoiding bankruptcy after a proposal for $27 million in financing fell through in October.
The miner announced earlier this month that it was in serious talks to sell some of its assets and complete an equipment financing arrangement in order to avoid Chapter 11 bankruptcy. As a result, this news appears to be having a positive impact on Bitcoin prices.
North American Winter Storms Shut Down Bitcoin Miners
As a powerful storm moved across North America, crypto miners across the country shut down. Statistics show that between December 21 and December 24, the bitcoin mining hashrate, which measures the computational power of the blockchain, fell by around 100 exahashes per second (EH/s), or 40%, to 156 EH/s. On Sunday, it was slightly higher than 250 EH/s.
#Bitcoin Miners Shut Down Operations During North American Storm

What was the impact on the mining hash rate? The Electric Grid? #bitcoinmining https://t.co/WLWFV4PAd8

— Ryan Harper (@ryansharper) December 29, 2022
According to the BBC, an Arctic storm that hit the United States and Canada dropped temperatures as low as -50°F (-45°C) in western Montana and dumped up to 43 inches of snow in western New York state. According to CNN, the storm is to blame for at least 37 deaths.
ETH Liquidity Has Increased
Investors discovered an unexpected pessimistic shift in the cryptocurrency markets, resulting in unprecedented liquidations across the majority of the most important digital currencies.
According to Coinglass data, more than 28,300 dealers reported $45.89 million in liquidations in the last 12 hours, and over $73 million in the last 24 hours.
🔷 | #Ethereum (ETH) Becomes Most Liquidated Coin Over Past 12 Hours. pic.twitter.com/2TZriaaXay

— Signals Broker (@SignalsBrokers) December 28, 2022
According to Coinglass, Ethereum (ETH) is the most liquidated digital currency, with nearly 12.86K ETH tokens worth a total of $15.36 million liquidated in the last 12 hours.
Bitcoin (BTC), whose liquidation data is the most frequently reported, comes in second with 354.73 BTC liquidated for a total value of $5.91 million during the same period.
Bitcoin Price
The current bitcoin price is $16,564, while the volume of trading in the last 24 hours is $15 billion. Bitcoin is obtaining significant support on the 4-hour time frame at $16,460, which is being extended by an outward trend line evident in the chart below.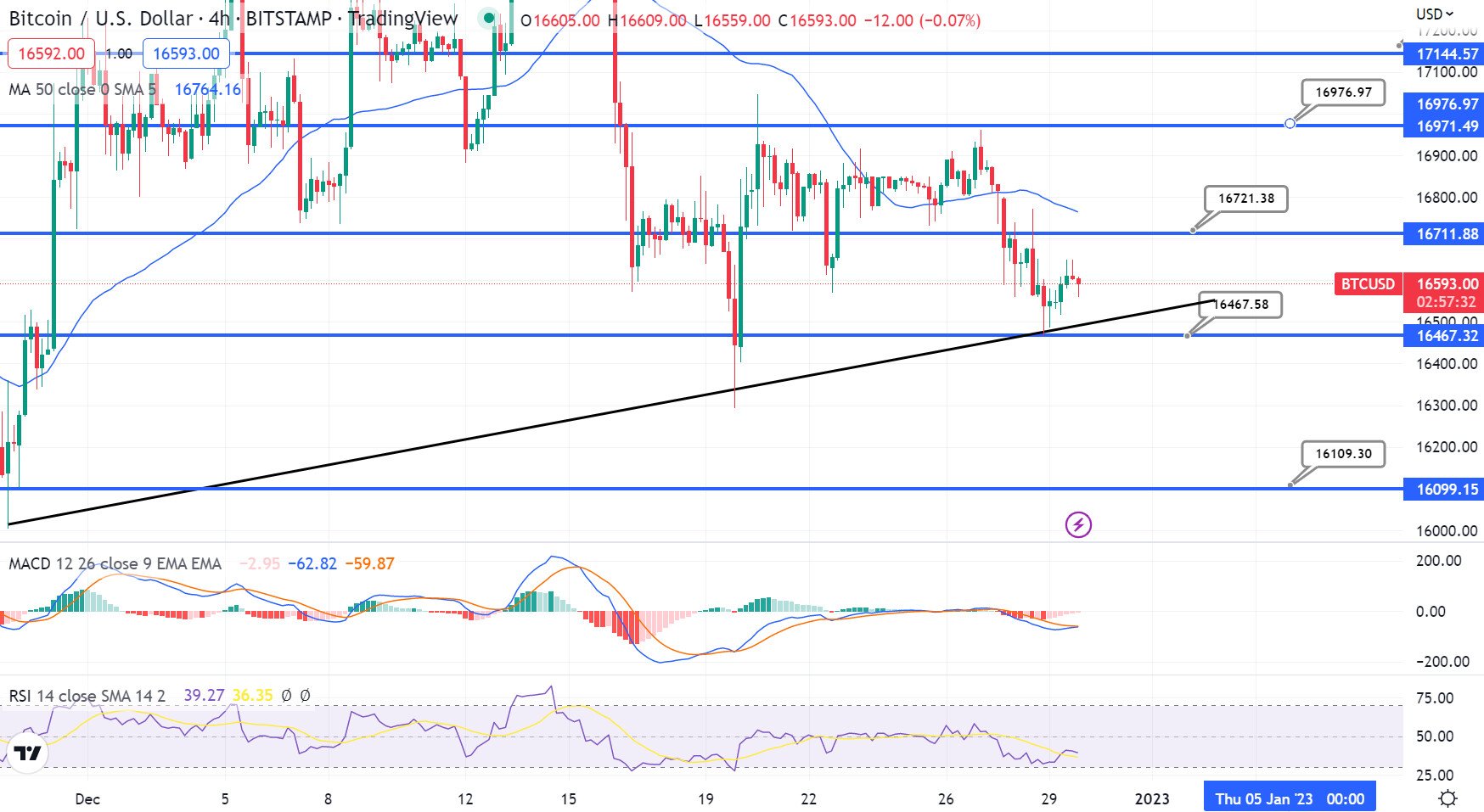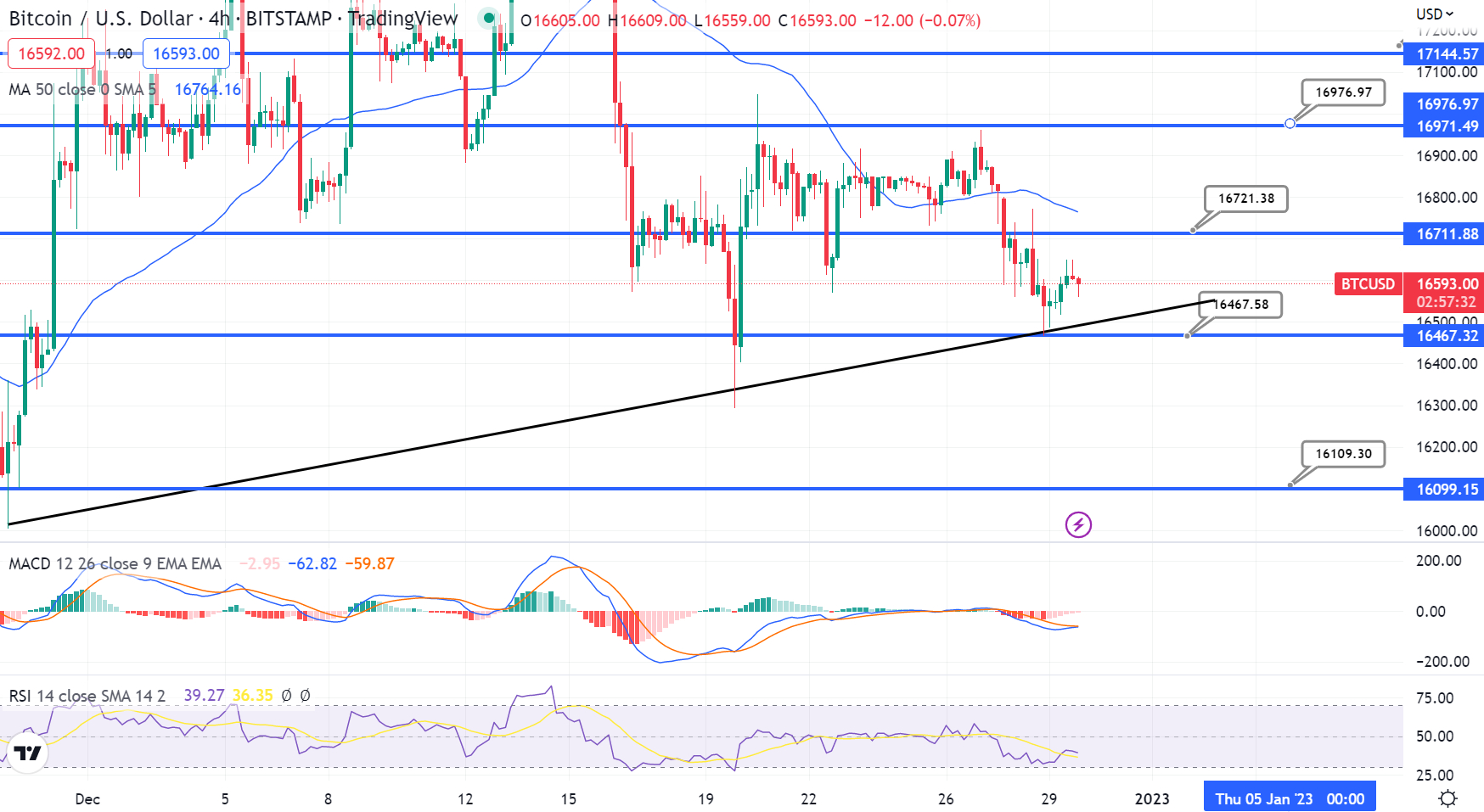 A series of doji and spinning top candles above the upward trend line indicates chances of a bullish reversal, and if this occurs, Bitcoin may retest its initial objective of $16,750.
A positive breakout of the $16,720 level may expose Bitcoin price to the next resistance level of $16,990. Because the RSI and MCD are negative, a bearish breakout of the $16,460 level might expose Bitcoin to immediate support levels of $16,200 or $16,000.
Higher-Profit Cryptocurrencies
Given the market's risk aversion, traders are seeking alternatives with stronger short-term prospects. Investors can get in on the market's biggest pre-sales early.
FightOut (FGHT)
The FightOut (FGHT) platform works in the same way as a personal trainer, except that the FGHT token is proactively awarded for workout time. All activities are recorded and can be used to improve the statistics of one's metaverse avatar. Earning FGHT tokens gives users an extra incentive to keep healthy and exercise while reaping the benefits of blockchain technology.
Despite the general lack of liquidity in the bitcoin market, FightOut has flourished and attracted investors. Through its token sale, which began last week, it has already raised more than $2.4 million. As the sale progresses, the current selling price of 60.06 FGHT for $1 (FGHT can be purchased using ETH or USDT) will grow.
Visit FightOut NowDash 2 Trade (D2T)
When it launches in early 2023, Dash 2 Trade will be an Ethereum-based platform that will deliver real-time analytics and social trading data. Trading signals, on-chain analytics, strategy-building tools, and newsfeeds will be among the initial features, supporting both rookie and expert traders in staying abreast of the turbulent bitcoin market.
Dash 2 Trade, one of the major ICOs of 2022, has only 8 days remaining until the presale ends and has unveiled its dashboard beta. D2T has already raised over $11 million in funding. D2T is the system's access coin, and it is presently worth $0.0533 in the presale after previously selling for $0.0476 to investors.
C+Charge (CCHG)
C+Charge (CCHG) is a Binance Chain-based peer-to-peer payment system for electric vehicle (EV) charging stations. It intends to broaden access to carbon credits by rewarding customers who charge their electric vehicles at its terminals, which will open in the second quarter of next year.
The platform has already agreed to add 20% of Turkey's EV chargers to its network, indicating its ability to scale swiftly. 1 CCHG costs $0.013, and it can be purchased with BNB or USDT.
Find The Best Price to Buy/Sell Cryptocurrency


---