Bitcoin Price Prediction as US Debt Default Looms – Is BTC a Safe Haven?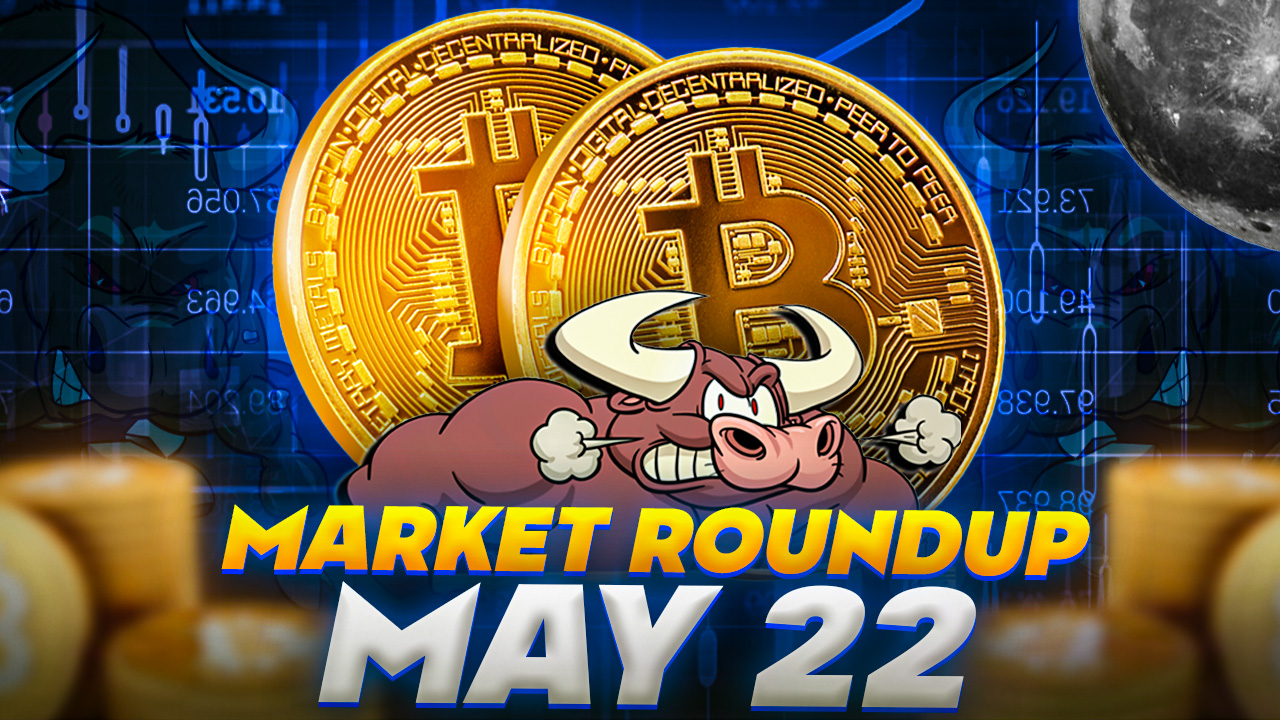 As the possibility of a US debt default looms, the Bitcoin price prediction gains increased attention.
With the potential turmoil in the financial markets, investors are looking for safe-haven assets to protect their wealth.
Bitcoin, as a decentralized and borderless digital currency, has been hailed by some as a potential store of value during uncertain times.
In this Bitcoin price prediction, we will explore the dynamics of the Bitcoin price amidst the US debt default concerns and examine whether Bitcoin can indeed serve as a safe haven in such situations.
US Debt Ceiling Crisis: Impending Default Risks and Ongoing Negotiations
Tensions are escalating as the deadline approaches for the US to raise its spending limits and avoid a potentially catastrophic default.
Negotiations between Republican House Speaker Kevin McCarthy and US President Joe Biden are ongoing, with the United States Department of the Treasury warning of a possible fund shortage by June 1.
The situation has led to a standoff, as McCarthy insists on spending cuts for social programs as a condition for raising the debt ceiling. The consequences of a default could severely affect the US and global economies.
Here's a summary of the current situation, including key players, potential outcomes, and the implications of a US debt default.
Summary:
US debt ceiling negotiations are ongoing, with the deadline approaching rapidly.
Republican House Speaker Kevin McCarthy is seeking spending cuts in exchange for raising the debt ceiling.
The United States Department of the Treasury warns of potential fund shortages by June 1.
Failure to raise the debt ceiling could lead to a catastrophic default, causing significant economic and financial repercussions.
Democrats and Republicans have differing views on spending limitations and social programs.
If the US defaults, it could trigger an economic crisis and increase borrowing costs.
Talks between President Biden and McCarthy are ongoing, but challenges exist due to the involvement of multiple parties.
The stakes are high, potentially impacting federal workers' pay and the government's ability to fulfill its functions.
Implications of a US Debt Default:
A default would have profound consequences for the US and global economies.
It would raise borrowing costs, making future investments more expensive.
The International Monetary Fund (IMF) warns of serious repercussions, including a potential slowdown in global GDP growth.
Federal workers may experience pay delays, and the government could struggle to maintain certain functions.
Current Status of Talks:
President Biden and McCarthy, along with other Congressional leaders, continue negotiations.
Republican Senator John Thune suggests limiting talks to Biden and McCarthy for better progress.
McCarthy's position is complicated by resistance from hardliners within his party.
Despite the challenges, there is optimism that an agreement can be reached.
Stay informed and watch for updates as the US debt ceiling deadline approaches, potentially impacting the US economy and global financial stability.
Bitcoin Price
The current price of Bitcoin is $26,801, and its trading volume over the past 24 hours amounts to $9.6 billion.
In the same timeframe, Bitcoin has experienced a decrease of less than 0.50%. It currently holds the top position on CoinMarketCap with a market capitalization of $520 billion.
There are currently 19,380,362 BTC coins in circulation out of a maximum supply of 21,000,000 BTC coins.
Bitcoin Price Prediction
Bitcoin is exhibiting signs of finding support at the $26,600 level, as indicated by the formation of a triple bottom pattern on the candlestick chart.
This suggests a potential bullish turnaround in the short term, with the next target set at the $27,200 level.
It's important to note that on longer timeframes, like the four-hour chart, resistance is observed around $27,200, while support is present near $26,600.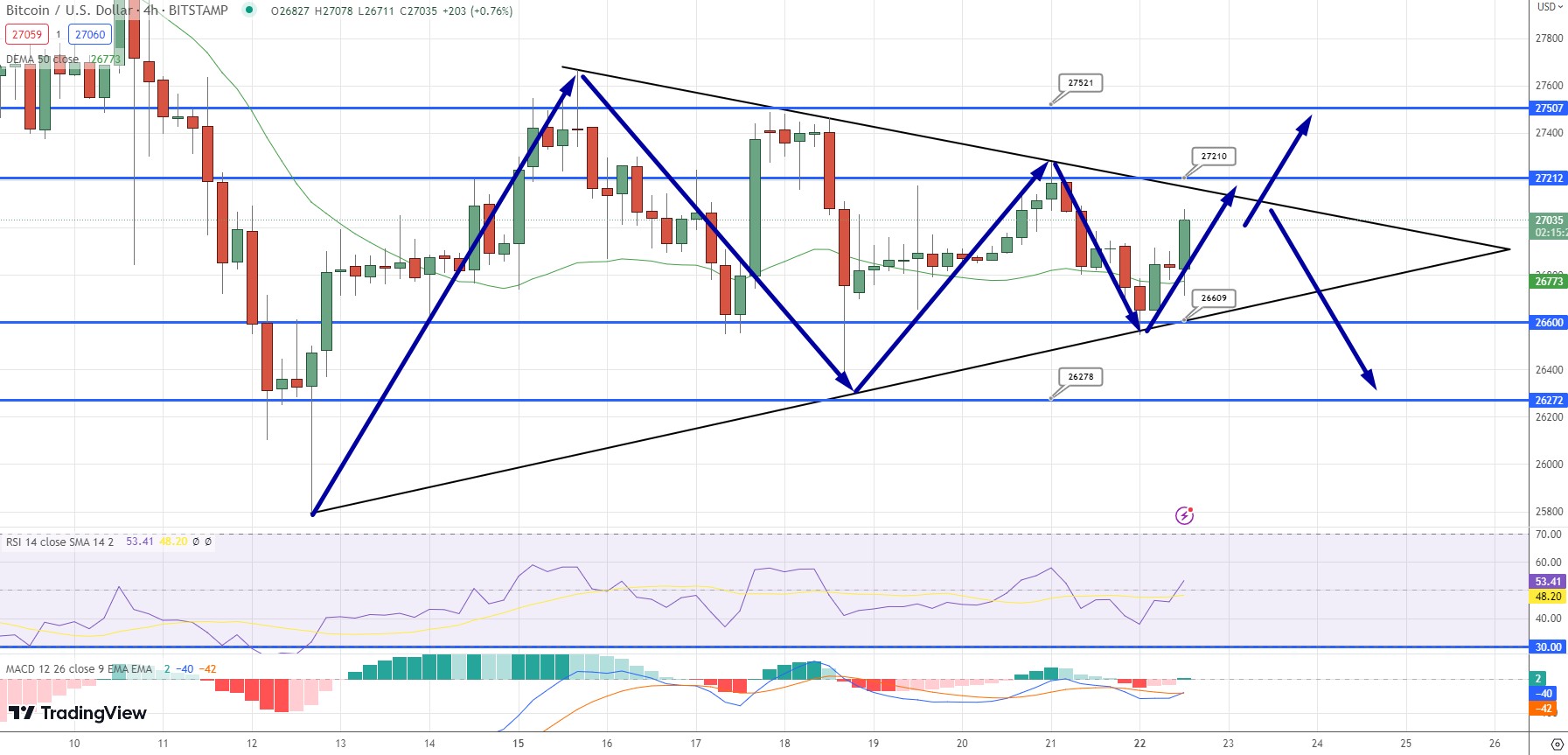 Furthermore, the $26,700 level has been reinforced as support by the 50-day exponential moving average, providing additional evidence for potential upward momentum in Bitcoin.
Given this, it is crucial to keep a close eye on the $26,600 level. If this level is breached, it could trigger a bullish move towards $27,200 and potentially even $27,500.
Top 15 Cryptocurrencies to Watch in 2023
Cryptonews Industry Talk presents a promising lineup of cryptocurrencies for 2023, chosen for their potential growth and innovative features.
Get ready to discover the exciting possibilities and advancements that lie ahead for these digital assets.
Disclaimer: The Industry Talk section features insights by crypto industry players and is not a part of the editorial content of Cryptonews.com.
Find The Best Price to Buy/Sell Cryptocurrency

---