Bitcoin Price Prediction as Trading Volume Blasts Past $40 Billion – Here's Where BTC is Headed Next
Disclosure: Crypto is a high-risk asset class. This article is provided for informational purposes and does not constitute investment advice. By using this website, you agree to our terms and conditions. We may utilise affiliate links within our content, and receive commission.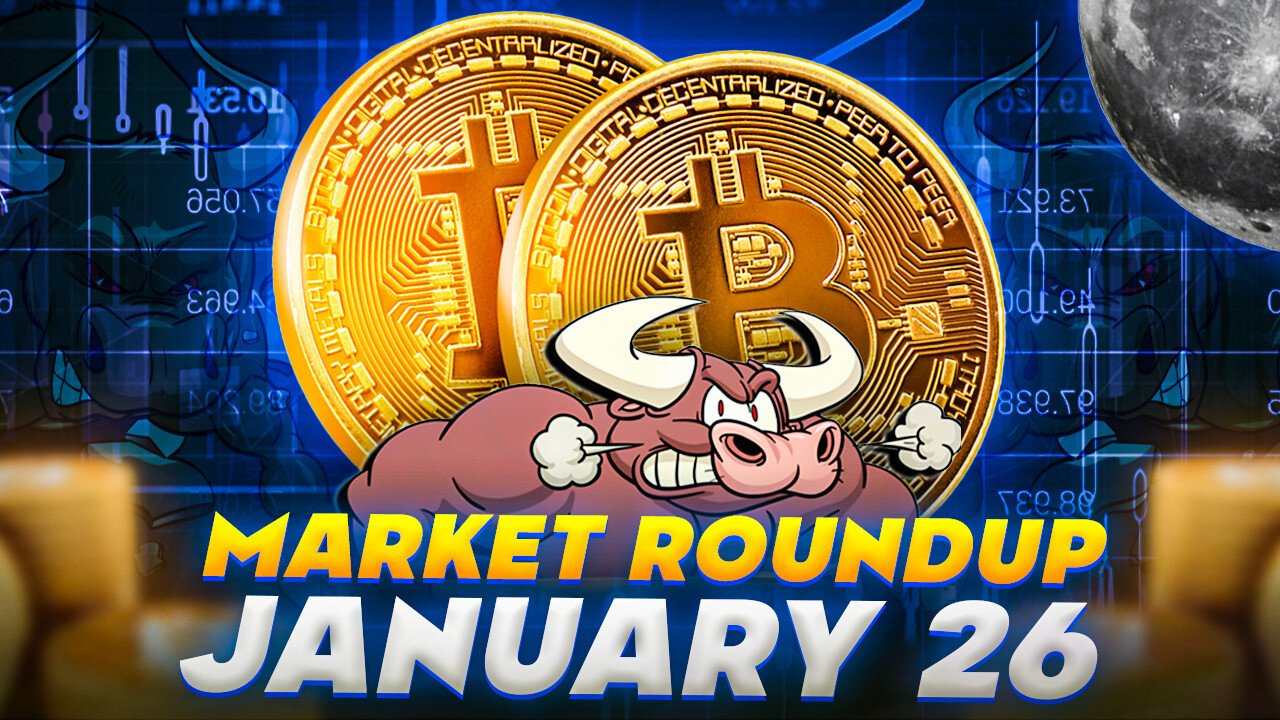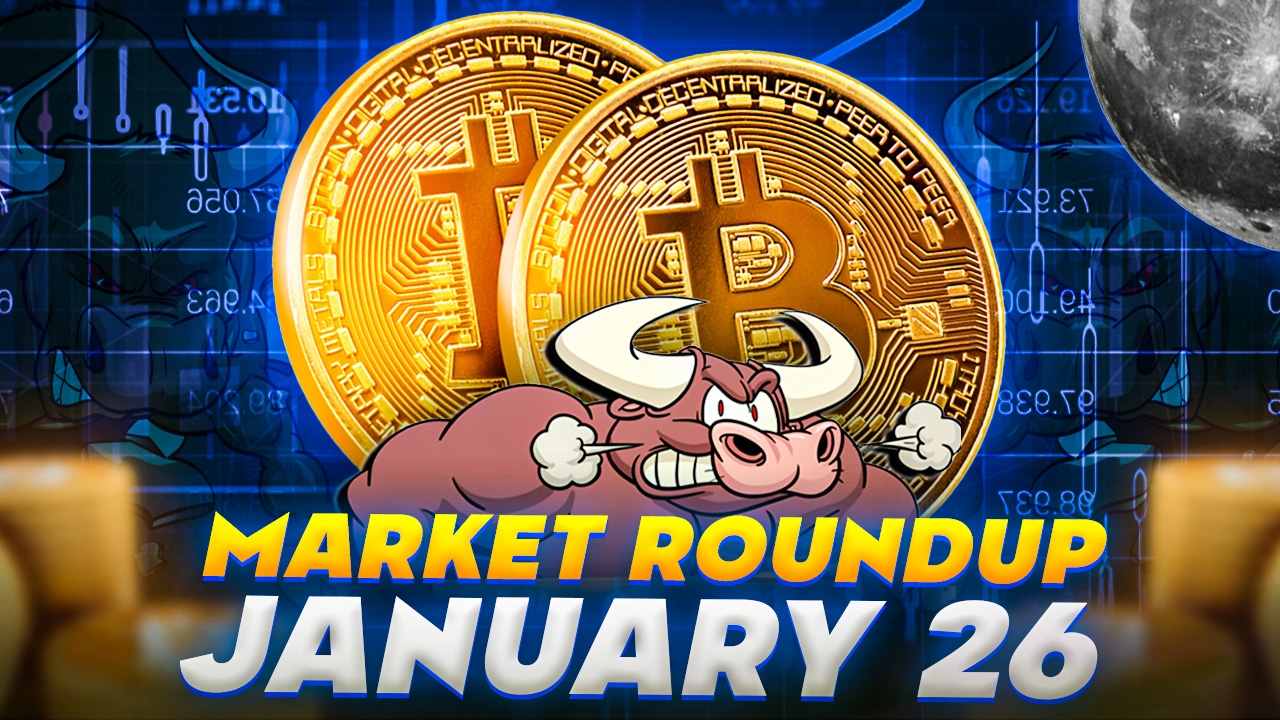 Bitcoin's price has been on a rollercoaster ride, with the digital asset blasting past $40 billion in trading volume. As the market continues to evolve, many traders and investors are wondering where Bitcoin is headed next.
In this article, we'll explore recent trends and provide an overview of what analysts are predicting for the future of Bitcoin prices.
The global crypto market cap has gone up by about 3%, pushing Bitcoin's price to beyond the $23,000 mark. At present, the total market capitalization stands at approximately $1.09 trillion. Ethereum, the second largest cryptocurrency, saw a surge of over 1.50% and is now priced at $1,623.
Tweet: The #Bitcoin price is on the rise, aiming for more gains above $23K! 🚀 Get ready to break through the roof! #Crypto

— Q.E.D (@QEDCryptoNews) January 25, 2023
However, the financial market is being significantly impacted by macroeconomic factors such as exchange collapses and a lack of investor confidence. These circumstances have a greater effect on the volatility of prices than other elements.
With a decrease in inflation levels, the Federal Reserve is anticipated to halt the process of increasing interest rates – something that is beneficial for cryptocurrency.
The last three recessions, the Fed cut rates between 240-500bps

The last two recessions, the Fed cut rates to 0

What will it do this time around? pic.twitter.com/n4tlp7dLRU

— Florian Kronawitter (@fkronawitter1) January 25, 2023
The recent surge in crypto prices is connected to the potential end of interest rate hikes. Since riskier investments like crypto have become less attractive in the past year with higher interest rates, the possibility of them going down has been an incentive to invest.
This logic applies to #EthereumClassic as the largest Proof-of-Work blockchain with smart contract functionality. If you dig deeper, you'll see many of $ETC's attributes were modeled off #Bitcoin, because it was Bitcoiners who were the early participants.https://t.co/WldbMYjpoI https://t.co/eZht3Eors6

— Ethereum Classic DAO (@EthClassicDAO) January 25, 2023
Ethereum stands to benefit greatly from its various network upgrades and the feature of smart contracts. Consequently, the future of Ethereum looks promising across the globe.
Risk-On Mood In Crypto Market
The global cryptocurrency market has been steadily rising and has gained traction in recent hours. However, the cryptocurrency market's upward trend is primarily influenced by easing inflation and the prospect of interest rate cuts. As inflation falls, the Federal Reserve is likely to lower interest rates.
Worst of the crypto bear market is over and altcoins will setup to outshine Bitcoin in the next bull run, as usual!

— Dan Gambardello (@cryptorecruitr) January 25, 2023
In light of a looming economic recession in the US, the Federal Reserve has taken to decreasing interest rates and encouraging a more favorable climate for stocks and crypto assets.
CANADA – Bank of Canada hikes key interest rate again but plans to hold rate – up by .25% to 4.5% Prime.#Canada https://t.co/fKkEapKM21

— OZ (@goldcrown_oz) January 26, 2023
On Wednesday, the Bank of Canada made a noteworthy announcement that they would likely put a pause on raising interest rates in the near future; this gave traders hope that the US Federal Reserve would also reconsider its aggressive rate hike stance.
However, cryptocurrency is expected to remain volatile until there is more clarity regarding the economy and the trajectory of interest rates.
Goldman Sachs Bullish On Bitcoin: Could This Be The Start Of A New Crypto Era?
Investor trust in Bitcoin has been further strengthened with Goldman Sachs recently expressing their support for the cryptocurrency. This announcement could be expected to give Bitcoin's value a significant boost.
A recent tweet from an individual user suggested that global banking giant Goldman Sachs ranked Bitcoin as the best-performing asset of 2022, beating Gold, US Treasury Bonds, the S&P 500, and other notable indices.
I strongly agree HANDS DOWN!- Banking Giant Goldman Sachs Ranks Bitcoin As World Best Performing Asset. #buybitcoin pic.twitter.com/Q7lFxMZ6bX

— Mat Stark (@crypto_karnage) January 25, 2023
Goldman Sachs claims that Bitcoin has outperformed both its cryptocurrency peers and traditional financial institutions with a risk-adjusted return (Sharpe ratio) of 3.1.
Elon Musk's Fascination With Bitcoin
Tesla, an electric vehicle manufacturer, has refused to buy any more Bitcoin in the second half of 2022, despite having reduced its holdings by 75% in the first quarter.
Tesla's most recent Q4 results report, released on Jan. 25, shows that it did not buy or sell any Bitcoin for the second consecutive quarter.
https://www.twitter.com/BitcoinMagazine/status/1615826246734159890?s=20&t=h-fHpxN5CvpN0vt7Kn0lEw
According to the documents, the company had $184 million in digital assets as of December 31, 2022.
This was down from $218 million the previous quarter, caused by a $34 million impairment charge because the value of bitcoin dropped between September and December of the previous year.
As a result, the cryptocurrency market has been unaffected by this news.
Celsius Network LLC: Breaking Down The Latest Financial Innovation In Crypto Lending
Celsius Network LLC is issuing a new digital-asset token to pay creditors as part of a plan to restructure and emerge from bankruptcy as a regulated cryptocurrency platform.
Ross M. Kwasteniet, an attorney for Celsius, spoke that reorganizing Celsius into a publicly traded company with the appropriate license would generate more revenue for creditors than selling difficult-to-liquidate assets at the current low prices.
Celsius Network reportedly mulling the #launch of a new token as part of a restructuring plan to compensate creditors. Will this be the next Bitfinex LEO? #Celsius #crypto #blockchain

— NexusAI_ChatGPT_Crypto (@NexusAI_Tweets) January 25, 2023
According to Kwasteniet, a partner in the Restructuring Group, Celsius has been negotiating with various creditor groups on how to establish a new company and issue a new token to creditors as part of a payout plan.
Consequently, this could be beneficial for the entire cryptocurrency sector, as it will bolster investor confidence and, ultimately, increase crypto sentiment.
Bitcoin Price
Bitcoin is currently valued at $23,072 and has a $40 billion 24-hour trading volume. The BTC/USD pair is holding just above the support level of $22,325 and its closing Doji candles above that level indicate that there is still potential for a bullish rebound.
Bitcoin is currently facing resistance at the $23,250 mark. If it is able to break through that level, there are expectations that the cryptocurrency's price could rise up to $23,900 or even as high as $25,150.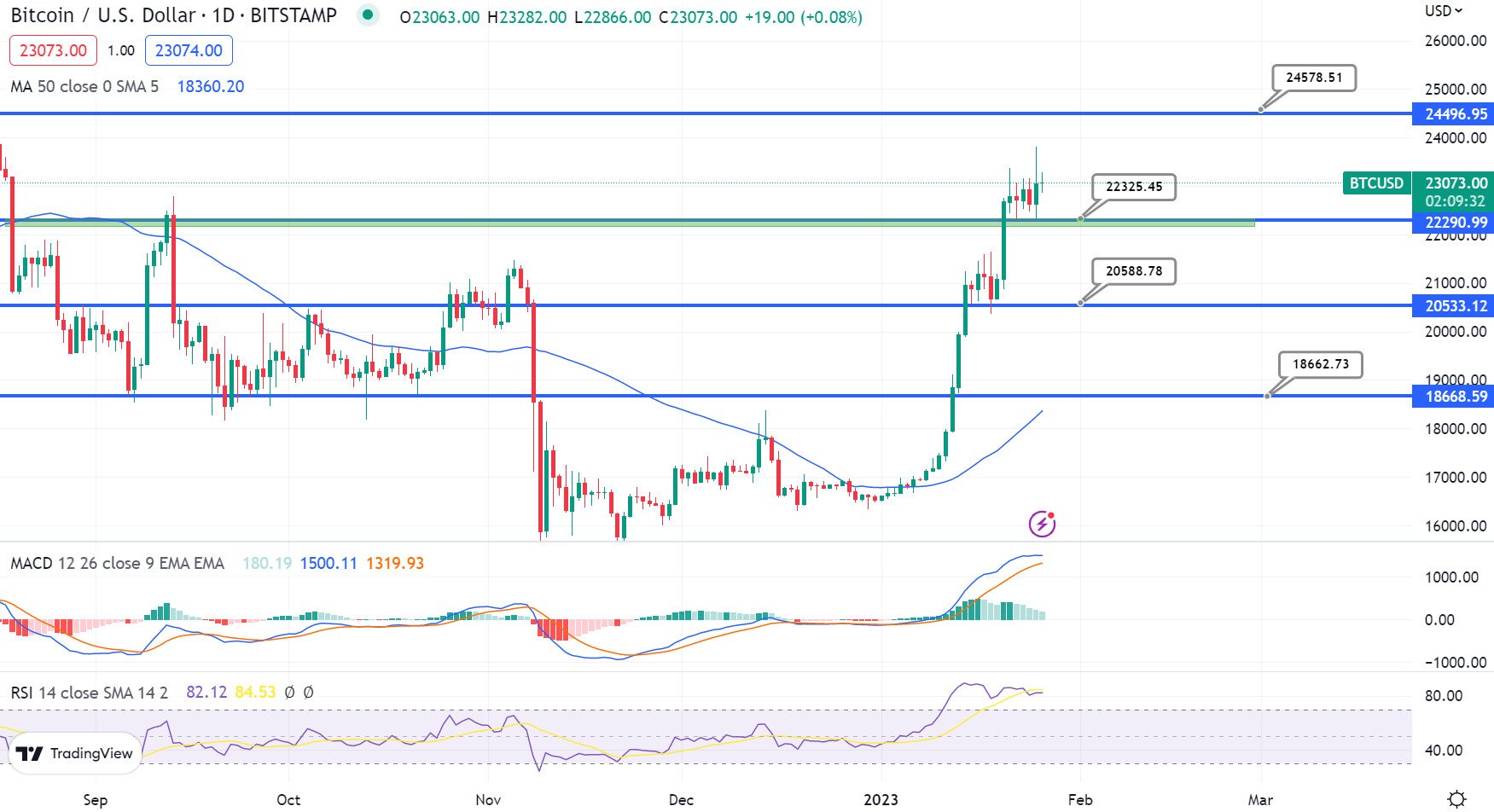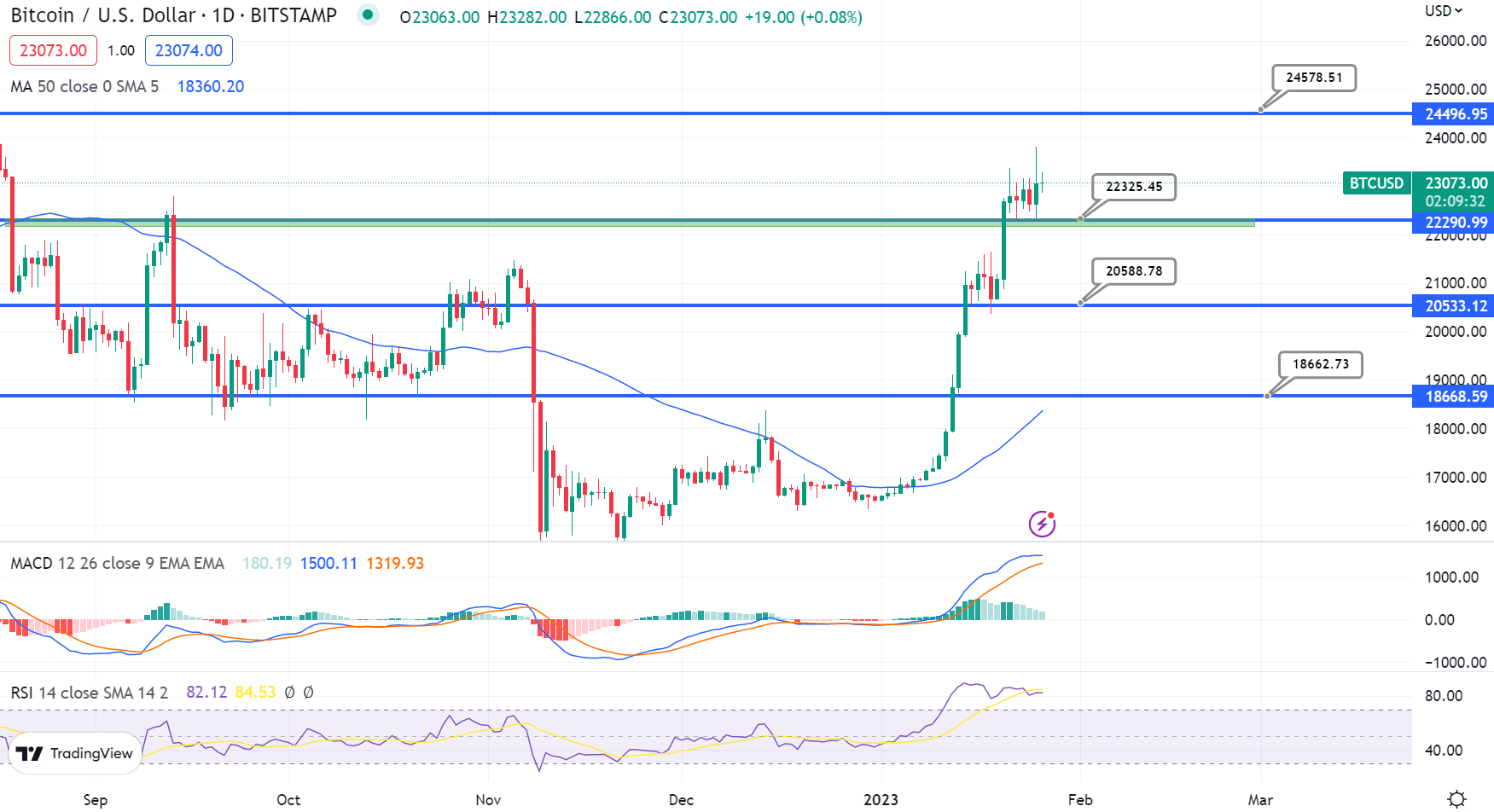 The $22,325 benchmark could be broken to the downside, leading to a bearish shift in the market. Such a movement may result in Bitcoin dropping to $21,500 and potentially even reaching as low as $20,450.
Bitcoin Alternatives
CryptoNews recently reviewed the 15 most promising cryptocurrencies for the year 2023. If you're looking to invest and be rewarded with good returns, there are other projects apart from the ones mentioned that could be worth a closer look.
The altcoins and ICOs in the crypto space are regularly examined and refreshed to keep abreast of all the recent developments.
Disclaimer: The Industry Talk section features insights by crypto industry players and is not a part of the editorial content of Cryptonews.com.
Find The Best Price to Buy/Sell Cryptocurrency


---