Bitcoin Price Prediction as BTC Spikes Up Above $22,000  – Here's Where It's Headed Now
Disclosure: Crypto is a high-risk asset class. This article is provided for informational purposes and does not constitute investment advice. By using this website, you agree to our terms and conditions. We may utilise affiliate links within our content, and receive commission.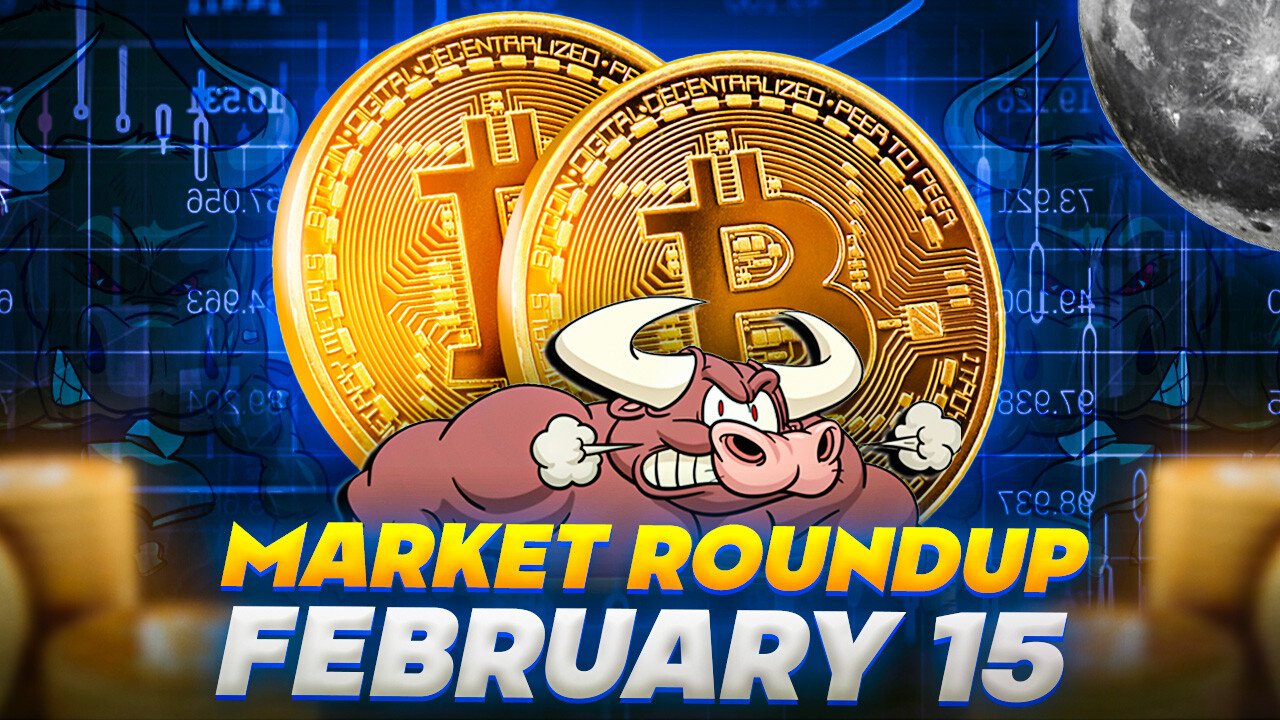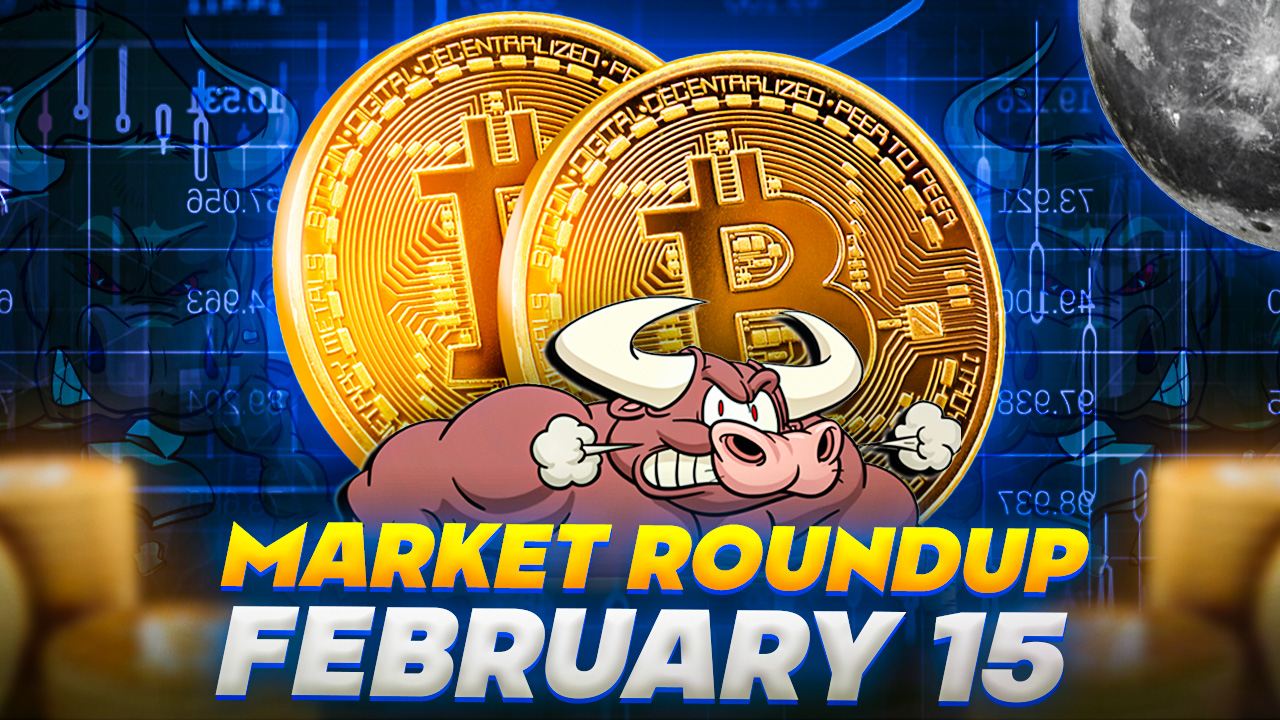 Bitcoin, the world's largest cryptocurrency by market capitalization, has recently surpassed the $22,000 price level, which has reignited discussions about the digital asset's future prospects.
While Bitcoin has witnessed several price surges in the past, this recent uptick has come amidst unprecedented institutional investor interest and increased mainstream adoption.
This has resulted in analysts revising their Bitcoin price predictions, with some forecasting a continued bull run, while others are more cautious in their outlook.
Bitcoin Surges in Response to Retail Sales Upturn
Retail sales in the United States registered an unexpected 3% increase on a monthly basis in January 2023, marking the most substantial surge since March 2021 and far surpassing market predictions of a 1.8% rise. This upswing followed a 1.1% drop in December.
BREAKING: Retail sales are up 3% in January, shattering expectations on the positive side.

The US economy is blowing away other economies in the world. This is all happening despite the FED increasing rates.

THANK YOU Joe Biden for your stable, sensible leadership!

— Brian Krassenstein (@krassenstein) February 15, 2023
Typically, robust retail sales data indicates that the US Federal Reserve may adopt a more hawkish monetary policy stance, leading investors to shift away from high-risk investments such as Bitcoin and turn to traditional safe-haven assets such as gold.
El Salvador Set to Establish 'Bitcoin Embassy' in Texas
El Salvador has set in motion plans to establish a "Bitcoin embassy" in the state of Texas, as declared by the country's envoy to the United States, Milena Mayorga. In a tweet yesterday, Mayorga stated that she engaged in discussions regarding the proposal with Joe Esparza, the Texas Deputy Secretary of State.
BREAKING: 🇸🇻 El Salvador is opening a #Bitcoin Embassy in Texas 🇺🇸 pic.twitter.com/AdNfACqqcu

— Bitcoin Magazine (@BitcoinMagazine) February 14, 2023
The Texas Secretary of State has verified that they indeed held a meeting with El Salvador's representative to the United States, with the intention of exploring possibilities for cultural and business interchange. Nevertheless, the official has opted to keep the details of the dialogue confidential.
Reports indicate that El Salvador has procured the aforementioned digital currency, as mentioned in tweets made by the nation's leader. Nonetheless, the authorities have refrained from disclosing the particulars of the acquisition, much to the dismay of various human rights organizations, who have chastised President Nayib Bukele for his austere crackdown on the country's widely-known street factions.
Despite the criticism, Bukele has maintained a large following among the populace of El Salvador.
Bitcoin on the Rise, US CPI Behind It?
The United States consumer price index (CPI) rose by 0.5% in January, driven primarily by the increase in the prices of food and rent. Although the yearly price surge of 6.4% in January was slightly lower than the 6.5% recorded in December, it still exceeded the 6.2% projected by economists.
The persistent uptick in inflation continues to raise concerns, and if this pattern remains unchecked, it could have considerable ramifications for the wider economy.
US CPI data just came out🚨

Inflation sits at 6,4% and has now been falling for 7 months straight!

FED will probably do the last rate hike in March and announce a pause – this will be huge for stock markets and crypto.

Buy the dip at 20k &
HODL your bags😎 pic.twitter.com/LEkV4C8Jlk

— Trismegistus (@Trismegistus963) February 14, 2023
The potential for a significant Bitcoin price surge toward $23,878 has emerged following the release of the US Consumer Price Index (CPI) data. The cryptocurrency market is sensitive to macroeconomic indicators such as the CPI, and any unexpected results can have a substantial impact.
The US CPI was published recently, indicating a surge in consumer prices by 0.9% in June, far exceeding analysts' predictions. In the aftermath of the announcement, the price of Bitcoin experienced an upsurge, which could lead to further gains.
Author of 'Rich Dad Poor Dad' Offers Bitcoin Price Forecast: Insights Revealed
Renowned author of the bestselling book "Rich Dad Poor Dad," Robert Kiyosaki, has advised investors to keep a close watch on the recent layoffs at leading corporations like Google, Microsoft, Facebook, and Amazon. With a staggering 2.3 million Twitter followers, Kiyosaki has further expressed his anticipation of a substantial market crash commencing this month.
According to him, all assets, including gold and cryptocurrencies, are predicted to undergo an initial decline in value.
Rich Dad Poor Dad said bitcoin will reach $500K. It is people's money. pic.twitter.com/5N6KN31fCw

— Bitcoin Malaya (@bitcoinmalaya) February 14, 2023
From Kiyosaki's perspective, the Federal Reserve will have to resort to printing money to support the markets once the crisis has taken hold. This measure would inevitably lead to an escalation in national debt and a reduction in the value of the currency.
Kiyosaki has also envisioned that the value of scarce assets such as gold, silver, and Bitcoin will experience a considerable surge by the start of 2025. Nonetheless, the news has had little influence on Bitcoin's price up to this point.
IMF Cautionary Message to El Salvador Regarding Bitcoin's Risks
The International Monetary Fund (IMF) has issued a cautionary message to El Salvador regarding the perils of its exposure to the Bitcoin market and advocated for more transparency.
El Salvador made history in 2021 as the first country to embrace Bitcoin as a legal tender, following which the government initiated a Bitcoin buying spree.
IMF wants El Salvador to reconsider Bitcoin exposure: Community reaction

One community member interpreted the IMF's move as a way to "scare other countries away" from adopting Bitcoin as a legal tender.#Bitcoin #Altcoin pic.twitter.com/9Q2GbAGsR6

— Crypto Bernard Wong (@Wong_insight) February 15, 2023
Regrettably, the public has not been apprised of the precise quantity of Bitcoin obtained by the government through its buying campaign. During a recent visit to El Salvador, the IMF counseled the country to take necessary steps to mitigate the potential hazards of its involvement with digital currencies.
Bitcoin Price
Presently, the current live Bitcoin price stands at $22,974, having registered a trading volume of $25 billion in the last 24 hours. During this period, the price of Bitcoin has increased by nearly 4%. Notably, it retains its position at the top of CoinMarketCap, boasting a live market capitalization of $443 billion.
The popularity of Bitcoin as a hedge against inflation and a store of value is continuing to surge, buoyed by its growing mainstream acceptance and heightened institutional interest.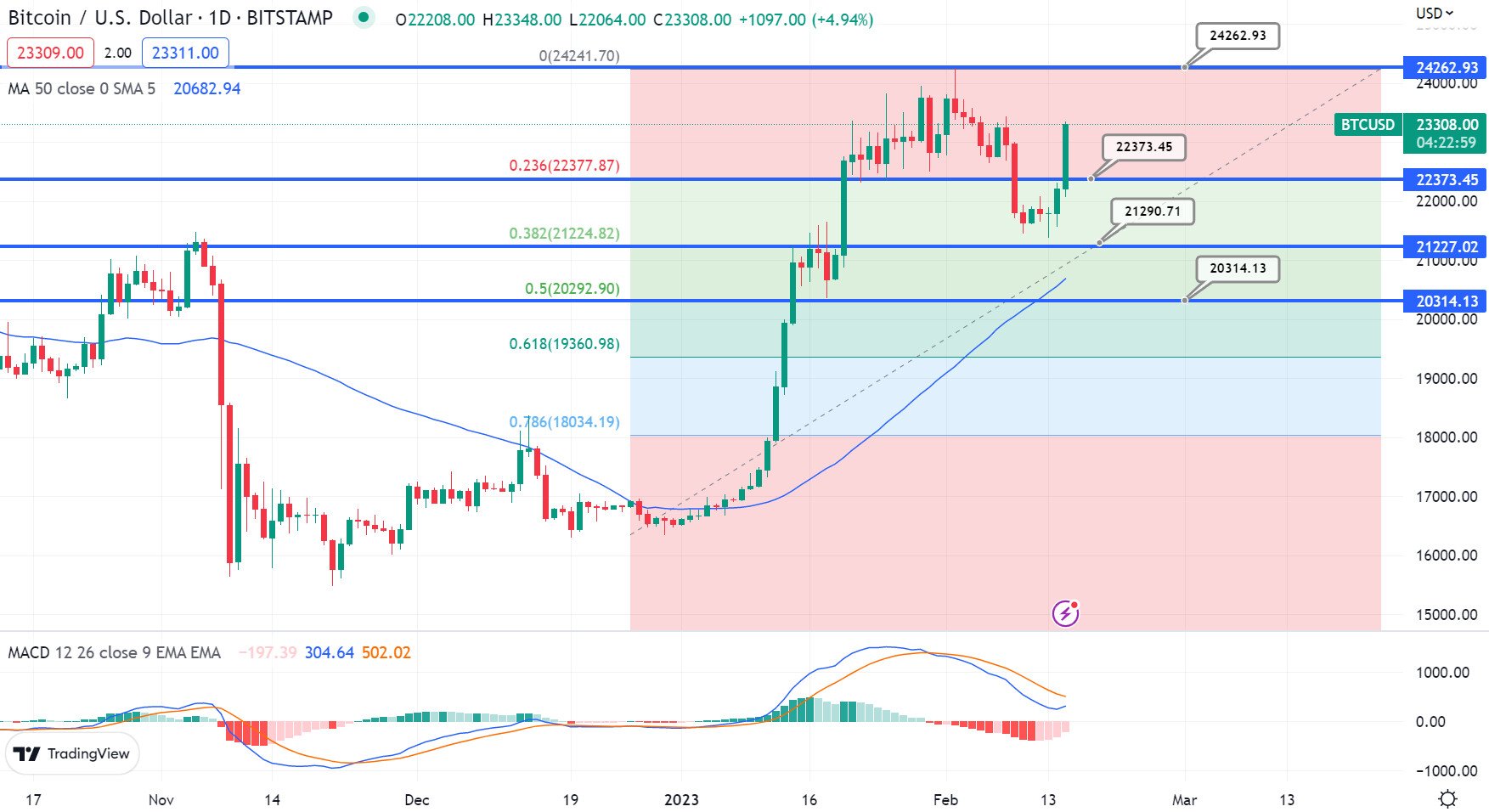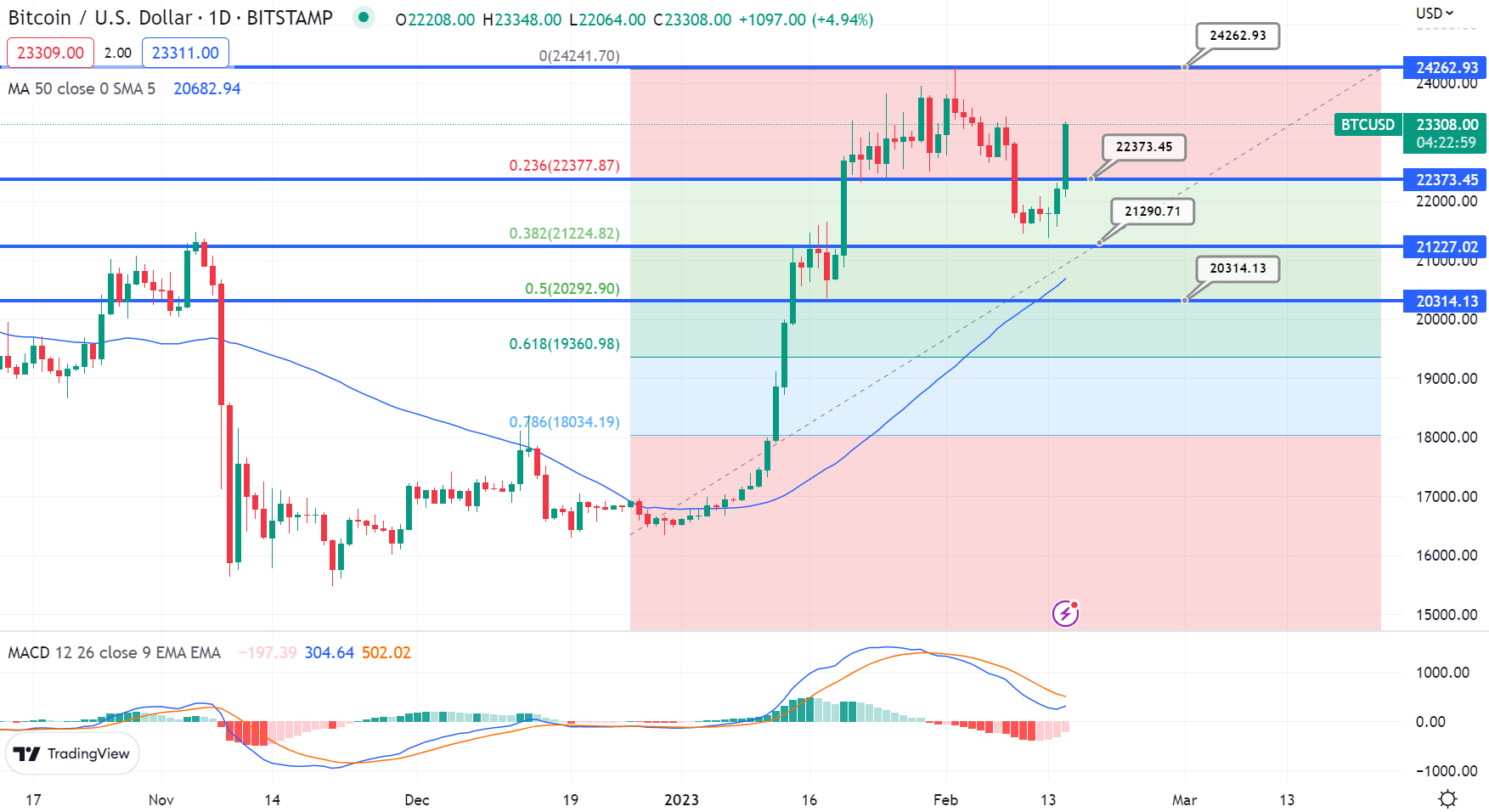 Looking at the technical aspect, Bitcoin is anticipated to face substantial resistance at the $24,300 level.
A favorable bullish breakout above this level could trigger an upswing toward $25,250, with a further breakout having the potential to propel the Bitcoin price toward $26,850. However, in the event of a bearish trend, the immediate support levels for Bitcoin can be located at $22,375 and $21,300.
Bitcoin Alternatives
CryptoNews Industry Talk has published a review of the top 15 cryptocurrencies to keep an eye on in 2023, aimed at assisting with investment decisions.
In addition, there are other investment opportunities with the potential for high returns that may be worth considering.
Disclaimer: The Industry Talk section features insights by crypto industry players and is not a part of the editorial content of Cryptonews.com.
Find The Best Price to Buy/Sell Cryptocurrency


---