Bitcoin Price Prediction as BTC Spikes Above $24,000 – Where is the Next BTC Target?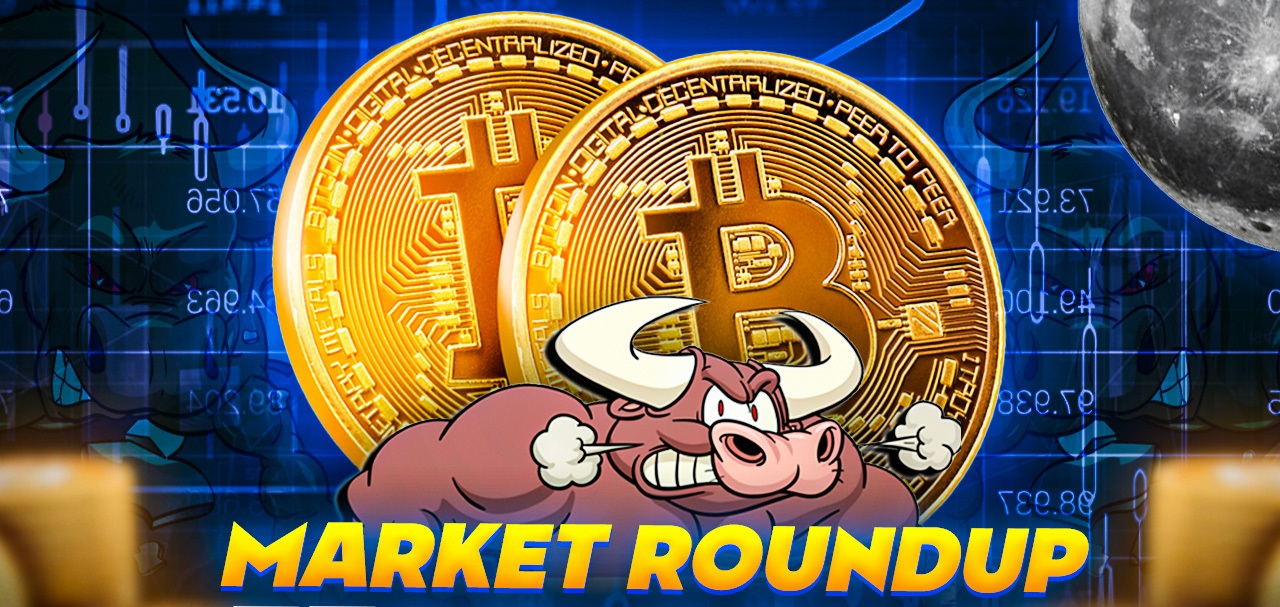 Bitcoin, the world's most valuable and well-known cryptocurrency, has once again seen a significant spike in price, surpassing the $24,000 mark for the first time in its history. This recent surge in Bitcoin's value has caught the attention of investors and traders worldwide, and many are now wondering where the next target for BTC might be.
The SEC's Crypto Asset Examination Radar Is Heating Up: What To Expect In 2023
The US Securities and Exchange Commission (SEC) recently reaffirmed its commitment to safeguarding investors and ensuring compliance with federal securities laws and regulations. In its list of examination priorities released on February 7, 2023, the SEC identified "Emerging Technologies and Crypto-Assets" as a key area of focus for the year. This focus will be directed primarily towards broker-dealers and Registered Investment Advisors (RIAs) that use such technologies.
On February 9, 2023, the SEC charged Payward Ventures Inc, which operates as Kraken, for failing to register the offer and sale of their crypto-asset service. As a part of the settlement, Kraken paid a fine of US$ 30 million and ceased offering its crypto asset staking services to US customers.
The SEC Chair, Gary Gensler, stressed the need for intermediaries to provide proper disclosures and safeguards required by securities laws when offering investment contracts in exchange for investors' tokens, whether through staking-as-a-service, lending, or other means.
Kraken is not the only crypto company that has faced SEC enforcement action. In January 2023, the SEC charged Nexo Capital Inc US$ 22.5 million for failing to register its crypto lending product with US investors. Nexo also agreed to stop offering its crypto asset lending product.
These enforcement actions underscore the SEC's increasing scrutiny of the crypto industry, with the aim of ensuring that investors are adequately protected and that market participants comply with securities laws and regulations.
As regulatory frameworks continue to evolve, it is crucial for companies operating in the crypto industry to remain vigilant and informed about the latest regulatory developments in order to avoid potential penalties and reputational damage.
Bahrain's Leading Hotel Now Accepts Bitcoin: A Milestone for Crypto Adoption in the Arab World
Novotel Bahrain Al Dana Resort has purportedly set a pioneering benchmark by embracing cryptocurrencies as a viable form of remuneration in the hospitality sector within the country. This recent maneuver towards the digitalization of monetary assets has been echoed by various other hotels that are situated on the Arabian Peninsula, including W Dubai - The Palm and Palazzo Versace Dubai, which have followed suit in recent months.
As per recent reports, Novotel Bahrain Al Dana Resort has teamed up with Eazy Financial Services to allow guests to pay their accommodation expenses with cryptocurrencies. The hotel plans to set up bespoke terminals across its outlets to facilitate this offering through the Binance application.
This strategic move has been authorized by the Central Bank of Bahrain, thereby making Novotel Bahrain Al Dana Resort the first hotel in the kingdom where this payment method can be utilized. The General Manager, Amid Yazji, expressed their excitement in the following statement:
"Staying up-to-date with the evolution of technology and our persistent commitment to providing our esteemed guests with the best service levels, we are ecstatic to announce that we are the inaugural hotel in the Kingdom of Bahrain and the region to implement cutting-edge digital payment technologies through our partnership with Eazy Financial Services."
As more and more people continue to adopt cryptocurrencies, the prices of popular digital assets, including Bitcoin and other altcoins, have been gaining traction and support.
Bitcoin Price
Bitcoin is currently trading at $24,600, with a 24-hour trading volume of $38 billion and a 3% increase in the past 24 hours.
Bitcoin has experienced a bullish trend after discovering support at the 50% Fibonacci retracement level, which was located at $23,325. The closing of a recent candle above this mark has induced a buying trend in the market and bolstered positive market sentiment.
Looking to the future, Bitcoin's next hurdle lies at $25,300. If there is a bullish crossover beyond this level, the BTC price may be propelled higher to reach $26,000.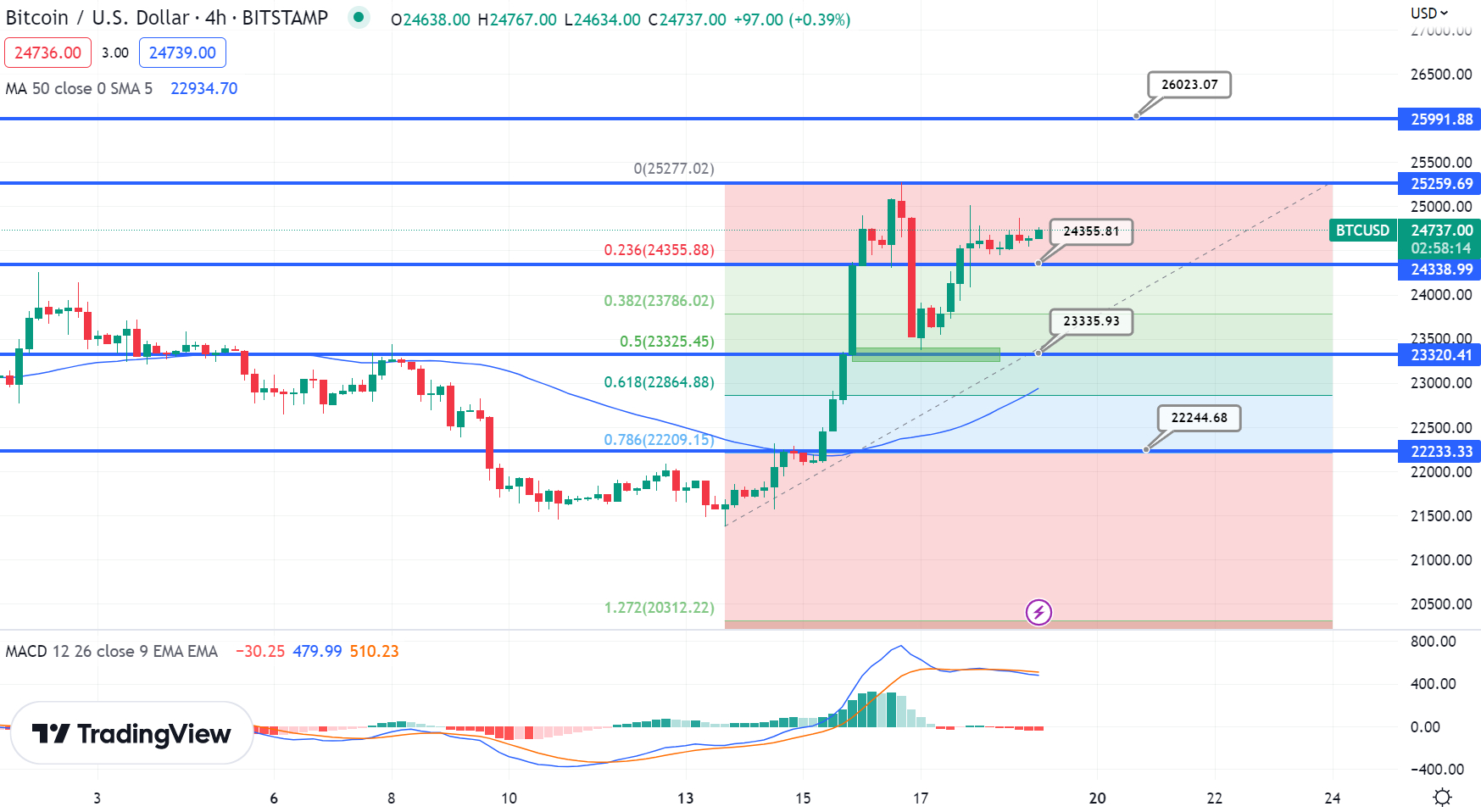 The 50-day moving average also supports the possibility of a sustained upward trend in Bitcoin. Investors interested in capitalizing on this trend could keep an eye on the $24,250 level as a potential entry point for a long position in Bitcoin.
Bitcoin Alternatives
CryptoNews has released a comprehensive review of the top 15 cryptocurrencies that investors should consider for 2023. The report aims to assist investors in making informed investment decisions.
Along with cryptocurrencies, there are other investment options with the potential for high returns that investors may want to explore.
Disclaimer: The Industry Talk section features insights by crypto industry players and is not a part of the editorial content of Cryptonews.com.
Find The Best Price to Buy/Sell Cryptocurrency


---