Bitcoin Price Prediction as BTC Blasts Up 9.5% in 24 Hours – What's Going On?
Disclosure: Crypto is a high-risk asset class. This article is provided for informational purposes and does not constitute investment advice. By using this website, you agree to our terms and conditions. We may utilise affiliate links within our content, and receive commission.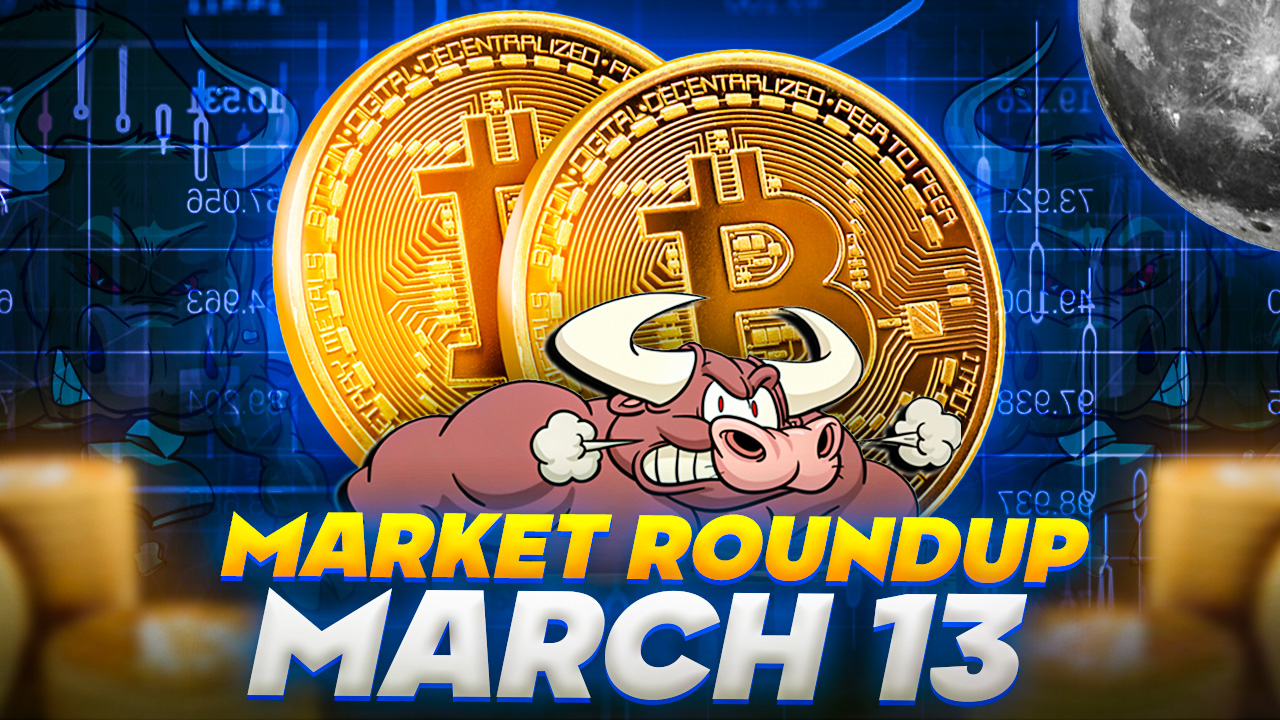 Bitcoin (BTC) and Ethereum (ETH) managed to reclaim the $22,000 level on Monday, suggesting some stability in the cryptocurrency market. After dropping to its lowest level since January, Bitcoin has surpassed the $22,000 mark and has seen a 10% increase in value on the day.
Ethereum has followed a similar trajectory and is now trading above $1,600. However, this positive development was mainly due to news about the government's efforts to protect depositors of Silicon Valley Bank.
#ETH rallied over 10%, broke $1,600 resistance against US Dollar. Could continue rise if stays above $1,580 support. ETH started increase above $1,565 resistance. Price is trading above $1,580, 100 hourly SMA.-was break above crucial bearish trend line resistance near $1,480. pic.twitter.com/duQj2oeEDi

— ₿ ⚡️ (@btc1crypto) March 13, 2023
On the other hand, the improvements in market sentiment were also supported by the weakening of the US dollar. It's worth remembering that the February labor data showed a slowdown in wage growth, indicating a decrease in inflationary pressures.
Therefore, the Federal Reserve might keep a close eye on interest rate hikes, and the demand for the US dollar could decrease.
⚠️BREAKING:

*U.S. DOLLAR SLUMPS, MARCH RATE HIKE IN QUESTION AS FED LIMITS SVB FALLOUT – https://t.co/fEwFe4TLLR$USD pic.twitter.com/db1Z2sJUgO

— Investing.com (@Investingcom) March 13, 2023
The Crypto Market Cap Recovers as Bitcoin and Other Altcoins Rise
Over the weekend, the global cryptocurrency market rebounded and reached $1.02 trillion after a sharp decline. The government's recent announcement to protect all depositors' money in Silicon Valley Bank was considered a significant factor that positively influenced the entire crypto market. On Monday, Bitcoin, the world's oldest and most valuable cryptocurrency, remained stable within the $22,000 range.
Bitcoin, Ether Show Signs of Recovery, Crypto Reclaims Trillion-Dollar Market Cap #TechNews

— NIDE India (@nideindia) March 13, 2023
The recent recovery of the crypto market cap and the increase in the value of Bitcoin and other altcoins demonstrate the industry's resilience. However, the future of the market depends on regulatory clarity and stability. The absence of clear regulations and oversight has led to uncertainties and risks that can hinder the growth and adoption of the industry.
Therefore, the crypto industry must collaborate with regulators to establish a framework that can guarantee the safety and stability of the market. This framework should address concerns such as investor protection, market manipulation, money laundering, and cybersecurity. By implementing clear regulations and oversight, the industry can attract more investors and businesses, driving innovation and growth.
Silicon Valley Bank and Circle Face Significant Challenges
It's also important to note that two major US financial institutions have encountered significant obstacles in the crypto industry. Silicon Valley Bank, which offers banking services to numerous crypto companies, recently experienced restrictions on withdrawals and transfers due to concerns about its liquidity position.
However, after the government's announcement to protect all depositors, account holders were granted full access to their funds on Monday.
Ok.

Bank runs of FRB, Circle, and contagion fears picking up in light of Silvergate and Silicon Valley banks going under.

Lots of rumors. Who knows what is true.

Fed has emergency meeting Monday.

I still think "cascade" doubtful, but this isn't slowing yet.

We are 72 hrs in. pic.twitter.com/gVrbtkkh9y

— Luke Broyles (@luke_broyles) March 12, 2023
Meanwhile, Circle, a peer-to-peer payments technology company, has been grappling with the failure of its key banking partner, Signature Bank, highlighting the dependency of the stablecoin ecosystem on some centralized entities.
These issues highlight the risks and weaknesses in the cryptocurrency sector and highlight the requirement for transparent laws and monitoring to guarantee market stability.
Nevertheless, the absence of specific laws and regulations has rendered the sector vulnerable to fraud, money laundering, and other illicit activities. Therefore, the crypto industry needs to engage with authorities to establish a framework that ensures the safety and stability of the market.
Weaker US Dollar Sparks Bullish Run in Bitcoin
The overall bullish bias towards the US dollar has also been identified as a key factor that has been supporting the BTC price. The cryptocurrency market experienced a positive trend as the dollar fell significantly against a basket of currencies.
Traders are anticipating that the Federal Reserve will only increase interest rates by 25 basis points, leading to a decline in the value of the US dollar.
Gold futures jump 23 dollars per ounce, to $1,890 as the US dollar slumps amid SVB's fallout.

— CMC Markets SG (@CMCMarketsSG) March 12, 2023
Investors are purchasing cryptocurrencies such as Bitcoin (BTC) as a hedge against inflation, anticipating that the Federal Reserve may adopt a more dovish approach due to rising economic challenges.
This trend of investors purchasing cryptocurrencies is expected to persist as they seek to safeguard their assets against the impact of inflation.
Bitcoin Price
Bitcoin has crossed over the resistance level of $23,150. If it had broken below this level, it could have triggered selling pressure and led to a further decline towards the $21,750 or $19,200 level.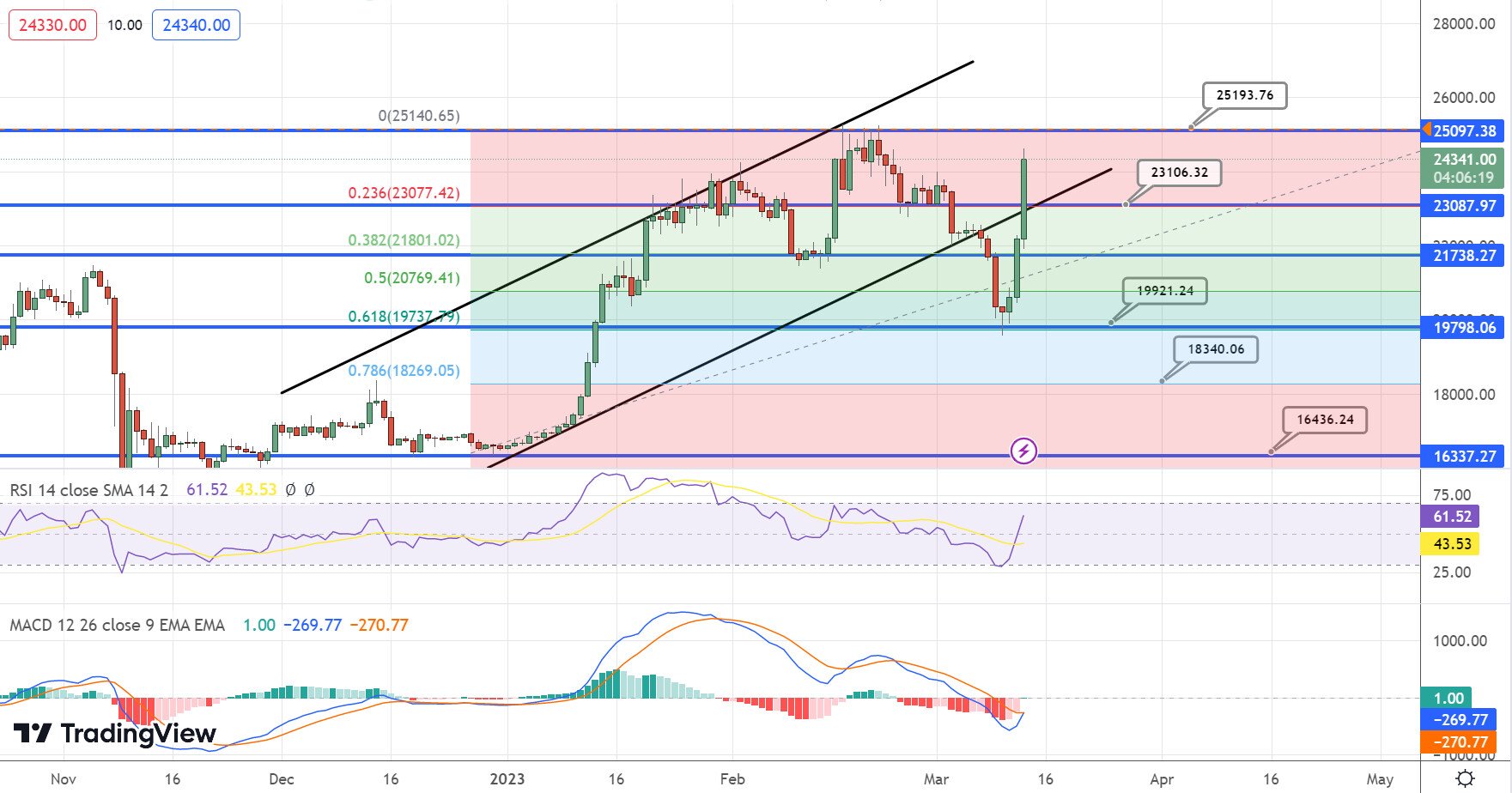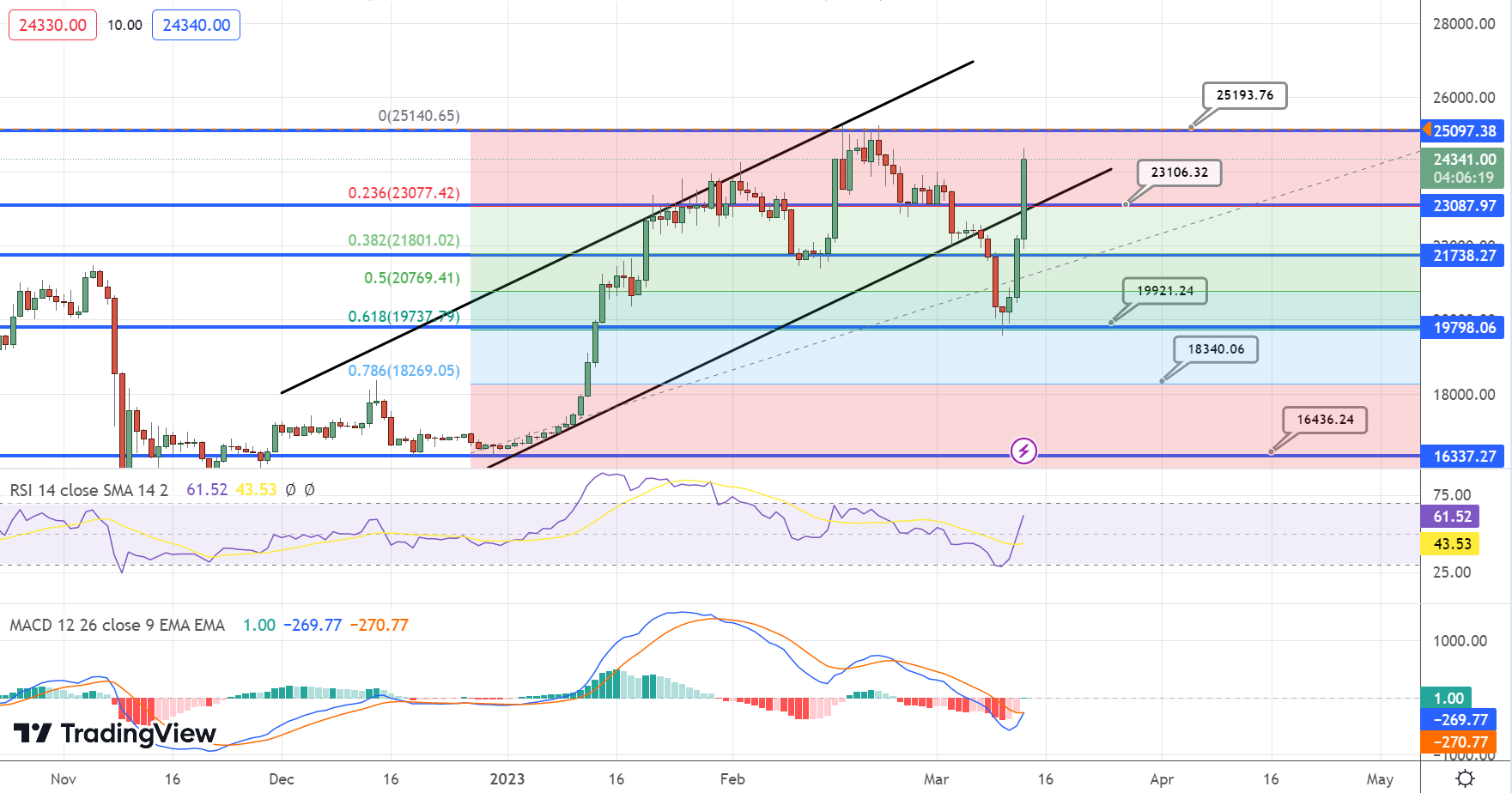 On the other hand, the first hurdle for Bitcoin is at the $25,200 resistance level. If Bitcoin breaks above this level, it could trigger buying pressure and potentially push its price towards the $25,50 level.
If the bullish momentum continues, there is a chance that Bitcoin could even reach the $25,150 mark.
Top 15 Cryptocurrencies to Watch in 2023
Take a look at Industry Talk's carefully selected roster of the top 15 altcoins to keep an eye on in 2023, curated by Cryptonews. The list is regularly updated with fresh ICO projects and altcoins, so be sure to check back frequently for the latest developments.
Disclaimer: The Industry Talk section features insights by crypto industry players and is not a part of the editorial content of Cryptonews.com.
Find The Best Price to Buy/Sell Cryptocurrency


---