Bitcoin Camp Losing Nail-biting Game Launched By GOT Arya Actress
Missing Game of Thrones yet? If you are still having withdrawal symptoms following the last episode of the hit show back in May last year, you may be cheered to read that a brand new crypto-themed Game of Thrones appears to have broken out on Twitter – sparked by none other than Arya Stark herself (or rather Maisie Williams, the actress who played the character).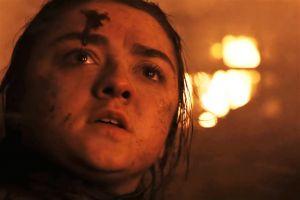 Yes, it's time to break out that tried and tested blend of (likely bored) celebrities, Twitter and crypto again – with Williams the latest to foray into the bearpit of crypto-themed social media.
Williams took to Twitter to post a poll, asking her 2.7 million followers, "Should I go long on bitcoin?"
At the time of writing, the number of votes (which is not equal to the number of voters) is over 832,000, with those advising "no" currently in the lead. Initially, the "yes" camp was leading the game.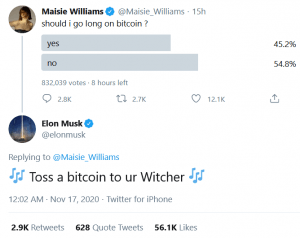 But there are still eight hours left to vote before the poll closes, meaning that Williams must wait until evening falls to discover the answer to her question. Tonight may be dark…and full of terrors.
In either case, as anyone who has spent any time on Twitter could have foretold, a question like this is as incendiary as a cellar full of wildfire. So, as regular as clockwork, out came the usual suspects, breaking through onto the thread like whitewalkers and wraiths through a gaping hole in The Wall.
Naysayers were out in their droves, slamming BTC as a "scam," warning that any money invested in the token would be wasted forever. One might as well throw one's gold out of the Moon Door, was the consensus among these folk.
And of course, there were almost equal amounts of fervent bitcoin supporters, full of zeal and bulling BTC sentiments, chiming in with R'hllor devotees-like claims that BTC was the "best form of money and store of value our world has ever seen."
And to spice things up a bit, there were also armies of altcoin warriors, ready to breathe dragonfire onto anyone suggesting that BTC or any other token one may to name could hold a candle to their own token of choice.
Of course, some saw this as an ideal opportunity to break out some PR-friendly GOT-themed puns, including Digital Currency Group founder Barry Silbert.
The group owns Grayscale – which also happens to sound similar to the name of a debilitating, terminal illness in the GOT universe, greyscale.
__
Learn more:
JK Rowling Learns not to Be Glib about Bitcoin as She 'Boosts' 'Significant Ethereum Holdings'
Why 5 Months Old GoT and VeganCoin News Swept the Cryptoverse Now
---