16 Most Volatile Cryptos to Trade & Invest in 2023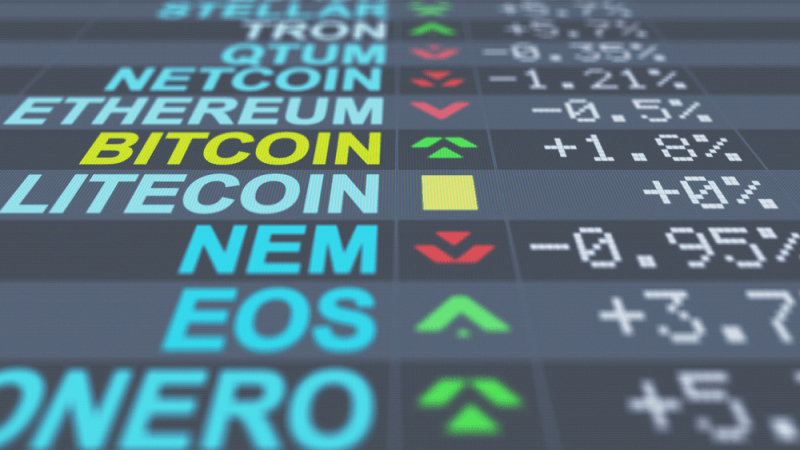 Disclaimer: The Industry Talk section features insights by crypto industry players and is not a part of the editorial content of Cryptonews.com.
Volatility is synonymous with cryptocurrencies, as this digital asset class regularly faces extreme upwards and downwards movement. However, many investors adopt a high-risk strategy in hopes of receiving higher rewards by trading the most volatile cryptos.
This guide reviews the most volatile crypto to invest in 2023.
The 16 Most Volatile Cryptocurrencies to Invest in 2023
The table below briefly summarizes the most volatile crypto coins to invest in 2023.
Wall Street Memes - A new meme token that has raised over $25 million since its presale started. $WSM is a 100% community token and has a community of over 1 million people, with interaction from Elon Musk and a Tier 1 exchange listing to follow after it finishes its presale soon.
Bitcoin BSC - A Bitcoin replica on the eco friendly BNB Smart Chain with 145% PoS APY rewards . This campaign has already raised $3.5 million out of its $3.96 soft cap and could soon sell out fully.
yPredict - The $YPRED token allows users to access trading insights into the crypto. markets and earn passive income. $3.5 million raised in presale.
Launchpad XYZ - A web3.0 crypto token that offers access to presale listings, decentralized exchanges, and crypto wallets. $1.5 million raised in its presale.
TamaDoge - This tending meme token can be used to purchase NFTs and compete in arcade games.
Battle Infinity - Emerging P2E crypto that gives access to a decentralized exchange and a staking platform.
Lucky Block - This is an NFT-based competition platform offering multiple rewards.
Dogecoin - Most unstable crypto with high-risk high-reward potential.
Binance - Native token of Binance, one of the biggest cryptocurrency exchanges in the world.
ApeCoin - NFT cryptocurrency which allows users to earn voting rights through a DAO.
Ethereum - Largest altcoin which lets developers create DApps and deploy smart contracts.
Dogelon Mars - Popular shitcoin with regular price movements.
Bitcoin - This is the first and largest cryptocurrency in the world.
Shiba Inu - Popular meme token which termed itself as the 'Doge Killer.'
Decentraland - A high-risk cryptocurrency and metaverse platform that lets users interact in a virtual world.
Solana - Open-sourced platform with high transaction speed.
A Detailed Look at the Most Volatile Cryptocurrencies
Investors should prepare for regular price movements when investing in the highest volatility cryptos that are the most unpredictable.
To get a deeper understanding on the top assets in this niche, we take a detailed look on the 16 most volatile digital assets to invest in 2023.
Before we move on, Jacob Crypto Bury - one of the best crypto Discord groups regularly discusses the most volatile digital assets on the market.
1. Wall Street Memes - Most Volatile Meme Token Which Nearly Finished Its Presale
One of the most volatile tokens to invest in right now is Wall Street Memes ($WSM). Meme tokens are synonymous with being high-risk, high-reward investments. However, investors can enter in the $WSM token on presale before the price increases by the exchange listing.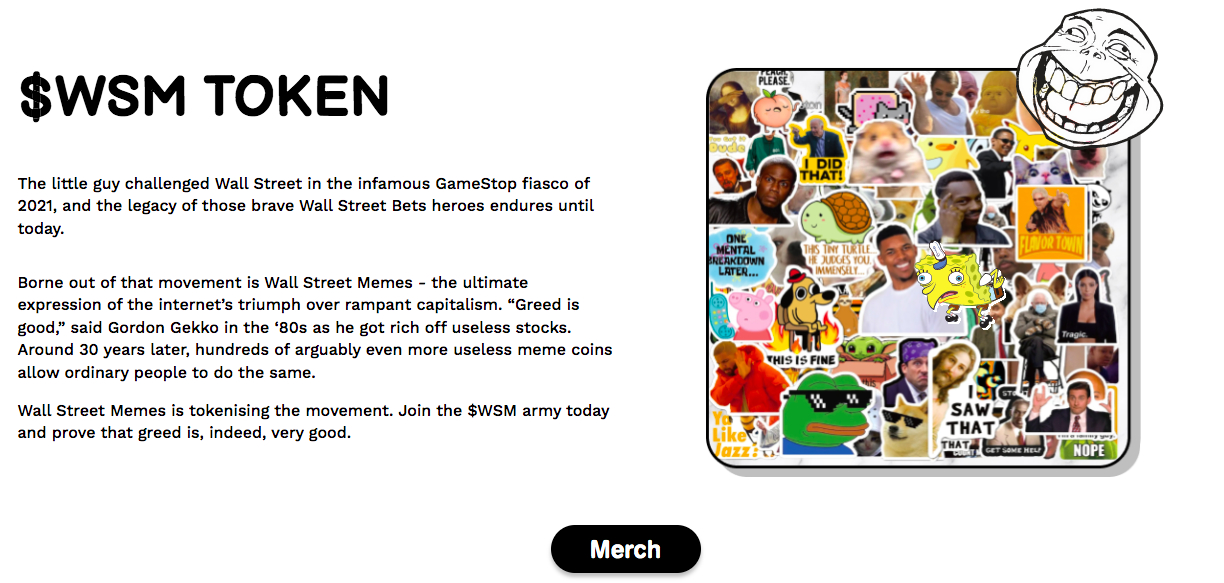 Wall Street Memes is a popular platform, which has over 1 million followers on social media platforms such as Twitter and Instagram. The creators of this platform decided to start their own NFT project in 2021, titled Wall St Bulls.
During the first NFT collection for Wall St Bulls, 10,000 Ethereum NFTs were sold out in 32 minutes. In May 2023, the project also conducted a Wall St Bulls ordinals mint. This shows that it is still active to this date.
After the NFT projects' success, Wall Street Memes decided to generate wealth for the community through the $WSM token. Like other meme coins, Wall Street Memes will not provide much utility for the user.
But unlike other new meme coins, Wall Street Memes has already garnered a huge community that will help the project grow. To reward this community, $WSM will be given 100% to the public. The token has a maximum supply of 2 billion, 50% of which has been allocated for the ongoing presale.
The presale will spread over 30 rounds as the price increases from $0.025 to $0.0337 per token. Currently, $WSM is priced at just $0.0337 per token. Another 30% of the token supply will be offered as community rewards within the ecosystem. The remaining 20% will be allocated for exchanges and to maintain DEX and CEX liquidity.
By the end of the presale, Wall Street Memes aims to raise a hard cap of over $30.57 million. Once the exchange listing takes place, it is possible that the $WSM price could explode due to the popularity of the token.
Since the presale started, Wall Street Memes has already raised more than $25 million.
Join the Wall Street Memes Telegram channel to learn more about this meme token.
| | |
| --- | --- |
| Presale Started | 26 May 2023 |
| Purchase Methods | ETH, USDT, Credit Card |
| Chain | Ethereum |
| Min Investment | 100 $WSM |
| Max Investment | None |
2. Bitcoin BSC - Volatile BEP20 Coin Offers Upside Potential and 145% Staking Rewards
Bitcoin BSC (BTCBSC) is a hot new presale that offers Bitcoin for just $0.99. The token seeks to capitalize on bitcoin nostalgia by offering investors a second chance at Bitcoin.
Many regret not being able to invest in some of the largest cryptos at an earlier date - Bitcoin is currently trading at $27,000, which is about 27,000x in comparison to the BTCBSC clone.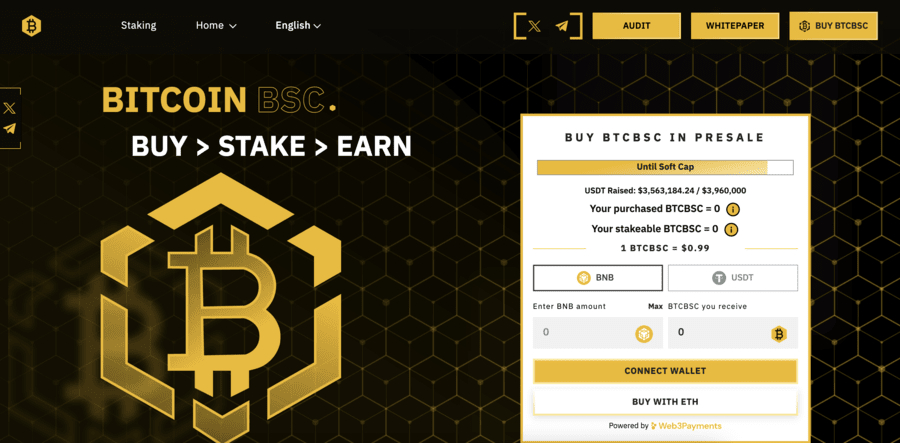 While Bitcoin BSC has no relationship with Bitcoin but is a unique implementation on its own blockchain, a 10x gain is not out of the question. Another Bitcoin replica, BTC20, enjoyed a 600% gain after successfully completing its presale. Bitcoin BSC brings even more utility than BTC20, due to the underlying BNB Smart Chain engine powering the token, as opposed to Ethereum.
This is an eco-friendly and fast blockchain, capable of processing thousands of transactions per second at an average cost of $0.10. Bitcoin in comparison, uses a proof-of-work architecture that is only capable of processing about 7 transactions per second, with costs that can range between $5 - $10, far too high for the modern user.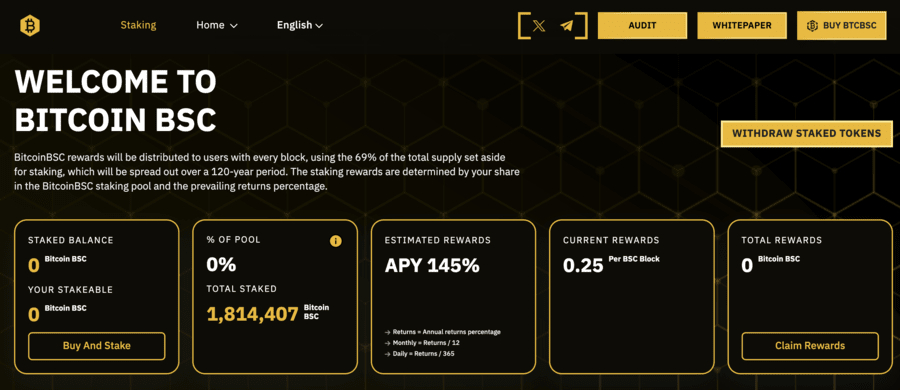 In other words, Bitcoin BSC takes Bitcoin and upgrades it with a modern blockchain better than most others. This allows it to offer 145% estimated APY yields and removes miners out of the equation, which is a much greener solution.
Through Bitcoin BSC, Bitcoin tokenomics are accurately reflected in 2023, with 6.125 million available in the presale at a cost of $0.99, with a total supply of 21 million and a 10 minute rewards schedule. This is identical to the Bitcoin position all the way back in 2011, before it went mainstream.
More information about Bitcoin BSC can be found in the Whitepaper, as well as the associated social networks, such as Telegram and Twitter.
Being a new crypto, it is going to be volatile for quite some time when it finishes its presale, but Bitcoin was also a volatile crypto for most of its history, and it still is.
| | |
| --- | --- |
| Presale Started | 5 September 2023 |
| Purchase Methods | ETH, USDT, BNB, Credit Card |
| Chain | BNB Smart Chain |
| Min Investment | $10 |
| Max Investment | None |
3. yPredict - Access Trading Insights with this Multi-Utility Crypto Token
yPredict is a crypto platform that offers data-driven trading insights on the crypto markets. $YPRED, the native token, can be leveraged to purchase monthly subscriptions to predictive models on yPredict.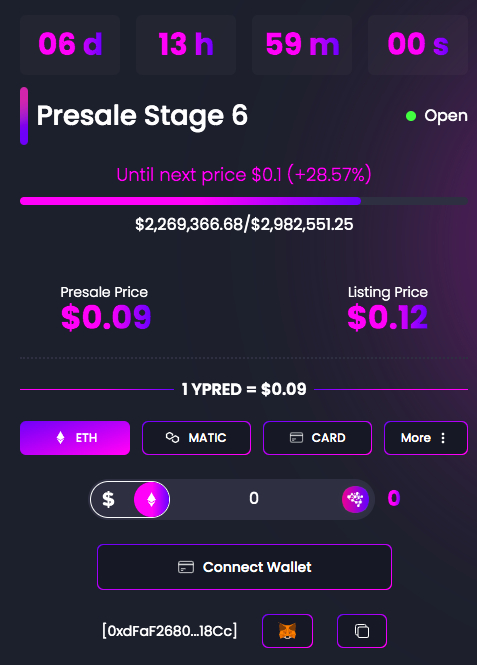 The platform will host a financial marketplace where predictive models can be purchased. These models have been generated by AI experts and financial quants, who offer analysis on some of the top crypto tokens. To ensure the authenticity and quality of these models, members of the yPredict DAO verify the models before they are released to the public.
yPredict leverages artificial intelligence to offer trading signals on different tokens. Moreover, sentiment analysis is conducted on some of the top cryptos to determine users buying patterns. yPredict also uses a patent-pending pattern recognition algorithm to determine whether certain tokens are bullish or bearish. Thus, members will be able to get proper insights and take well-informed trading decisions.
On yPredict, users can also develop their understanding of cryptos by accessing a Learn2Earn ecosystem. On this environment, users can take quizzes and study about the crypto markets. Notably, one can take quizzes and earn free tokens on yPredict.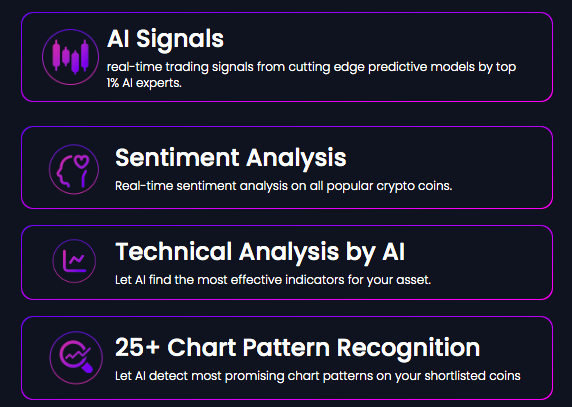 yPredict will also host a staking pool to generate wealth for token holders. 10% of all the new subscription fees collected will be sent to existing token holders. Furthermore, 15% of the swapping fees collected is also shared through a staking pool. This ensures that community members are rewarded by participating in the ecosystem.
yPredict will also let users make directional bets on the future of crypto markets through its play-to-earn platform. The top performers can earn $YPRED tokens as rewards. Currently, $YPRED is available to buy during the sixth presale round for $0.09 per token.
The $YPRED price will rise to $0.12 once the exchange listing takes place. This project has managed to raise more than $3.5 million since its launch. Interested readers can go through the yPredict whitepaper and Telegram channel to stay updated with any new project developments.
| | |
| --- | --- |
| Presale Started | Q1 2023 |
| Purchase Methods | MATIC, ETH, USDT, BNB, Credit Card |
| Chain | Polygon |
| Min Investment | 200 YPRED |
| Max Investment | None |
4. Launchpad XYZ - This Web3 Token Has Raised Nearly $1.5 Million on Presale
Launchpad XYZ is creating a single platform for giving access to a multitude of web3-based features. Aiming to be the central portal for entry to the Web3 space, Launchpad XYZ will offer its own Web3 wallet, decentralized exchange, and native token, $LPX.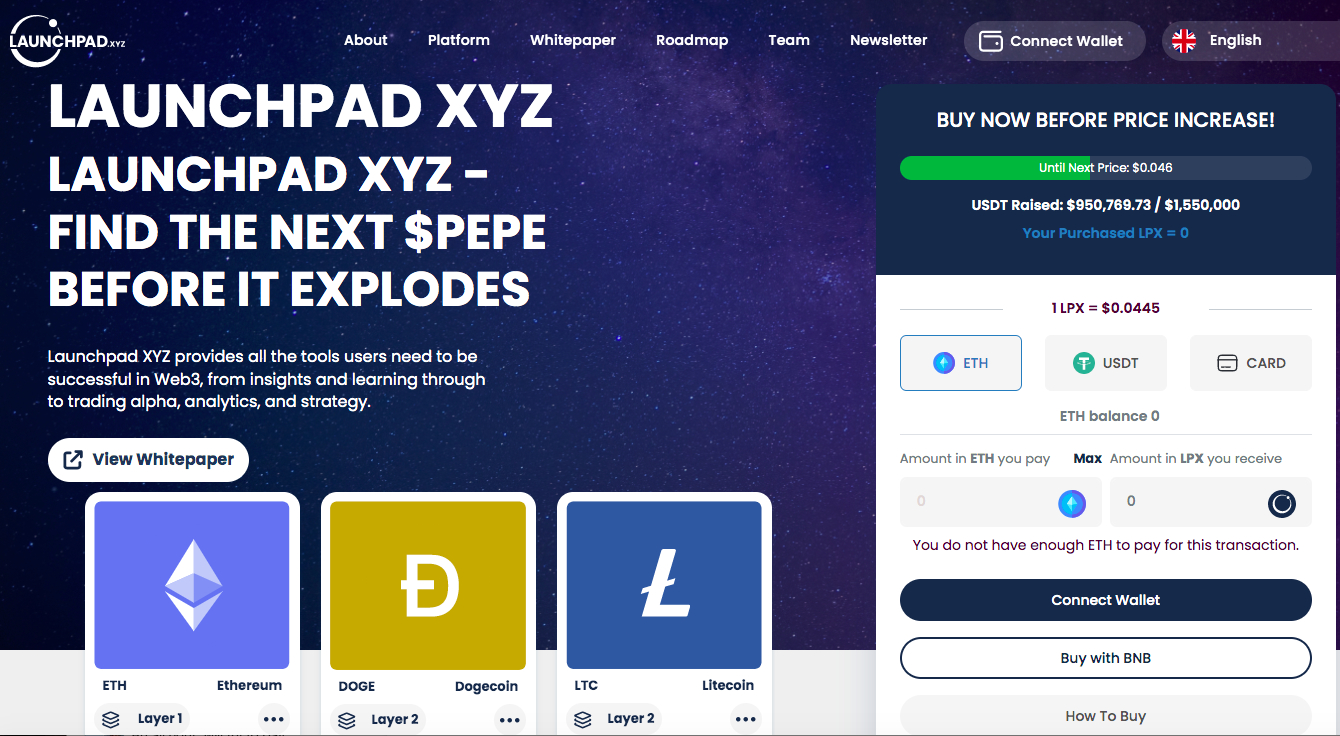 With Launchpad XYZ, users can access a stand-alone web3 wallet. With this, one can interact with multiple DApps (Decentralized Applications) and sign into multiple Web3 services. Launchpad XYZ will host its own NFT decentralized exchange (DEX), through which users can access peer-to-peer trading.
$LPX can also be staked on the DEX to reduce trading fees. Users can access and curate NFTs through their own NFT gallery and access exclusive deals by staking their NFTs. Users can also stake a monthly average of 10,000 $LPX to get reduced trading fees and guaranteed access to web3 presale listings.
Launchpad XYZ will offer in-depth data on hundreds of crypto tokens and provide liquidity information on various crypto exchanges. Trading insights can be accessed through a trading terminal, and users can earn rewards by participating in Launchpad XYZ's play-to-earn trading edge game.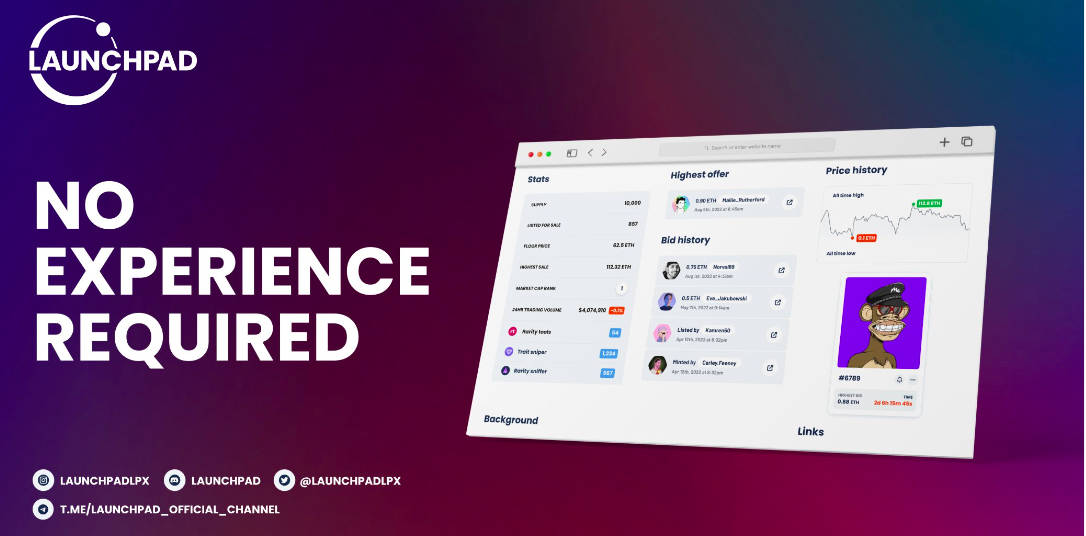 $LPX can also be used to purchase fractionalized assets that offer historical value. The $LPX token has a total supply of 1 billion, 25% of which has been allocated for presale across ten rounds.
Currently, the token is priced at only $0.0445 per token but will increase to $0.0565 upon listing on crypto exchanges. Since the presale started, Launchpad XYZ has raised nearly $1.5 million.
One can go through the Launchpad XYZ whitepaper and join the Telegram channel to learn more about this cryptocurrency.
| | |
| --- | --- |
| Presale Started | 25 April 2023 |
| Purchase Methods | ETH, USDT, Credit Card |
| Chain | Ethereum |
| Min Investment | 100 LPX |
| Max Investment | None |
5. Tamadoge - Trending Volatile Meme Coin with Innovative P2E Games
Tamadoge (TAMA) is a play-to-earn (P2E) and meme coin cryptocurrency ecosystem that enjoyed one of the best presales of 2022 but has since had extremely volatile price action.
After its presale, the price of TAMA exploded by nearly 2,000% to an all-time high of $0.194, but is currently trading at around $0.015 amid the wide crypto struggles.
TAMA has been in the top 10 of meme coins by volume since launch and experts are predicting more volatility in 2023, where the project could breakout as the best new cryptocurrency projects with numerous milestones on its roadmap set to be reached.
One of the main P2E elements of this platform is Tamadoge pets - NFT avatars portrayed as virtual dogs and pets. Players can buy, sell and trade these NFTs on the Tama store - where other virtual items can be bought to breed an individual's pet NFTs.
Eventually, players can take part in community-wide competitions and compete for points on a monthly leaderboard to earn TAMA rewards.
TAMA is also a deflationary asset with a 2 billion token supply, with 5% of all TAMA tokens bought in the pet store - where you buy food, treats and upgrades for your pet - will be burned to ensure long-term growth. Did you know that TAMA is one of the leading next crypto bull run tokens?
With the main game, two arcade-style mini-games and an augmented reality app expected to be released, TAMA appears set for a huge 2023.
Follow the Tamadoge Telegram Channel to stay updated with the latest news surrounding Tamadoge. Telegram admins will never DM you first.
6. Battle Infinity - Emerging P2E Crypto with High Growth Potential
Battle Infinity is a decentralized cryptocurrency platform that offers a virtual ecosystem where players stand a chance to earn various cryptocurrency rewards by taking part in various P2E features.
On Battle Infinity, members can compete in the IBAT Premier league - a decentralized sports fantasy league. Moreover, users can join the Battle Arena - a virtual ecosystem where all characters and items are minted as NFTs via ERC 721 smart contract functionality.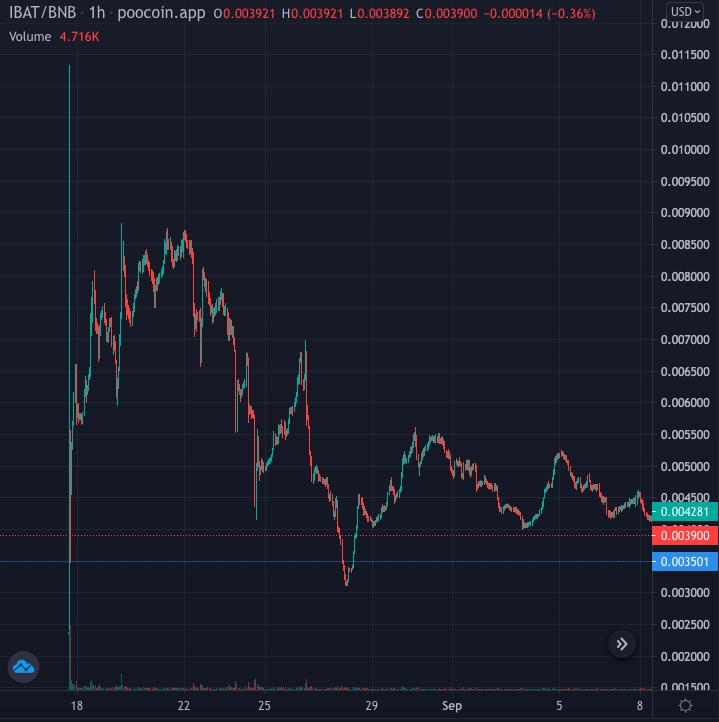 These features can be accessed via IBAT - the native cryptocurrency. IBAT tokens can be purchased and swapped with other cryptos on the IBAT Battle Swap - Battle Infinity's decentralized exchange (DEX). The token can be staked on the IBAT Battle Stake - a staking platform on Battle Infinity where investors can accumulate interest on their holdings.
IBAT completed its three-month presale in only 24 days before launching on PancakeSwap - the popular DEX. After completing one of the best crypto ICOs in 2022, IBAT launched on PanckaeSwap in August 2022 - one of the top decentralized exchanges.
After launching at $0.0015, IBAT reached $0.11 on PancakeSwap - equating to a 7x price increase. Being a recently launched cryptocurrency, IBAT has met with volatility and has retraced to a price of $0.0038 per token. However, it has outperformed top crypto assets such as Bitcoin and Ethereum in 2022 and will launch on more exchanges soon.
7. Lucky Block - Volatile Cryptocurrency & NFT Platform
Lucky Block is an NFT-based competition platform where investors can participate in weekly competitions and draws. The platform manages transactions and settles rewards in LBLOCK - the governance token of Lucky Block.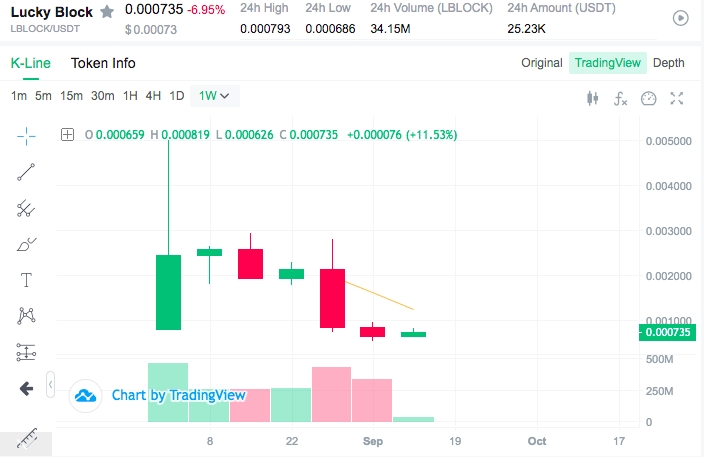 Recently, LBLOCK launched a new token version (V2) - an ERC-20 token more easily listed on centralized exchanges (CEXs). The V2 token also charges no transaction fees, making it beneficial for investors. On the other hand, the V1 token is a BEP-20 protocol which attracts a 12% transaction fee.
The V2 token has been listed on MEXC and Gate.io - two of the largest centralized exchanges in the space. LBLOCK (V2) is trading at $0.0007 per token.
The project recently announced there will be a bridge going live on October 3 so V1 holders can convert to V2, while CEO Scott Ryder also revealed that from September 30 the coin will be subject to a 1% monthly burn, drastically cutting supply.
8. Dogecoin - Most Unstable Crypto with High-Risk High-Reward Potential
Dogecoin (DOGE) has emerged as one of the most volatile cryptocurrencies in the last few years. One of the best meme coins, DOGE became widely popular for its unique Shiba Inu logo, which helped bring a strong social media presence.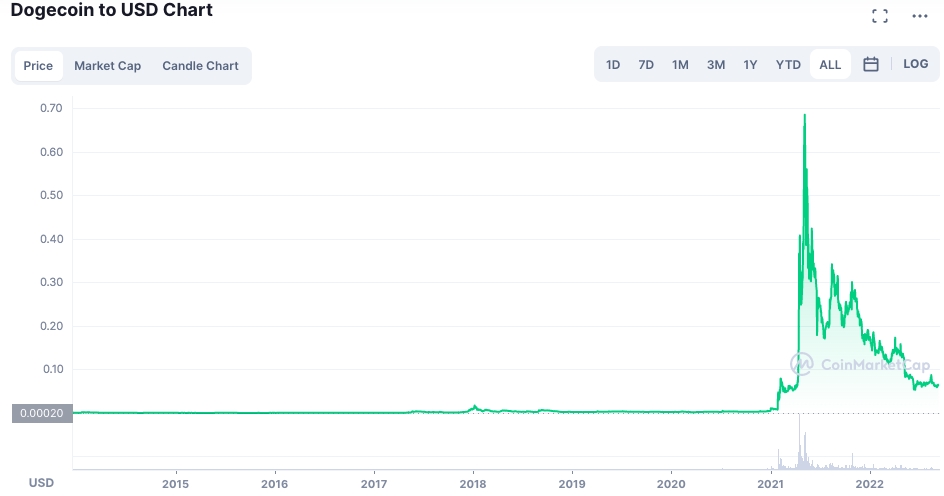 Furthermore, Dogecoin has faced regular volatility and price changes due to the coin's backing by billionaire Elon Musk - who has regularly backed this popular digital asset. Between January to May 2021 - DOGE experienced a staggering 13,900% price increase.
However, the token has now corrected by over 90% since its highs and DOGE is currently trading at around $0.06 per token.
Cryptoassets are highly volatile and unregulated. No consumer protection. Tax on profits may apply.
9. Binance - Native Token of the Biggest Cryptocurrency Exchange
Binance (BNB) is the native cryptocurrency of the Binance exchange - the largest crypto trading exchange in terms of trading volume. The exchange offers trading opportunities in over 600 digital assets at a lower trading fee of 0.1% per transaction.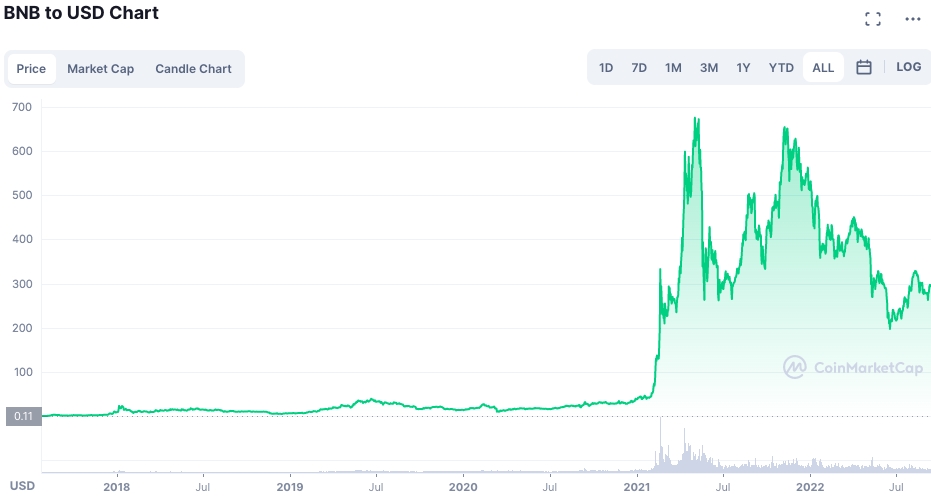 With BNB, investors can get a 25% on transactions, making it a useful asset. Launched in 2017, BNB reached an all-time high of $690 in 2021.
However, this volatile cryptocurrency has corrected to $295 during the bear market of 2022. Despite the drop, BNB is the 5th largest cryptocurrency with a $45 billion market cap.
Cryptoassets are highly volatile and unregulated. No consumer protection. Tax on profits may apply.
10. ApeCoin - NFT Crypto with the Highest Volatility
ApeCoin (APE) is an ERC-20 token and the governance coin of the APE DAO (decentralized autonomous organization) - which aims to provide users with a decentralized and community-building platform.
The cryptocurrency powers the entire Bored Ape Yacht Club (BAYC) ecosystem - one of the most popular NFT collections in the digital assets space.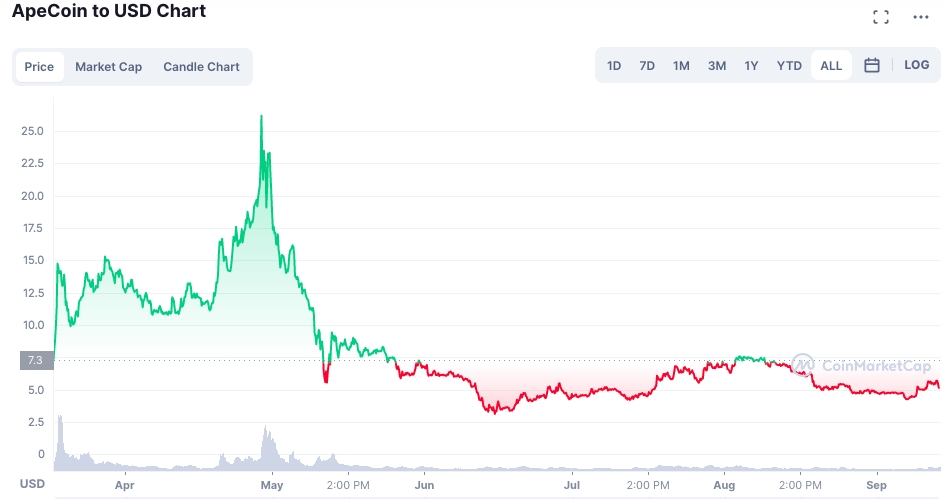 After increasing from $7 to an ATH of $39, APE has corrected to under $6 per token. This volatile cryptocurrency has noticed a huge price drop following the crypto and NFT bear market but will look to regain its position with the next bull run.
Cryptoassets are highly volatile and unregulated. No consumer protection. Tax on profits may apply.
11. Ethereum - Volatile Altcoin with 60% Price Drop in 2022
Ethereum (ETH) is the largest altcoin, with a market cap of more than $210 billion.
Nonetheless, the ongoing uncertain global economic conditions have made the token a volatile investment in 2022, but it could bounce back when market conditions improve in 2023.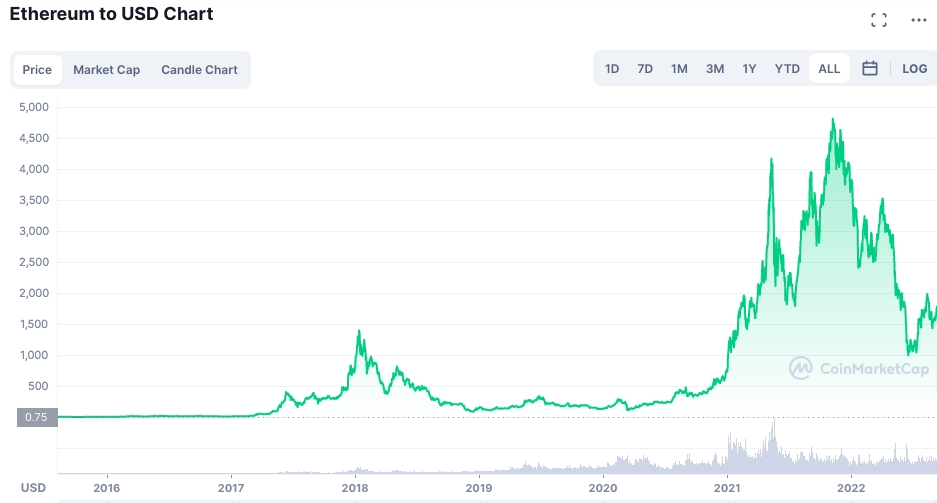 After reaching an ATH of $4,900 in November 2021, ETH is trading at $1,200 at the time of writing in December 2022.
Despite the volatile price movements, Ethereum has provided a return on investment (ROI) of more than 60,000% since its inception.
Cryptoassets are highly volatile and unregulated. No consumer protection. Tax on profits may apply.
12. Dogelon Mars - Popular Shitcoin with Regular Price Movements
Dogelon Mars was trending as one of the best shitcoins towards the end of 2021, as the token increased by over 32,000% between April and July.
However, ELON does not seem to provide real utility and instead became successful by marketing itself as a meme token linking itself to Elon Musk.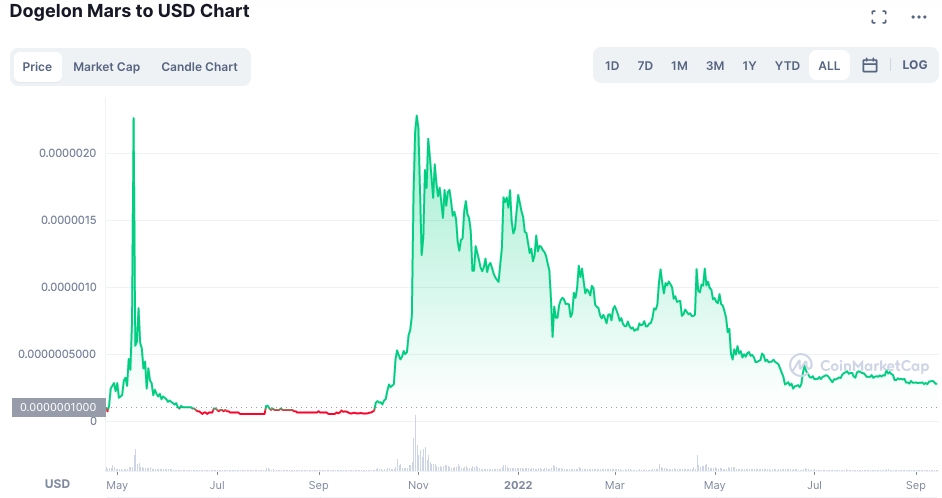 After the initial price success, this volatile cryptocurrency has lost more than 99% of its valuation. Currently, Dogelon Mars is trading at $0.00000025 per token.
13. Bitcoin - Largest Cryptocurrency to Invest in
Despite being the first and largest cryptocurrency in the space, Bitcoin has been one of the most volatile cryptos to invest in.
Patient investors would have benefitted from this token's spectacular rise from lesser than $1 in 2009 to nearly $70K in 2021. However, BTC regularly faces major price corrections on a yearly basis.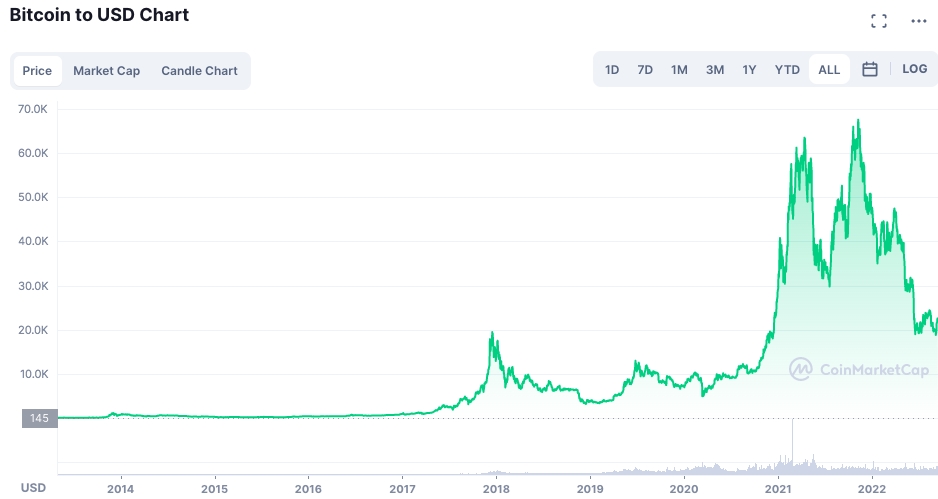 For example, after reaching the $20,000 mark for the first time in 2017, Bitcoin was in a bear market for the next few years. The token only crossed the $20K mark again in 2020, signaling the beginning of a year-long bull run that saw the coin reach $60K.
After another bull-run which ended with Bitcoin reaching an ATH of $69,000 in November 2021, the popular digital asset has corrected to the $20K levels once again.
But the successful historical performance makes Bitcoin one of the best digital assets to buy at a lower price range. With a market cap of $433 billion, Bitcoin is trading at $21,888 and remains the top crypto on the market. Some Bitcoin price predictions have proposed the idea that BTC could reach levels exceeding $65k by 2025 provided that widespread adoption and energy consumption issues are dealt with.
Cryptoassets are highly volatile and unregulated. No consumer protection. Tax on profits may apply.
14. Shiba Inu - New Meme Token for High-Risk Investors
After the popularity of meme tokens like Dogecoin, many spin-off cryptocurrencies have been created in the past few years. In 2020, Shiba Inu launched its ERC-20 token and marketed itself as the 'Dogecoin Killer'.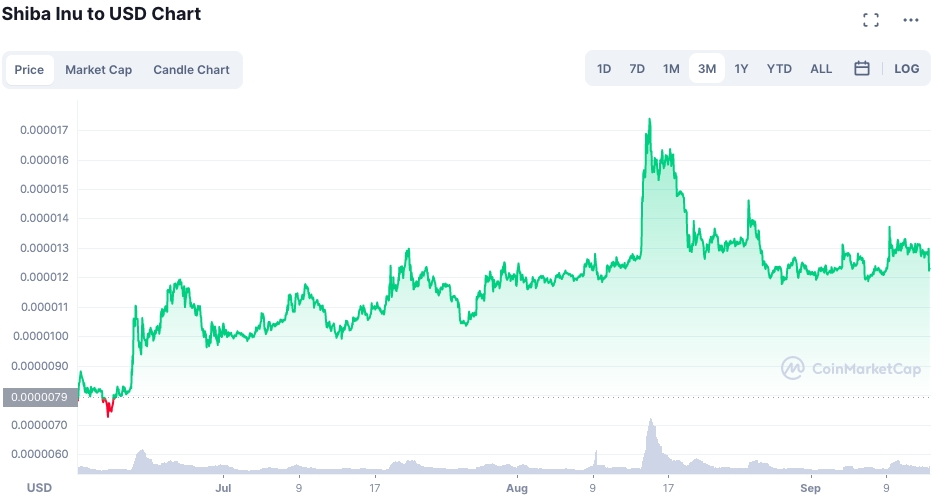 The cryptocurrency is listed on the platform's own decentralized exchange - ShibaSwap, and has been created anonymously by a person that goes by the synonym 'Ryoshi'.
In 2021, Shiba Inu became one of the fastest growing cryptocurrency coins as it soared from $0.000000000168 to an ATH of $0.00008845. In October 2021, the token briefly overtook Dogecoin to become the 10th largest cryptocurrency.
However, Dogecoin has regained its position over Shiba Inu in 2022. The Dogecoin Killer has lost 86% of its market cap since the ATH and has been an extremely volatile asset in 2022.
Cryptoassets are highly volatile and unregulated. No consumer protection. Tax on profits may apply.
15. Decentraland - High-Risk Metaverse Crypto Coin
Decentraland is a virtual real estate platform powered by the Ethereum blockchain - facilitating buy, sell and trading options for platform members. The main tradable feature on Decentraland is LAND - an ERC-721 token that represents a piece of virtual land.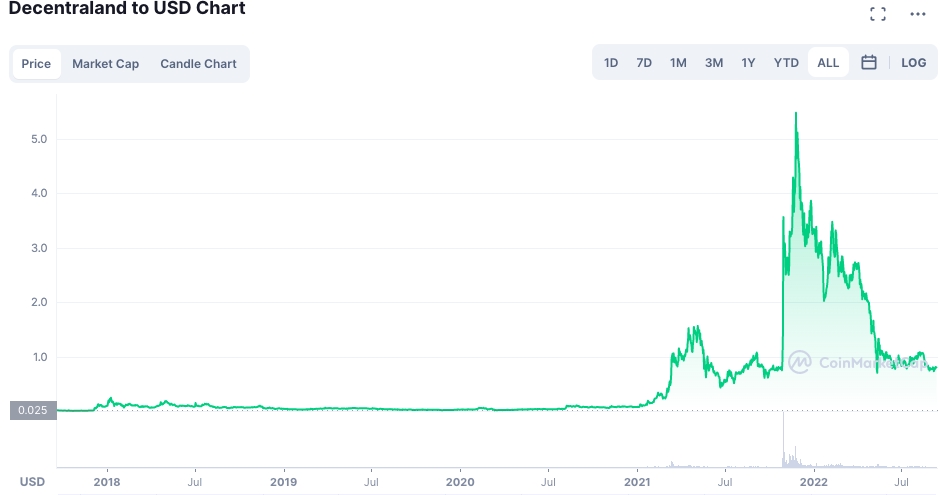 LAND can be purchased on the ecosystem with MANA - an ERC-20 token that acts as the native cryptocurrency of Decentraland. The platform also integrated a third NFT token known as Estate - which is an ERC-721 that represents merged plots of LAND.
After releasing in 2017 for $0.025, MANA soared to an ATH of $5.90 towards the end of 2021. Since Decentraland emerged as one of the biggest metaverse-based cryptos, the token has also attracted high levels of volatility in 2022. Similar to the other top cryptos, MANA has faced the brunt of the 2022 bear market.
Currently, MANA is trading at $0.75 - 87% below its highs set in 2021. However, many investors believe this is just the beginning of the metaverse, which is one of the reasons for the constant price volatility in the short term.
Invest in Decentraland using eToro
Cryptoassets are highly volatile and unregulated. No consumer protection. Tax on profits may apply.
16. Solana - Open-Sourced Platform with High Transaction Speed
Solana (SOL) is a popular open-sourced blockchain, meaning that it keeps all the transaction records public and provides transparency to all investors.
By deploying smart contracts on the network, Solana is capable of listing various decentralized finance (DeFi) protocols, dApps (decentralized applications) and NFTs.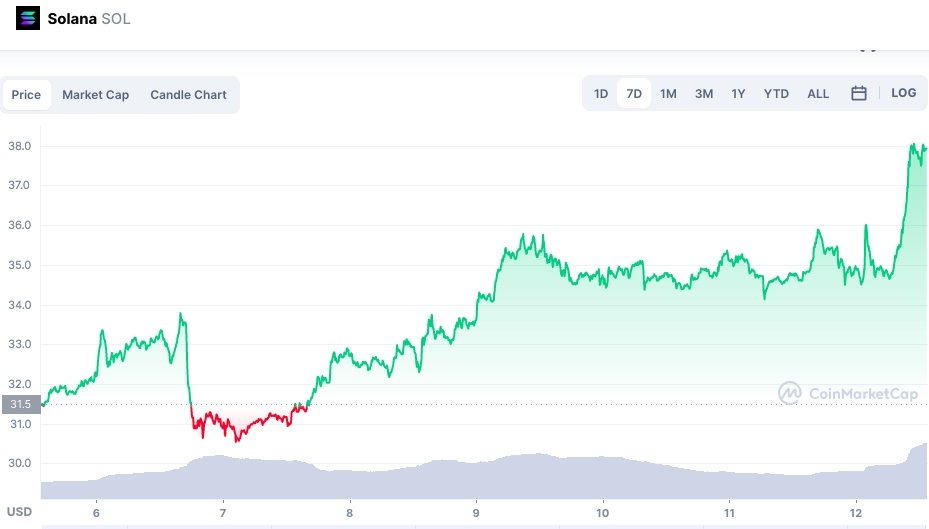 While Ethereum is the largest blockchain in smart contracts and protocols listed, investors are looking for an alternative due to the high transaction costs and low speed. Solana can handle up to 65,000 transactions per second, compared to Ethereum's average of just 17.
SOL, the native token, rose from $0.78 in 2020 to an ATH of $260 in 2021. However, SOL has met with high levels of volatility since its 2021 levels and is currently trading at $35 per token.
Cryptoassets are highly volatile and unregulated. No consumer protection. Tax on profits may apply.
How to Discover the Most Volatile Cryptocurrencies
For traders looking to make short-term profits by buying and selling volatile assets, here are a few techniques that may help you in doing so:
Analyze the Historical Price
Investors can try assessing the historical price performance of digital assets when looking for volatility. For example, Bitcoin is one such cryptocurrency which provides large price corrections following highs. But, the bull markets and bear markets run for long periods of time.
On the other hand, new tokens such as Shiba Inu may provide more frequent volatility, which is what day traders may look to take advantage of. Studying an asset's graph is the simplest way to understand the levels of volatility to expect in the future.
Track Crypto Presales and ICOs
Investing in crypto ICOs is a high-risk high-reward investment due to the frequent levels of volatility that tokens may expect. For example, Battle Infinity's IBAT provided 7x returns throughout its presale and PancakeSwap launch.
If traders discover fundamentally strong assets that have just been released in the market, strong volatility in the short-term can eventually lead to major price increases in the long-term.
When Are Cryptos the Most Volatile?
Another important factor to discuss is examining when a particular cryptocurrency may deliver high levels of volatility. The sections below discuss a few points to consider when determining the expected volatility of a cryptocurrency.
Price of Bitcoin
Controlling 40% of the entire crypto market share, Bitcoin is the world's largest digital asset. Due to the token's control over the cryptocurrency space, most of the largest altcoins perform similarly to the price of Bitcoin.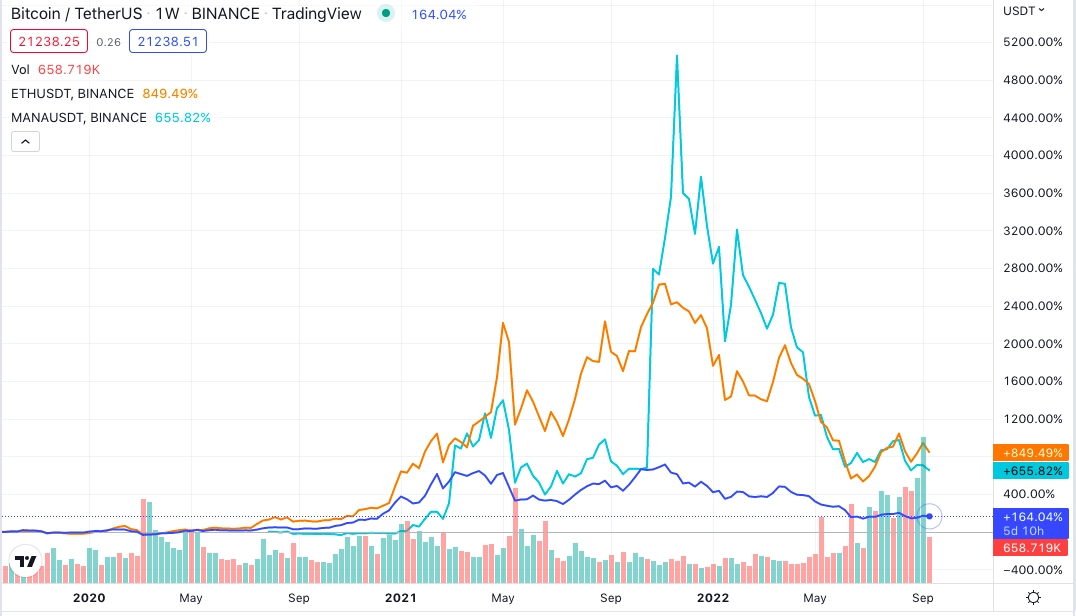 For example, when Bitcoin reached its ATHs in November 2021, top cryptos like Ethereum, Solana and Decentraland also enjoyed strong bull runs. Similarly, Bitcoin's price decline, unfavorable macroeconomic conditions and the collapse of FTX have all led to a long crypto bear market.
Therefore, investors may choose to invest in new assets when Bitcoin shows strong signs of reversal.
All-Time Highs
While deciphering the future price movements of cryptos is impossible, many investors know what to expect with the major altcoins in the long term.
For example, Doge and Shiba Inu attract high levels of volatility, while tokens like Bitcoin and Ethereum can potentially push the entire markets into a bull run.
There's a lot of uncertainty and volatility after a cryptocurrency reaches its ATH. After Bitcoin crossed $70,000, many investors thought the token would reach $100,000 by the end of 2021.
There's no historical information to base the cryptocurrency price predictions. Therefore, most cryptos are unpredictable after crossing their all-time highs.
Are Volatile Cryptos a Good Investment?
Cryptocurrencies have proven to be profitable investments for traders that have entered the market at the right times. Even with volatile investments, a good, diversified portfolio has the potential to be a good investment.
For example, many small-cap and new cryptocurrencies tend to deliver high growth in a short amount of time. High-risk investors or day traders that successfully manage to observe potentially successful trends have the opportunity to make small yet regular profits by trading volatile assets.
Since day traders rely heavily on technical analysis and various graphing patterns, volatile cryptocurrencies can be one of the best investment classes for quick growth.
Secondly, cryptocurrencies have positioned themselves as an alternative to traditional investments. A diversified portfolio may contain a range of stock options, ETFs and a small number of cryptocurrencies. Importantly, even adding a small portion of volatile cryptos can lead to potentially profitable trades.
However, it is important to only invest what one can afford to lose when dealing in cryptocurrencies. Due to the volatile nature of these assets, investors should not put 100% of their allocated resources in 1 single trade or investment.
Conclusion
Throughout this guide, we've looked at some of the most volatile cryptos on the market right now. However, after analyzing the most volatile cryptocurrencies to trade in 2023, we recommend Wall Street Memes ($WSM).
This is a new meme token, which has raised more than $25 million since the start of the presale. With a following of 1 million strong, Wall Street Memes aims to raise over $30.5 million through the presale before listing $WSM on major crypto exchanges.
FAQs
What is the most unstable crypto?
Wall Street Memes is a meme platform which already has a following of over 1 million across social media. Due to its loyal community base, this platform has been enjoying a successful start to the $WSM presale.
What time is crypto most volatile?
Cryptos can be very volatile after reaching an ATH. Since there is no historical price data to match future performance, it is impossible to properly analyze a cryptocurrency after they surpass its highest price range.
Is volatile crypto a good investment?
Volatile cryptos can be a good investment for day traders looking to make regular profits. Moreover, a diversified portfolio containing a mixture of low and high-risk asset classes may lead to potential profits in the long-term.
---