Is Ethereum a Good Investment in 2023?
Disclosure: Crypto is a high-risk asset class. This article is provided for informational purposes and does not constitute investment advice. By using this website, you agree to our terms and conditions. We may utilise affiliate links within our content, and receive commission.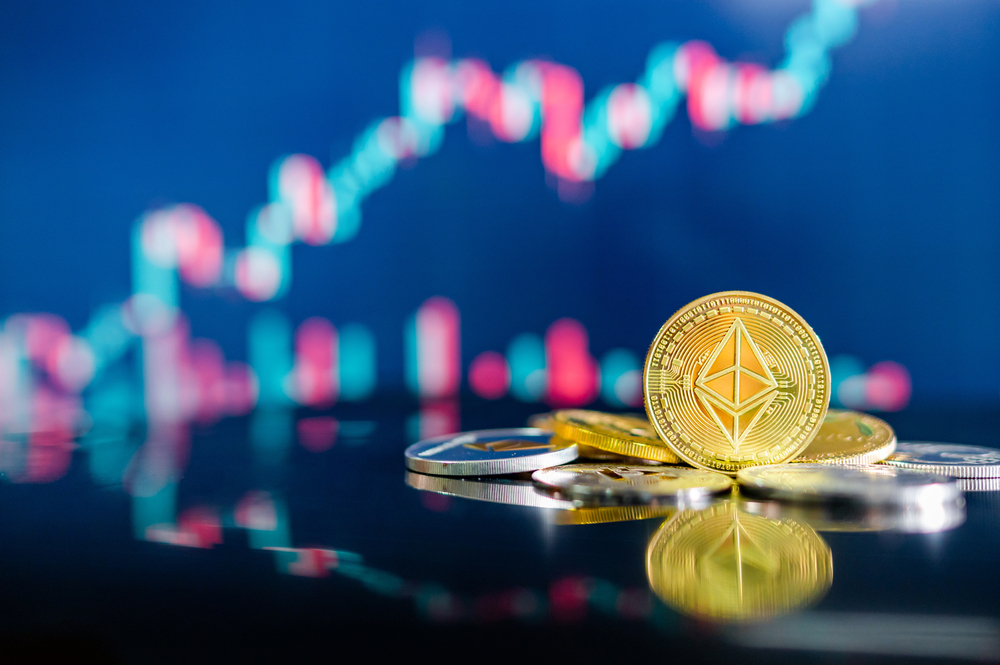 Disclaimer: The Industry Talk section features insights from crypto industry players and is not a part of the editorial content of Cryptonews.com.
With the release of smart contracts, new consensus mechanisms, and improvements to network efficiency, the cryptocurrency market has grown exponentially in recent years, leading many investors to ask, is Ethereum a good investment?
Throughout this guide, we'll be taking an in-depth look at Ethereum, analyzing its utility and potential for growth in the future. Let's get started.  
Is Ethereum a Good Investment? Our Verdict 
With the asset growing by tens of thousands of percent since its launch, many investors are asking the question, is Ethereum a good investment? After conducting hours of detailed research into the topic, we've got an answer. 
As the crypto market expands, there will likely be a sharp increase in the number of applications built upon the Ethereum network. This will naturally result in significantly boosted demand for the ETH token, in turn pumping the token's price. 
Ethereum is one of the most proactive blockchains in developing and upgrading its network and following the Merge in 2022 – which cut energy usage by an estimated 99.95% – other upgrades are in the pipeline, only helping to further boost its performance.
Ethereum remains, by far, the most popular network for decentralized app (dApp) builders and developers, with almost 1,000 major protocols built on its network as well as thousands of meme tokens and NFT collections. In fact, Ethereum's TVL (total value locked, the combined value of projects built on its network) is over $21 billion, more than three times nearest rival Tron ($6.7bn TVL).
That is unlikely to change any time soon making Ethereum, by far, the most useful cryptocurrency and giving it a huge network of reliant projects – even if that isn't always reflected in the current price of ETH.
With this in mind, we've reached a positive verdict on whether Ethereum is a good investment. While the coming months are likely to be rather rocky, over the long-term Ethereum should perform quite well.
How Ethereum Has Performed Since Launch & in 2023
Ethereum has been performing well since its official launch in 2014, when the price of ETH was just $0.31 during its initial coin offering (ICO).
Based on the asset's past performance, it will have likely provided great returns to investors that gave it enough time to grow. Regardless of when an investor picked up ETH, historically, it's been possible to turn a profit simply by waiting, making ETH a great long-term crypto investment.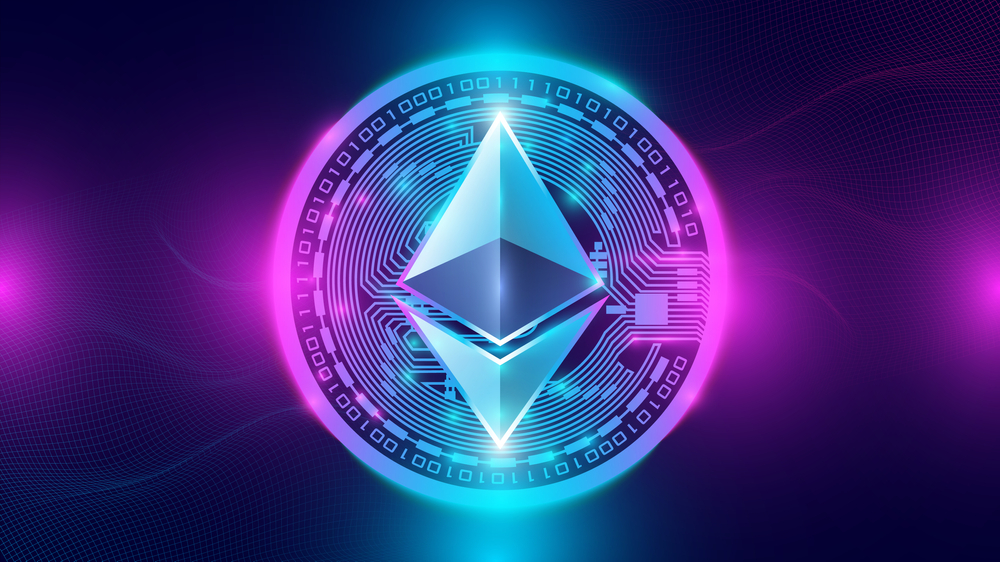 Investors that bought into the asset during its 2018 highs, would've had to wait until at least 2021 just to break even. However, given that ETH was held to the bull run's peak, investors could've netted themselves returns of around 275% or an annualized rate of 91.66%. Furthermore, anyone that invested during the 2017 high would've secured 482% in returns. 
With this in mind, while it's true that anyone that bought ETH at the peak of the 2021 bull would be down roughly 65% at today's prices, given enough time they could end up securing huge returns, especially given the continued improvements to the Ethereum network, that have massively boosted efficiency, scalability and transaction price.
The same is true for investors that got involved during the January 2022 dip, while they would currently be down around 53%, given a few years in the market, it's possible that ETH could yield annualized returns similar to its last run. As such, ETH could be the best crypto to buy in the crash right now.
Since its launch, Ethereum has increased in value by millions of percent.
Investors that stocked up on ETH during the 2017 run would be enjoying 482% returns.
Anyone that purchased ETH in 2018 would have earned an annualized return of 91.66%.
After hitting a new all-time high in 2021. ETH has been on a steady decline.
Throughout 2022, the price of ETH fell alongside the wider market.
2023 has brought better performance with the coin reaching a yearly high of $2120 in April.
At the time of writing in September 2023, ETH is around 40% up from its price in January.
Crypto assets are a volatile investment product. Your capital is at risk.
Ethereum Price History 
Launched back in 2014, Ethereum has grown from a humble initial coin offering (ICO) into a titan of industry and the second-largest cryptocurrency on the market. The asset, now boasting a price tag of around $1,600 was originally sold for just $0.311 during its ICO, a discount of 99.97% compared to today's figure. 
As Ethereum's smart contract ecosystem grew and began to attract attention from developers, the price of ETH exploded, rising from a 2017 low of just $8.17 to a high of $820.24, an increase of nearly 10,000%. Naturally, this fast growth led many investors to wonder is investing in Ethereum a good idea.

This trend continued into 2018, with Ethereum growing massively. Likely helped along by the fact that the world's largest blockchain game (at the time), CryptoKitties was built on the Ethereum network, leading many other developers to follow suit. At its peak price in 2018, the price of ETH soared, hitting $1,270.47.
However, what goes up must come down. Over the next couple of years the price of Ethereum, one of the fastest-growing cryptocurrencies on the market at the time, slowly declined. Throughout 2018 ETH fell as low as $90.60 and traded between $150 and $200 during 2019. Over this same period, the price of Bitcoin fell from $19,118 to a low of $3,460.55. 
The ETH price stayed within this range until late 2020 promoting crypto enthusiasts everywhere to wonder will Ethereum go up. While things were looking bleak, the cryptocurrency market picked up significantly as thousands of investors entered the market, pushing ETH to new heights, first taking the asset to $4,174, then even further to an all-time high of $4,878.26 on November 10, 2021.
Like the rest of the market, Ethereum has suffered through a prolonged bear market since those highs, with macroeconomic factors such as the Russia-Ukraine War, inflation, plus the collapse of various crypto companies, including FTX, seeing the price dip below $1,000 in mid-2022.
ETH has been rising steadily in 2023 – and was up as much as 77% between January and June to a high of $2,100 – but has since taken a step backwards leading to its present-day valuation of around $1,600.
Ethereum Highs and Lows
Below, we've summarized the highs and lows of Ethereum since its launch, putting the asset's growth in perspective, and making it simpler to determine is Ethereum a good investment. 
Early 2014 – Ethereum was released as an ICO with ETH available for around $0.311
Mid-2017 – Ethereum slowly grew, then exploded in 2017, rising from $8.17 to $820.
Throughout 2018 – More investors piled into the market, pushing the price of ETH to $1270.47.
During 2019 – After hitting a new high in 2018, ETH incrementally declined, falling to $175.
Late 2020 to 2021 – The crypto market rapidly grew, causing ETH to surge to $4,733.
Throughout 2022 – Ongoing bear market that saw collapse to a low of $990 in June 2022.
January 2023 to June 2023 – Started the year at $1,100 and rose to $2,100 in June.
July 2023 to Present Day – Has since dipped and currently trading at around $1,600
Ethereum Price Forecast 
We understand that a large number of investors are trying to decide 'is Ethereum worth buying?' To help make this process a bit easier, we've opted to include an Ethereum price prediction spanning from 2023 to 2030. 
To ensure that our forecast is as accurate as possible, we've taken a huge variety of different factors into account. A few of these include the economy as a whole, the crypto market, potential competitors, and even Ethereum's utility as well as any planned updates to the network. Let's dive into our prediction.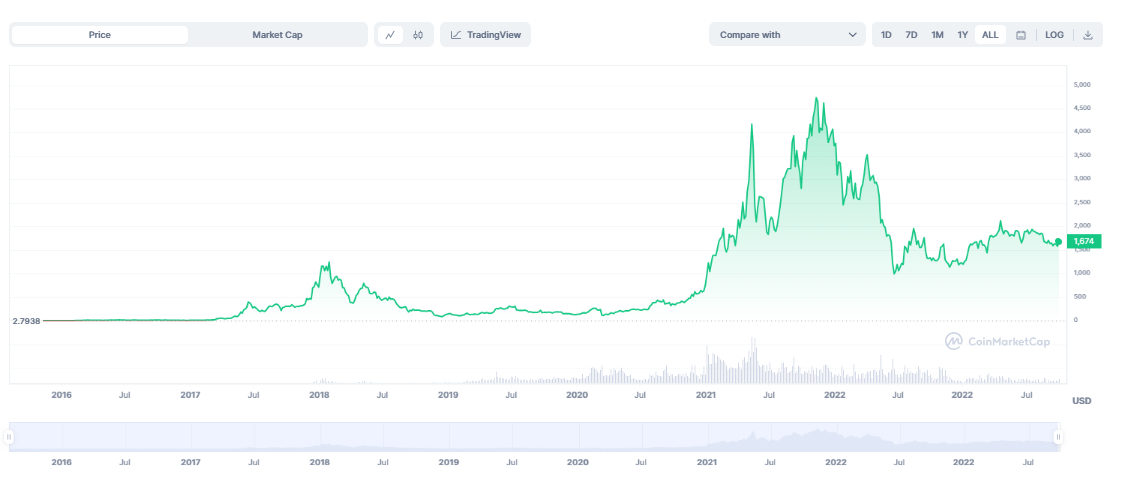 End of 2023 – Looking toward the end of next year, we could expect to see growth from Ethereum, however, the market will likely remain bearish as a reaction to uncertainty in the economy. As a result, we could see ETH test a previous support of $1,800.
End of 2024 – Moving onwards, as long as nothing unexpected occurs, we'll likely see the economy begin its path to recovery, something likely to have a very positive impact on the crypto and stock market. The next Bitcoin halving is also approaching, which has sparked all previous bull runs. This will likely lead to Ethereum trading for an average of $3,000, an increase of around 75% over today's prices. 
End of 2025 – With more time to build positive traction, continued updates and widespread crypto adoption, we could see some impressive moves from the price of ETH during 2025. It seems likely that a retest of the asset's prior high will be required. This would place the value of ETH at approximately $4,900.
End of 2030 – The Ethereum team will have had plenty of time to work on developing new features and any improvements to the network currently in the pipeline may have rolled out. Combined with the expected growth of the crypto market (11.1% annually), we could see ETH hit $7,985 with a high of $10,000 also possible.
Crypto assets are a volatile investment product. Your capital is at risk.
Ethereum Utility – What Does the Future Hold?
When it comes time for an investor to answer the question, should I buy Ethereum now, it's crucial to consider the project's long-term utility – which is among the very best in the crypto space.
It's impossible to predict the market's movements with 100% accuracy, but investing in utility-centric projects drastically increases the chances of an investment paying off over the long term.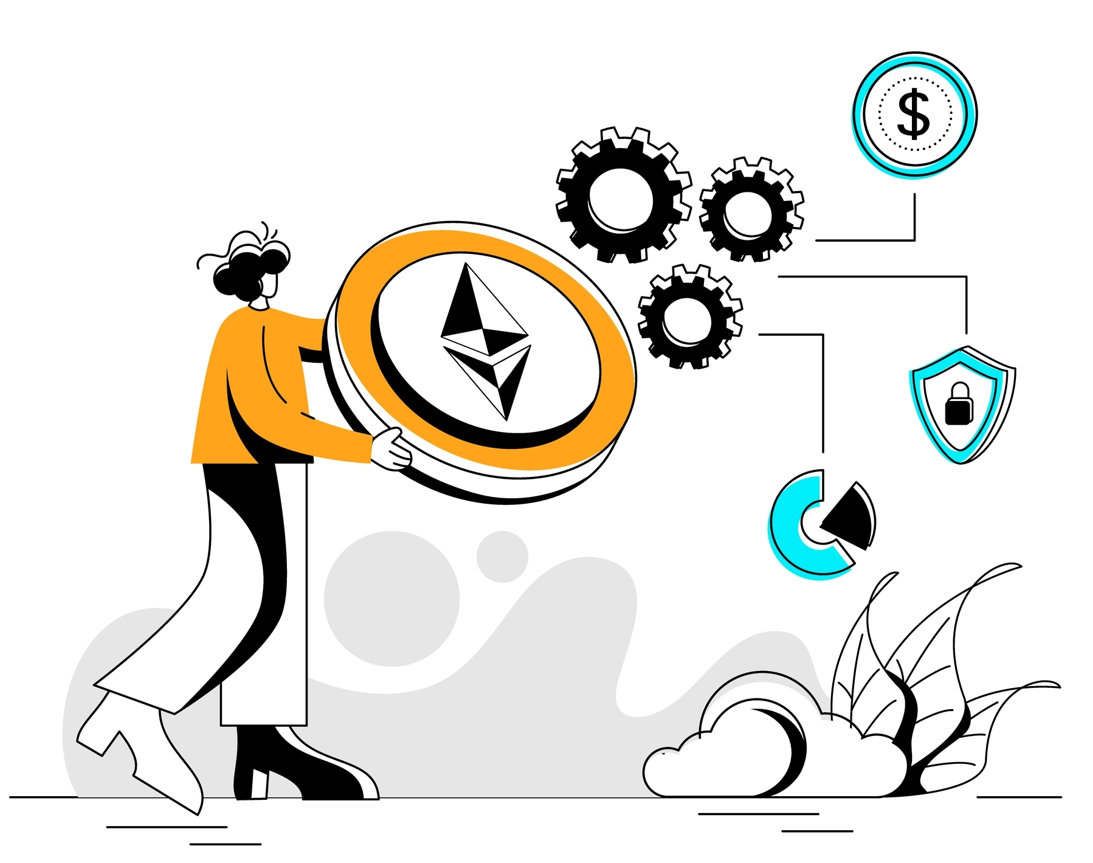 To make it more simple for investors to determine whether Ethereum holds enough utility to be considered a worthwhile investment, we've outlined a few of its top uses below.
Smart Contracts
Perhaps the most widely used feature of the Ethereum network is its smart contract capabilities. Developers can build their own decentralized applications known as dApps, directly on the Ethereum network. This helps to facilitate interoperability between applications and allows new projects to take advantage of the various benefits offered by an established network like Ethereum.  
Numerous high-profile and highly important protocols are based on Ethereum, including the likes of Lido, Maker, Aave and Uniswap. A number of the largest meme coins in the space are also ERC-20 tokens, powered and secured by Ethereum, including Shiba Inu, Pepe and Floki.
As applications created on the Ethereum network boost demand for the ETH, this could be phenomenal for the long-term growth of this innovative proof-of-stake crypto.
Network Upgrades
The recent update to the Ethereum network, known as the Merge, switched Ethereum from the proof-of-work consensus mechanism to proof-of-stake. This has created a new economy on the network, with ETH holders able to earn rewards for validating transactions and adding to the network's security. This incentivizes long-term holds and rewards the project's top supporters. 
On top of introducing staking to the network, the Merge has paved the way for sharding to be introduced to the network. This will allow transaction data to be split among the network, sharply increasing throughput and reducing congestion during periods of load.
Ethereum is one of the most active networks for consistently trying to improve and upgrade its network.
Security
One of the greatest benefits of the Ethereum network is its security. Achieved through decentralization, Ethereum is considered to be one of the most secure networks on the planet. 
As a result, it's commonly used for sensitive applications, like Aave which is a crypto lender and Lido, which offers liquid staking. With the rate at which crypto hacks are increasing, developers will aim to build on secure networks, boosting the demand for Ethereum. 
NFTs
The NFT sector has struggled badly since the 2021 boom – much more so than crypto investment – but it remains one of the most rapidly evolving areas in cryptocurrency. A large portion of the best NFTs are built on the Ethereum network, including the likes of Crypto Punks and the Bored Ape Yacht Club.
Naturally, this has drastically increased the number of transactions taking place on the network, booting its dominance. With NFTs quickly being picked up by mainstream companies this is very promising for Ethereum.
Is Ethereum a Good Long-Term Investment or Short-Term Investment?
For investors considering is now a good time to buy Ethereum, it's important to have an investing plan in place. This means determining which prices to buy and sell at and also deciding whether you want to hold Ethereum as a long or short-term investment. 
We'll be discussing the merit of ETH with both strategies, making it simple for investors to choose the one right for them.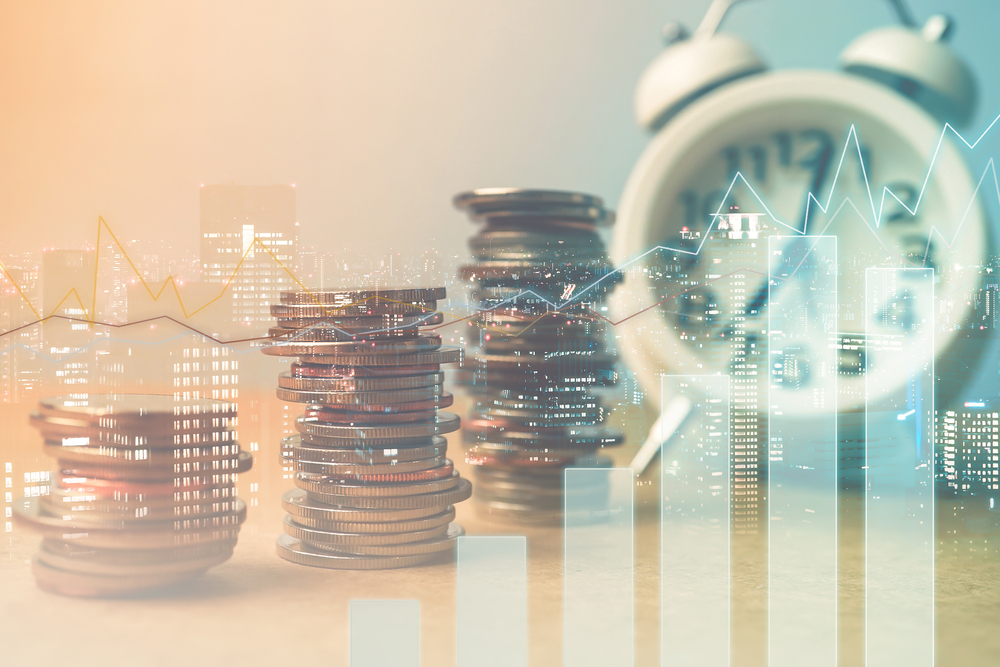 If you're wondering should I invest in Ethereum over the short term, it's important to take the performance of the wider economy into consideration. With assets across the board taking a beating and mass uncertainty being present in the crypto market, it's probably best to avoid a shorter-term investment in ETH, until the market gets a clear directional bias. 
On the other hand, as a long-term investment, Ethereum has excellent merit – the project boasts a wide array of utilities, a strong use case and is consistently attempting to improve.
Furthermore, a number of the world's largest crypto-assets are built upon the Ethereum network, a clear indicator of longevity. As it stands today, anyone holding ETH for at least 2 years would be in profit, so ETH could work well as a long-term hold.
What Experts Say on Whether You Should Invest in Ethereum 
Many experts have strong feelings on the topic is Ethereum still a good investment. While hundreds of prominent figures have shared their opinions regarding this top trending crypto.
Capital.com, a popular broker discussed the potential of Ethereum saying that the improvements to the network's scalability and throughput are likely to offer a sizable long-term boost to the asset. The broker summarized predictions from various outlets, almost all of which offered a positive outlook over a 6+ month period.
Time, a well-known media outlet shared the thoughts of Mike McGlone, an intelligence analyst for Bloomberg. McGlone predicted that Ethereum could end 2022 trading for roughly $4,000 to $4,500. However, another market analyst, Wendy O expects ETH will drop to around $750, providing a mixed answer to the question is Ethereum a good investment. 
WalletInvestor a prominent price prediction platform, shared its rating for Ethereum giving the smart contract network an A+. The predictions platform also stated that according to their forecasts, an increase in the price of Ethereum is expected over the coming years making it a solid long-term pick. 
Where to Buy Ethereum 
Investors trying to determine is it a good time to buy Ethereum will also likely be wondering where they can pick up the digital asset. We've included a review of eToro, a leading broker and our top pick for the best exchange to buy ETH. 
eToro – Regulated Broker with Educational Material and Low Fees
eToro is a regulated cryptocurrency and stock broker that first launched back in 2007. Since then, eToro has become an investing powerhouse, serving over 27 million customers around the world. Adding to eToro's transparency and security, the platform is regulated by leading bodies like the FCA and CySEC.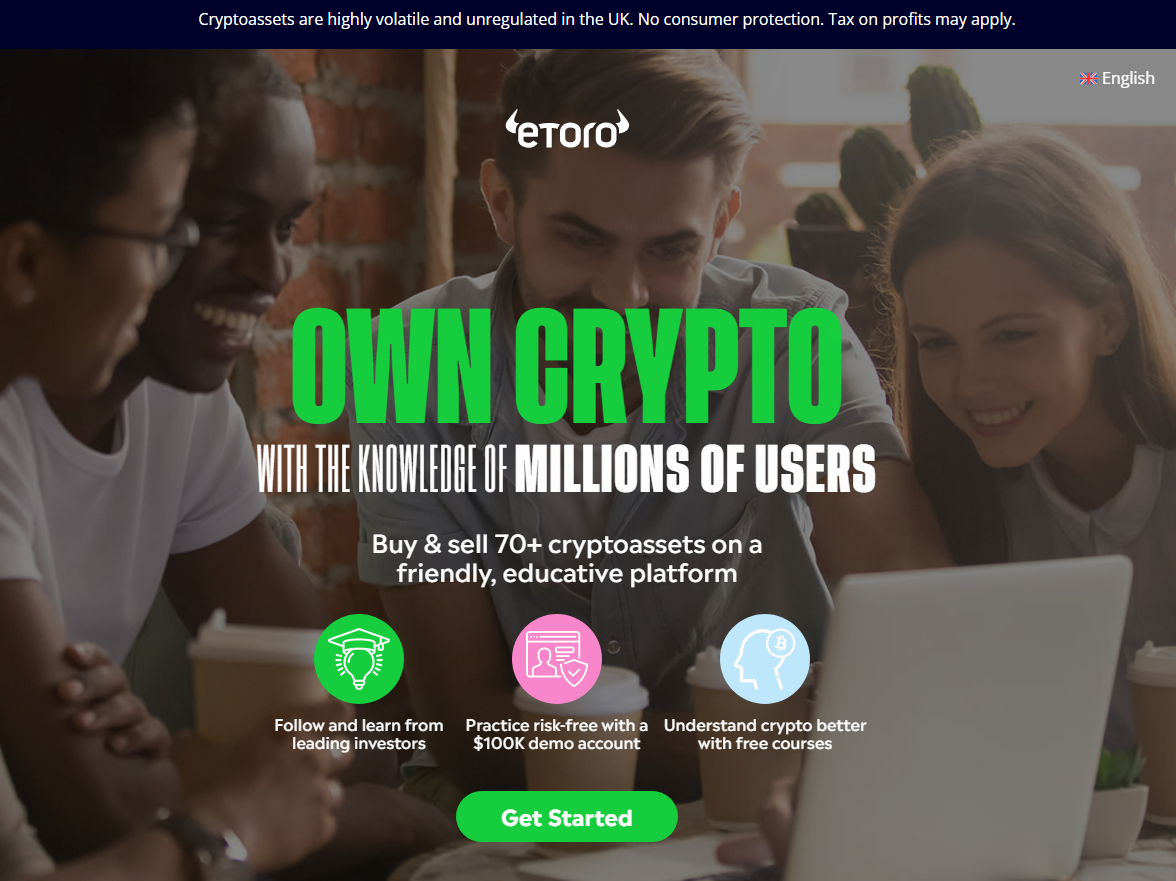 eToro supports 70+ different cryptocurrencies as well as thousands of other assets, making it an excellent platform to build a diversified portfolio. But is cryptocurrency safe? 
Anyone that invests in crypto with eToro can rest assured that their funds are safe, as the broker offers one of the best ERC20 wallets on the market. eToro also keeps client funds separated from its own and utilizes cold storage to prevent hackers from gaining access to client holdings. 
The broker offers a wide range of features suited to beginners, including social trading capabilities allowing users to automatically mirror the trades of others as well as a platform dedicated to educating investors. The eToro Academy offers a massive range of tips and guides covering everything from the basics to more advanced strategies.
Overall, eToro is one of the best platforms to buy Ethereum right now. With the broker offering a tiny $10 minimum deposit, and a cost-effective 1% commission on crypto purchases, it could be worth checking out eToro today.
Crypto assets are a highly volatile investment product. Your capital is at risk.
Should I Buy Ethereum Now? Our Verdict 
Now that we've covered the factors influencing our verdict, it's time to answer the question, is it still a good time to buy Ethereum? 
While the short-term outlook of just about every financial market leaves a lot to be desired right now, Ethereum seems to be very strong in a macro sense. Just about every long-term (2+ years) ETH holder would currently be in profit, with the only exception being those that invested during the 2021 bull run. As such, it's clear that Ethereum provides a great long-term opportunity.
With Ethereum boasting strong utility and a clear plan for future developments, our Ethereum price predictions look rather promising. While 2023 might be a slow year for crypto, we expect that ETH could reach between $7,500 to $10,000 during 2030, an increase of 350% on the low end.
While the experts seemed mostly divided on how Ethereum might perform over the short term, one thing was clear, long-term growth was expected by most. It seems as though most people believe Ethereum will play a crucial role in the crypto space over the next few years, so it's not an asset to overlook. 
All in all, while its short-term potential is murky, Ethereum seems like a strong long-term investment. As such, it could be a good time to buy Ethereum, for investors focused on the macro perspective.  
Coins to Consider Alongside Ethereum
Now that we've answered the question is Ethereum a good investment, it seems fitting to discuss a couple of smaller projects built on the Ethereum network, that could provide even greater returns than ETH.
Bitcoin ETF Token – ERC20 Presale With 450% Dynamic APY And Market-Focused Roadmap
Bitcoin ETF Token ($BTCETF) is an Ethereum-powered presale with a dynamic APY PoS of 450% at the current time and a roadmap that is tied to important events in the wider crypto economy. 
The primary event is the approval of Bitcoin ETFs by the Securities and Exchange Commission (SEC). Should this event manifest, it could increase the total crypto market cap by hundreds of billions of dollars, and possibly result in price increases for BTC and altcoins.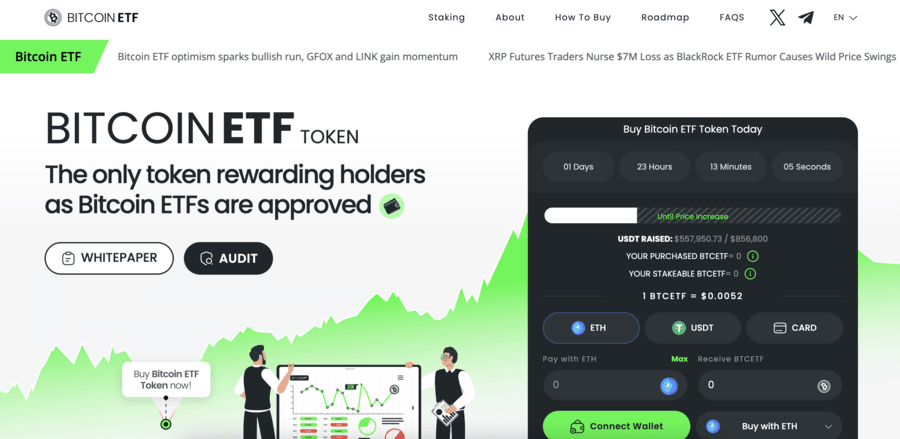 Bitcoin ETF token, however, stands to benefit the most, as it was created with this exact scenario in mind. It could be a 10x token or more if approval occurs, something which could happen in a matter of weeks. 
The ERC20 presale also provides a 25% token burn to encourage price appreciation for the remaining supply. The token burn takes place in five distinct intervals dependent on key events, such as the approval of Bitcoin ETFs and the price of Bitcoin breaching $100,000. 
So this is a campaign that is tied to the market, as opposed to being a self-contained ecosystem with arbitrary goals. It has a market focus that differentiates it from many other presales. Aside from this, it offers a significant price increase throughout its presale. 
In the initial round, the token retails at $0.0050, a price which will rise substantially to $0.0068 by the final round (round ten). This is an automatic price increase of nearly 40% simply for buying and holding coins.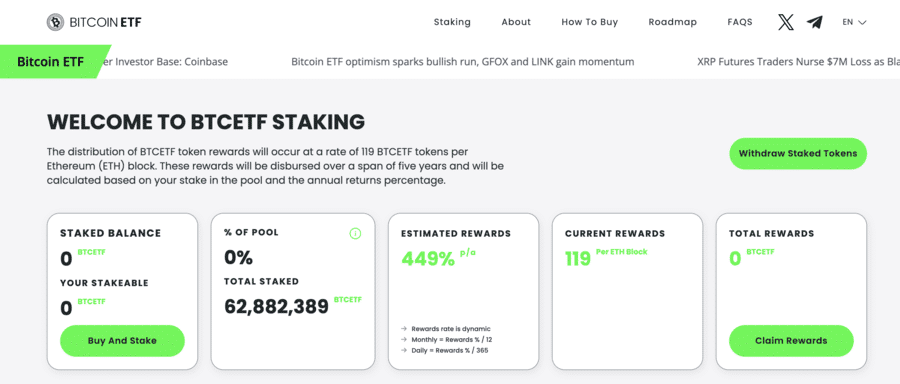 This could be an ideal Ethereum alternative with more upside potential and a number of incentives for investors. 
The presale maintains a dedicated section on its website for BTC ETF-related news, along with its official Twitter and Telegram accounts. 
The Bitcoin ETF Token Whitepaper contains all the essential information about this new presale.
| | |
| --- | --- |
| Presale Started | 6 Nov 2023 |
| Purchase Methods  | ETH, USDT, BNB, MATIC, Card |
| Chain | Ethereum |
| Min Investment | None |
| Max Investment | None |
Bitcoin Minetrix – Stake-to-Mine Project Offering Huge 6,000% APY During Presale
Bitcoin Minetrix ($BTCMTX) is a brand new ERC-20 token launched on Ethereum that is the world's first stake-to-mine crypto project.
The project has only just launched its presale but is seeing a lot of interest from investors and has already raised more than $200,000.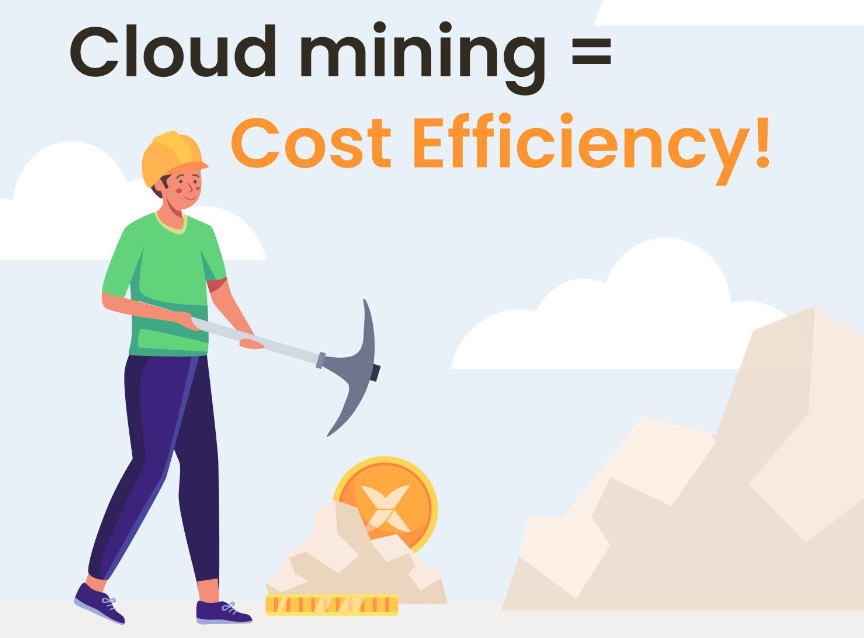 As well as offering incredible staking rewards – with the current APY sitting at over 6,000% – Bitcoin Minetrix token holders can also mine Bitcoin.
This works by staking tokens which then generate cloud mining credits. They can be burnt to earn allocated mining time, with mined BTC sent back to the user.
The whole process is managed via a dedicated mobile app and takes all the risk out of cloud mining – which has been a hotbed for scammers – by tokenizing the process.
That means there are no upfront fees or long fixed-term contracts to agree, with Bitcoin Minetrix holders able to stake as much or as little as they like and unstake at any time and sell their tokens on an exchange.
The project has just launched stage 1 of its presale, wihich will run for 10 stages in total – tokens currently cost $0.011 but will increase 8% to $0.0119 in the final stage.
There is a max supply of 4 billion tokens, with 2.8 billion available during the presale. More information and the latest news can be found in the whitepaper or on Telegram.
| | |
| --- | --- |
| Presale Started | 26 Sept 2023 |
| Purchase Methods  | ETH, USDT, BNB |
| Chain | Ethereum |
| Min Investment | $10 |
| Max Investment | None |
References
FAQs
Is Ethereum a good investment in 2023?
Every investor will have a different opinion of what constitutes a good investment. However, with Ethereum constantly working on developing new features and with most people expecting ETH to slowly increase in value, Ethereum could be a good investment in 2023. 
What Ethereum be worth in five years?
It's difficult to predict the value of an asset in the future, but based on the growth of the crypto market and the planned improvements to the Ethereum network, we could see the value of ETH at around $5,000 by 2025 and around $7,500 in five years times. 
Is it worth buying Ethereum now?
Is Ethereum a good investment? This is the question on the minds of thousands of investors. Right now, ETH can be purchased for around $1,700, a significant discount compared to 2021's prices. As such, if you were debating buying ETH at $4,000+ it's most probably worth buying today. 
Is Ethereum a safe investment?
There is no such thing as a safe investment. Everything has risks. However, the general consensus among professional investors and traders seems to be that Ethereum will grow steadily over the coming years. 
---