Best Crypto to Buy Now 15 May – Conflux, Sui, Bitcoin SV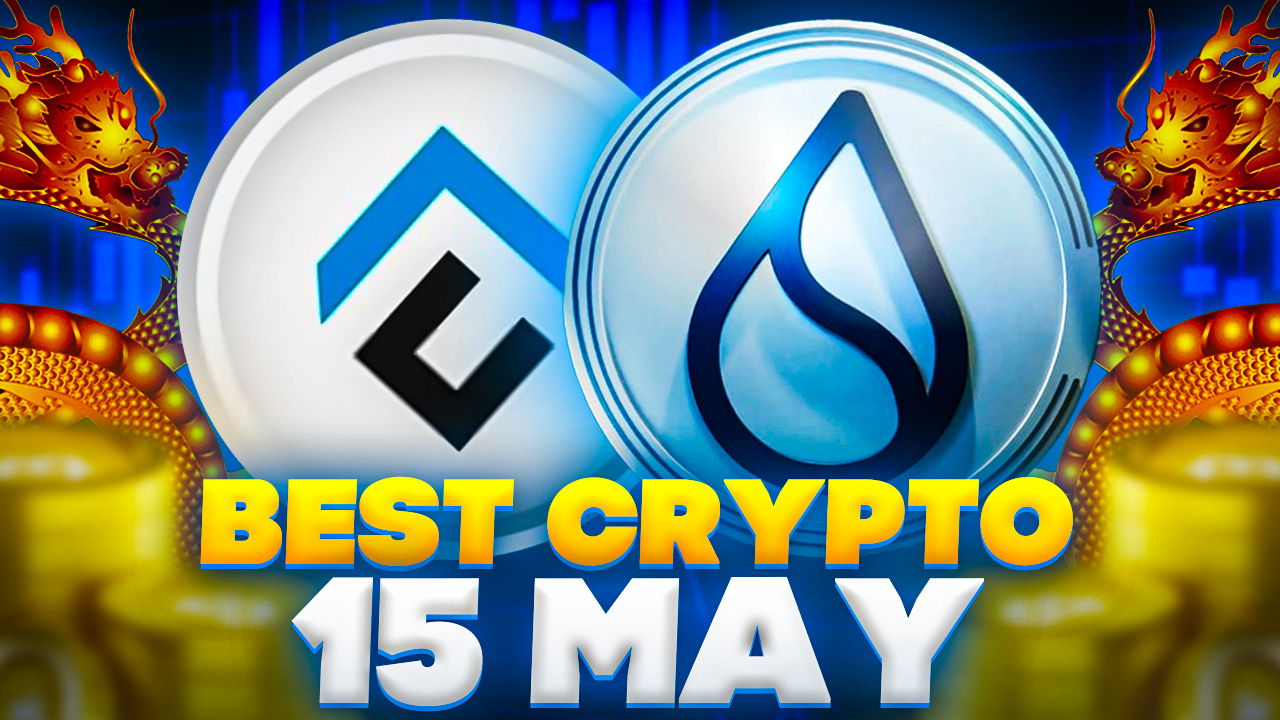 After a weekend of volatile trading, Bitcoin is on an upward trajectory, albeit still below significant thresholds.
As we head into a week potentially lacking in market catalysts, the focus remains on Bitcoin's performance.
How might this recent cryptocurrency market activity affect the best cryptos to buy now?
Bitcoin is currently trading at $27,337, with a gain of 1.49% in the past 24 hours.
This comes after a dip below $26,500 last Friday, followed by a gradual recovery over the weekend.
Despite this rebound, Bitcoin is still trailing below the crucial $30,000 level, a threshold it has struggled to maintain since first surpassing it last month.
Alex Kuptsikevich, an analyst at FxPro, noted, "Bitcoin's proximity to the 200-week average, near $26,000 last Friday, sparked interest among sellers. However, by maintaining this crucial average, the bulls have reassured the market of the long-term bullish trend's viability."
As Monday saw investors actively buying, pushing the price to $27,000, cautious buyers are now eyeing the $28,000 to $28,500 range as a confirmation of a break from last month's downtrend.
However, the week ahead may be sparse in terms of catalysts, potentially making it challenging to build a narrative supporting a continued rise in Bitcoin prices.
Cryptocurrencies remain susceptible to macroeconomic influences, often mirroring movements in the Dow Jones Industrial Average and S&P 500 in response to economic data.
The Federal Reserve's inflation-fighting interest-rate hikes have been a significant obstacle for both stocks and digital assets.
However, Bitcoin's 2023 rebound has coincided with growing expectations of a more accommodating stance from the central bank.
While last week's inflation data stirred both cryptos and stocks, the coming days are expected to be quieter.
Investors' attention is likely to remain on the impending U.S. debt ceiling, with only the Empire State Manufacturing index and U.S. retail sales data on the calendar.
Beyond Bitcoin, Ether, the second-largest crypto, is trading at $1,824 with a gain of 1.35% so far today.
While the rest of the crypto market remains relatively muted, based on their fundamentals and/or technical analysis AI, CFX, ECOTERRA, SUI, YPRED, BSV, and SWDTKN are some of the best cryptos to buy now.
Meme Magic and Financial Rewards, Aidoge Is One of the Best Cryptos to Buy Now
AiDoge is establishing its presence in the cryptocurrency market by raising over $7.8 million in its presale so far.
Now progressing to stage 12, the value of AiDoge's native token, $AI, increased from $0.00003000 to $0.00003040.
Powered by image-generative AI, the platform's meme-generating feature will utilize text prompts to generate memes.
The success of the presale reflects a burgeoning interest in this unparalleled fusion of technology and humor, highlighting the growing enthusiasm for it.
Unlike other meme coins, AiDoge offers more than just novelty. It presents a clear and compelling growth strategy, setting it apart from other cryptocurrencies.
For instance, ArbDoge, despite its recent surge, lacks a solid value proposition, a gap that AiDoge fills with its forward-thinking plan.
The presale's hard cap target is $14,900,000, which would increase the $AI token price to $0.0000336.
As the presale progresses, the price will inevitably rise, making early investment a strategic move.
AiDoge is a testament to the convergence of two significant trends in the crypto world: meme coins and artificial intelligence.
The platform will use machine learning and neural networks to power its AI image-generating system, a feature that has piqued the interest of savvy investors.
The platform's potential lies in its ability to tap into the popularity of AI chatbots, such as OpenAI's ChatGPT.
These technologies are disrupting the industry, and AiDoge wants to do the same for the language of memes.
By utilizing machine-learning technology and large language models, AiDoge possesses a unique edge in generating memes that align with current trends while constantly improving its capabilities with each use.
The $AI token serves as the platform's native token, used to purchase credits for meme generation.
This utility gives the token its value and incentivizes network participation, further boosting the $AI token's value.
AiDoge is not just a platform; it's a community. Users can vote for their favorite memes, with the creators of the most popular memes earning $AI token rewards.
This feature, along with staking rewards, creates a revenue stream for creators, adding to the platform's appeal.
AiDoge is a unique project that combines the power of AI with the appeal of memes. It's not just a new coin; it's a new chapter in the meme coin crypto narrative.
Conflux (CFX)
Conflux (CFX) has shown signs of recovery after bottoming out last week. The cryptocurrency successfully broke out of key resistance levels yesterday and gained over 11% as it closed at $0.2886.
Looking at the technical indicators, the 20-day and 50-day EMAs are about to experience a bullish crossover, signaling the start of an upward trend.
The RSI has also recovered to 47.11 from oversold levels, showing strengthening buying momentum.
The MACD histogram has also narrowed to -0.0002, indicating slowing bearish momentum.
With the price currently testing the $0.3101 Fib 0.5 retracement level, a breakout above this resistance could see CFX continue its ascent to retest $0.3520, the Fib 0.618 level.
Traders should watch for a daily candlestick close above $0.31 to confirm the start of an uptrend.
Failure to break this resistance could see CFX pull back to the $0.2682 support, which coincides with the Fib 0.382 retracement level.
The technical indicators point to a recovery in the making for CFX. A decisive breakout and hold above the $0.3101 resistance are needed to confirm a trend reversal.
If this happens, traders could go long in anticipation of further gains. However, prudent risk management is advised as CFX remains in a downtrend.
A stop loss could be placed below the $0.2682 support in case of a pullback. The next few days will be critical in determining the next major trend for CFX.
Driving Ecological Change with Blockchain: ecoterra's Green Crypto Solution
Green crypto project ecoterra is establishing its presence in the crypto space by constructing a comprehensive web3 ecosystem fueled by its native token $ECOTERRA.
The ecosystem will promote recycling through the implementation of its pioneering Recycle-to-Earn (R2E) reward system, facilitating the trading of recycled materials and incentivizing people and enterprises to offset their carbon emissions.
ecoterra was recently recognized for its contributions to the sustainable crypto ecosystem at the Istanbul Blockchain Summit.
The company was a major sponsor of the event, which featured renowned speakers such as Microstrategy CEO Michael Saylor.
Within a week's time, ecoterra's presale has surpassed the significant $3.5 million mark from $3 million, showcasing the impressive fundraising speed of around $500,000 per week.
The $ECOTERRA token is set to list across major cryptocurrency exchanges at $0.01 later this year.
ecoterra's all-in-one application is a game-changer in the green cryptocurrency space.
It will reward users with $ECOTERRA tokens for recycling, feature a carbon offset marketplace, and include a recycled materials marketplace.
The platform will also allow users to track their environmentally friendly practices via an Impact Trackable Profile.
This feature is expected to be popular among eco-conscious businesses looking to enhance their brand image and strengthen customer loyalty.
ecoterra's CEO, Mihai Ciutureanu, has expressed the company's commitment to promoting recycling and environmental sustainability.
The implementation of the Recycle-to-Earn system is designed to educate the public about recycling's importance and foster their active engagement.
ecoterra's presence at the Istanbul Blockchain Summit provided an excellent platform to spread awareness about the project and the utility of the $ECOTERRA token.
The company's award at the summit is a testament to the positive reception of its green initiative.
With the presale of $ECOTERRA tokens surpassing the halfway mark, investors are urged to act quickly to secure their tokens ahead of further price increases.
With its commitment to promoting recycling and sustainability, ecoterra exemplifies the potential of blockchain technology to create positive change and make a lasting impact on our planet.
Sui (SUI)
SUI looks set to continue its recovery after gaining over 4% so far today. On the 4-hour timeframe, the 20 and 50 EMAs are trending upwards, signaling bullish momentum.
The RSI is holding above 60, showing strengthening buying pressure. However, the MACD histogram has narrowed to 0.0130, indicating slowing upward momentum.
With the price testing the $1.2319 to $1.2467 resistance zone, a breakout above this could see SUI push higher to retest last week's high of $1.28.
Aggressive traders could enter a long position on a 4-hour candlestick close above $1.2467 with a target of $1.28 and a stop loss below $1.20.
On the flip side, failure to break the resistance could trigger a pullback to the $1.2047 to $1.2131 support area.
The indicators still point to a bullish bias, so any retreat could present a buying opportunity for traders.
However, downside risks remain given last week's sharp drop. A stop loss is advised for any long positions.
While SUI's technical indicators and price action show signs of recovery, the cryptocurrency needs to break key resistance convincingly to confirm bullish momentum.
The next few days will be pivotal in determining SUI's next trend.
Aggressive traders could look to buy on dips with a tight stop loss, but defensive traders may opt to wait for a trend reversal to be confirmed before entering a position.
Upside potential looks to be greater than downside risks, but volatility remains high. Trade cautiously and responsibly.
Stay Ahead of the Curve: Why yPredict is One of the Best Cryptos to Buy Now
yPredict is a crypto research platform that intends to harness the power of artificial intelligence (AI) to change the way people trade and understand the crypto market.
The platform's native token, $YPRED, is gaining traction among investors, with the presale fundraising surpassing the $1 million mark.
yPredict's presale is currently in stage 5, and the momentum shows no signs of slowing down.
The $YPRED token, priced at $0.07, is expected to see a price increase to $0.09 once the fundraising reaches $1.632 million.
Given the current rate of investment, this milestone could be reached within a week.
The $YPRED token price will rise to $0.11 over the next three presale stages, before making its debut on cryptocurrency exchanges in the third quarter of this year at $0.12.
The appeal of yPredict lies in its AI-powered crypto price prediction system.
This advanced technology can analyze vast amounts of price data, identifying trends that might otherwise go unnoticed.
As more traders turn to AI for trading assistance, yPredict's platform and its $YPRED token are expected to see substantial growth.
yPredict's platform, currently in development, promises to provide traders with an unparalleled edge in the market.
yPredict's platform, currently in development, promises traders an unmatched edge. The platform will have AI-powered signals, pattern recognition, and sentiment analysis.
Experts will also be able to sell trading signals based on model predictions or data research on the yPredict marketplace.
AI has already proven its ability to predict market movements.
A recent study demonstrated how large language models (LLMs), a key component of AI, can predict stock price movements.
yPredict aims to leverage this capability to provide traders with valuable insights.
The full version of yPredict's platform is slated for launch by the end of 2023. In the meantime, a waitlist for the beta version is available for those eager to get a glimpse of the platform's capabilities.
The $YPRED token, issued on the Polygon blockchain, is integral to yPredict's platform. To access premium features, users will need to pay a subscription fee of $YPRED.
A portion of these fees will be distributed to existing $YPRED token holders, providing them with a passive income stream and encouraging them to hold onto their tokens.
As AI adoption grows and crypto markets continue to evolve, yPredict's platform and its $YPRED token offer a promising glimpse into the future of AI-driven trading.
Bitcoin SV (BSV)
After two days of retracement following an explosive 41.64% move up on May 9, Bitcoin SV appears to be stabilizing and forming an ascending triangle pattern.
The digital asset has been trading sideways just above Fib 0.618 level at $34.97, indicating that the sell-off from the recent highs may have bottomed out.
Bitcoin SV has also been printing higher lows, showing that the bears are losing control and the bulls may be ready to take over.
The technical indicators are also turning bullish for Bitcoin SV. The RSI has bounced up from 50, suggesting strengthening upside momentum.
The MACD histogram has also started to rise again, indicating the potential for the resumption of an uptrend.
The 20-day, 50-day, and 100-day EMAs have flattened out, showing decreased selling pressure.
With the Fib 0.5 level at $36.9 acting as immediate resistance, a decisive break above this level could trigger further buying that sends Bitcoin SV up to the next key resistance at $38.821.
On the downside, the $34.979 Fib 0.618 support needs to hold to keep the neutral-to-bullish outlook intact.
The technical picture for Bitcoin SV is potentially turning positive again. If the ascending triangle pattern plays out, Bitcoin SV looks poised for a price appreciation in the coming days.
Traders and investors may want to watch these key levels closely as a breakout in either direction could determine the next major trend for Bitcoin SV.
Swords of Blood: Revolutionizing RPGs with Web 3.0 and Crypto Gaming
Diablo has long reigned supreme in the gaming genre of Role Playing Games (RPGs), firmly establishing its dominance.
However, recent releases have left players craving new experiences, clearing the path for a fresh competitor. Enter Swords of Blood, a blockchain-backed RPG game that is rapidly gaining popularity among the crypto gaming community.
Swords of Blood, a reimagined version of a title first released by Artifex Mundi in 2019, is set to redefine the RPG landscape.
The game boasts an impressive 4.8 out of 5 average user rating and has already been downloaded over 4 million times on App Store and Play Store.
Now, under the stewardship of Hit Box Games LLC, Swords of Blood is being revamped with Web 3.0 features and functionalities.
The game is set in the World of Ezura, a land ravaged by violence and betrayal.
Players can choose to be a daring dungeon crawler, a bounty hunting battle-mage, or a mighty warrior, each with their unique abilities and equipment.
The game's narrative is rich, and the combat is flashy, making for an immersive gaming experience.
Swords of Blood is built on the Polygon network, known for its high speed and low fees. The game's Web 3.0 version is slated for release this month, featuring multiple asynchronous game modes, including main campaign dungeons, monster hunt dungeons, boss fortress, PvP, daily dungeons, event dungeons, challenge dungeons, and shattered mazes.
The ultimate ambition of the game is to develop into a community-centric MMORPG, harmoniously incorporating synchronous game modes and an extensive array of multiplayer features.
With the support of SphereOne and Simplex, Swords of Blood will facilitate payments from various chains and fiat currencies, while also implementing a play-to-own model that fundamentally offers a free-to-play experience.
The game's native cryptocurrency, $SWDTKN, can be used to unlock premium content.
The token is currently available for presale at discounted prices, offering an opportunity for early investors and gamers to get on board.
As the gaming industry continues to evolve, Swords of Blood is looking to lead the charge, offering a fresh and engaging gaming experience that blends the best of traditional and crypto gaming.
---