9 Best Crypto Auto Trading Platforms Reviewed for 2023
Disclosure: Crypto is a high-risk asset class. This article is provided for informational purposes and does not constitute investment advice. By using this website, you agree to our terms and conditions. We may utilise affiliate links within our content, and receive commission.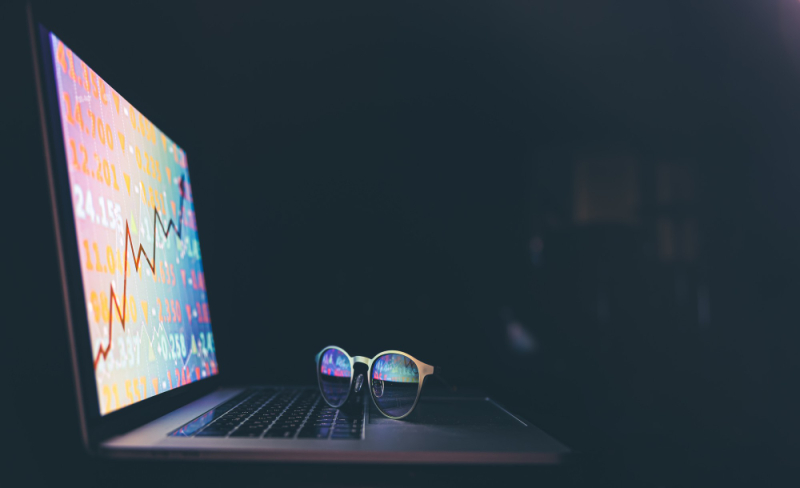 Disclaimer: The Industry Talk section features insights from crypto industry players and is not a part of the editorial content of Cryptonews.com.
Investors looking to shorten the learning curve often consider automated trading strategies. That is to say, it's possible to avoid hours of research by allowing artificial intelligence software to scan the markets 24/7. 
With this in mind, today's guide will include the 9 best crypto auto trading platforms reviewed for 2023. 
Best Cryptocurrency Auto Trading Platforms for 2023 List
Below is a quick rundown of the best crypto auto trading platforms. 
We've included a short description of each, to give investors an idea of what this market has to offer.
Dash 2 Trade – Top Crypto Analytics and Signals Terminal
Learn 2 Trade – Automated Trading Platform Integrated with Leading Exchanges
eToro – Online Broker With Automated Copy Trading and Smart Portfolios
CryptoSignals.org –  Range of Cloud-Based VIP Crypto Signals
CoinRule – Smart Automated Assistance Service Partnered With Major Exchanges
Trality – Automated Crypto Investing With Creator Tools
WunderTrading – Autonomous Crypto Bots Provider Based on TradingView Alerts
HaasOnline – Recreate Multiple Automated Trading Strategies for Free
3Commas – Automated Bots and Social Trading Platform
Reviewing the Best Crypto Auto Trading Platforms 
Most investors are searching for the cryptocurrencies with the highest upside – which is no easy feat. This is where crypto auto trading comes in.
That is to say, instead of scanning and researching the markets using a plethora of technical tools and indicators, investors can sign up with an auto trading platform.
The best crypto auto trading platforms are reviewed in the sections below.  
1. Dash 2 Trade – Top Crypto Analytics and Signals Terminal
The Dash 2 Trade terminal was created to help investors pin down the next cryptocurrencies to explode. One of the ways the platform achieves this is by using a range of different automated tools and market data. Additionally, a team of pros in the field carries out manual in-depth analysis, where automation alone isn't deemed to be thorough enough.
The platform's native currency, D2T, is already among the best crypto to buy. In addition to being able to use this cryptocurrency to pay for trading signal subscriptions, D2T holders get to a range of benefits, such as being notified of new coin listings in real time.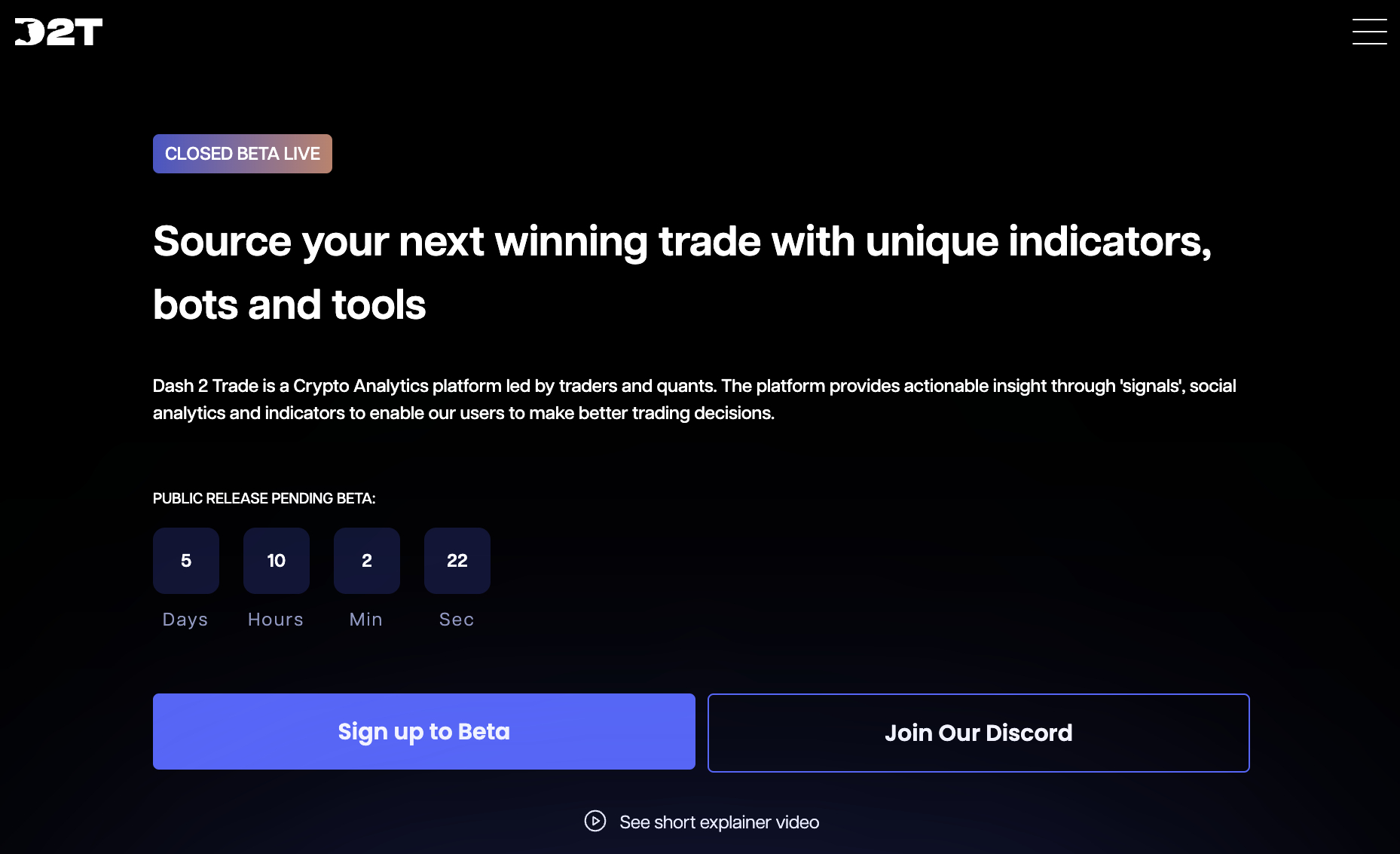 By using automated social sentiment indicators that track things like the best crypto to buy right now on Reddit, the Dash 2 Trade terminal has a better chance of finding projects to capitalize on. Furthermore, Dash 2 Trade's on-chain analysis uses advanced automated software to monitor a handful of major networks, such as Ethereum and Bitcoin, on a 24/7 basis.
When a movement is flagged that is deemed out of the ordinary, this can result in the distribution of a long or short trading signal for investors. The Dash 2 Trade terminal also enables investors to create their own trading strategies.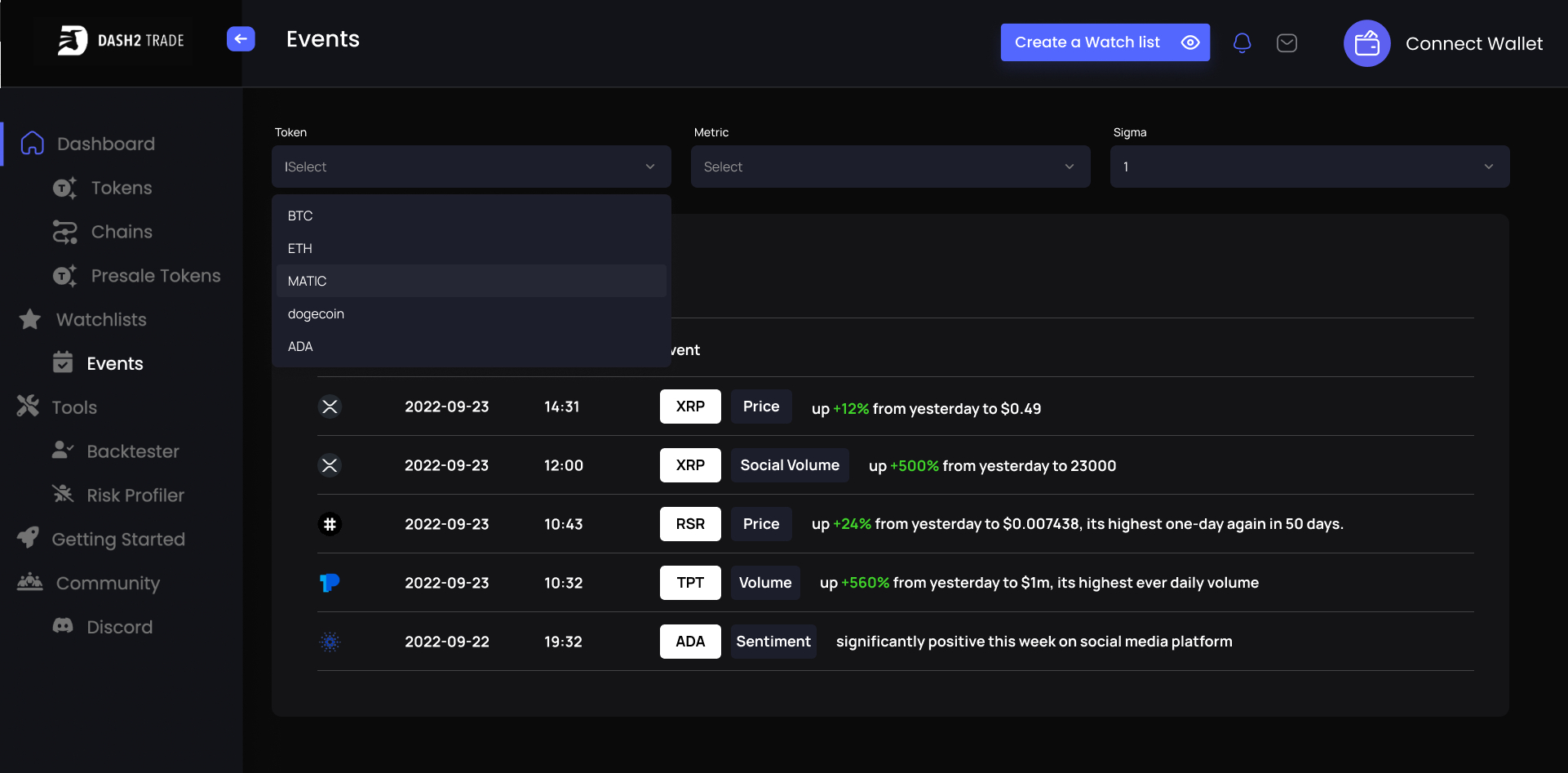 The platform includes a strategy builder which allows newbie, intermediate, and advanced investors alike to create their own plan of action using Dash 2 Trade metrics. A feature that will appeal to many traders is the ability to backtest strategies using real-time crypto market conditions.
Dash 2 Trade carries out social sentiment scanning along with on-chain analysis around the clock. The main objective is to find cryptocurrencies that are likely to blow up. As we touched on, this can include looking at social media platforms such as Reddit.
The Dash 2 Trade platform will also incorporate a social trading ecosystem. This type of platform enables investors to enter discussions with like-minded individuals within the community and pick up trading tips. The platforms public release is coming on May 24th, 2023.
2. Learn 2 Trade – Automated Trading Platform Integrated with Leading Exchanges
Those who want to make the most profits out of the current volatile conditions must react quickly – and that's the facility that Learn 2 Trade offers. Learn 2 Trade is an automated trading platform/crypto signals provider that helps traders pin down conducive market conditions and execute profitable trades without any manual input.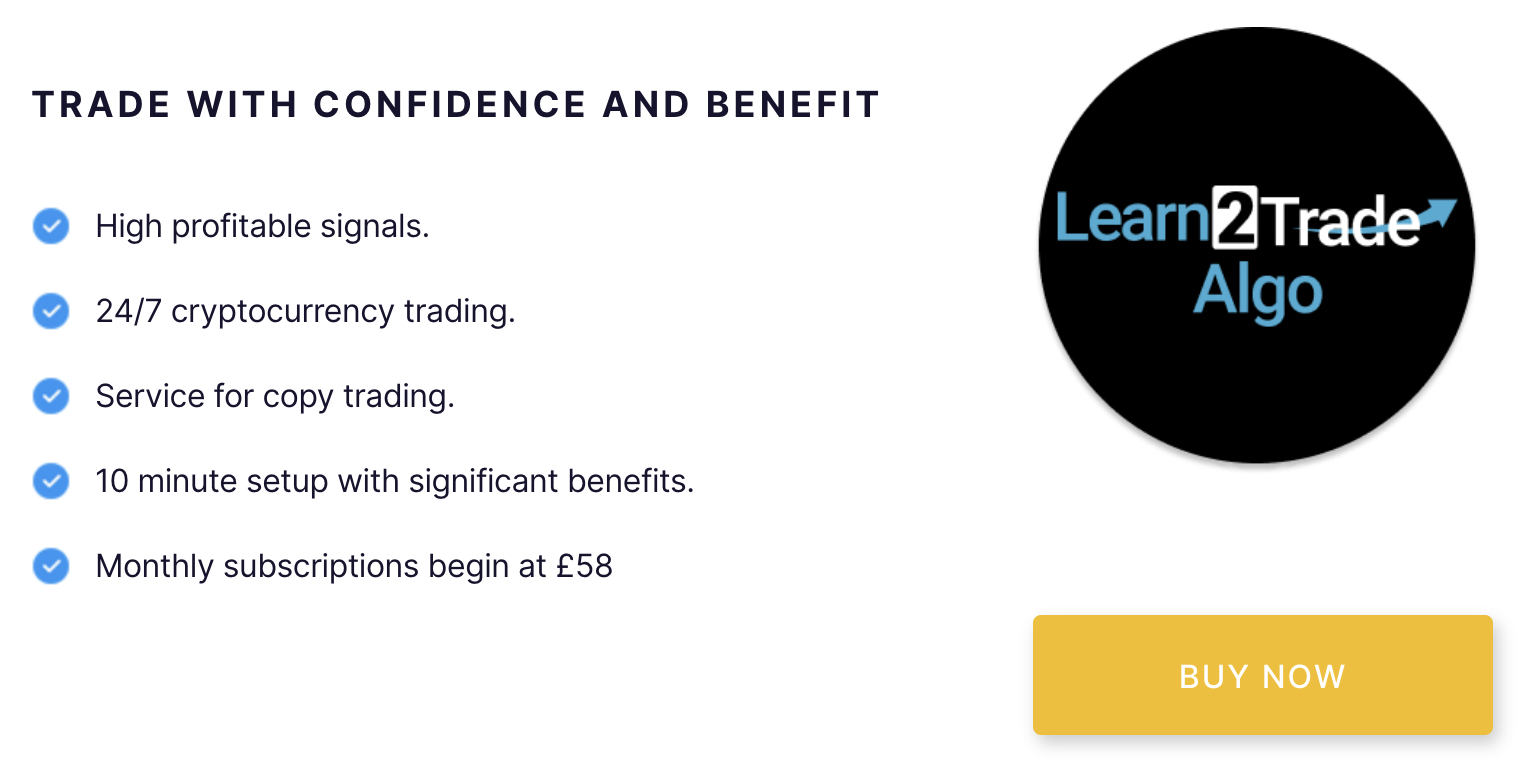 Learn 2 Trade is a trading community of over 75000 traders, many of whom have pooled their trading expertise, and in conjunction with the latest technologies, has created an automated trading system that allows users to generate profitable trades under volatile market conditions. 
That combined experience allows Learn 2 Trade to identify day-trading positions that can be closed within a few hours. Users can access this trading facility by buying a subscription that starts at £58. That gives users access to almost 40 trades a month with a 79% win rate. 
Learn 2 Trade is also compatible with leading cryptocurrency exchanges, such as Binance and Bybit. But in order to access the automated trading facilities, users must create a Cornix account. 
Since Learn 2 Trade is a  trading community, trading signals are also available through copy trading. It allows users to reach out to and copy the trading strategies of leading traders active on the platform in return for a subscription fee. 
3. eToro – Online Broker With Automated Copy Trading and Smart Portfolios
Top social investing brokerage eToro is one of the best crypto auto trading platforms for Copy Trading. That is to say, the broker pioneered this automated way of buying and selling digital assets. Using eToro's patented CopyTrader technology, investors can mimic the positions of others autonomously.
eToro's popular investor program has more than 2,500 participants. These are individual traders who have been vetted based on their expertise, prior experience, and potential to contribute positively to eToro's automated investing community.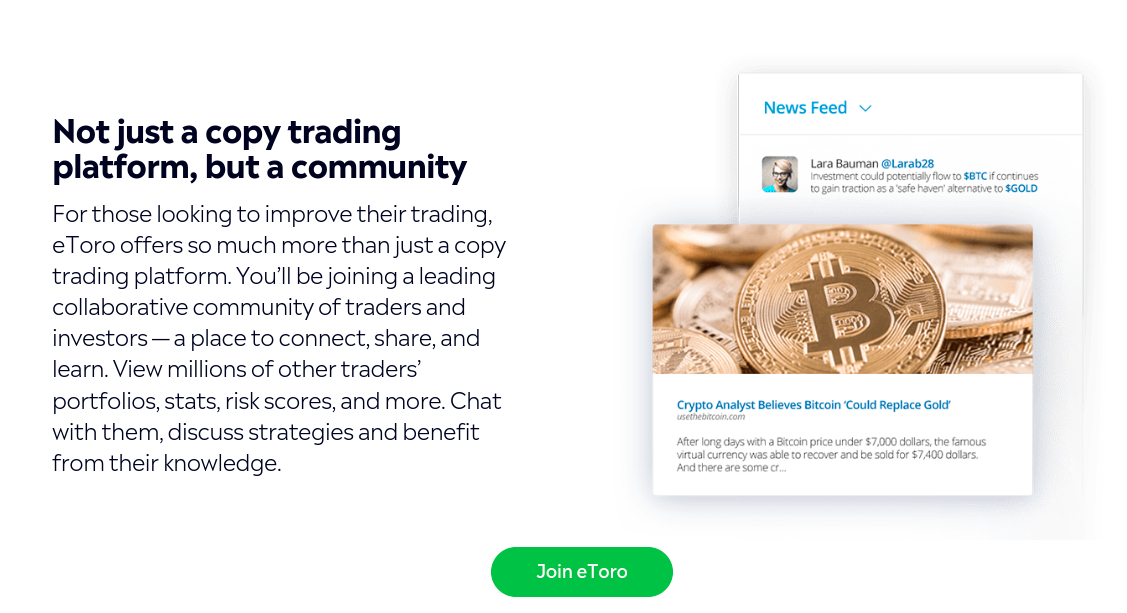 When an investor allocates $200 or more to Copy Trading, they will begin to automatically mimic the exact same buy and sell orders, only in proportion to the funds they have invested. Choosing the individual to copy is as simple as checking the range of data provided, and then picking one that will align with the investor's goals.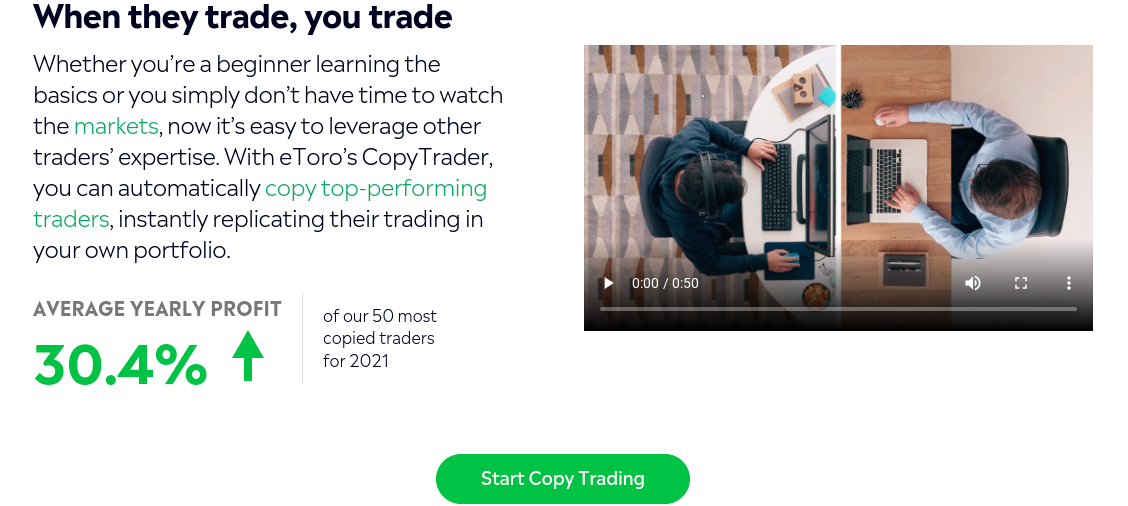 Metrics include risk score, asset preferences, investment length, strategies, and success rate. Investors can also opt to partake in crypto automated trading via Smart Portfolios. In this scenario, the investor can choose between a range of crypto-centric portfolios and invest $500 or more to copy the basket of assets across to their own account.
As with Copy Trading, all gains and losses are also represented in the investor's portfolio, in proportionate amounts depending on the fund allocation to start with. eToro also lists stocks, indices, ETFs, forex, and commodities.
The platform accepts a diverse range of payment methods to start automated cryptocurrency trading. Investors can find a more thorough review of eToro here.
4. Cryptosignals.org – Range of Cloud-Based VIP Crypto Signals
Cryptosignals.org offers automated trading signals for Bitcoin, Ethereum, Cardano, Binance, Polkadot, Chainlink, Ripple, and more. As such, this platform offers semi-automated crypto trading. This is because, the signals are sent automatically using sophisticated AI/machine learning technology, and technical analysis.
All the investor has to do is place the order at a crypto brokerage or exchange. All VIP packages include the same signals, but the price varies depending on the plan chosen. Each Cryptosignals.org plan includes 2-3 signals per day, entry, stop-loss, and take-profit values, risk-to-reward ratio, and the amount to allocate per trade.
The success rate of these signals is 82% according to the Cryptosignals.org platform. The most popular plan sees crypto auto traders paying £78 for signals on a quarterly basis. There is also the option to pay £42 monthly, £114 twice a year, or £210 annually.
As such, investors who opt for the annual plan instead of paying twice per year will save almost 33%. The saving when compared with paying monthly is over 58%. Cryptosignals.org offers one of the best crypto signals Telegram groups at no cost too.
The provider sends 3 VIP signals a week to the free Telegram channel. Each signal includes a technical analysis and a basic guide on how to place an order at the brokerage.
5. CoinRule – Smart Automated Assistance Service Partnered With Major Exchanges
According to CoinRule, a group of blockchain and cryptocurrency aficionados created the platform to make trading less complicated. 10 exchanges and 81 coins are supported by CoinRule.
Coinrule primarily offers crypto trading bots. The provider also enables investors to create, test, and use custom trading rules and strategies. Additionally, investors can easily employ backtested trading techniques that are already in use by other members of the CoinRule community.
The CoinRule crypto auto trading bots work 24/7, even when investors cannot be present. This is because they buy and sell assets in accordance with the guidelines initially outlined to try to capitalize on profitable opportunities.
More than 150 pre-set trading strategies are available at CoinRule. Each is centered on a particular theme such as money management, return maximization, and opening long or short positions. Many of these strategies are based on well-known indicators.
When the investor chooses a plan and signs up, the crypto auto trading bot immediately starts looking for price activity that complies with their rules. CoinRule bots then initiate orders in accordance with those findings.
6. Trality – Automated Crypto Investing With Creator Tools
Trality ranks among the best crypto auto trading platforms for flexibility. The AI bots in the Trality marketplace can be used by absolute beginners as well as those with years of experience. The marketplace features a range of bots that investors are able to rent, allowing creators to make money.
By mirroring crypto trading bots without having to write complex algorithms, investors can tap into the power of years of expertise. It's also possible to utilize creator tools and design a bot from scratch. As such, experts in Python programming can produce market-beating trading bots, win over devoted followers, and generate cash by renting them out.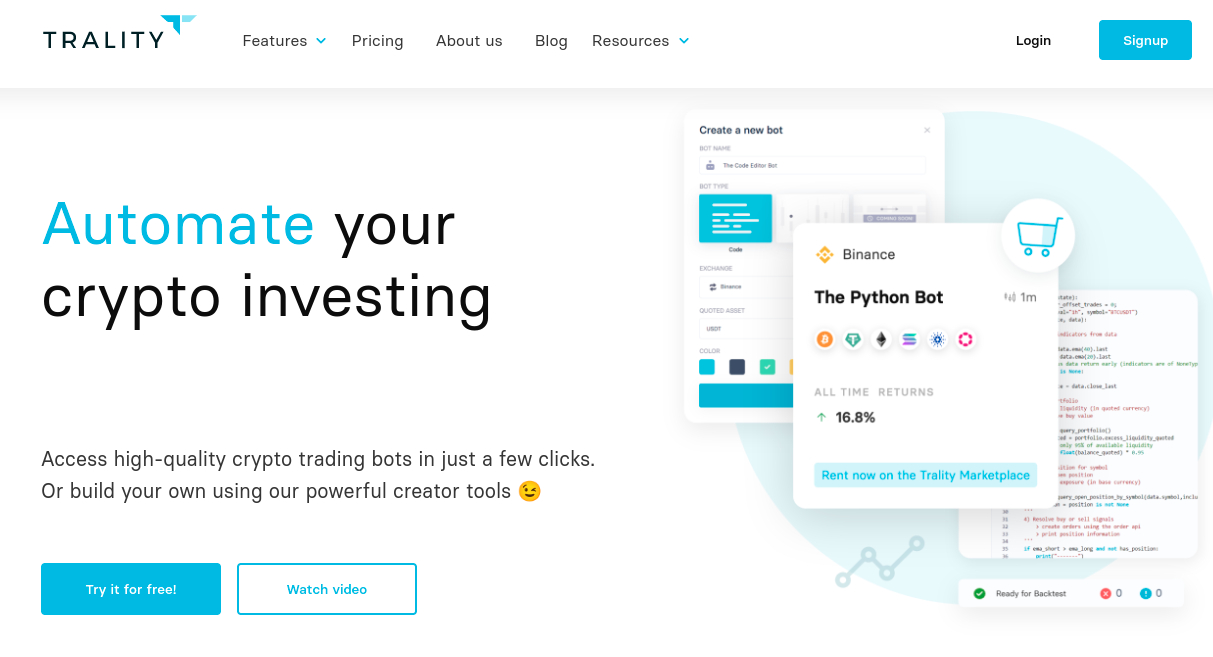 All strategies are rigorously screened by Trality. This form of copy bot trading enables creators and investors to collaborate, with the common goal of optimizing their profitability. Some of the large exchanges that are compatible with this automated crypto trading platform are Binance, Kraken, and FTX, but there are more.
Trality's automated crypto trading app also enables investors to access their accounts on the go. There are four plans to choose from. Prices are €0, €9.99, €39.99, and €59.99. Each plan includes a different trading volume, tick interval, log retention, and number of bots.
All of Trality's automated crypto trading plans have two things in common. That is – they include unlimited backtesting and one rented bot.
7. WunderTrading – Autonomous Crypto Bots Provider Based on TradingView Alerts
WunderTrading is one of the best automated crypto trading platforms for fans of TradingView. WunderTrading programs TradingView scripts to create fully functional auto cryptocurrency trading bots. 
More experienced investors can build and modify any crypto bot in a matter of seconds with WunderTrading's software.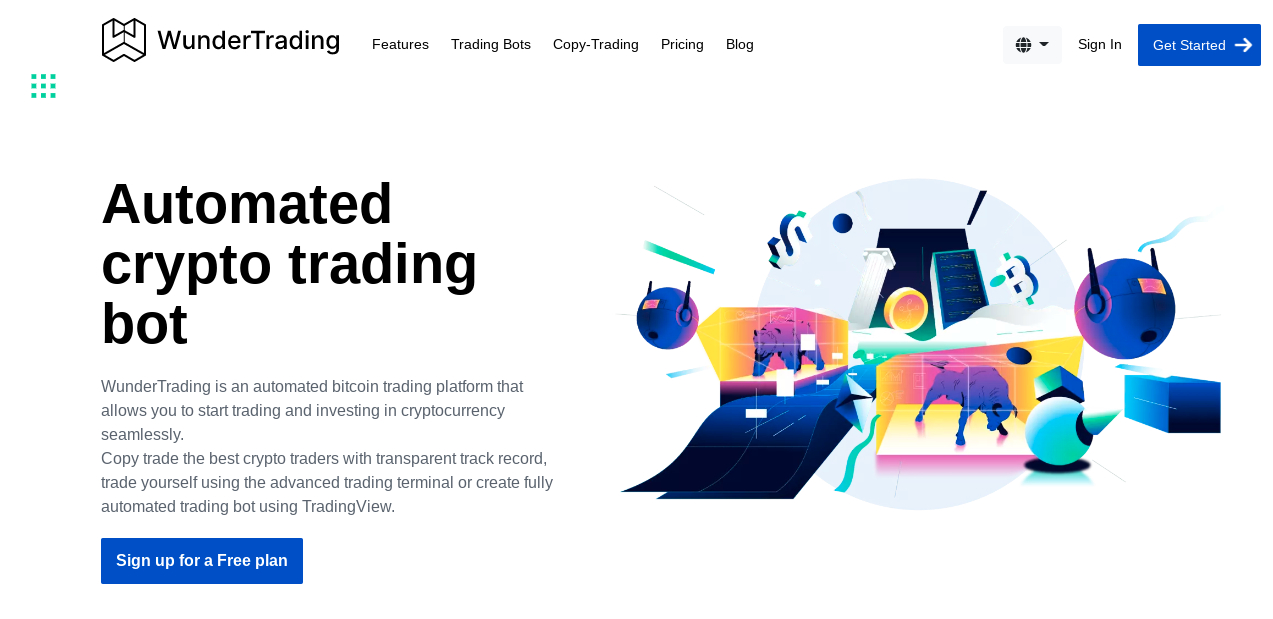 There is a number of top exchanges linked to WunderTrading. As such, cryptocurrency bots can be configured with the likes of Binance and Coinbase. As well as bots, the provider offers crypto charts, social trading features, and signals.
Investors can choose and copy automated crypto trading signals using WunderTrading's cutting-edge AI software. The platform offers DCA, crypto portfolio trackers, Bitcoin-specific arbitrage, futures spread trading, and more. Monthly payments range between free and $44.95. The latter comes with unlimited features.
8. HaasOnline – Recreate Multiple Automated Trading Strategies for Free
HaasOnline aims to provide investors with the tools they need to gain an edge over the markets. This can be attempted with either pre-built or carefully crafted crypto bots. This platform has its own sophisticated crypto programming language called HaasScript.
This means that capable investors can develop intricate automated trading algorithms and technical indicators. The platform also allows investors to generate and decipher signals and much more with HaasScript. Although, this is possibly better suited to more experienced investors.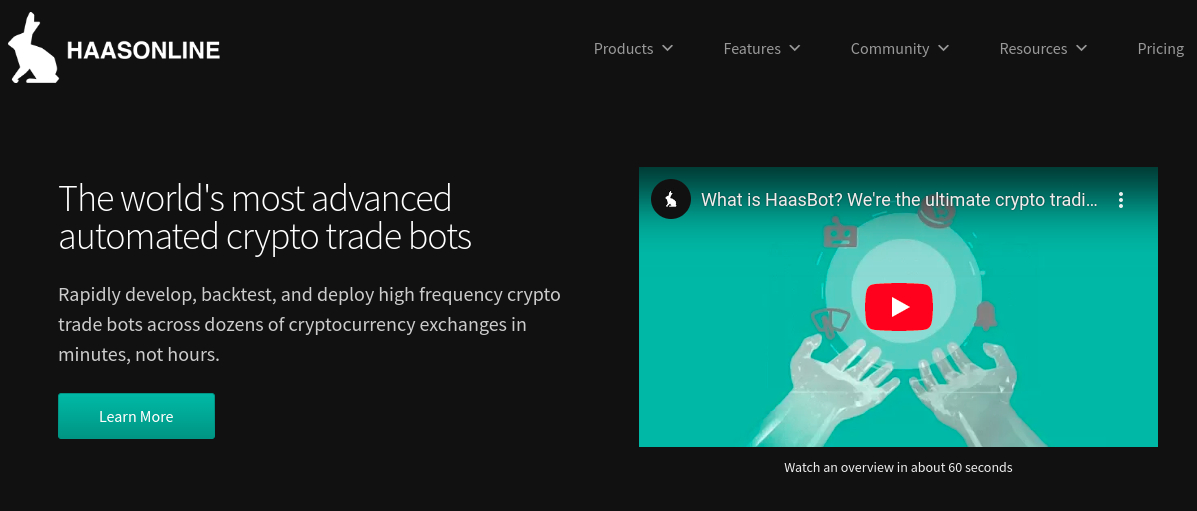 HaasScript has around 600 commands as of the time of writing, as well as quick development and sophisticated functionality. Investors can utilize HaasOnline's backtesting tools to reduce their exposure to unneeded risk. 
While optimizing automated trading systems, investors can also decide between close price and order book-based price algorithms. Notably, Haasbot robo plans can only be paid for in Bitcoin. At the time of writing, prices range from 0.011-0.033 BTC. This is based on investors choosing to pay a lump sum annually.
9. 3Commas – Automated Bots and Social Trading Platform
3Commas offers automated crypto bots for most market conditions. This is one of the best crypto auto trading platforms for preset trading bots that aim to reduce the learning curve for investors. The preset robots can be copied from the list of vetted and experienced traders.
The platform also offers a three-day trial as standard. The smart trading terminal at 3Commas allows investors to partake in crypto- utomated trading by presetting its parameters ahead of time using a range of triggers.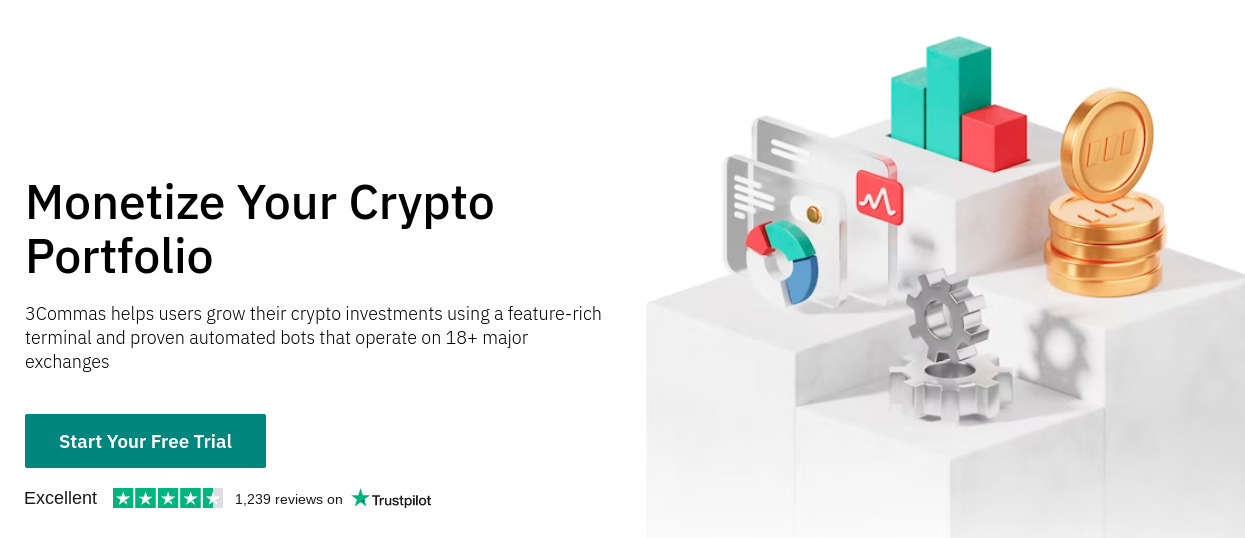 3Commas is one of the best crypto auto trading platforms for all-in-one integration. It can be linked to a range of wallets to save investors from moving crypto around. Furthermore, 3Commas bots are compatible with 18 of the world's biggest exchanges.
There are four automated trading plans at 3Commas. The first is free and includes one of each bot. This covers the following strategies; options, DCA, and GRID. This is in addition to one active smart trade, and unlimited access to the scalper terminal.
The standard monthly cost of the other three plans on offer is $29, $49, and $99. However, as is the case among most of the best crypto auto trading platforms, investors who decide to pay on a yearly basis will make a saving. 
In this case, monthly prices drop to $14.50, $24.50, and $49.50 but must be paid in a lump sum annually.
What is Crypto Auto Trading?
There are new coin listings on a regular basis, which makes it more difficult to figure out which ones might be worth investing in. 
As such, many investors dedicate some time to researching the best crypto auto trading platforms to lessen the learning curve.
Crypto auto trading was created to take the leg work out of finding the cryptos with the most potential
There are various ways to trade cryptocurrencies fully, or semi-automatically
This includes crypto bots and copying the trades of others
There are also trading signals, which remove the responsibility of monitoring the markets
The best automated crypto trading platforms use a combination of software and computer programs
They are designed to run a range of tasks without the need for human intervention
Auto crypto trader bots scan the markets using predefined rules and strategies to find the best opportunities to make gains for investors
Many automated trading systems can also place buy and sell orders on behalf of investors when triggered by the aforementioned rules. 
This is a completely hands-off way to trade, which some investors might find daunting. If this is the case, they may prefer a semi-automated strategy like crypto signals instead.
Types of Automated Crypto Trading Software
Investors often choose the best automated crypto trading platform based on the software, features, and range of tools they will have access to.
As such, we've included a brief explanation of the most common types of auto cryptocurrency trading below.
Copy Trading
A subset of social and automated trading involves mirroring the market movements of another investor. This is called copy trading. 
The concept of copy trading is quite straightforward: Select the trader to replicate, choose the investment size, and with just one click, automatically and in real-time, mirror everything they do.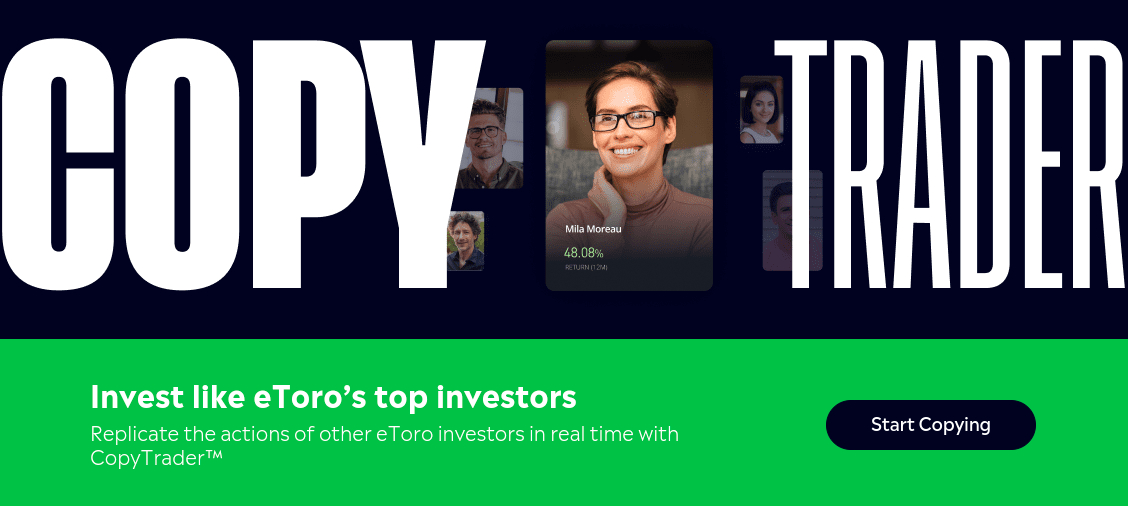 We've included an example below using eToro:
$5,000 is invested in Copy Trading at eToro
The individual being copied invests 5% of their available funds to a BTC/USD sell order
Meanwhile, another 2% is allocated to a buy order on SHIB/USD
Instantaneously, the investor will find they have two open positions within their eToro portfolio
Taking the initial investment into account, this would equate to a $250 short position on BTC/USD (5% of $5,000)
The investor would also find that they have a $100 long position on SHIB/USD in their eToro portfolio (2% of $5,000)
Let's say the Copy Trading pro closes the SHIB/USD position having made a profit of 20%
The investor will find that their position has automatically been closed in unison with the copied trader
Furthermore, their gains from this completely passive trade are $20
Some other platforms offer this type of trading system. However, the best automated crypto trading platform for Copy Trading is eToro. The minimum investment to copy another trader is $200. The platform allows investors to copy up to 100 individuals simultaneously.
As such, by allocating $1,000 an investor could create a diverse portfolio of crypto assets by allocating funds to the five individuals that most suit their goals.
Signals
The best automated crypto trading platforms offer a signals service. This is because not all investors want to allocate their funds to fully automated cryptocurrency trading that they have little control over.
Some of the best crypto auto trading platforms for signals are Dash 2 Trade and CryptoSignals.org.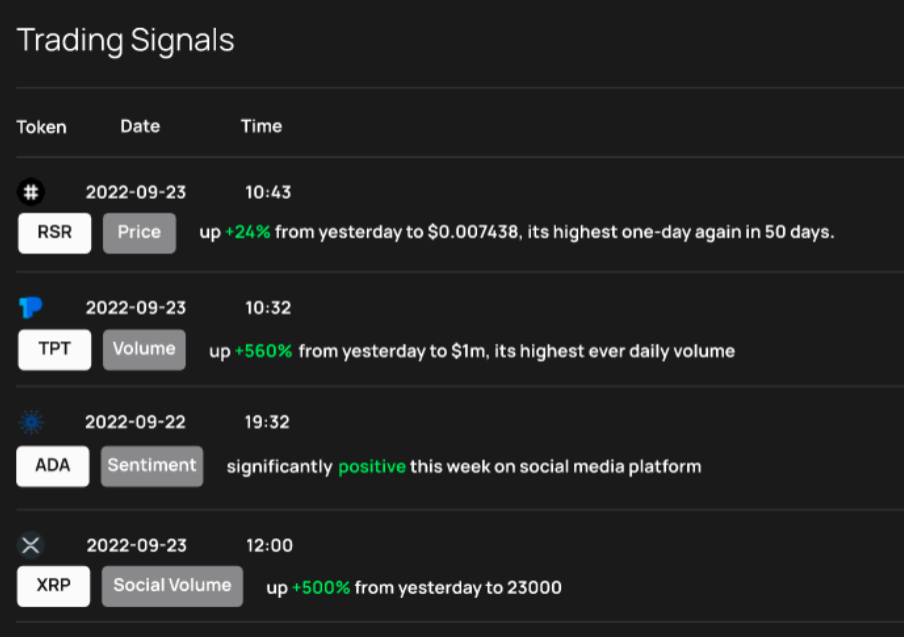 For any investors who aren't sure what signals are, they are comparable to automated tips on what position to take when investing in cryptocurrencies.
Generally speaking, the investor signs up with a signals provider, chooses a plan, and pays a monthly or annual subscription fee in return for market insight and risk management.
We've included a hypothetical example of what a Dash 2 Trade crypto signal will include below:
Pair to trade: ADA/USD
Direction (long or short): Sell
Entry Price: $0.40
Take Profit: $0.384
Stop Loss: $0.408
After receiving the notification, the investor would then make a quick decision on whether or not to place the trading order that has been suggested.
In the example given above, the signal suggests going short on ADA/USD
As such, if ADA/USD falls to $0.384, the investor has locked in a 4% profit and the position will be automatically closed
If, on the other hand, ADA/USD goes in the other direction, the position will be closed as soon as it hits $0.408
In this scenario, the investor has ensured they won't lose more than 2%
Additionally, Dash 2 Trade alerts D2T holders to the best crypto presale projects using its own scoring system based on a range of metrics. This includes tokenomics, auditing, the team who created the platform, and various other important factors.
As we touched on earlier, when the team has performed both an automated and manual audit of the projects in question, Dash 2 Trade members will also be notified of the best upcoming ICO cryptos.
Trading Bots
Those searching for the best crypto auto trading platforms will notice that many of them offer access to robots. These crypto bots are tasked with scanning the markets on a 24/7 basis.
We've touched on crypto bots throughout this guide, but see below for a recap:
Most crypto trading bots automate every aspect of investing
Some are preset, whereas others allow investors to customize the rules, strategies, or triggers
Bots analyze market data around the clock looking for opportunities
This involves gathering information from many sources, storing it, and then analyzing it
After that, the machine will select whether to buy or sell a particular digital currency
Some bots utilize market data to estimate the market's potential risk
The bot will select how much to invest or trade based on the facts
Some software strategically buys or sells the cryptocurrency asset using APIs
Other bot providers integrate with exchanges to place automated orders that way
Cryptocurrency trading bots, while imperfect, can help investors who lack the time needed to monitor market activity around the clock.
Is Crypto Auto Trading Profitable?
As we've mentioned, it's no easy task to find the best future cryptocurrency projects to invest in, which is why many turn to automated software. Many platforms will publish their success rate, and in some cases, they will back this up with evidence.
That said, investors should still proceed with caution when putting their funds into automated crypto trading. The fact is, the investor will have to hand money over to a provider and then walk away trusting that their software will deliver.
With this in mind, investors must consider their tolerance to risk and how much they are comfortable with potentially losing.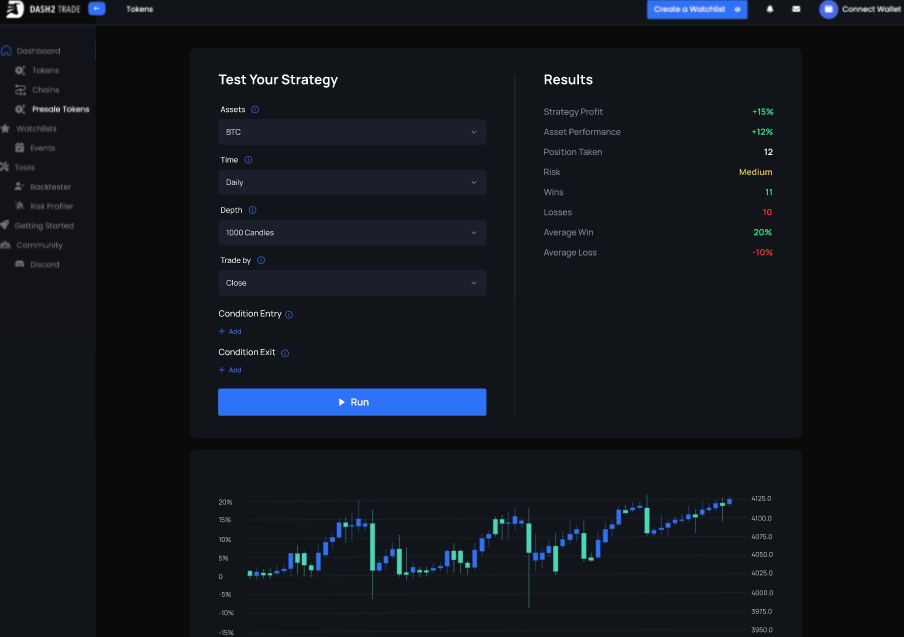 There are no guarantees with semi-automated trading either. That said, some investors prefer to semi-auto trade cryptocurrency so that they are able to make the final decision on where their funds go. In this respect, signals offer investors some middle ground.
This is because the tracking down of opportunities to capitalize on is completely automated and passive. On the other hand, the investor can make the final decision on whether they want to take that risk. 
By choosing a platform like Dash 2 Trade, investors can go the extra mile and take their strategies for a test drive in conditions that minimize those of the real crypto markets.
Conclusion
This guide has covered our expert analysis of the best crypto auto trading platforms. To offer investors the full scope of what's out there, we've covered platforms that offer fully automated bots, as well as those with semi-passive signals.
We like Dash 2 Trade. The platform offers crypto signals and invaluable on-chain analytics, as well as strategies that can be used with automated and manual systems. D2T token holders receive information on ICOs and presales with upside potential and much more.   
FAQs
Can you auto trade crypto?
Yes. Cryptocurrencies can be traded automatically using a number of different strategies. This includes robots that utilize AI to identify and make sense of market data and then place buy and sell orders. Some investors prefer to copy other traders, which entails allocating funds and automatically mirroring their crypto activities. A semi-automated way to trade crypto assets is by getting signals that include tips on entry, direction, stop-loss, and take-profit values. This option is offered by the leading crypto analytics platform Dash 2 Trade. 
What is the best automated crypto trading platform?
The best automated crypto trading platform for those who still want to make the final choice when investing is Dash 2 Trade. This is because the platform sends out signals based on automated trading bots that scan the markets. The investor then places the order themselves at a reputable brokerage. Other noteworthy platforms are eToro, which offers Copy Trading and Smart Portfolios.
Does Coinbase have auto trading?
Coinbase allows investors to set up automated crypto trading. This is achieved by entering the position size and the frequency at which the order should be repeated. For instance, daily, weekly, or monthly. However, this is more of a dollar-cost averaging tool that fully automated trading. Some automated crypto trading platforms are compatible with Coinbase Pro too, which means bots can be linked to the exchange to carry out buy and sell orders.
 
---