Best Beginner Crypto to Buy 2023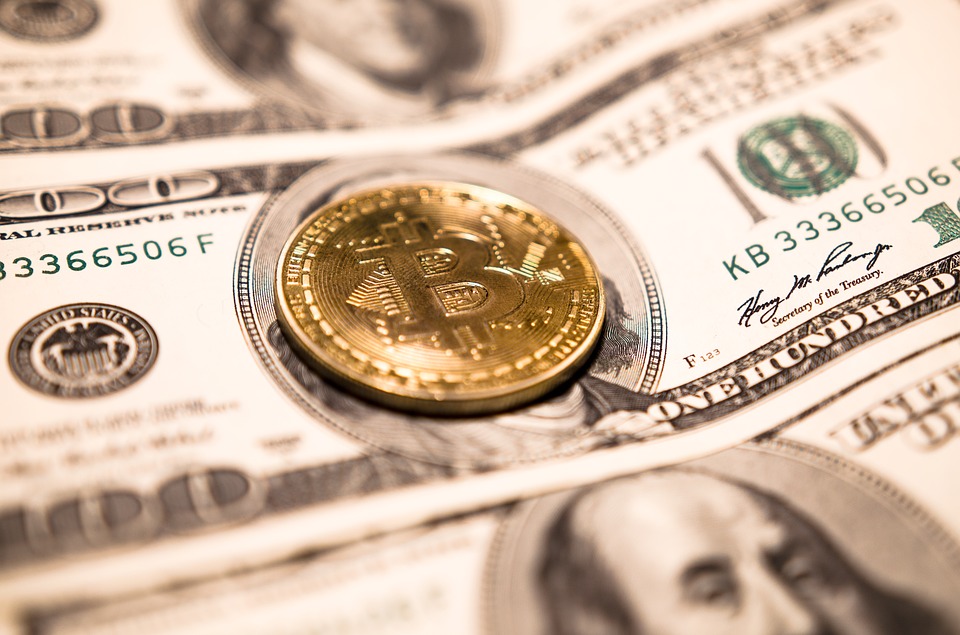 Disclaimer: The Industry Talk section features insights by crypto industry players and is not a part of the editorial content of Cryptonews.com.
Getting started with cryptocurrency is easier than ever thanks to the growth of crypto exchanges and other on-ramps. However, choosing what tokens to buy as a crypto beginner can still feel daunting.
In this guide, we'll highlight the best beginner crypto coins to buy in 2023 and help investors start building a beginner crypto portfolio.
The Best Beginner Cryptos to Invest in 2023
We've explored hundreds of crypto projects to bring new investors the top beginner cryptos to buy today:
Wall Street Memes - This new meme token is offering 100% of the token supply for the community to hold. With over 1 million followers, Wall Street Memes has already generated over $30 million through the presale with T1 exchange listing to follow.
Bitcoin BSC - This BTC replica stems from the high power BNB Smart Chain with 274% staking yields, smart contract utility, an eco friendly design, and a presale raise of $2 million in just 10 days.
Launchpad XYZ - Platform designed to simplify investment in the Web 3.0 sector for beginners by providing reliable data, analytics, and a valuable alert system.
yPredict - Beginner-friendly crypto that harnesses the power of artificial intelligence for data analysis, helping traders make informed decisions.
Anarchy - A blockchain-based meme platform aiming to correct the imbalances in the current financial market. The project is in its first presale stage with a token price of only $0.00021.
Bitcoin - Its high trading volume makes it suitable for newcomers looking to understand the dynamics of crypto trading.
Dogecoin - Known as a meme coin, Dogecoin has a substantial following and endorsement from high-profile figures like Elon Musk.
Ethereum - It's heavily utilized for dApp transactions, and its gas fees (paid in ETH) are distributed to investors who stake ETH.
Polygon - As a leading Layer-2 network for Ethereum, Polygon enhances the Ethereum blockchain by making transactions faster and cheaper.
Decentraland - Promising metaverse crypto offering a virtual world for individuals and businesses to participate in various activities
Solana - Solana is a fast, low-cost blockchain that aims to solve Ethereum's speed and transaction cost issues.
Chainlink - Bridges real-world data into blockchains, allowing smart contracts to capture current events.
Analyzing the Best Beginner Cryptocurrency to Buy
What makes these tokens the best starter crypto coins? We'll take a closer look at each of the best beginner crypto to invest in today.
1. Wall Street Memes - Top Meme and Community-Driven Beginner Cryptocurrency With 1M Social Presence
If you are looking for a beginner cryptocurrency, Wall Street Memes ($WSM) is a new meme token that is available to buy for a low price on presale. The $WSM token was recently released on presale at the end of May 2023 and has already collected over $25 million.
Unlike other meme projects, Wall Street Memes has been around for a few years. In 2019, this platform launched its Twitter page and has since developed a following of more than 1 million across different online platforms. Before the release of the $WSM token, the creators of Wall Street Memes released Wall St Bulls, their legacy NFT project.
This NFT project sold out 10,000 Ethereum-based NFTs during its first collection drop in 32 minutes. Thus, the platform is now looking to achieve similar success with the $WSM token. The token will have a maximum supply of 2 billion, out of which 1 billion is being allocated for the presale.
This allows new investors to buy $WSM before the price increases after it lists on exchanges. The presale will consist of thirty rounds and will witness the $WSM price increase per each stage. During the first stage, $WSM was priced at $0.025 and is now available for $0.0337 per token in its final stage.
Once the presale ends, Wall Street Memes will look to conduct the initial exchange offering by the end of 2023. The presale hard cap target is more than $30 million and will likely be reached quite soon.
To stay tuned with the presale and new project developments, join the Wall Street Memes Telegram channel.
| | |
| --- | --- |
| Presale Started | 26 May 2023 |
| Purchase Methods | ETH, USDT, Credit Card |
| Chain | Ethereum |
| Min Investment | 100 $WSM |
| Max Investment | None |
2. Bitcoin BSC - BEP20 Token With BTC Theme Raises $2M in 10 Days and Offers 274% PoS APY
Bitcoin BSC (BTCBSC) is a BNB Smart Chain implementation of Bitcoin in 2011, offering its token for $0.99 throughout its presale, which has a hard cap just above $6 million. There are a total of 21 million tokens with 6.125 million available for purchase. Thus far, the presale has raised $2 million, 33% of its market cap, in a period of just 10 days, demonstrating the clear interest in this project.
The interest likely stems from the fact that this is a Bitcoin copy, offering the chance to invest in BTC for just $0.99, as opposed to its current trading price of about $26,000. Though this is merely a replica with no relationship or correction to Bitcoin, the opportunity is proving too good to pass up for many investors.
And the campaign has more going for it than simply being a copy of the world's most successful token. It is eco friendly, low cost, smart contract capable, and very fast. In other words, it remedies all of the defects associated with Bitcoin (network congestion, centralized mining governance, high cost, no smart contract utility) while copying its tokenomics.
This is proving to be an extremely successful proposition. Another Bitcoin clone, BTC20, demonstrated 600% returns after its presale sold out within 3 weeks.
Bitcoin BSC offers more utility in comparison, as it runs on a BNB Smart Chain engine which is more efficient than Ethereum's blockchain, not just Bitcoin's blockchain. It also allows for 274% staking rewards which is quite an incentive for the modern investor.
Before investment, it is good to take note that this is a Bitcoin copy and prices can go in either direction.
The project socials - Twitter and Telegram - should be connected with and the whitepaper thoroughly investigated to understand all the nuances of this BNB Smart Chain token.
| | |
| --- | --- |
| Presale Started | 5 September 2023 |
| Purchase Methods | ETH, USDT, BNB, Credit Card |
| Chain | BNB Smart Chain |
| Min Investment | $10 |
| Max Investment | None |
3. Launchpad XYZ - Crypto Analytics Platform With Real-time Updates for Well-informed Decisions
Launchpad XYZ is a newly introduced beginner crypto platform designed to aid users in navigating the fast-evolving Web 3.0 sector. The platform's intuitive interface provides ready access to insights, such as overall market sentiment towards cryptos and other social data, to make well-informed decisions.
Currently, a single LPX token is valued at nearly $0.0445 USDT. With a listing price of $0.07 USDT, investors can experience swift returns in the coming months.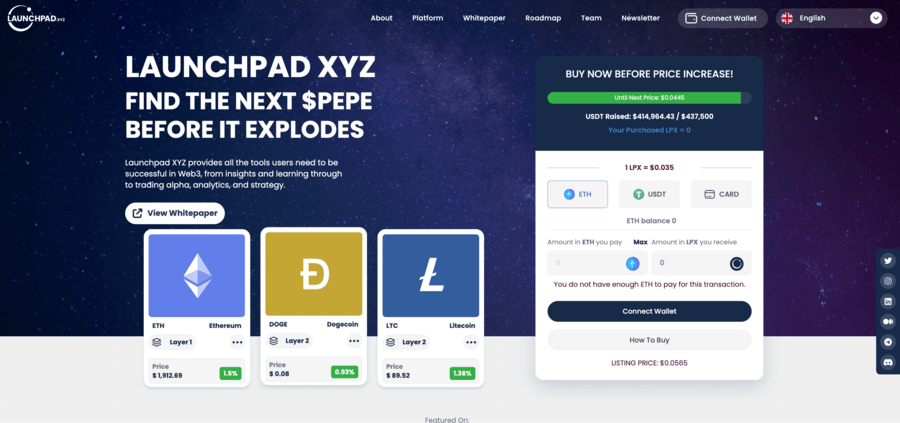 Launchpad XYZ simplifies the process of investing in Web 3.0 enterprises by providing reliable data, analytics, and market sentiment, catering to both novices and seasoned investors. The platform recommends that users base their trading decisions on their analysis rather than external advice.
For example, the platform's notification system, which is a significant resource, keeps investors informed about imminent crypto presales, NFT debuts, P2E game releases, and key project updates.
Before being available on exchanges, users could buy $LPX on the platform at a discounted rate. Although presale crypto investments carry certain risks, projects like Tamadoge have shown significant growth potential.
According to the Launchpad XYZ whitepaper, the project is advancing towards becoming a Web 3.0 company ecosystem hub by developing a decentralized exchange (DEX), enabling seamless in-platform transactions.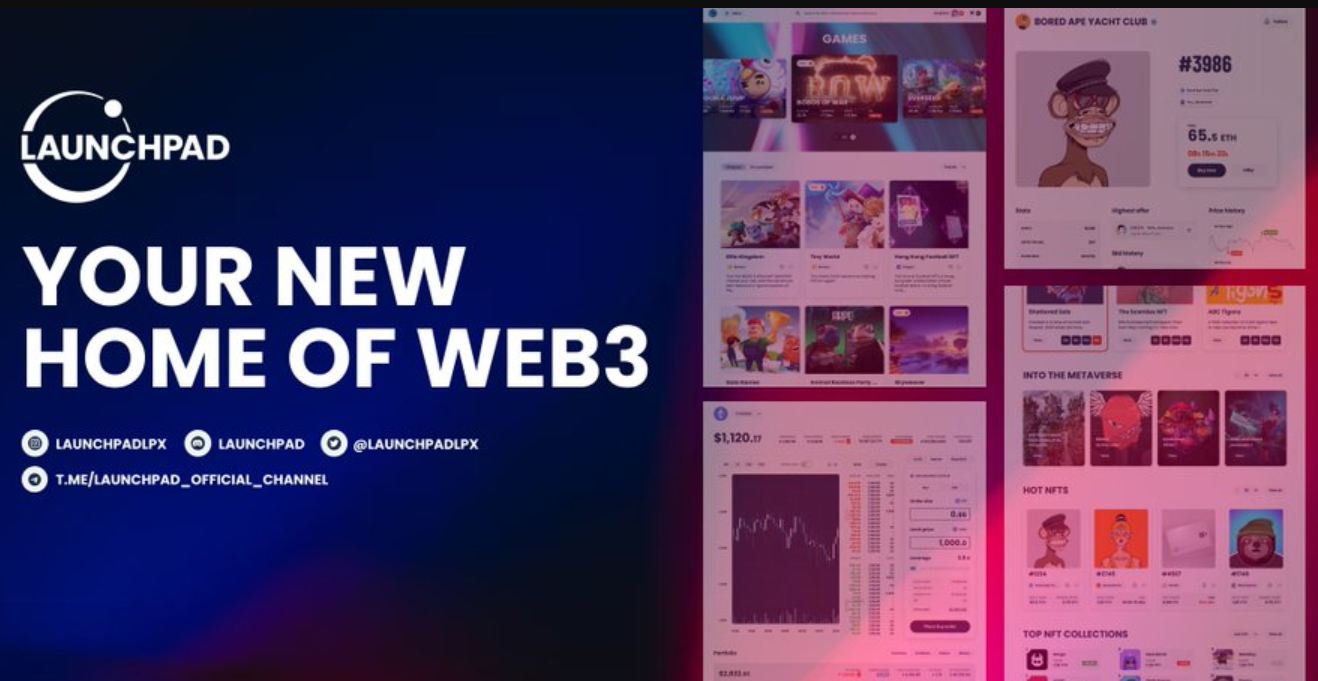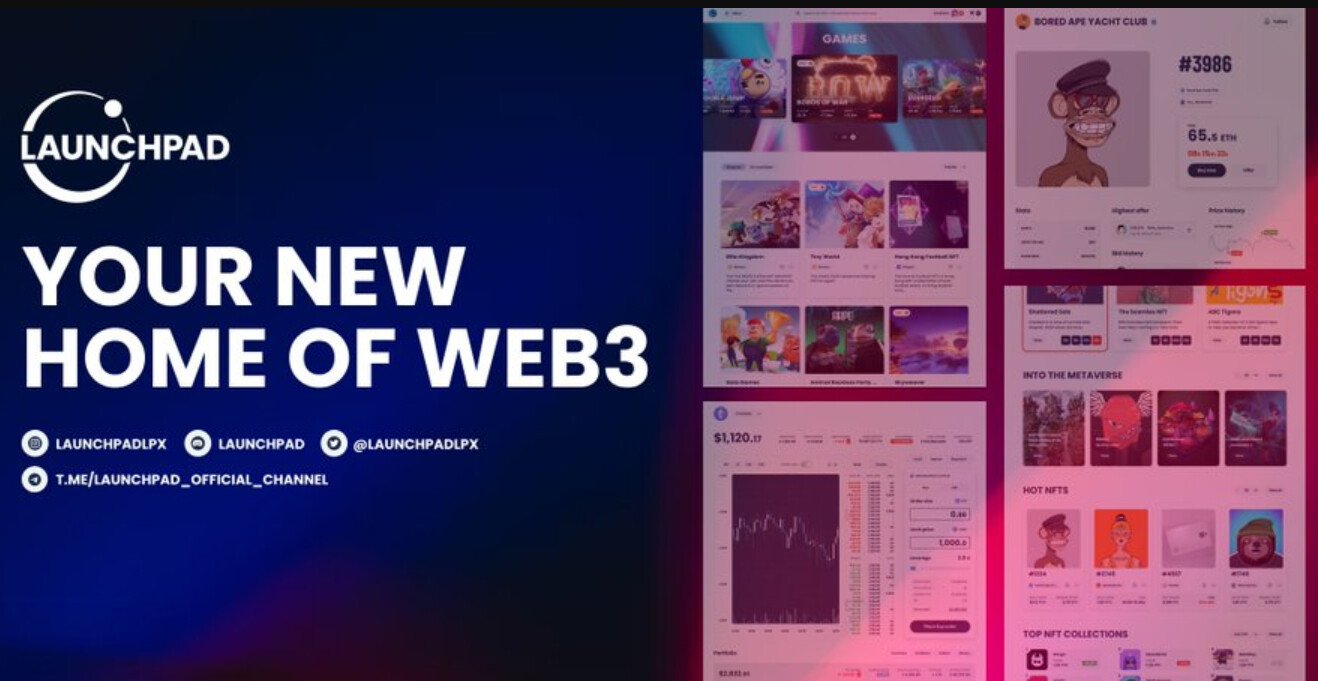 Within Launchpad XYZ, the native LPX token serves multiple roles. Users who stake at least 10,000 LPX tokens are entitled to early access to beta versions of leading P2P games and discounts on goods and services that Launchpad XYZ partners provide.
By staking a minimum of 10,000 LPX for a period of 90 days, users can unlock these exclusive features, which underlines the token's usefulness. The utility tokens' metrics cover liquidity, expert viewpoints, tailored indicators, and arbitrage opportunities.
To receive the latest updates, users can enter the Launchpad XYZ Telegram community.
| | |
| --- | --- |
| Presale Started | 25 April 2023 |
| Purchase Methods | ETH, USDT, Credit Card |
| Chain | Ethereum |
| Min Investment | 100 LPX |
| Max Investment | None |
4. yPredict - Empowering Traders with AI and Predictive Models
yPredict is an upcoming beginner crypto that offers traders an advantage by employing artificial intelligence to analyze vast amounts of data, helping them make educated investment decisions. Following the presale, a listing on BitMart is confirmed, giving early buyers a promising upside potential. The value of yPredict ($YPRED) will substantially rise from the current value of $0.01 to $0.12 USDT at the time of listing.
With a cap of 1 billion tokens, presale participants can secure up to 80% of the total token supply. At the conclusion of the event, presale buyers will receive half of their TGE tokens, with the TGE reaching its hard cap at $6.5 million.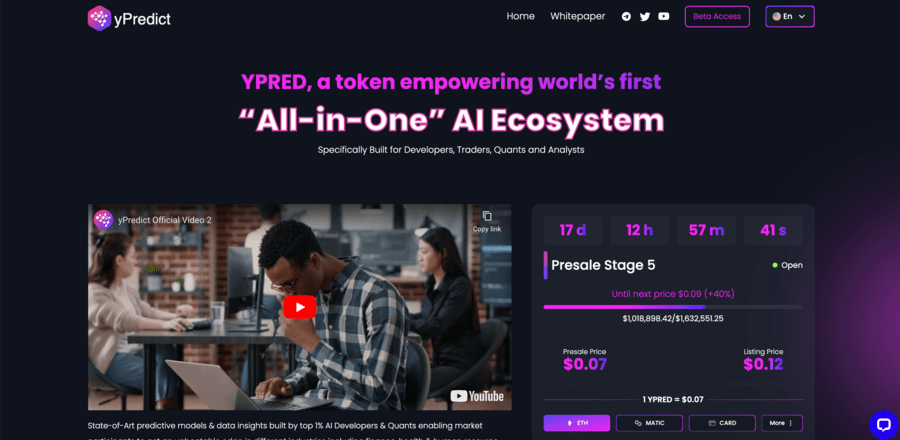 The yPredict protocol results from a collaboration between AI and machine learning experts, quantitative analysts, and financial traders. yPredict employs AI to build internal predictive models and marketplaces, granting traders increased market visibility and enabling them to make superior decisions. Consequently, traders gain a statistical edge and can better mitigate the effects of market fluctuations.
The yPredict whitepaper outlines additional capabilities, such as pattern identification, sentiment analysis, indicator appraisal, and transaction analysis. Moreover, the platform offers a marketplace where AI and machine learning professionals can trade and sell their predictive models.


The platform's native token, $YPRED, plays several roles, providing access to three tiers of platform features (free, active, and pro). It also serves as compensation for developers who promote specific models.
Coinsult evaluated the yPredict token's smart contract to ensure transparency and authenticity. The token was developed by a KYC-verified team on the Polygon blockchain, known for its speed and scalability.
For further information about the system, the yPredict Telegram community is a valuable resource.
| | |
| --- | --- |
| Presale Started | Q1 2023 |
| Purchase Methods | MATIC, ETH, USDT, BNB, Credit Card |
| Chain | Polygon |
| Min Investment | 200 YPRED |
| Max Investment | None |
5. Anarchy - Best Beginner Cryptocurrency With a Goal to Strike Down the Unjust Financial System
Anarchy is a brand-new cryptocurrency project set out to challenge the unfairness of the current financial system. Inspired by meme cryptos like Dogecoin, Anarchy uses memes to ridicule corrupt financial institutions and governments, intending to bring the power back where it belongs — in the hands of ordinary people.
The platform's mission statement outlines the many systemic problems the "little guy" has to deal with, from the financial crisis of 2008 to the enormous inflation rates of 2021 and 2022. Its goal is to provide an alternative to inadequate governments filled with corrupt individuals who don't know how to manage the system for the benefit of everyone.

Built on the Ethereum blockchain, this rebellious project uses decentralized autonomous organization (DAO) to create a truly democratic governance model. With every transaction of its native token, $ANA, 4.5% goes to the DAO wallet. The community then gets an opportunity to decide where the funds will be allocated each month, giving holders a sense of ownership and control and making $ANA one of the best beginner cryptos to buy this year.
What's more, Anarchy is also deflationary, with 0.5% of every transaction burned for good. This slowly decreases the supply of $ANA tokens over time, increasing their value. The project has a total supply of 69,420,000,000, 80% of which are available for pre-sale and 20% designated to maintain the token's liquidity.
If you want to get in on the action and fight the system with Anarchy, you can now buy the $ANA token for a discounted price. In its first presale stage, the $ANA token is currently priced at only $0.00021, the lowest it will ever be. To learn more about the project's development, follow Anarchy on Twitter and Telegram.
| | |
| --- | --- |
| Presale Started | June 2023 |
| Purchase Methods | ETH, USDT, BNB, cards |
| Chain | Ethereum |
| Min Investment | N/A |
| Max Investment | N/A |
6. Bitcoin - The Cryptocurrency Market Leader
We'd be crazy not to include Bitcoin on our list of the best starter crypto tokens. After all, it's the token that started it all - and remains the largest cryptocurrency by market cap by a wide margin.
Traders and investors can buy Bitcoin at virtually every crypto exchange and a growing number of traditional brokerage firms. That's important because it means that investors who just want to dip their toes into cryptocurrency can buy Bitcoin. They don't need to understand crypto presales or wallets, and they may not even need to open a crypto exchange account.
Bitcoin can be a foundational token in a beginner crypto portfolio or an alternative investment in a traditional portfolio of stocks, bonds, and ETFs. Its volatility and high volume make it suitable for beginner crypto trading.
Plus, Bitcoin is widely accepted for payments, so investors can even treat Bitcoin like digital cash. This is a great way for crypto beginners to get a handle on how crypto transactions work and better understand the Web3 economy.
7. Dogecoin - Ultra-popular Meme Coin with Growing Utility
Dogecoin is one of the most popular meme coins in the cryptocurrency world. The coin has earned an extremely strong and loyal following, including celebrity backers like Elon Musk.
Dogecoin has a lot in common with Bitcoin. In fact, it's based on the same underlying code. The main difference is that there is no cap to how many DOGE tokens can be mined, which dramatically reduces the computing power needed to process transactions on the Dogecoin blockchain.
That distinction has made Dogecoin an increasingly popular choice for payments. Many online platforms, including crypto gambling sites, now accept Dogecoin alongside Bitcoin and other top altcoins. Dogecoin payments are fast, cheap, and simple.
Crypto beginners should keep in mind that Dogecoin's price can be highly volatile, even by the standards of cryptocurrency. However, many crypto analysts think the price of DOGE could rise sharply as we emerge from the crypto winter. So, it's worth considering as a token to include in a beginner crypto portfolio.
8. Ethereum - Heavily Used Blockchain with Tons of Development Potential
Ethereum is the second-largest cryptocurrency by market cap and could be one of the best starter cryptocurrency tokens for beginners.
Any transactions that occur on the Ethereum blockchain require paying gas fees in ETH. These gas fees are then distributed to investors who stake ETH to the blockchain as rewards for their role in validating transactions.
This process of staking ETH and earning rewards is important for investors. Anyone who owns Ethereum can join a staking pool and begin earning crypto interest on their tokens. In fact, many major exchanges offer programs for Ethereum staking, sometimes with interest rates above 4% APY.
Over the long-run, the price of ETH could rise significantly. Ethereum is extremely popular among developers and it is home to many of the world's biggest crypto projects. In addition, many new crypto projects are built on the Ethereum blockchain. These projects generate more gas fees and more demand for ETH, potentially pushing up the price of this already valuable token.
9. Polygon - Leading Layer-2 Network for Ethereum
Polygon is one of the most popular Layer-2 networks for Ethereum. A Layer-2 network operates on top of the Ethereum blockchain, making it faster and cheaper to process transactions. In effect, as the number of projects built on Ethereum grows, demand for Polygon is also expected to grow.
Polygon's native crypto token is MATIC, which is used to pay the equivalent of gas fees for using the Polygon network. Like ETH, MATIC can be staked to earn rewards for investors. So, holding MATIC tokens in a portfolio is all it takes to begin earning rewards.
Investors have many reasons to be bullish about the future of MATIC. Polygon recently announced a partnership with Meta (formerly Facebook) to allow Polygon-based NFTs to be sold on Instagram. That could be the first step in bringing Instagram's 2 billion users into the Polygon network.
Polygon has also cultivated partnerships with companies like Starbucks, Robinhood, and DraftKings. These partnerships could give it a significant headstart over competitors as more companies make the shift to Web3.
10. Decentraland - One of the Leading Metaverse Cryptocurrencies
Decentraland is one of the most promising metaverse cryptocurrencies right now. Decentraland is a virtual world where individuals and businesses can buy digital land, create play-to-earn games, shop, explore, and more. Decentraland has been home to enormous live concerts, poker tournaments, and numerous other events with hundreds of thousands of attendees.
Decentraland's native token, MANA, forms the backbone of this virtual world's economy. It's used to pay for virtual land, buy NFTs or avatar accessories, or trade for goods or services within Decentraland.
Importantly, the total supply of MANA is fixed at 2.8 billion, and a large fraction of the supply has been burned for land sales. So, as demand for MANA increases, the price of this token is also expected to go up. In other words, the more people that use Decentralanad, the more the price of MANA should rise.
Interest in metaverse worlds is growing rapidly, and the advent of better VR technology could bring more people to Decentraland. MANA is one of the best beginner tokens to hold for long-term investment.
11. Solana - Ultra-fast Blockchain Creating Competition for Ethereum
Ethereum may be the most popular blockchain among developers, but it's far from the fastest. Ethereum has long faced issues around speed and transaction cost, and alternative blockchains have been built to address those issues.
One of the leading competitors to Ethereum is Solana. This blockchain has been designed for fast and low-cost processing, making it potentially more scalable than Ethereum in a future of widespread crypto adoption.
Solana's native token, SOL, is used to pay for transactions on the Solana blockchain. SOL can be staked to the blockchain to validate transactions and generate rewards for investors. So, Solana is another beginner-friendly crypto project that offers the ability to earn passive income.
The price of SOL has dropped significantly in recent weeks due to declines in transaction volume and NFT sales on the blockchain. However, bullish investors could see this as an opportunity to buy Solana at a discount.
12. Chainlink - Crypto Infrastructure with High Potential Growth
Chainlink is far from the most exciting crypto project on this list. But it's also one of the most important.
Chainlink is what's known as a blockchain "oracle." It takes inputs from real-world data feeds - for example, the stock market or the score of a sports game - and provides a bridge to import that data into blockchains. Chainlink is essentially crypto infrastructure, allowing blockchains to know what's going on in the world beyond the transactions on the chain itself.
This bridge is incredibly important for smart contracts like those used by Ethereum and Solana. Chainlink can, for example, be used to capture current interest rates for automatic loan contracts. It can also be used to grab data about a sports match so that crypto sports bets can be paid out correctly.
Chainlink's native token, LINK, is required to pay for Chainlink data feeds. As long as there's demand for real-world data in smart contracts, there will also be demand for LINK. The total supply of LINK is capped, so increases in demand for Chainlink's services are expected to push up the price of this token.
How to Choose the Best Starter Crypto
Wondering how to choose the best beginner crypto to invest in? We'll cover some of the main factors to consider when putting together a beginner crypto portfolio.
Undervalued Prices
When thinking about the price of an individual token, it's important to think about the price relative to a token's value. Crypto tokens are said to be undervalued if the price of a token should be higher based on the coin's utility, adoption, and future growth.
It's impossible to know for sure whether a crypto token is undervalued. Investors have to think about what a cryptocurrency is "worth," which depends on a huge variety of factors and projections. It's a good idea to read up on the bull and bear cases for a crypto token to find out more about its strengths and weaknesses.
Looking at a token's price in the past can also be an indicator for relative value. During the current crypto winter, many tokens could now be considered undervalued assets since they are priced at a fraction of what they were worth during the last bull run - and could be worth again during the next bull run.
Long-term Potential
Thinking about the long-term potential of a crypto token goes hand-in-hand with thinking about whether a coin is undervalued. When thinking about the long-term, investors should consider the potential market for a crypto asset. That is, how many people might use that coin or blockchain in the future.
It's also important to consider how utilization of a token might impact its value. Many crypto projects have a fixed token supply. So as demand increases, the law of supply and demand suggests that prices should go up.
Crypto projects that have mechanisms for increasing supply may be able to keep prices steady over time. That can be good for even greater adoption of a token, but may not be as beneficial for early investors.
Volatility
The crypto market is considered by most financial experts to have high volatility compared to the stock market. This is important for crypto beginners to keep in mind when building a portfolio. Crypto prices can move up or down sharply, and investors need to be prepared for these big swings.
That said, not all crypto tokens are equally volatile. Mega-cap crypto tokens like Bitcoin and Ethereum tend to be slightly less volatile than penny cryptos or new crypto tokens.
For investors, it might make sense to build a portfolio of tokens with differing degrees of volatility. For traders, high volatility can be an asset. High volatility in the best beginner crypto to trade offers more frequent trading opportunities.
Staking Rewards
Another thing to consider when choosing the best beginner crypto to buy is staking rewards. Crypto tokens that operate on proof-of-stake (PoS) blockchains typically enable token holders to stake their tokens to the blockchain and earn crypto rewards in the process. This can be a way to generate passive crypto income.
There are many different ways to approach staking, from using a dedicated staking platform to going through staking pools hosted by a crypto exchange. Different tokens offer different interest rates, so it's important to think about earnings potential when choosing what crypto tokens to include in a portfolio.
Once you've chosen the cryptos you'd like to invest in it's also important to find a reliable storage such as the best decentralized crypto wallets. These are not influenced by centralized governments or organizations and give users full access to their private keys at all times.
Conclusion
Our list of some of the best beginner crypto to buy today makes it easy for any first-time crypto investor to start assembling a portfolio. Wall Street Memes ($WSM) is a new meme token that has raised $25 million since the start of its presale.
Moreover, this popular project has over 1 million followers across different social media platforms and it expected to go live on T1 exchanges soon after it completes its presale.
Currently, buyers can grab the $WSM tokens for a presale rate of merely $0.0337.
FAQs
What is the best crypto to invest in right now?
We recommend Wall Street Memes as the best potential investment at the current time. The amount it has raised (above $25 million), social support (above 1 million) and its interaction from central figures (such as Elon Musk) are elements that are not seen in any other presale project.
Are crypto presales safe to invest in?
It depends on the presale. Many of them have conducted smart contract audits and offer 100% of their tokens to the community, as in the case of Wall Street Memes and Bitcoin BSC. However, you will have to do individual research to understand the risk/reward profile in more depth, for each specific project.
---