Beijing District to Use Blockchain-powered ID Solution + More News
Crypto Briefs is your daily, bite-sized digest of cryptocurrency and blockchain-related news – investigating the stories flying under the radar of today's crypto news.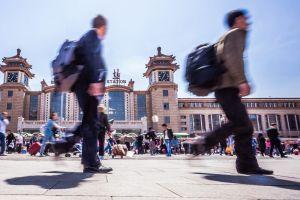 Blockchain news
Beijing's Haidian District says it will use a blockchain-powered ID solution that will allow authorities to process certification online without the need to visit offices and hand over paper documentation. Per Xinhua, the new platform will be compatible with some 200 different types of documentation, including over two dozen types of licenses, such as business licenses, marriage certificates and certification used to identify citizen with disabilities. The district says the solution will help ease "bottlenecks" in public services operations.
Investment news
China-based blockchain messaging service MiMiDi has announced a USD 16.4 million investment injection led by the venture capital arm of electronics giant Huawei. The latter, per NBTV, led the Series B investment round, which was made up of mostly unnamed private investors. The messaging service features end-to-end encryption, and the company is set to roll out versions of its app for Android, iOS and Huawei's own Hongmeng operating system.
Venture Smart Asia Ltd.'s blockchain arm Arrano Capital has met the regulatory requirements in Hong Kong to launch a crypto fund as required by the local Securities and Futures Commission (SFC). Per Bloomberg, the company launched Hong Kong's first approved Bitcoin (BTC) fund with a target of USD 100 million for the first year. The move was made in response to the market demand from professional investors who are increasingly focused on BTC as an alternative store of value, according to Arrano Chief Investment Officer Avaneesh Acquilla.
The U.S. Securities and Exchange Commission (SEC) reportedly gave the permission to investment adviser Renaissance Technologies' hedge fund, Medallion Funds, to invest in Bitcoin futures markets. Per a firm brochure, the Medallion Funds are permitted to enter into BTC futures transactions, which Renaissance will limit to cash-settled futures contracts traded on the CME.
Exchanges news
Binance has conducted its 11th quarterly burn, which it says is the biggest BNB burn ever recorded, in terms of both BNB and fiat volume, amounting to BNB 3,373,988. This burn, which represents activity from January to March 2020 across Binance spot, margin, and futures exchanges, as well as the various solutions, divisions, and partners that use BNB, permanently removed c. USD 52.5 million worth of BNB out of circulation, says the exchange.
Coinbase has announced Brett Tejpaul as their new Head of Institutional Coverage. According to the announcement, Tejpaul previously worked for 17 years at British multinational investment bank Barclays in global leadership positions in the US and the UK. Tejpaul and his teams in New York, San Francisco, the UK, and Asia will be focused on the continued institutionalization of crypto, including the expansion of Coinbase's institutional client base, building out the coverage team, introducing new features and services that institutional investors expect, and educating the institutional community about crypto as an asset class and its role within a diversified portfolio, says the exchange.
Canadian cryptocurrency investor, Salim Satir, is suing cryptocurrency exchanges Gatehub and Bitstamp, for USD 4.9 million in damages. As Law360 reports, the lawsuit, filed with a with the High Court of Justice of England and Wales, alleges that the two London-based exchanges misled Satir about the services they provide and blocked him from trading during volatile periods, which resulted in him losing millions of dollars.
Libra news
Regulation news
The Japan Securities Dealers Association, a self-regulatory organization comprising some of the country's top securities trading platforms and brokerages could seek to exclude over-the-counter (OTC) crypto derivatives transactions from its remit from July this year. Per Coin Post, under new proposals, the association has suggested totally excluding OTC crypto derivative transactions, effectively stating that its members cannot offer OTC crypto derivatives-related services in its latest consultation paper. Members will be given several weeks to respond to the proposals before they are enshrined in association guidelines.
A forthcoming fintech bill could create brand new challenges for Chile's financial sector, reports Criptonoticias. The government had been hopeful of implementing the law as early as October last year, but was derailed at the time by a spate of angry protests in Santiago and elsewhere, with citizens railing against high living costs and inequality. However, the government now feels it has the situation under control and has returned its attention to the bill, which it hopes to have ready for parliament in mid-summer. Fintech experts say they believe the bill will provide a legal framework for blockchain-related financial firms, and will include provisions for industry-led self-regulation.
Tax news
Singapore's tax authority, the Inland Revenue Authority of Singapore (IRAS), will not tax airdropped cryptocurrency if the recipient gets it for free. According to the regulator's new e-Tax guide, three crypto types that include payment tokens, utility tokens, and security tokens / digital securities, together referred to as digital tokens, were given new definitions and corresponding manners of taxation. Payment tokens like bitcoin are "intangible property," not legal tender, the guide says, and are viewed as barter trade.
---