Bitstamp
Registered in Luxembourg and headquartered in the UK, Bitstamp is one of the oldest cryptocurrency exchanges in operation. It caters to beginner and more experienced traders alike and allows users to exchange bitcoin (BTC), XRP, ether (ETH), litecoin (LTC), and bitcoin cash (BCH) with each other and against fiat currencies (USD, EUR, GBP). It also lets customers deposit and withdraw fiat currencies using their credit and debit cards. And while its trading and currency dashboards are spread across a number of separate pages, these are clearly laid out and generally very easy to use both for beginners and experienced traders.
Key features
Bitstamp is a go-to place for buying and selling cryptocurrencies. It's already a veteran exchange and has provided a reliable way to perform fiat-to-crypto exchanges since 2011.
General info
| | |
| --- | --- |
| Web address: | Link |
| Main location: | United States |
| Daily volume: | 1345.2 BTC |
| Mobile app available: | Yes |
| Is decentralized: | No |
Parent Company:
NXC Corp.
Transfer types:
Bank Transfer, Credit Card, Debit Card, Crypto Transfer,
Supported fiat:
USD, EUR
Supported pairs:
70
Has token:
-
Fees:
Medium(Compare rates)
Founded: 2011
Web address: bitstamp.com
Support contact: [email protected], +44 20 8133 5474
Parent Company: Bitstamp Ltd.
Company address: Bitstamp Ltd, 5 New Street Square, London EC4A 3TW, United Kingdom
Pros & Cons
Credit and debit card payment and bank withdrawal options Competitive fees Fully licensed and regulated in the EU Low fee SEPA deposits and withdrawals
A smaller range of cryptocurrencies Somewhat higher fees Verification requires more personal info than other exchanges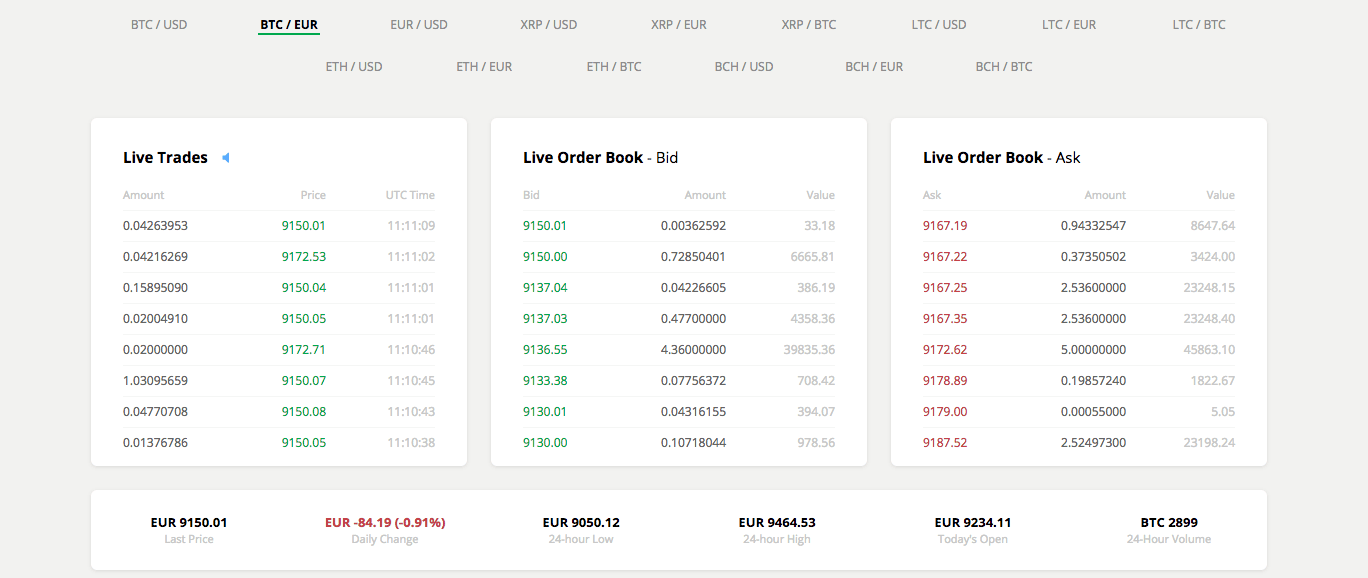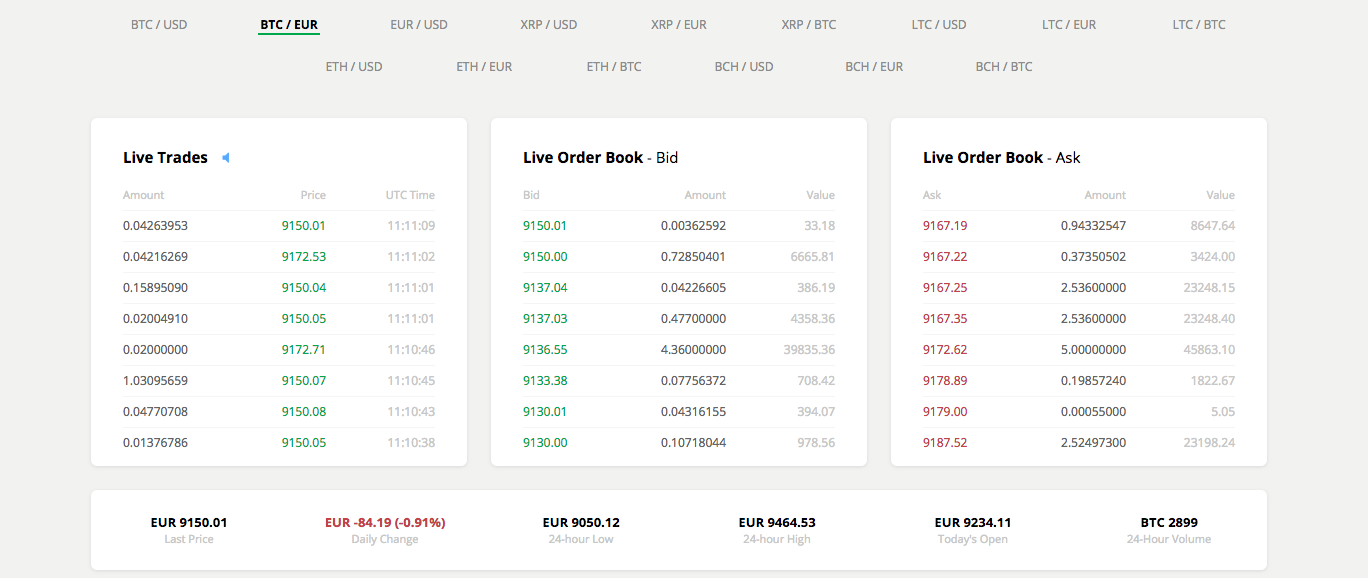 It's key features include:
Fiat-to-crypto gateway with high liquidity. Bitstamp is one of the oldest and well-respected cryptocurrency exchanges that serve traders from all over the globe.
Regulated exchange. Bitstamp was the first fully licensed European cryptocurrency exchange and is regulated by the Luxembourg Financial Industry Supervisory Commission (CSSF).
Ability to buy bitcoin and other cryptocurrencies with a bank card. Bitstamp supports instant cryptocurrency purchases using your bank card.
Low fee SEPA deposits and withdrawals for Europeans. Aside from getting crypto with a credit or debit card, you can also deposit and withdraw cash directly to your bank account using a wire or SEPA transfers. The former is slightly more expensive than the latter.
Convenient mobile app. Bistamp's mobile app works on both Android and iOS devices, thus making it easy to trade on the go.
Easy to use for beginners. Bitstamp has both simplified and advanced trading interfaces, which makes it easy to buy and sell crypto even if you're new to this market.
In brief, Bitstamp is a convenient and trustworthy crypto exchange for both beginners and advanced traders. It offers many useful trading options, high liquidity, and its security has been tested quite a bit during its 9 years of operation.
Source: Bitstamp.net
Bitstamp background
Bitstamp is one of the oldest cryptocurrency exchanges currently in operation. Founded as a European alternative to Mt.Gox, it launched in August 2011. Today, it is based primarily in Luxembourg and occupies an accessible middle ground between advanced trading and trading for beginners. Bitstamp allows users to perform a variety of trade types (no margin trading though), and it trades in bitcoin (BTC), ripple (XRP), litecoin (LTC), ether (ETH), and bitcoin cash (BCH), as well as fiat currencies USD, GBP, and EUR.
Source: Bitstamp.net
In contrast to other popular crypto platforms, Bitstamp also lets users deposit and withdraw funds using their credit and debit cards, although this is usually more expensive than using a bank transfer.
Given that it has been going for so long, its security is generally solid. That said, it was subject to a couple of cyberattacks in 2014 and then in 2015 when nearly 19,000 bitcoins were stolen. Fortunately, since then it has managed to operate without incident, while at the same time its licensing by the Luxembourg government in 2016 means that it's now a fully regulated EU payment institution, making it more reliable than unregulated exchanges.
Bitstamp's official addresses include the following locations:
Payment institution: Bitstamp Europe S.A., 21-25 Allee Scheffer, L-2520, Luxembourg.
Exchange: Bitstamp Ltd., 5 New Street Square, London EC4A 3TW, United Kingdom.
Office: Bitstamp USA Inc., 27 Union Square West, Suite 205, New York, United States.
The current CEO of Bitstamp is Nejc Kodric. Other key team members include CTO David Osojnik, CFO Edward Kemp, and COO Vasja Zupan.
Source: Bitstamp.net
Supported countries
As of 2021, Bitstamp's services are available for the citizens and residents of the following jurisdictions:
All 27 European Union (EU) countries.
The United States, Cayman Islands, Puerto Rico, Dominican Republic, Curacao, Dominica, The Bahamas, Trinidad and Tobago, Barbados, Jamaica, Guadeloupe, Martinique, and Sint Maarten.
The United Kingdom, Switzerland, Norway, Monaco, Montenegro, Serbia, Turkey, Andorra, Moldova, Gibraltar, Iceland, Greenland, Lichenstein, Isle of Man, Faroe Islands, Aland Islands, San Marino.
Hong Kong, China, Singapore, Taiwan, South Korea, Japan, India, Brunei.
Australia, New Zealand, French Polynesia, New Caledonia.
Argentina, Brasil, Chile, Peru, Ecuador, Paraguay.
Israel, Saudi Arabia, Kuwait, Qatar, Lebanon, Jordan, Bahrain.
South Africa, Madagascar, Mozambique, Reunion.
All users of the exchange must undergo a thorough KYC procedure and provide legitimate personal information, including the proof address, personal picture, and a copy of an identity document.
Source: Bitstamp.net
Bitstamp fees
Bitstamp's fee structure is fairly complicated compared to other exchanges, yet its deposit and withdrawal charges nonetheless remain cheap compared to many rivals.
Cryptocurrency deposits are free, while withdrawals incur a fixed network fee which differs per cryptocurrency being withdrawn. An exception to this is when customers withdraw bitcoin using BitGo Instant – which costs 0.1% of the amount being transferred – and when they withdraw Ripple IOUs, which costs 0.2% of the transferred amount.
| Currency/Withdrawal Fee | Bitstamp | Kraken | Bitfinex | Coinbase Pro |
| --- | --- | --- | --- | --- |
| Bitcoin (BTC) | 0.0005 BTC | 0.0005 BTC | 0.0004 BTC | Free |
| Ethereum (ETH) | 0.001 ETH | 0.005 ETH | 0.00135 ETH | Free |
| Litecoin (LTC) | 0.001 LTC | 0.001 LTC | 0.001 LTC | Free |
| Ripple (XRP) | 0.02 XRP | 0.02 XRP | 0.1 XRP | Free |
| Bitcoin Cash (BCH) | 0.0001 BCH | 0.0001 BCH | 0.001 BCH | Free |
With fiat currencies, customers are generally charged for deposits and withdrawals. International wire transfers have a deposit fee of 0.05% (minimum of €7.50) and a withdrawal fee of 0.1% (minimum of €25). European customers making a SEPA bank transfer deposit funds to Bitstamp free of charge, while SEPA withdrawal costs €3.00.
And while a direct comparison with most other advanced exchanges isn't possible, Bitstamp also charges for credit card and debit card purchases. Any amount purchased directly with a bank card comes with a 5% fee on Bitstamp's behalf and may have additional fees charged by the card issuer.
Source: Bitstamp.net
As for trading fees, Bitstamp charges sit somewhere in the middle compared to other exchanges. Its trade fees start at 0.50%, for all trades made by users with a 30-day volume of less than $10,000.
| Fee % | 30-day USD volume |
| --- | --- |
| 0.50% | < $10,000 |
| 0.25% | < $20,000 |
| 0.24% | < $100,000 |
| 0.22% | < $200,000 |
| 0.20% | < $400,000 |
| 0.15% | < $600,000 |
| 0.14% | < $1,000,000 |
| 0.13% | < $2,000,000 |
| 0.12% | < $4,000,000 |
| 0.11% | < $20,000,000 |
| 0.10% | > $50,000,000 |
| 0.07% | < $100,000,000 |
| 0.05% | < $500,000,000 |
| 0.03% | < $2,000,000,000 |
| 0.01% | < $6,000,000,000 |
| 0.005% | < $10,000,000,000 |
| 0.0% | > $10,000,000,000 |
The minimum trade amount at Bitstamp is 25 EUR/USD or 0.001 for BTC-denominated pairs.
To put trading fees in some perspective, Coinbase Pro also charges 0.50% for any trader whose 30-day volume is less than $10,000. Meanwhile, competing exchanges like Kraken or Bitfinex tend to charge less per trade. Bitfinex base trading fee rate is 0.1% for market makers and 0.2% for the takers. Kraken charges traders 0.16% and less (for high volume traders) for market-making orders and 0.26%or less for takers.
As such, Bitstamp is not the cheapest trading option out there, but it is not a very expensive one either. If you're a high volume professional trader, you also get fee discounts, but there are less costly options out there. The exchange does work out well for low-volume European traders though, since SEPA deposits onto the platform and withdrawals from it are dirt cheap.
Bitstamp security measures
Bitstamp has come a long way since its relatively high-profile hack in 2015 when it lost roughly $5 million (approx. 19000 BTC at the time) in bitcoin as a result of a targeted phishing attack.
Today, the exchange uses a variety of measures to ensure that accounts remain safe. Users are able and encouraged to turn on two-factor authentication, which works using Google Authenticator. Added to this, email confirmation for all withdrawals is required, while password changes also require two-factor authentication. The exchange also uses pretty good privacy (PGP) for encrypting the files users need to send in verifying their accounts.
Source: Bitstamp.net
According to the latest Exchange Benchmark report by CryptoCompare, Bitstamp exchange ranks 5th in terms of overall exchange quality. In terms of platform security, it ranks in the 13th place out of 159 rated exchanges and scores an above-average score of 13.2 out of 20 (max).
On the system side of things, Bitstamp also takes a number of measures to ensure that its platform remains secure as a whole.
98% of all cryptocurrency is stored offline in cold wallets, which are insured in the unlikely event of a loss.
After the January 2015 hack, Bitstamp introduced multi-signature wallets, which require several private keys in order for transactions to be approved.
As part of its status as the first-ever EU-regulated exchange, Bitstamp has to undergo annual audits from a "Big 4" accounting firm to confirm that its finances and liquidity are sound.
Bitstamp allows you to protect your account using two-factor authentication (2FA) and requires email confirmations for every withdrawal.
All in all, Bitstamp is a secure and trustworthy exchange. Even though it was hacked once in the past, it has made relevant adjustments and does not seem to experience issues anymore.
Source: Bitstamp.net
Bitstamp usability
Bitstamp is one of the longest-running crypto exchanges in operation, and this age is apparent in the slight clunkiness of its interface. Compared to other exchanges that put almost all relevant info and action buttons on a single dashboard, Bitstamp puts different currencies and trade types in different pages that you can control via the top bar.
Source: Bitstamp.net
This means that users often have to go from one place to another if they want to trade in a different market or if they want to see their account and order details.
Despite this slight inconvenience, each page is laid out clearly and actions are easy to execute. The same applies to Bitstamp's dedicated mobile app, which features cleanly presented pages and simple interfaces. The app is available on both Android and iOS devices.
Bitstamp mobile app.
When it comes to trading, the Bitstamp platform provides two trading interfaces. A simple buy and sell function can be accessed via a "Buy / Sell" tab, which lets you place simplified Instant Orders, as well as Limit, Market, Stop orders and execute Credit Card purchase.
Source: Bitstamp.net
Advanced traders might enjoy Bitstamp's Tradeview, where you can see full order books, TradingView charts, place advanced orders, and review your order execution history.
Source: Bitstamp.net
The Tradeview looks slightly more complicated than the "Buy / Sell" section, but essentially it provides the same key features and is actually pretty easy to use even for absolute beginners.
Source: Bitstamp.net
One slight weakness in Bitstamp's usability, however, is that users can't make any trades or deposits without first verifying their accounts. Verification can take a day or two, and even up to two weeks during busy periods. Also, it requires the user to share quite a bit of sensitive info, including passport details and utility bills or bank statements. As such, you should set up your Bitstamp account in advance before making a quick purchase.
On a positive note, Bistamp has great liquidity. At pixel time, the exchange facilitates nearly 20,000 BTC trades per day, which ensures that your appropriately-priced orders will be executed no matter what.
Customer support
Bitstamp's customer support is solid, though somewhat slower compared with other crypto services. If you submit a ticket via their ticketing system, you will get a reply within 24 to 72 hours. Alternatively, you can use one of their emails – [email protected] or [email protected].
Source: Bitstamp.net
In addition, you can contact the exchange using one of the following phone numbers:
+44 20 3868 9628
+1 646 568 9784
+352 20 88 10 96
If your inquiry is not urgent, you can browse Bitstamp's extensive knowledge base, where the exchange's staff tries to answer some of your most basic questions.
Deposit and withdrawal methods
A strength Bitstamp has over many other advanced cryptocurrency exchanges is the wide variety of deposit and withdrawal methods it offers. These are:
Bank wire transfer (2-5 days to complete)
SEPA bank transfer (Eurozone only, 1-3 days to complete)
Credit/debit card deposits (near-instant)
Cryptocurrency deposits and withdrawals (up to an hour, time depends on the cryptocurrency and network congestion)
International wire transfers are by far the most expensive transfer option and can cost you 0.05% per deposit (min.USD/ EUR 7.5, max. USD/EUR 300) and 0.1% (min. USD/EUR 25) per withdrawal. SEPA deposits are generally free, while withdrawal incurs a EUR 3 fee. Credit card purchases come with a 5% fee plus a percentage charged by your card provider.
Source: Bitstamp.net
In brief, it is generally easy to get your funds in and out of Bitstamp, especially if you're a European resident or citizen who can make use of the SEPA network.
Conclusion
Bitstamp is a solid cryptocurrency exchange for everyday use. It does not have the lowest fees nor the widest range of listed cryptocurrencies, but it is simple enough to use for both beginners and advanced users. If you're looking for a simple fiat-to-crypto onramp or offramp, look no further – Bitstamp is a great option for all global users, and especially Europeans who can enjoy free deposits and cheap withdrawals from the platform.