Battle Infinity Price Prediction 2023 - 2025
Disclaimer: The Industry Talk section features insights by crypto industry players and is not a part of the editorial content of Cryptonews.com.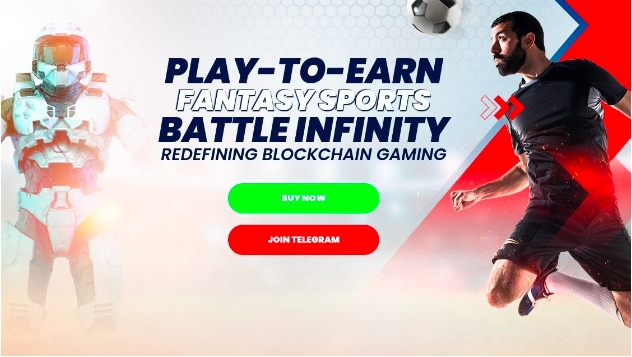 Battle Infinity (IBAT) is a new metaverse-based cryptocurrency platform that offers multiple play-to-earn (P2E) features, combining crypto gaming with its rewards for players. With the success of Battle Infinity's presale round and the popularity of the metaverse, this guide will discuss why Battle Infinity could potentially be a bullish investment in the future.
Continue reading to learn more about several possible Battle Infinity price predictions for 2023 - 2025.
Battle Infinity Price Prediction: Overview
A decentralized cryptocurrency platform, Battle Infinity incorporates metaverse, NFT and several unique elements by leveraging its native token - IBAT. After the success of the IBAT presale, the token is available to purchase on popular cryptocurrency exchanges in 2023.
The sections below provide a quick overview of the potential Battle Infinity price from 2023 - 2025.
End of 2023 - As the metaverse cryptos and the major altcoins look to recover from the massive price corrections in 2022, IBAT could trade higher in 2023. An average price of $0.009 is predicted for Battle Infinity by the end of 2023.
End of 2025 - Due to the platform's multiple use-cases, we expected Battle Infinity to be a bullish investment in the long term. The P2E and utility coin could reach the $0.06 range by this period.
Battle Infinity Price & Presale Recap
Battle Infinity combines gaming with decentralized finance (DeFi) protocols, leveraging NFTs and crypto trading on its metaverse-based platform. The ecosystem uses IBAT, the native cryptocurrency, to monitor transactions and distribute rewards.
On Battle Infinity, investors can access IBAT from the decentralized exchange (DEX) - IBAT Battle Swap. After purchasing tokens, IBAT can be used to participate in various gaming environments, including a metaverse-based ecosystem and a sports fantasy league.
IBAT is a BEP-20 token running on the Binance Smart Chain (BSC). With a total supply of 10 billion tokens, IBAT launched 28% of its supply during its presale round last year. Completing one of the best crypto presale rounds, IBAT sold out its 3-month long presale phase in just 24 days. The token was available to purchase for just $0.0015 in this phase.
After the presale ended, IBAT was listed on PancakeSwap - one of the biggest DEXs in cryptocurrency. After its launch on August 16th 2022, IBAT reached a high of $0.0105 - more than a 7x price increase. Therefore, IBAT became one of the fastest growing cryptocurrency projects within months of its token release.
Currently, IBAT is trading at $0.003 - $0.0035 per token, with a fully diluted market cap of $32 million and live market cap of $10 million.
With its new token listings on centralized altcoin exchanges like LBank and Coin98, and more on the roadmap, IBAT has the potential to keep delivering higher prices in the long term and retest its ATH - around $0.011 on PancakeSwap hit on the day of its August 17th launch.
IBAT Price Summary
IBAT is a BEP-20 token with a 10 billion token supply
The IBAT crypto is used to maintain the P2E platforms, including the metaverse arena, DEX, fantasy league and more.
IBAT launched on presale at $0.0015 per token - selling out in 24 days.
The cryptocurrency increased by 7x after its PancakeSwap listing in August last year.
IBAT is currently trading at $0.0032 per token heading into Q4. Its all time high was just over $0.01.
Battle Infinity Price Prediction for 2023
By 2023, Battle Infinity would have cemented itself as one of the best altcoins to invest in. According to a report by McKinsey & Co., the metaverse has the potential to reach a market cap of $5 trillion by 2030.
With the Battle Arena being one of the main attractions of the Battle Infinity ecosystem, the platform will be looking to expand its market cap in the coming years. Moreover, the strategic listings of IBAT on LBank, Coin98 and PancakeSwap will allow the token to be traded globally.
Currently, the top metaverse cryptos such as Decentraland and Axie Infinity are trading 87% and 92% below their all-time highs (ATHs), respectively. The metaverse bear market may be a good potential entry point for long-term investors. By the end of 2023, Battle Infinity's IBAT can potentially trade at its previous highs of $0.01, with a potential low of $0.008.
Battle Infinity Price Prediction for 2025
For any project to deliver long-term success, the cryptocurrency must have strong fundamentals that can facilitate long-term growth. With Battle Infinity, the ecosystem looks to provide a multi-functional platform by integrating NFTs, metaverse environments and crypto earning opportunities.
For example, Battle Infinity users can participate in the IBAT Premier League - an NFT-based decentralized sports fantasy league. Participants must purchase NFT ticket passes and create their own strategic fantasy teams to participate. The top performers earn a mixture of IBAT or NFT rewards on the ecosystem.
Battle Infinity also incentivizes long-term holding due to features like the IBAT Battle Stake - a staking platform where investors can deposit their IBAT tokens to accumulate a high APY (Annual Percentage Yields).
Along with passive income earning opportunities, IBAT's low token supply makes it a competitive asset to hold in the long term. Some of the top 'shitcoins', like Dogecoin and Shiba Inu have trillions of tokens in supply, making it an inflationary asset. On the other hand, IBAT's low supply ensures the potential for long-term growth.
Due to the multiple use cases, we are bullish on the long-term price of Battle Infinity. Popular metaverse cryptos like Decentraland have a market cap of $1.3 billion. If Battle Infinity can acquire even a $500 million market cap by 2025, the token will be valued at $0.04. However, a cryptocurrency bull run in the next few years may result in IBAT trading around the $0.06 levels or higher by the end of 2025.
Potential Battle Infinity Price
The table below summarizes the potential Battle Infinity (IBAT) price prediction from 2023 - 2025.
| | | | |
| --- | --- | --- | --- |
| Price Forecast Year | Potential High | Potential Low | Average Predicted Price |
| 2023 | $0.01 | $0.008 | $0.009 |
| 2025 | $0.06 | $0.04 | $0.05 |
Use Cases of Battle Infinity
One of the main factors to analyze before investing in a cryptocurrency is its use cases. Since Battle Infinity offers a P2E ecosystem with multiple investment-earning opportunities, it appeals to a wide audience. Here are a few of the use cases of this exciting new cryptocurrency project.
NFTs
Not only does Battle Infinity mint its own tradable NFTs on the platform, but the virtual items also have real use-cases within the ecosystem. For example, the IBAT Premier League requires players to hold unique NFT tickets to participate in the games.
Moreover, Battle Games is a P2E feature on Battle Infinity where players can take part in P2E NFT games. In-game NFTs can be acquired by the game winners and traded on the ecosystem. Furthermore, NFTs are an integral part of the Battle Arena - the virtual ecosystem of Battle Infinity. All the characters and virtual items on the Battle Arena are minted as NFTs, using smart contract functionality.
Battle Stake
As mentioned above, Battle Stake is a staking platform on Battle Infinity. Players can deposit IBAT tokens to accumulate interest on the coin or even conduct duo staking activities - where any other crypto token can be paired with IBAT to earn interest.
Finally, players looking to participate in the various games on the Battle Games P2E feature must stake IBAT on the Battle Stake to take part. A 10% fee is deducted from the staked amount - of which 5% is sent to the global staking pools. This acts as the liquidity pool of Battle Infinity, through which winners are rewarded with IBAT tokens.
Update - Battle Infinity has also now completed the roll out of its staking products, with over $3 million in total value locked (TVL). Read more in our best staking coins article.
Metaverse Environment
One of the best new cryptocurrencies available, Battle Infinity's main platform feature is the Battle Arena. In this metaverse ecosystem, all players and characters take the shape of virtual avatars. Each virtual avatar is minted as an NFT using ERC 721 smart contracts - which can be purchased on the IBAT Battle Market.
The Battle Market is an NFT marketplace through which artists can mint their own virtual artwork, and players can design their unique avatars. The Battle Arena can be accessed via VR headsets and provides an entire virtual ecosystem of concerts, events and games.
Factors Affecting the Battle Infinity Price
The sections below discuss some of the main factors that affect the price of Battle Infinity.
Use-Cases
For long-term investors, the project use cases are arguably the most important factor to analyze. While meme tokens like Dogecoin provided rapid price increases, a lack of use cases makes it an extremely volatile asset to trade.
Battle Infinity, on the other hand, is building its reputation by integrating popular web3 elements such as NFTs and metaverse creation. Moreover, investors can access various P2E platforms, stake their cryptocurrencies and get instant liquidity through the DEX and stake pools.
Social Media Presence
Due to the competitive nature of cryptocurrencies, each project must have an established social media presence to stand out from the competitors. In the case of Battle Infinity, the platform has witnessed a constant increase in its Twitter and Telegram followers.
As per the charts below, Battle Infinity's Telegram growth has spiked throughout the past few months. Currently, the platform has nearly 50,000 Telegram subscribers and over 20,000 Twitter followers.
ICO and Token Listing
Concluding one of the best crypto ICOs, IBAT collected over $5 million in 24 days. Afterwards the token was released on the popular decentralized exchange - PancakeSwap. After the success of the presale and the new token listing, IBAT reached a high of $0.0105 in August 2022.
Now, the token has also been listed on LBank - a popular centralized exchange. As Battle Infinity is already listing the token on new exchanges such as LBank and Coin98, investors can expect an increased trading volume and potential upwards momentum. Moreover,
How to Buy Battle Infinity
After the presale concluded, IBAT has begun trading on PancakeSwap. The steps below provide readers with a step-by-step overview on how to purchase Battle Infinity (IBAT) through PancakeSwap.
Step 1: Set up a Cryptocurrency Wallet - Since IBAT runs on the Binance Smart Chain (BSC), investors must set up a cryptocurrency wallet that can handle BEP-20 tokens. For example, MetaMask is one of the best cryptocurrency wallets supporting this token.
Step 2: Purchase BNB Tokens - As mentioned above, IBAT runs on the BSC. Therefore, the token can be purchased with BNB tokens - the native cryptocurrency of Binance. Those who do not hold BNB can purchase the token from a cryptocurrency exchange of their choosing and transfer the tokens to their crypto wallets.
Step 3: Connect the Wallet to PancakeSwap - Once the tokens are in your crypto wallets, you will need to collect the wallet with PancakeSwap. Head over to the PancakeSwap website and click on 'Collect Wallet'. Follow the instructions that appear on-screen.
Step 4: Purchase Battle Infinity (IBAT) - Head over to the 'Swap' section on the PancakeSwap dashboard and search for IBAT/Battle Infinity. Enter the amount of tokens you wish to purchase on the order box and swap the tokens.
Step 5: Import the IBAT Contact Address - Select the 'Import Tokens' option on your crypto wallet's setting page and then enter the contact address of IBAT. Click on 'Add Token' to complete the process.
Battle Infinity: The Best Cryptocurrency in 2023?
After analyzing the use cases and features of Battle Infinity (IBAT), we recommend this project as one of the best cryptocurrency assets to buy in 2023.
Unlike other new meme tokens or altcoins, Battle Infinity is aiming to provide multiple use-cases that cater to GameFi (gaming finance) audiences, long-term cryptocurrency investors and the web 3.0 market.
More than just an investment asset that can deliver quick profits, IBAT is central to all the 6 P2E platforms that Battle Infinity has to offer. To promote long-term holding, IBAT can be staked to earn interest. Through the Battle Swap, investors can buy the asset and even swap IBAT with other cryptocurrencies of their choice.
Another important aspect of this ecosystem are NFTs. More than a collectable, NFTs are used as ticket passes to take part in competitions, distributed as rewards to winners, and integral to the Battle Arena metaverse.
Finally, the successful presale will urge new investors to trade IBAT tokens. Already trading higher than the initial presale price of $0.0015, IBAT has the potential to become one of the most profitable tokens in 2023 and beyond.
Conclusion
To summarize, this article has provided an in-depth guide on the price predictions for Battle Infinity from 2023 - 2025. Due to the multiple use cases and the new token listings, we have a bullish outlook on the long-term price of Battle Infinity (IBAT).
Alternatively, investors can look at other similar new P2E projects such as Tamadoge (TAMA) - a unique cryptocurrency platform with playable NFTs, a limited token supply and multiple use-cases.
FAQs
What are the main features of Battle Infinity?
Battle Infinity leverages its native token - IBAT to navigate its entire cryptocurrency platform. Players can take part in NFT-based sports fantasy leagues, stake cryptocurrencies on a staking platform and access a metaverse arena built using NFT protocols.
What is the price of Battle Infinity?
Currently, Battle Infinity is trading at $0.003 - $0.0035 per token with a live market cap of $10 million and FDV over $30 million.
How much will Battle Infinity be worth in 2025?
We predict that Battle Infinity (IBAT) could reach a potential high of $0.06 by the end of 2025 - a 20x price increase from current levels.
---