American Music Producer Makes USD 11.7M in NFT Sales
The link between crypto, blockchain and the music industry is growing increasingly strong, after an American electronic dance music producer set a new high for non-fungible token (NFT) sales, raising some UD 11.7m in the sale of 33 unique items – with the most expensive token fetching almost USD 3.7m.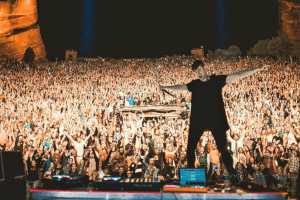 The sale saw 3Lau, aged 30, put up the items for auction on his website, and offered buyers exclusive rewards, including access to previously unreleased material and the chance to collaborate with him – by choosing the direction of a specially made song.
The New York-based artist, real name Justin David Blau, operates his own non-for-profit record label named Blume.
3Lau stated that he was releasing the NFTs to mark the anniversary of the release of his 2018 debut studio album Ultraviolet.
Peter Yang, the Product Lead at Reddit, tweeted that the news was a watershed moment for the music business. He wrote,
"The music industry changed forever last night."
He hinted that NFTs could have the power to shift the balance of power away from agencies, streaming networks and record labels and in favor of individual artists.
Yang wrote,
"Musicians have probably the worst revenue share of all creators after labels and platforms take their cut."
NFTs are increasingly finding their way into the world of music, with a number of J-pop-themed tokens winning popularity in Japan. Several editions tokens featuring photos and images of the Japanese pop group SKE48 "sold out instantly" upon their debut last year, and are showing no signs of abating with Lunar New Year editions last month. Music giant Sony is also eyeing the sector.
Elsewhere in the world of creativity, Beeple – the digital artist whose Donald Trump-themed NFT recently sold for USD 6.6m on the secondary market – is set for another crypto coup.
The artist has become the first to have an NFT work with no physical component to go under the hammer at Christie's. And with 10 days to go, a bid of USD 3m has already been submitted on the work, named "EVERYDAYS: THE FIRST 5000 DAYS," per data from the UK-based auction house.
_____
Learn more:
- Non-Fungible 2021: Prepare Your NFTs For DeFi, Staking, and Sharing
- 'Traditional' Art vs. Crypto Art: How to Value It
- Mark Cuban Says Crypto Is a Store of Value & Redditors Right to 'Kick Wall St. Ass'
- Check These 4 Make-Your-Own-NFT Platforms
- Award-winning DJ RAC Spins Crypto Tune with His Own Ethereum Token
---