MetaMask Wallet Review 2023 - Everything You Need to Know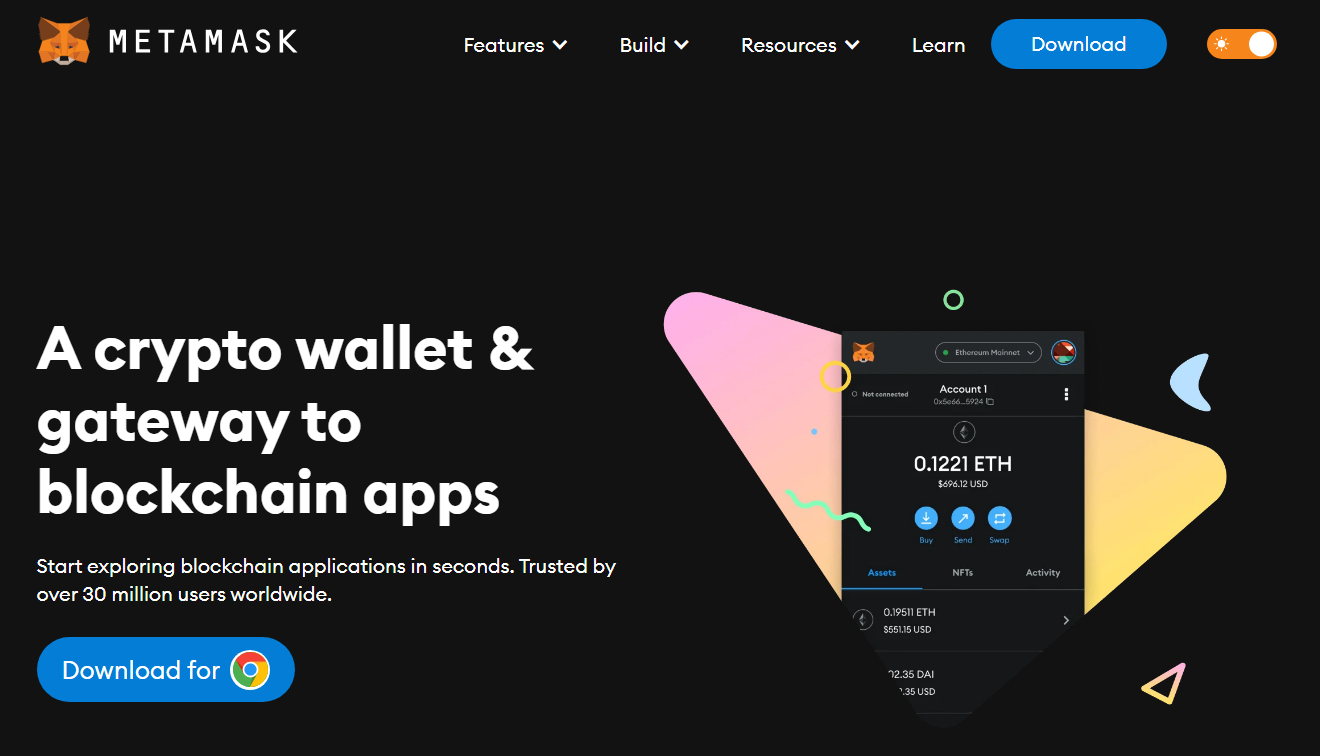 With over 30 million users worldwide, MetaMask is known as a leading crypto wallet and describes itself as a "gateway to blockchain apps". The cryptocurrency wallet has long been considered the go-to wallet for holding cryptocurrency and participating in crypto presales.
How does MetaMask work and why is it so popular? What sets this software wallet apart and makes it so accessible to all? Get answers to these questions in this MetaMask Wallet Review.
Do We Recommend MetaMask Wallet?
Whether you are a beginner looking to buy and store your first crypto asset or a veteran looking for full control of your tokens, MetaMask is a secure non-custodial wallet. Also, this wallet is easily accessible to all and completely free to use, with no maintenance charges or hidden fees.
As we dove deep into its mechanics, we found it to be easy to use. And its compatibility is unparalleled, considering you can use it on your iOS and Android-based smartphones. Desktop users also won't have any problem using the browser extension. The Chrome extension is lightweight and doesn't encumber the web surfing experience.
The only issue we found, however, was its pre-settings. Being designed to store Ethereum-based assets by default, you need to customize the settings yourself to add additional networks. There is however an online tutorial to help you understand how to set up a MetaMask wallet quickly.
Bitcoin support is also not present on this wallet, and you can't directly buy cryptocurrencies using it. It has partnered with third-party sites like MoonPay and Mercuryo to provide that facility.
Despite these shortcomings, MetaMask's support for decentralized applications makes it a great pick. We consider it one of the best Ethereum wallets for beginners.
What are the Pros and Cons of MetaMask Wallet?
Pros
Non-custodial wallet - you have full control over your assets
Secures your assets using a passphrase and password
Installable on mobile as an app and on the browser as an extension
No maintenance fee required
Suitable for multiple networks
Helps interact with decentralized applications
Cons
Does not support Bitcoin
Only comes pre-installed with Ethereum Network - manual addition of other networks required
Does not support Bitcoin
Employs third-party apps to help users buy cryptocurrencies
What is MetaMask?
MetaMask first appeared in 2016 exclusively as an extension-based wallet to be installed on browsers like Chrome, Firefox, and others. But the app soon came on iOS and Android as a downloadable wallet, which enabled mobile-based crypto investors to store their assets.
Being a non-custodial wallet, MetaMask gives complete control of the assets to users. Users need to remember their security codes - password and passphrase - in order to gain access to their holdings.
The passphrase is an alternative to a private key, a 12-word phrase that investors must memorize or save. This passphrase isn't recoverable, which means if the user loses it, MetaMask can't help with the recovery process.
These stringent security measures can be seen as minimalistic because the onus of security falls exclusively on investors. And since there are no inherent security guarantees that MetaMask provides, the wallet is free of cost.
MetaMask was designed to support Ethereum-based assets since those were the exclusive cryptos that supported decentralized applications. But with time, when more alternative networks took the PoS route and had dApps of their own, MetaMask added support for them. However, these additional networks, which include Optimism, Arbitrum, Polygon, Binance Chain, and Avalanche, must be added manually,
Speaking of decentralized applications and other blockchain-based assets, MetaMask can be used to store NFTs and interact with DApps. And the standard UI that MetaMask has gone with makes it easy for users to buy and store NFTs, store tokens, and earn interest by staking.
When it comes to fees, MetaMask doesn't charge any. But the third parties that allow it to provide the ability to buy crypto assets, do. So, for every crypto asset a user buys or transfers using the MetaMask wallet, there is a 3 to 5% commission. It can be deemed high as compared to its competitors, such as Binance, which charges only a 0.1% fee (at most).
What are the Cryptocurrencies Supported by MetaMask by Default
Here are the cryptocurrencies that users can store on MetaMask:
Ethereum and Ethereum-Related Assets
As we already mentioned before, devs designed MetaMask to allow users to interact with the Web 3 ecosystem primarily. This is why by default, it can be used to store and buy Ethereum and Ethereum-based assets, which are based on the ERC-20 standard.
Other Assets that it Supports
While MetaMask accepts Ethereum by default, it has made room to support other networks as well, such as Polygon, Arbitrum, Optimism, Avalanche, and also Arbitrum network. But these networks must be added manually by entering details such as Chain ID, Symbol, Network name, Block Explorer URL, and New RPC URL.
The lack of support for the new networks by default can be seen as a drawback for beginners. However, there are tutorials available.
Assets that MetaMask Does Not Support
MetaMask only supports a handful of networks at the moment, and it is only the assets available on those networks that one can store on this crypto wallet. Cryptos like Solana, Cardano, XRP, Litecoin, Bitcoin, Polkadot, and other top tokens by market capitalization aren't available on MetaMask. And the reason is that none of them are EVM compatible.
Simply put, for an asset to be supported on MetaMask, it must be compatible with the Ethereum Virtual Machine.
If you want to store and transfer Bitcoin, check out our list of Bitcoin-only software wallets.
MetaMask Wallet - Decentralized or Centralized
MetaMask is not a centralized wallet. It is completely decentralized, giving users complete custody of their own assets. That means users are responsible for setting up their private keys during setup and never share them with anyone else for their own protection.
Being decentralized, however, means that the responsibility of security only falls on the user. While that can encourage investors to be more careful, it also means that if there is a technical mishap that causes users to lose their keys or assets, MetaMask won't share liability.
That said, there are some aspects of MetaMask that are centralized, which are used by it to process fiat payments using third parties. These parties are Mercuryo, Sardine, and Transak. And if an investor is using fiat payments via MetaMask, providing KYC documents is a must.
Check out our list of best-decentralized crypto wallets to use this year.
What is the Fee Structure of MetaMask?
MetaMask doesn't have any fee for incoming transactions. However, if a user is sending crypto via the wallet, they become subject to the network fee.
Gas Fee
There is a gas fee they need to pay for transferring crypto - not to MetaMask - but to the network. And since the gas fee is directly proportional to network congestion, any slowdown during the transaction will result in an increased gas fee.
However, users can preset to limit the gas fee they need to pay during the transaction process. But that makes transactions a matter of chance. For instance, if the network is especially congested and the gas fee increases beyond what the user has set in the systems, the transaction will be cancelled.
Bridged Transaction Fee
If an investor is using a bridged transaction on MetaMask, a fee is levied. This fee is determined by the type of network used and how efficiently the bridge is working. According to the official website of MetaMask, the bridge fee will be reflected on the "return" figure that shows how much a user will receive minus the fee.
The return figure takes the following into consideration.
The MetaMask transaction fee, which is 0.875%
The gas fee on the destination network, which the bridge provider asks for
Fee meant for the validators and liquidity providers
And Price Impact, which depends on the liquidity available and will be impacted by the Bridge
On average, the total fee comes out to be 3 to 5%.
What are the Security Features of MetaMask?
With MetaMask, users have complete control over their funds. While that can be daunting for investors, there are blockchain-powered security features that MetaMask has implemented on its own.
Password and Passphrase
The most crucial security features on MetaMask are the passcode and the "seed" phrase. The password encrypts the private keys, and the seed phrase helps with funds recovery in case a user loses their device. MetaMask has also enabled two-factor authentication for an added layer of security.
Password
A strong password is a must to protect a user's assets and identity. It is the key detail necessary for users to remember if they want to access their wallet. It is recommended that users create a password for each device type on which MetaMask is stored. For instance, if a user has a browser extension and a MetaMask mobile app, then passwords on both of them must be different.
Passphrase
The passphrase, or the seed phrase, is the second piece of crucial information that users must be aware of. As we already mentioned, it is a 12-word keyphrase that will allow users to recover their funds if the device they stored their crypto assets in is lost. While a lengthy keyword can be too difficult to remember. Thus, we recommend that our readers note the passphrase on a clipboard or a device to which they know they will always have access. And the device must not be connected to the internet.
This passphrase allows users to recover their passwords if they ever lose them. MetaMask doesn't save it, so if the passphrase is lost, there is no way to recover it.
Encryption Implemented
MetaMask has opted for a standard encryption model to protect a user's assets. During wallet creation, MetaMask creates a unique key pair that it then uses to encrypt a user's data. According to MetaMask, the data is encrypted to ensure that even if your device is stolen or hacked, your data remains confidential. MetaMask also stores the data locally so that users have full access to it, and that further reduces the chances of a data breach.
Phishing Detection and Protection on MetaMask
The crypto industry is plagued by phishing attacks, which have increased during the crypto winter. MetaMask has thus implemented multiple security features to protect users against any type of phishing attempt.
The main one among them is the warning message. Whenever it detects that a site is dubious and is attempting to steal a user's data, it displays a warning message stating that the "site is suspected of phishing".
What are the Features of MetaMask Wallet?
Listed below are some of the key features of the MetaMask wallet.
Token Swapping
MetaMask's interface has been designed in a way that users don't need to leave their wallets to swap their tokens. But MetaMask isn't directly involved with the swaps. It does so with the help of liquidity pools it has partnered with.
These liquidity pools have both perks and disadvantages. The crypto wallet claims that it can find the best liquidity pools for users in the market with the best speed and the least fees. Ideally, that would enable users to get the maximum out of swapping, as they won't need to worry about enormous fees.
But MetaMask does not support all the liquidity pools. That means it merely provides users with information about which liquidity pools are best without always providing them with the ability to use them. Furthermore, depending on the liquidity pool being used, you will be charged a fee.
Smart Transaction
One of the latest features that MetaMask has implemented is smart transactions. Enabling it would allow users to minimize the transaction cost, reduce transaction failures, eliminate struck transactions, and prevent front running.
According to the website, enabling Smart Transaction will prompt MetaMask to submit a user's transaction privately and multiple times. If the transaction is unsuccessful, it will be publicly broadcasted. Users get the option to enable it when they are attempting to do their first swap, and it can later be disabled via the advanced settings.
Staking
Users will also find an in-built staking facility on MetaMask. It allows users to put their idle crypto holdings to work and earn interest on them.
It is also a third-party facilitated service, and there is only one crypto that can be staked - Ethereum. Also, there are only two staking providers available at press time - Lido and Rocketpool. With Lido, users can earn an APY (Annual Percentage Yield) of 4.11%. And with Rocketpool, staking rewards are limited to 3.36%.
Do note that this staking reward is what's currently available presently. It can vary depending on how much stETH or rETH is available in their respective liquidity pools.
Check out our guide to the best staking coins to hold.
Storing NFTs
MetaMask can also be used to store NFTs. However, there are only two standards available - ERC-721 and ERC-1155. And when it comes to transferring NFTs, MetaMask only facilitates the ones with the ERC-721 standard.
Educational Resources
For those who are new to the cryptocurrency space, MetaMask has got educational resources like articles and video tutorials. These explain everything from Web 3.0 to NFTs to self-custody and other topics related to blockchain.
Every section, whether it is Bridge, Buy, Stake, Swap, or Dashboard, all have a slew of articles connected to them that can be read at any time.
And the platform itself provides a robust tutorial about how to use the wallet. While these explainers are good, we felt like these need to be simplified a bit more. See our own guide on how to set up MetaMask.
Customer Support
MetaMask offers customer support, but only through the help center and community forums. When we checked this feature, we also found some warnings that say MetaMask never asks for a secret recovery phrase. That indicates that there are several fake community forums and help centers created around MetaMask. Therefore, we recommend that our readers only go to the official website for that information.
How is the User Experience of MetaMask?
MetaMask has mostly billed itself as a self-custodial wallet, which means everything is the responsibility of the user. However, that doesn't mean only experts can access this platform. We found the UI of the platform to be fairly simple on both mobile and desktop.
Creating a wallet is easy. Users are first asked to pick a strong password and, upon submission, asked to provide a passphrase. While users are allowed to delay providing a passphrase, it is recommended that they choose the seed phrase right then and there. The platform then confirms the user's identity by asking for certain missing terms from the passphrase; upon entering these terms, users get access to their accounts.
Upon entering the details, MetaMask shows a portfolio to the user. Here, they are asked to connect their other wallets to access the "full potential of this dapp". There is also an option to watch any wallet, which requires entering an ENS name or wallet address.
The Buy section is simple to access. It allows one to buy using fiat currencies. MetaMask first asks the user to enter their country of origin and then gives them access to the fiat options. For instance, those from India get to choose between UPI, IMPS, and Debit or Credit cards.
The swap section is equally easy to understand. Users will also get info about the gas fee while interacting with it.
The staking section is also simple, providing users to pick between two options. The rest of the settings are concerned with gas prices, the currency of choice, interface colour, settings, support, and FAQs. We chose the dark mode during our review because of its aesthetic appeal.
These features are for the desktop extension. The mobile version is pretty much the same, providing the same features but in a more condensed manner. The UI is a lot cleaner, we would say, and both Apple and Android versions have received good reviews from users.
How to Transfer Funds and Buy Crypto Via Metamask Wallet - Full Guide
Listed below are the steps one needs to take to buy crypto or transfer them via the MetaMask wallet
Transferring Crypto to Other Wallet
Let's start with what we presume to be the more complex of the two. This process entails clicking the MetaMask wallet, picking up the token to send, and pressing the "send button". The wallet will then ask the user to enter the wallet address, after which the gas fee that will be deducted from the transfer amount will be displayed.
Click the "Next" button and proceed to review the info. If everything is correct, confirm the transaction.
We recommend always having surplus tokens to send since transactions can fail when there isn't enough crypto in the wallet to cover the gas fee and the transaction amount.
Buying Crypto Using the Metamask Wallet
There are two ways to buy cryptocurrency using the MetaMask wallet. Users can swap their tokens, such as ETH, for other assets. Or, they can use fiat methods. For the fiat methods, they must choose the Buy option.
Clicking on the "Buy" option will prompt MetaMask to ask for the user's country of origin, after which fiat payment methods will be provided. Since fiat currency is involved, this process requires users to deposit a KYC document.
How to Withdraw From MetaMask Wallet?
Withdrawal is also simple via this wallet. Users simply need to transfer their tokens outside the MetaMask wallet and then convert them into fiat.
Customer Support on MetaMask
As we already discussed in the previous section, community forums, and help centres are the only two ways for users to access customer support. The support section is full of how-to guides that users can read to resolve their issues. And chances are that these articles would be helpful in solving most issues. However, if, in case, none of these tutorials pans out, reaching out to the community forum is another option. But as we scrolled down, there was another option we found that involved talking to the customer support team. The response times are quick. However, we recommend only asking them precise questions.
How to Use a MetaMask Wallet?
Here are the steps to use the MetaMask wallet:
Step 1 - Go to the Official Website of MetaMask
The first step is to go to the metamask.io website. Here, users will be prompted to download the version depending on their browser. By default, the download will be set to what browser is used to search for the wallet. But users can pick between iOS and Android versions as well.
Step 2 - Creating a Password
After downloading and installing the wallet, users will be asked to pick a password. We recommend using a strong password with more than 10 alphanumeric characters and symbols. We tried it with eight characters, and it turned out to be an average password.
Step 3 - Save the Seed Phrase
As soon as the user enters the password, they will be recommended by MetaMask to set the seed phrase. They can defer it, but it is not recommended. Click the "set the passphrase" button and copy the phrase to a clipboard. Upon clicking on the next button, users will be asked to enter the missing terms of the seed phrase. Enter the details and click on "Confirm".
Step 4 - Add Crypto to the Wallet
Once users have set up their accounts, the time comes to add funds. There are two ways to go about it. For those who are buying cryptos for the first time, the buy option allows them to buy those assets using fiat.
For those who seek to transfer their assets from other wallets to MetaMask, the process involves copying the wallet address to an external wallet and sending crypto from the external wallet.
When buying new cryptocurrency assets, prior to their ICO, there is usually an option to connect your MetaMask wallet to the official site of the project and then swap ETH or USDT for the tokens.
The Verdict
We reviewed MetaMask after downloading it and performing the basic functions, and these are our findings:
It has a good user interface. Even beginners won't have any trouble buying and storing cryptos using it.
The security feature that involves private keys encourages users to be accountable.
It allows users to buy crypto not just using other cryptos but also using fiat, which is a plus, especially for a decentralized wallet.
Only the Ethereum network is supported by default on the platform. Adding other networks requires manual effort, which would be difficult for beginners.
Most of its utilities related to buying assets involve third-party support, which adds charges.
Like most wallets, MetaMask isn't perfect. But what it is capable of doing, it does well.
See our complete list of the best crypto wallets of 2023.
References
Related
FAQs
What is a MetaMask wallet?
MetaMask wallet is a non-custodial, decentralized wallet that allows users to buy, store and transfer cryptos, store NFTs, and interact with decentralized applications.
Is MetaMask a safe wallet?
MetaMask is a non-custodial wallet, which means that the onus of safety falls upon the user's shoulders. However, it has provided some security features such as mild phishing detection, password and passphrase, encryption, and two-factor authentication to protect a user's assets.
Is it free to use MetaMask?
Storing and receiving crypto assets won't come with any costs on MetaMask. However, using bridged transactions, buying and transferring cryptos do involve some fees.