14 Best Staking Coins to Invest in 2023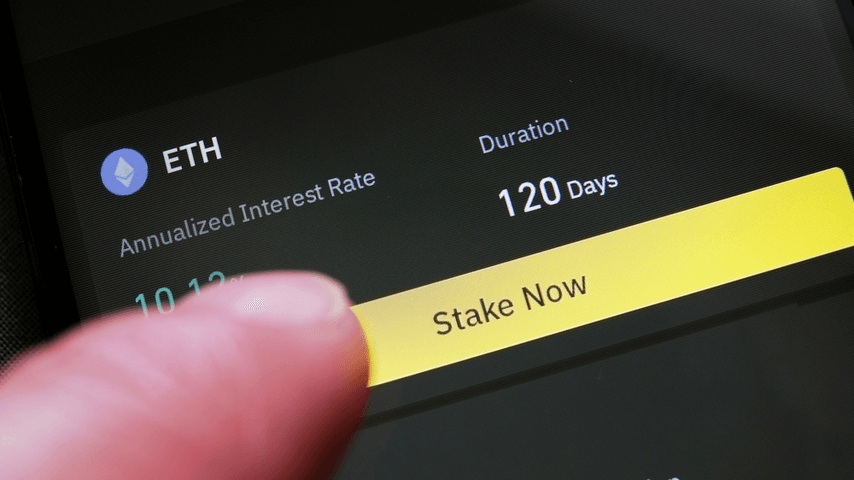 Disclaimer: The Industry Talk section features insights by crypto industry players and is not a part of the editorial content of Cryptonews.com.
Crypto staking allows investors to lock-up their holdings and earn free crypto via passive income and governance rights. Complementing a buy and hold investment strategy, staking crypto is also an effective way to guard against a bear market cycle without having to cash out and realize losses.
This guide reviews the best crypto staking coins to invest in for 2023, and where they are listed to buy.
Best Staking Coins to Buy Now
Our top staking coin rankings include new crypto projects set to roll out staking products, and established big caps with a large community of holders.
Bitcoin Minetrix - Revolutionary stake-to-mine cryptocurrency offering cloud mining credits by staking on the ecosystem. Stake $BTCMTX and earn rewards as high as 6,000%. $BTCMTX is priced at only $0.011 on presale.
Meme Kombat - Earn daily passive income by staking this new meme cryptocurrency on presale, as well as earn by wagering in the Battle Arena. An APY of 112% is available during the presale, with $MK priced at $1.667.
eTukTuk - BSC PoS ecosystem targets transport in developing countries with a 33,487% APY and many layers of token utility. Aims to upgrade TukTuks with AI-enhanced route optimization and battery powered electric vehicles, with no fuels costs and a lower purchase price.
TG.Casino - Stake and earn an APY of 2,300% with this Telegram-only online casino. The $TGC can be used to earn access to online casinos and will adopt a buyback and burning mechanism. TG.Casino has raised over $200K on presale.
Wall Street Memes - A popular meme coin created by the Wall St Bulls NFT team that attracted over $25 million on presale, before listing on the OKX and Huobi exchange. It offers attractive staking rewards and Elon Musk's engagement with WSM tweets further highlights its massive appeal.
Ethereum - Largest Altcoin with Proof-of-Stake Upgrade Since Merge
Cardano - Staking Network Handling 75,000 Transactions per Second
Solana - Potential 'ETH Killer,' Earn over 5% Annually by Staking SOL
Polygon - Over $2.36 Billion MATIC Staked on the Polygon Network
Avalanche - Cryptocurrency Providing High Returns to Network Delegators
Binance Coin - Native Token of the Biggest Cryptocurrency Exchange
Polkadot - Earn 14% APR by Staking DOT, Top 20 Crypto Token
Tezos - Web3 Network with Staking Options, Eco-Friendly Crypto
Algorand - Pure Proof-of-Stake (PPoS) Staking Protocol
Analyzing the Top Cryptos to Stake
To get a better idea of the best staking tokens, the sections below provide an in-depth review of some of the best cryptocurrencies in this niche.
1. Bitcoin Minetrix - Stake-to-Mine Crypto Offering High APYs and Bitcoin Mining Power, Soaring on Presale
One of the best staking tokens to look at right now is Bitcoin Minetrix ($BTCMTX). This new cryptocurrency combines token staking and cloud mining. On Bitcoin Minetrix, token holders can stake $BTCMTX and earn cloud mining credits.
Bitcoin Minetrix is tokenizing cloud mining to make the process more transparent for users. Many cloud mining corporations often conduct dubious operations that tend to scam investors. However, Bitcoin Minetrix will offer cloud mining opportunities by leveraging blockchain technology. Thus, the cloud mining credits offered will be recorded on the blockchain, promising safety to the user.
To get these credits, investors must stake their $BTCMTX tokens on an Ethereum-powered smart contract. At the time of writing, Bitcoin Minetrix is offering staking rewards and APYs (Annual Percentage Yields) as high as 6,000%. You will earn the cloud mining credits by staking the tokens, which can be burned to access Bitcoin mining power.
The Bitcoin mining power is used to get an allocated mining time, which will help you earn a share of the mining revenue. Thus, Bitcoin Minetrix will heavily reduce the entry barrier since one does not have to purchase their own equipment and mining rigs.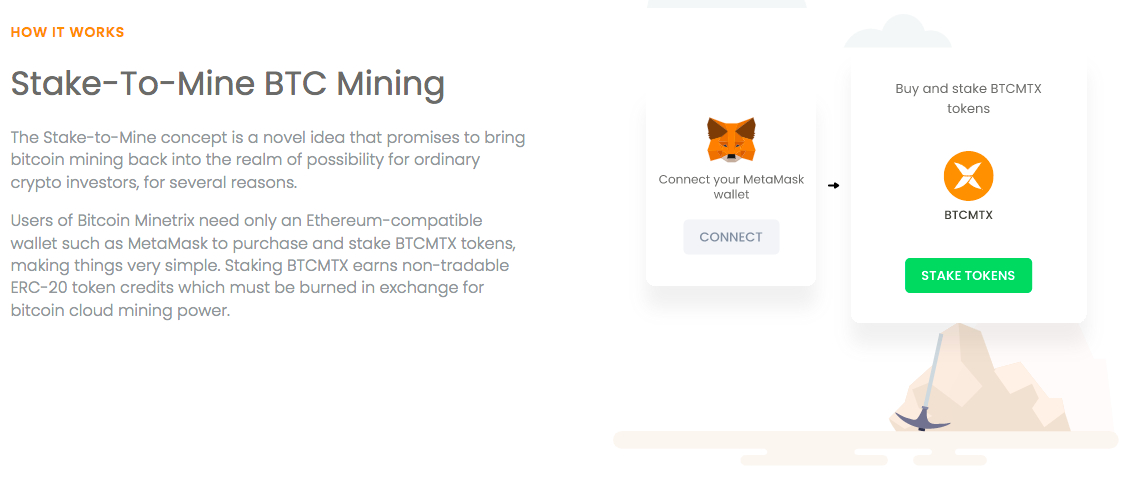 To get started with this top staking project, buy $BTCMTX through the ongoing presale. From a total supply of 4 billion - 2.8 billion tokens are being allocated equally across ten presale rounds. During the first round, $BTCMTX is priced at $0.011 per token. The price will jump by 8.1% to $0.0119 by the final round.
Bitcoin Minetrix has already raised over $180K in only a few days since the presale began. Interested investors can get started by making a $10 minimum purchase. Read the Bitcoin Minetrix whitepaper and join the Telegram channel to find out more about this project.
| | |
| --- | --- |
| Presale Started | 26 Sept 2023 |
| Purchase Methods | ETH, USDT, BNB |
| Chain | Ethereum |
| Min Investment | $10 |
| Max Investment | None |
2. Meme Kombat - Stake-and-Earn Meme Crypto Offering 112% APY, Wager and Earn on a Battle Arena
While meme coins are known to offer limited utility, Meme Kombat is a new meme project that is changing this notion. On the Meme Kombat ecosystem, users can earn high staking APYs, wager and earn rewards on a battle arena, and win thrilling prizes.
Once you buy Meme Kombat on presale, the tokens are automatically locked into the staking contract. At press time, the staking APY is set at 112%. After the end of the presale, users must re-stake their tokens for one lock-up period to earn the presale APY. The lock-up period is only 14 days on this ecosystem.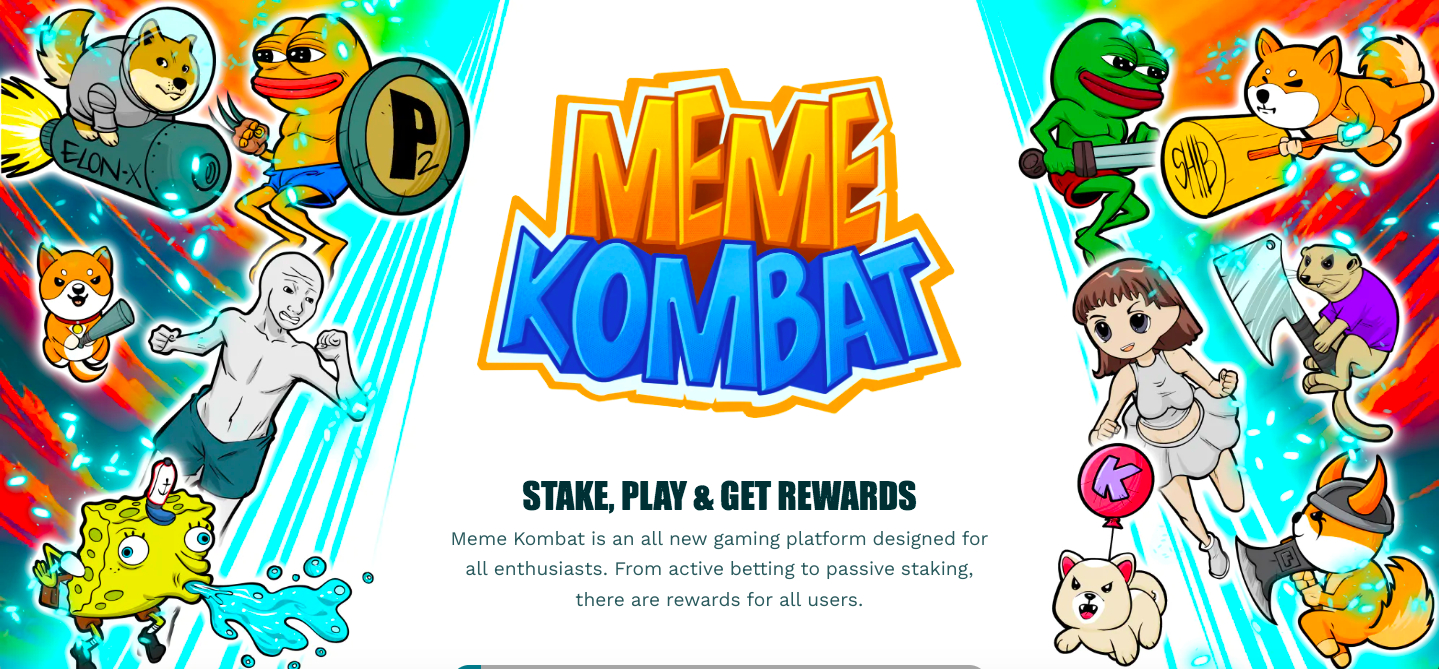 $MK, the native cryptocurrency, is priced at only $1.667 during the ongoing presale round and, unlike most of the other meme coins, Meme Kombat has a low token supply of just 12 million, with 50% of those allocated to the presale.
As well as earning APY, staked tokens are also used for wagering purposes in the Meme Kombat Battle Arena, which features battles of characters representing meme coin favorites.
Powered by AI and the blockchain, results are immutable, fair and transparent.
Season one of the Battle Arena is expected to launch by Q3 2023, after the end of the presale. It will feature 11 meme coin avatars, such as Pepe Coin and Wojak.
Not only can you fight on this play-to-earn platform, but you can also bet on live battles and earn prizes and free $MK tokens. One can also do side action betting, which gives users access to complex wagers such as first moves, outcomes, and more.
30% of the 12 million token supply will be offered through the staking and battle rewards. Another 10% will be used to offer community rewards on the platform. Stay updated with this cryptocurrency by going through the Meme Kombat whitepaper and joining the Telegram channel.
| | |
| --- | --- |
| Presale Started | 21 September 2023 |
| Purchase Methods | ETH, USDT |
| Chain | Ethereum |
| Min Investment | $5 |
| Max Investment | None |
3. eTukTuk - Eco-Friendly Transport Initiative Provides PoS Rewards of 33,487% And AI-Augmented Driving
eTukTuk (TUK) is a campaign launched from Sri Lanka, that aims to provide financial inclusion by replacing TukTuks with electric vehicles, which will be enhanced with AI for route optimization and task automation.
It is a socio economic revolution to remedy financial barriers while also helping the environment, an issue that is plaguing certain developing countries at the present time.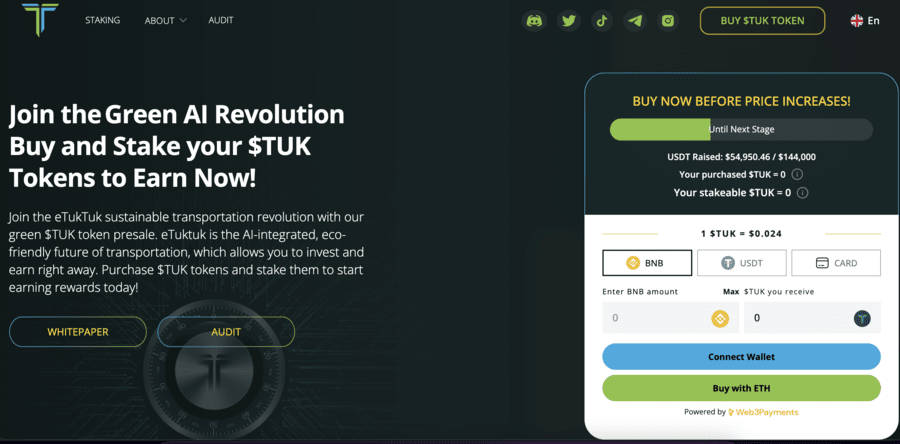 eTukTuk is offering high APY rewards of 33,487%, with rewards of 4.75 per BSC Block. A total of 144,981 TUK have been staked thus far. But there are multiple benefits aside from direct staking on this BSC implementation.
The Electric Vehicles put forward by eTukTuk are far cheaper in comparison to traditional TukTuks, meaning it will be more affordable for drivers to make a purchase. There will be no fuel costs, as the vehicles can be charged at designated charging stations, maintained by territory partners.

The TUK token will have additional benefits, as it will be the native token within the application used by drivers to oversee their operations. This can include discounts and bonuses for its usage.
These are Zero Emission Vehicles (ZEVs) that are much more eco friendly, in comparison to both cars and TukTuks. Sri Lanka and surrounding countries do not have a healthy carbon footprint. But if this solution is implemented on a wide scale, it would place it above developed countries in multiple regards.
The whitepaper also highlights the fact that many people in impoverished regions suffer from the ill effects of air pollution, and this initiative can help with people's well being in multiple ways. It is further intended to be part of a much broader sharing economy, to improve the quality of life for drivers.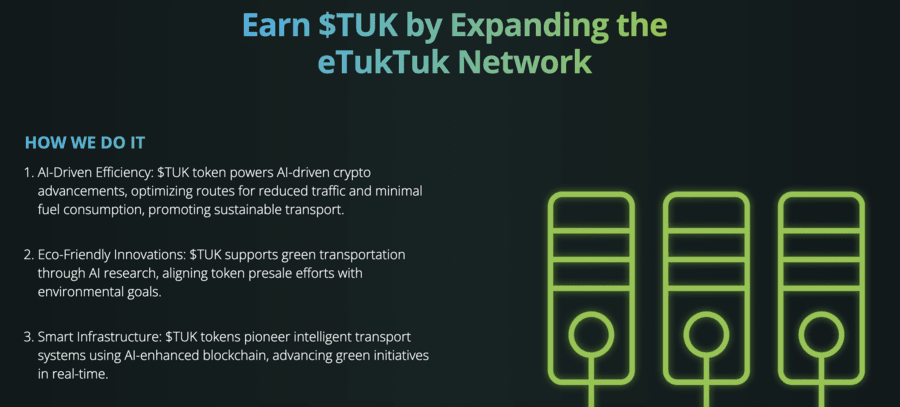 It also includes the idea of "banking the unbanked", something many crypto based platforms have sought to do. In other words, eTukTuk is a gigantic project with multiple ongoing initiatives, the main ones being an upgrade to the transport industry and a reduction in carbon emissions.
It could do very well to improve socio-economic conditions for drivers, if it takes off.
More information can be found in the Telegram and Twitter accounts.
| | |
| --- | --- |
| Presale Started | August 2023 |
| Purchase Methods | ETH, USDT, BNB |
| Chain | Binance Smart Chain |
| Min Investment | $5 |
| Max Investment | None |
4. TG.Casino - Get a 2,300% Staking APY with this Online Casino Token
The next top staking token on our list is $TGC, the native cryptocurrency of the TG.Casino online casino. The TG.Casino leverages the $TGC token to give users access to exclusive casino games and several staking benefits.
The presale has already raised more than $200k with investors earning huge APYs.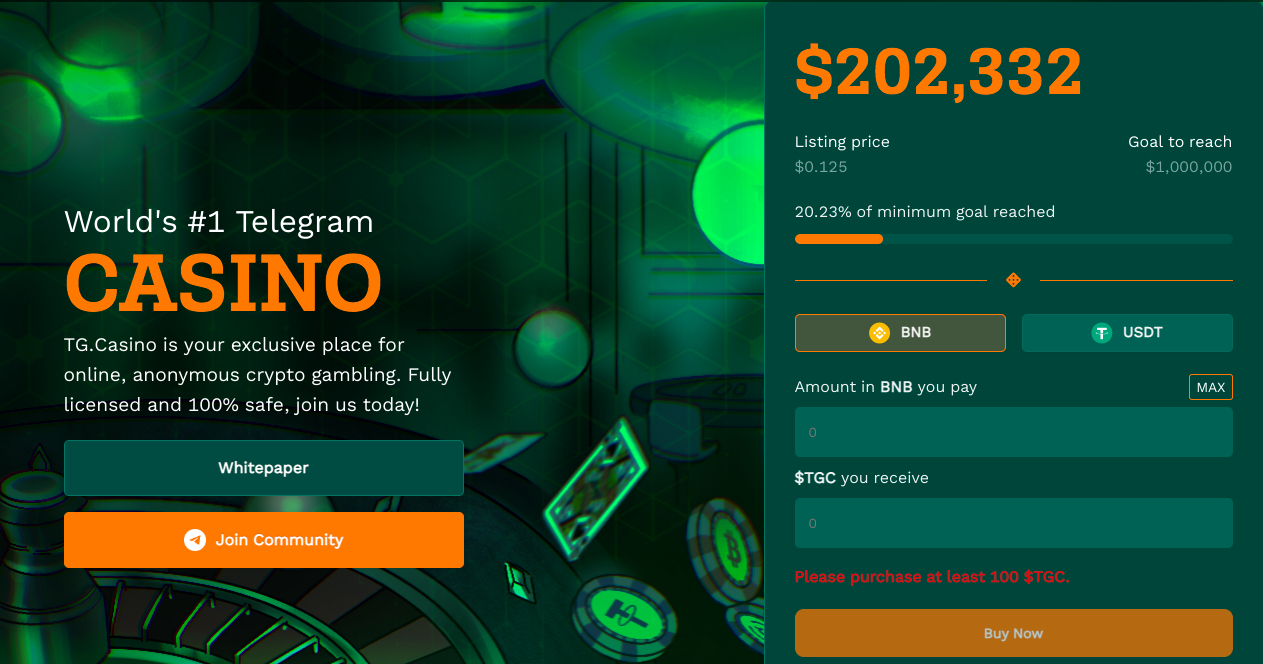 At press time, investors can purchase $TGC from the ongoing presale and stake the cryptocurrency to earn an APY of 2,358%. The returns will fall once more tokens are staked on the ecosystem. So far, more than 1.6 million tokens have been staked in under a week since the presale started. This represents 88% of all the tokens purchased on the presale.
For the ongoing presale, investors can buy $TGC for just $0.125 per token. However, one must buy at least 100 $TGC tokens to enter the presale. The TG.Casino whitepaper states that staked token holders can also earn rewards through a profit-sharing system.
Once the casino starts making profits, a portion will be used to buy back tokens. 60% of the purchased tokens will be distributed as rewards to those staking and 40% of these tokens will be burnt, making the supply deflationary and increasing the token's value.
Users can hold $TGC on the online casino to avail several playing benefits - those who purchase $5K worth of $TGC on the presale can also earn free NFTs and other offers.

The TG.Casino is a Telegram-only casino and gives access to thousands of casino and sports betting markets. Users will also access a 150% matched deposit bonus of up to $30,000 on their first deposit.
Join the TG.Casino Telegram channel to stay updated with this cryptocurrency.
| | |
| --- | --- |
| Presale Started | 21 September 2023 |
| Purchase Methods | ETH, USDT, BNB |
| Chain | Ethereum |
| Min Investment | None |
| Max Investment | None |
5. Wall Street Memes - Hot New Community-Backed Meme Token Listed on OKX After Successful Presale
Wall Street Memes ($WSM) has emerged as an exciting new staking meme token gaining much investor traction amid the recent meme coin trend.
The project enjoyed one of the best crypto presales ever, raising more than $25 million.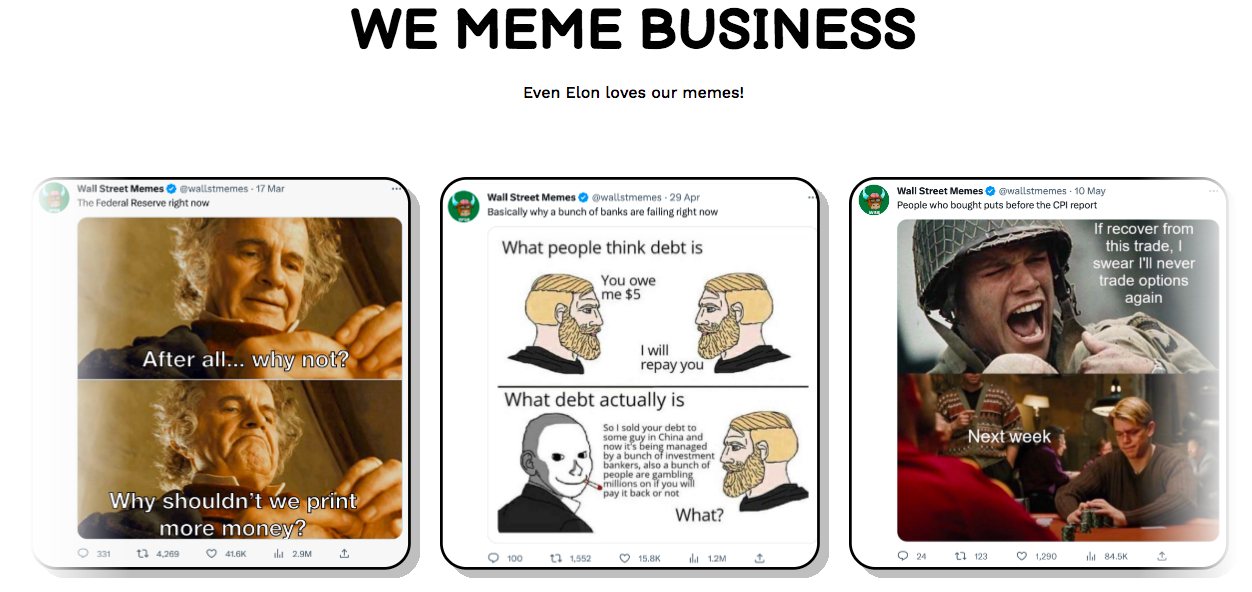 Launced in late May, Wall Street Memes is from the same group that made the Wall St Bulls' Ethereum NFT collection, which sold out in 30 minutes in 2021, and has built a community of over a million followers on social media.
WSM also has a robust staking feature with an estimated annual percentage yield (APY) of an impressive 50%. As of the latest data, participants in the staking program can earn 75 WSM per block as a reward.
The collective investor enthusiasm is reflected in the total staked amount, which has reached over 375 million WSM tokens.
Moreover, WSM has also caught the attention of big names like Elon Musk, who has interacted with the platform's Twitter. This uptick in traction from investors can help the token list on top exchanges like Binance in the coming quarters.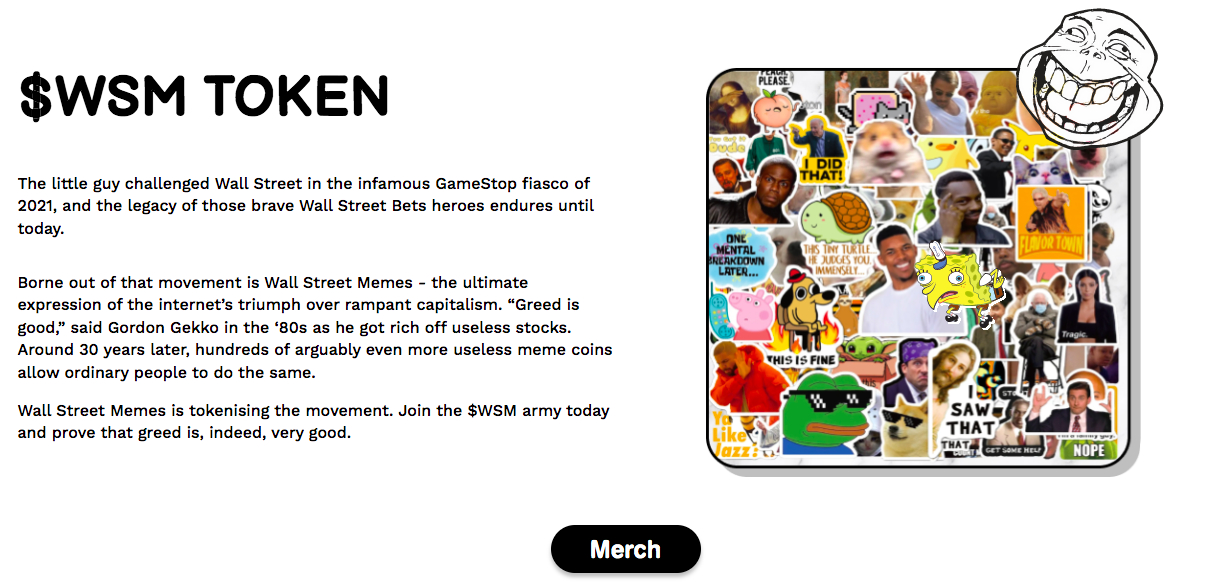 According to the Wall Street Memes whitepaper, half of the two-billion $WSM token pool was available for presale. The remaining tokens are distributed as 30% for community rewards and 20% for maintaining exchange liquidity.
This approach is designed to prevent the issue of market dumping through team tokens, a problem seen with other cryptos. After the presale ended, $WSM listed on OKX - one of the largest crypto exchanges in the world. The token is now also trading on the Huobi exchange.
You can follow the Wall Street Memes channel on Telegram to keep track of the latest developments.
6. Ethereum - Popular Altcoin with Proof-of-Stake Upgrade
One of the largest cryptocurrencies, Ethereum (ETH), has recently transitioned from a Proof-of-Work (PoS) to a Proof-of-Stake (PoS) consensus.
Thus, it has the potential to become one of the best cryptocurrency for staking in 2023.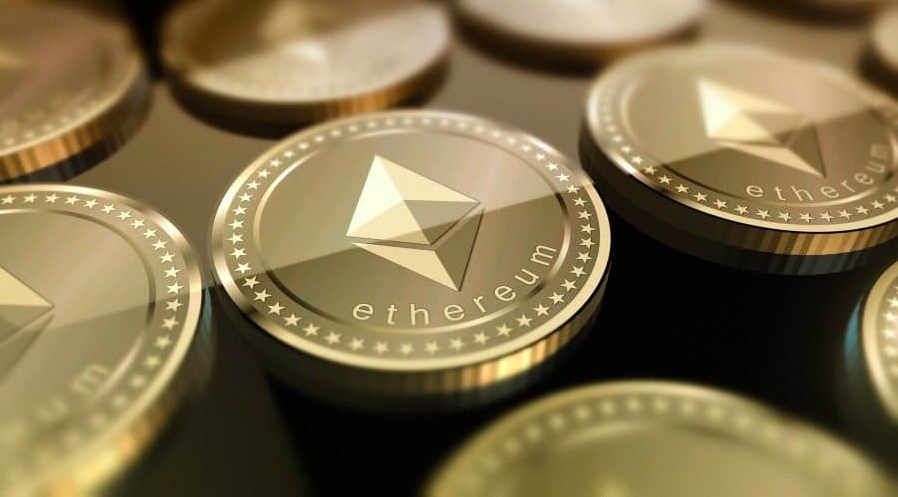 With the upgrade, Ethereum is expected to solve major network concerns related to high gas fees, scalability and transaction speed, as well as cutting energy usage by 99.9%, and the change will make Ethereum one of the best staking coins in 2023.
Alternatively, if you're looking to earn yield on your ETH holding then the best yield farming crypto platforms such as OKX can offer APYs in excess of 5% on certain crypto crosses.
Similarly, for those looking for the best crypto interest accounts, Crypto.com offers an interest rate of up to 6% for ETH.
With the new upgrade, investors will be able to stake Ethereum to help secure the network and earn rewards in the process. However, there is a minimum staking requirement of 32 ETH.
Seen as the best altcoin by many investors, Ethereum is the second largest cryptocurrency behind Bitcoin with a market cap of $148 billion. ETH is currently trading near $1,620 - significantly below its all-time highs of $4,900.
Cryptoassets are highly volatile and unregulated. No consumer protection. Tax on profits may apply.
7. Cardano - Staking Network Handling 75,000 Transactions per Second
Created by one of the founders of Ethereum, Cardano is considered one of the best proof-of-stake blockchains in 2023.
ADA, the native cryptocurrency, can be staked on the Cardano network to earn yearly interests in return for validating blocks on the blockchain.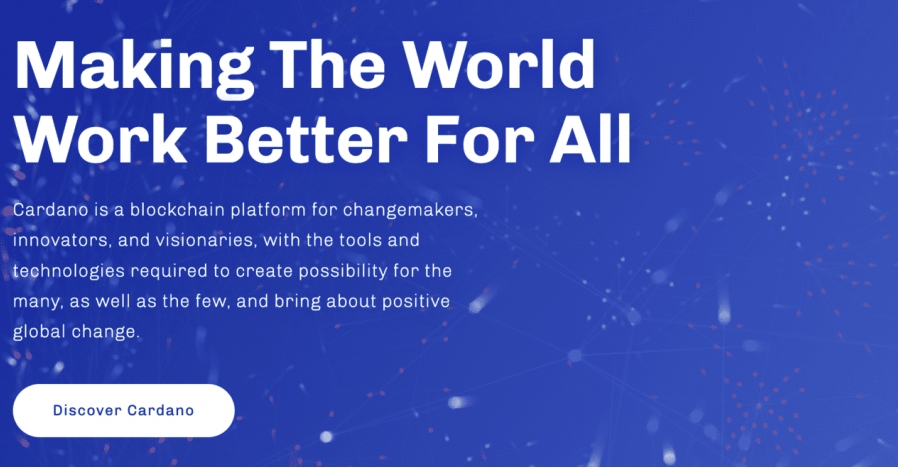 On Cardano, new blocks are verified through nodes selection. When an individual joins a node, ADA is locked away in that node. After blocks are produced, the nodes earn rewards distributed among the individuals, also referred to as pool contributors.
Investors can also choose to stake their assets to stake pool operators - individuals who have specialized knowledge to perform the necessary tasks of maintaining the network. One of the best proof of stake coins, Cardano (ADA), can be staked on some of the popular crypto exchanges such as Binance, Crypto.com, eToro and Kraken exchange - of which eToro is the most regulated crypto platform.
With an average of 75,000 transactions per second (TPS), Cardano is one of the fastest networks in the blockchain space. After launching at $0.076 in 2017, ADA reached an ATH of $3.10 in 2021.
Cryptoassets are highly volatile and unregulated. No consumer protection. Tax on profits may apply.
8. Solana - Earn over 5% Annually by Staking SOL
Solana is a decentralized blockchain built to support scalable and user-friendly apps worldwide. The network attracts various DApps (decentralized applications) and developers due to its high speed and low costs - supporting more than 50,000 TPS with an average transaction cost below $0.1.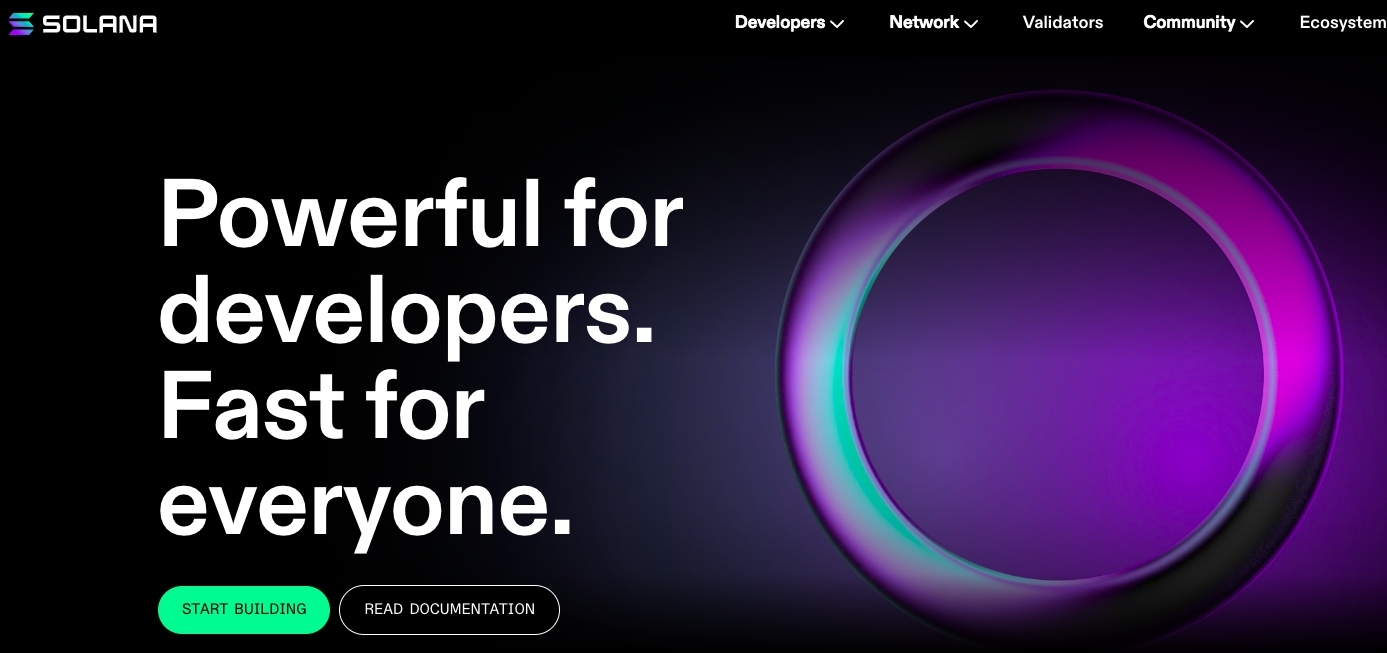 A proof-of-stake coin, SOL can be easily delegated to network validators to earn a potentially high annual percentage yield (APY). SOL has an APY of $5.32%, making it one of the best staking cryptocurrency for investors seeking to generate passive income.
In 2021, SOL grew from a price of $1.5 in January to an ATH of $260 in May - a 17,233% price increase.
However, SOL has suffered a brutal year - especially after the collapse of FTX - and is now trading at near $25.
Cryptoassets are highly volatile and unregulated. No consumer protection. Tax on profits may apply.
9. Polygon - Over $2.36 Billion Staked on the Polygon Network
An open-sourced and permissionless blockchain, Polygon (MATIC) is built on the Ethereum network to offer high-scaling solutions. The native cryptocurrency, MATIC, is used to settle transactions, staked to secure the platform, and has rewarded investors with massive growth in the last few years.
With a total supply of 10 billion tokens, 12% of MATIC is allocated to fund staking rewards on the Polygon network. A PoS consensus, Polygon utilizes a sustainable and environmental-friendly network that does not require large amounts of computational power.
Anyone can become a network validator by staking MATIC, with the proportion of rewards depending on an individual's stake. With over 100 global validators maintaining the network, a total of $2.36 billion is staked on the Polygon network. With nearly half a billion worth of rewards distributed from the staking pool, Polygon is one of the top staking coins in 2023.
Cryptoassets are highly volatile and unregulated. No consumer protection. Tax on profits may apply.
10. Avalanche - Cryptocurrency Providing High Returns to Network Delegators
Avalanche (AVAX) is an Ethereum Virutal Machine (EVM) compatible open-sourced platform that functions as a platform for various decentralized applications. One of Ethereum's top rivals, Avalanche, is also smart contract compatible and offers higher throughput levels.

Avalanche is capable of handling 6,500 TPS, compared to Ethereum's 17. AVAX, the native cryptocurrency, can be staked to earn potentially high annual yields. Currently, delegators can earn an average of 8.67% in yearly rewards by staking AVAX, while validators can earn up to 8.97%.
Delegators are individuals that choose to stake AVAX but give the responsibility of utilizing the staked tokens for network security to the validators.
Cryptoassets are highly volatile and unregulated. No consumer protection. Tax on profits may apply.
11. Binance Coin (BNB) - Native Token of the Biggest Cryptocurrency Exchange
Binance Coin (BNB) is the native cryptocurrency of Binance - the world's largest cryptocurrency exchange in terms of trading volume. With Binance, investors can trade over 600 cryptocurrency assets.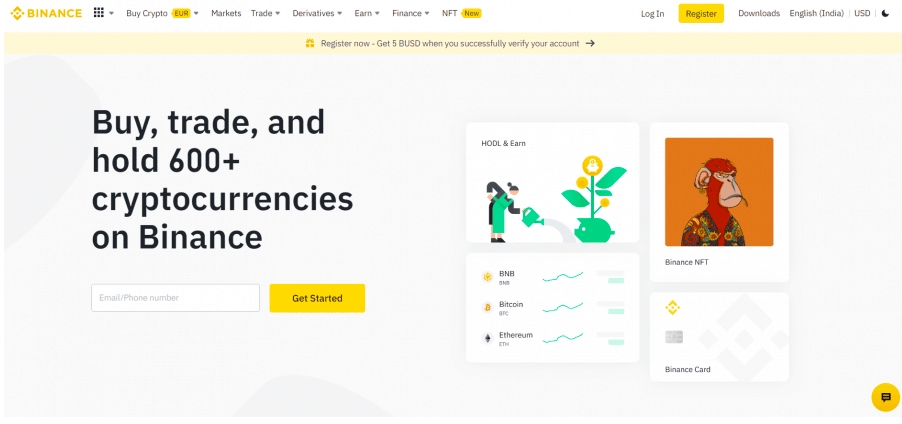 On the exchange, traders access low spot trading fees of $0.1% per transaction. However, BNB token holders can get a 25% discount on this fee, depending on the size of their BNB holdings. Another way to benefit from BNB is through staking options.
The amount BNB investors earn via staking differs depending on the lock-up periods and the amount of tokens staked. For example, investors staking $5,000 worth of BNB for 120 days can earn up to 12.99% APY. Thus, BNB is potentially one of the best staking cryptocurrency options in 2023.
Trading under $1 in 2017, BNB eventually reached an ATH of $690 in 2021. However, the token has declined significantly throughout 2022. Currently, BNB trades at $312 per token, with a market cap of nearly $50 billion.
Cryptoassets are highly volatile and unregulated. No consumer protection. Tax on profits may apply.
12. Polkadot - Earn 14% APR by Staking DOT
Polkadot (DOT) is a popular protocol enabling cross-chain blockchain transfers of tokens, data and any other type of asset. Polkadot aims to provide a decentralized web which its users can control. Therefore, the blockchain offers staking options for various network operations and maintaining security on the network.

With a circulating supply of over 1.1 billion DOT, 52% of the available tokens have been staked. One of the major reasons for this is the high annual yields that the network provides. Platform delegators earn an average APR of 14.02% while running validator nodes attracts an APR of 14.83%.
Cryptoassets are highly volatile and unregulated. No consumer protection. Tax on profits may apply.
13. Tezos - Web3 Network with Staking Options, Eco-Friendly Crypto
Tezos is an open-source and smart contract compatible platform designed to power the Web3 revolution. With Tezos, you can access a high-speed decentralized network where users can directly interface and communicate with each other.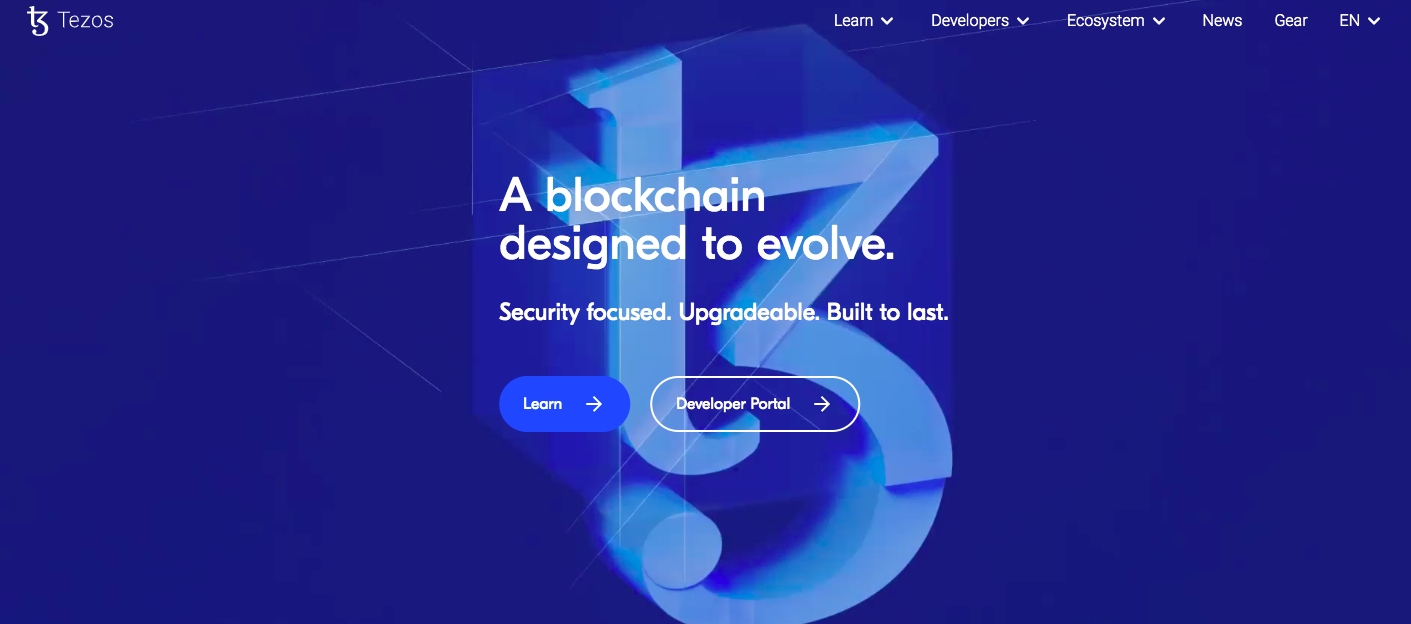 A key platform component is user-driven governance, an important element of the Web3 revolution. The network offers this by allowing users to participate, evaluate and maintain the site actively. One of the ways of governing the platform is by staking XTZ - the native cryptocurrency of Tezos.
Requiring lesser energy than Ethereum and Bitcoin to operate, Tezos leverages XTZ to offer a highly sustainable cryptocurrency platform. Currently, delegators can earn an APR of 5.34% by staking XTZ. The platform also has a high staking ratio of 74% - meaning that holders have staked nearly 3 out of 4 XTZ tokens.
Cryptoassets are highly volatile and unregulated. No consumer protection. Tax on profits may apply.
14. Algorand - Pure Proof-of-Stake (PPoS) Staking Protocol
Algorand is a decentralized blockchain network operating on a unique consensus known as the Pure Proof-of-Stake (PPoS). Built on the Byzantine consensus, Algorand's network maintains itself via staking operations.
With PPoS, users who stake ALGO are randomly selected to propose new blocks and vote on block proposals. Notably, a user's influence is directly proportional to the amount of ALGO they stake on the network. Therefore, users with the highest levels of staked assets have a significantly larger chance of contributing to the network.
Currently, ALGO delegators can expect an APR of 7.75%. Nearly 3.65 billion of the available 7.34 billion ALGO tokens are currently staked.
Cryptoassets are highly volatile and unregulated. No consumer protection. Tax on profits may apply.
What are Crypto Staking Coins?
Cryptocurrency staking is a process supported with Proof-of-Stake (PoS) digital assets. Crypto staking involves locking up a portion of your token holdings for a certain period to take advantage of certain benefits or rewards.
How Do Staking Tokens Work?
For example, staking rewards in cryptocurrency works similar to earning interest in your savings account. After staking a portion of your assets, investors can earn interest on their holdings. With fiat currency, the bank typically uses this staked amount from your savings account to provide loans to other customers.
However, in cryptocurrencies, the staked assets are used to maintain and validate each new block - which is a cryptographic representation of a new transaction on the platform.
For instance, here is an example of how crypto staking works:
An investor wishes to stake Cardano (ADA) to earn interest.
The investor stakes $1,000 worth of ADA for 3 months.
The staked ADA is used to secure the network.
The investor earns 5% interest at the end of the 3 months, receiving $1,050 in total.
Is Staking Cryptocurrency Worth it?
Before investing in some of the assets from our staking coins list, it is important for investors and traders to review the benefits of staking coins. The sections below review if staking cryptocurrencies is a worthwhile investment.
Earn Passive Income
Firstly, generating passive income is the biggest benefit of staking cryptocurrencies. While the best proof of work coins like Bitcoin have a significantly high market cap, proof of stake tokens can be leveraged to earn additional income.

For example, investors can stake their preferred tokens to earn an APY - annual percentage yield. Like a savings account, you generate fixed income yearly from your holdings. This is a great opportunity for investors looking to hold tokens for the long-term.
With certain tokens such as Polkadot (DOT), investors have the chance to earn returns as high as 14% annually.
Contribute to Network Security
Apart from investment opportunities, many users see cryptocurrencies as a new and revolutionary method of making currency completely decentralized. Thus, many networks promote community participation via token governance.
Staking tokens allow investors to participate as network validators - validating nodes and creating new blocks on the blockchain. Furthermore, network validators earn higher rewards than delegators.
How to Pick the Best Staking Cryptocurrency
The steps below discuss a few methods of assessing the best staking cryptocurrencies to invest in:
High APY
One of the best ways of picking the top staking cryptos is by analyzing the Annual Percentage Yield. For example, investors will likely stake their cryptocurrencies with a network providing higher returns.
With Polkadot, delegators can earn up to 14.84% return on their staked assets. On average, the S&P 500 has returned 11.8% annually since its inception in 1957.
Lock-Up Time
Many cryptocurrencies offer flexible lock-up periods - allowing investors to stop staking their assets at any moment. On the other hand, fixed lock-up periods are likely to attract a higher rate of return.
However, investors looking to stake for short intervals may benefit from choosing digital assets that offer flexible options. For example, Cardano (ADA) allows investors lock-up their assets for a minimum of 30 days on Binance exchange.
Where to Stake Crypto
We recommend eToro for beginners as the safest and best cryptocurrency staking exchange in 2023. eToro is a global multi-asset trading platform with over 27 million users.
A secure exchange, eToro is regulated by top-tier global bodies, including the FCA (Financial Conduct Authority), FINRA (Financial Industry Regulatory Authority) and the ASIC (Australian Securities and Investments Commission).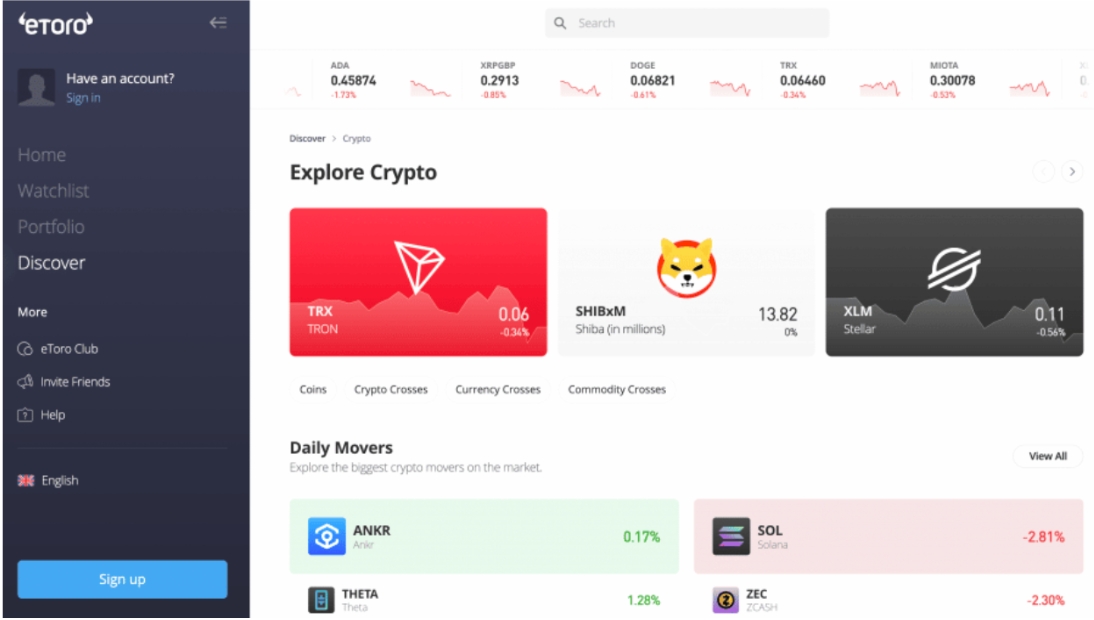 Offering over 60 tradable cryptocurrencies, investors can trade all of the above-mentioned cryptocurrencies in our list. eToro supports staking in namely 3 crypto assets - Ethereum, Cardano and Tron. The yields investors receive depend on their eToro membership card tiers.
For example, the Bronze card members are eligible to earn 75% of the monthly staking yield on Cardano (ADA), while the silver/Gold card members can earn 85%. The Diamond/ Platinum card members receive the highest benefits, as they are eligible to earn 95% of the monthly staking yield on Cardano.
An efficient and easy-to-use platform, eToro required investors to complete a 5-minute KYC (Know Your Customer) process before accessing their account.
eToro charges 1% per crypto transaction, which is added to the bid/ask spread price. After making a minimum deposit of $10 (for US and UK customers only), investors can begin trading digital assets at a low cost. Investors can deposit via fiat currency payment methods such as credit/debit cards, bank transfers and e-wallets like PayPal, Skrill and Neteller.
Conclusion
Staking cryptocurrencies allows users to earn annual yields by locking up their digital assets for specified amounts of time. One of the top cryptos we have reviewed is Bitcoin Minetrix - a stake-to-mine cryptocurrency project. Investors can stake the $BTCMTX token to earn cloud mining credits. These credits can be burned to get Bitcoin mining power. Bitcoin Minetrix is also offering staking rewards as high as 6,000%.
FAQs
What coins have the highest staking rewards?
Polkadot (DOT) is currently offering delegators a 14.8% annual yield. Investors can earn up to 12.99% yearly yields by staking at least $5,000 worth of BNB for at least 120 days. However, coins such as Bitcoin Minetrix have an estimated yield of 6,000% and TG.Casino Token 2,300%, although these figure will be reduced over time as more tokens are locked into the pool.
What is the best crypto to stake in 2023?
In terms of annual yields, Polkadot is one of the best cryptocurrencies to stake. The token offers a yearly yield of nearly 15%. Bitcoin Minetrix is another top staking token which is offering staking rewards as high as 6,000%. By leveraging the $BTCMTX token, one can earn Bitcoin mining power with this revolutionary cryptocurrency.
---