Countries Where Bitcoin Is Banned or Legal In 2023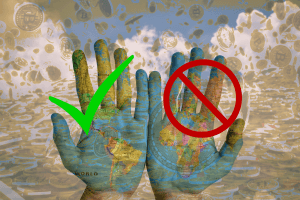 If you are looking to buy, sell, or spend Bitcoin, you should check if it is legal in your country.
In fact, there are many countries with different cryptocurrency regulations. Some of them even single out Bitcoin, allowing it to be used as money, pay taxes, purchase goods, or trade it like a commodity.
In other countries, even the mere possession of Bitcoin can get you to prison. Others have not even bothered to regulate it yet, leaving Bitcoin and other cryptos in legal limbo.
The legality of Bitcoin all over the world can be seen in this map: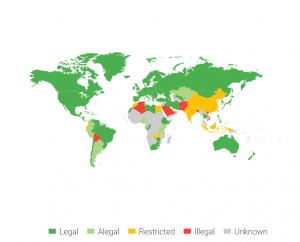 Legal map of Bitcoin and other cryptocurrencies. Source: Coin.dance
Although it has had some chance to mature, in the grand scheme of the history of money, Bitcoin is still new. It may take a decade, or decades, before Bitcoin can fully replace the world's money supply. With its increasing adoption and becoming legal tender, the once far-fetched idea of Bitcoin as the world's currency is closer to becoming a reality.
This article will cover where Bitcoin and cryptocurrencies are
Banned
Restricted
Legal
Neither Legal or Illegal
Disclaimer: Although this list is extensive, crypto regulations are often subject to change.
Countries where Bitcoin is banned
Bitcoin and cryptocurrencies are generally welcomed in most parts of the world. Nevertheless, some countries have actually banned them or their use. Whether bans were imposed due to Bitcoins decentralized nature, the threat to their current financial system or just because proper regulations are yet to be approved, there are at least nine countries that decided to do so. These are:
Algeria. Arguing that they are not backed by anything physical, Algeria has banned cryptocurrencies.
Bolivia. The Central Bank has prohibited the use of cryptocurrencies because of their unregulated nature.
Bangladesh. Citing possibilities for money laundering and being unauthorized by the Bangladesh bank, Bitcoin and other cryptocurrencies are illegal.
Dominican Republic. Citing that they are not legal tender, cryptocurrencies are illegal in the Dominican Republic.
Ghana. Although cryptocurrencies are regarded as illegal in Ghana, the Bank of Ghana sees blockchain's potential and are assessing how to fit it into their financial structure.
Nepal. Nepal's central bank has banned Bitcoin because it is not a legal currency.
The Republic of Macedonia. Citizens are warned that they cannot have crypto securities abroad. Crypto is still illegal.
Quatar. Citing price volatility, possibility of financial crimes and lack of central government support, cryptocurrency activity is banned.
Vanuatu. Several news outlets broke the story that Vanuatu accepted Bitcoin in exchange for citizenship. The country's Citizenship Office, however, denied this. The country claims to accept only USD in exchange for citizenship.
Countries where use of Bitcoin is legally restricted
In addition to the countries where BTC is banned, there are also countries where Bitcoin is somewhat restricted and cannot be traded or used for payment. In such states, banks and other financial service providers are prohibited from dealing with cryptocurrency exchanges and companies, and in more extreme cases the countries have even banned crypto exchanges (etc China).
Bahrain. You need a license in order to use crypto-asset services in Bahrain.
China. China's digital Yuan has issued on-chain wages, a first for the country. Although having researched cryptocurrencies for many years, China is treading cautiously in the market, listing a whole gamut of rules in terms of restricting Initial Coin Offerings (ICOs). China had the resources to operate with 70% of Bitcoin mining facilities, but that has been regulated by officials for environmental reasons.
Hong Kong. A law may be enacted that might restrict crypto trading to individuals who have over $1 million in their investment portfolio. Other than this, Hong Kong emphasizes certain regulations when it comes to ICOs. Exchanges also need regulations in order to be enacted.
Iran. Financial institutions are not permitted to handle cryptocurrencies.
Kazakhstan. There are heavy cryptocurrency restrictions by the National Bank with exchanges and mining banned. A complete ban of cryptocurrency has been contemplated.
Russia. Crypto is legal in Russia but is restricted. Banks and exchanges have to be registered by the Central Bank and crypto cannot be used as a payment method.
Saudi Arabia. Once banned, Bitcoin is now legal in the country. Banks, however, are banned from participating.
Turkey. Cryptocurrencies are not allowed as financial assets in banks. They also cannot be classified as payment tools.
Vietnam. Although Bitcoin is still prohibited in trade relations by the State Bank, possession and trade in crypto is a tolerated occurrence for the average user. Research in the country is being done to further understand cryptocurrency and its implications.
Note that despite the bans and restrictions, these laws have not eradicated Bitcoin or other cryptocurrency trades and their usage. Due to the nature of decentralized cryptocurrencies, it is simply impossible to ban them. Many individuals in those countries still make use of sites like Local Bitcoins, Paxful or Bisq to trade it with others, as indicated by the trading volumes on these platforms.
Source. coins.dance
Source. coin.dance
This serves to prove that no government holds the power of truly ban Bitcoin unless they prohibit the usage of the internet for the entire nation.
Countries where Bitcoin is legal
On a positive note, research shows there are at least 111 states where Bitcoin and cryptocurrencies are recognized by law and are legal.
For instance, major countries like the United States and Canada hold a generally crypto-friendly attitude towards cryptocurrencies while also trying to enforce anti-money laundering laws and prevent fraud. Meanwhile, in the European Union, the member states are not allowed to launch their own cryptocurrency, but crypto exchanges are encouraged to be legalized and comply with the regulations.
As of January 2022, the most Bitcoin-friendly countries where BTC is legal are:
Antigua and Barbuda. A bill was passed to protect exchanges and crypto users. Bitcoin could become legal tender soon in the country as you can use Bitcoin to pay for citizenship.
Australia. Bitcoin and other cryptocurrencies have been legal in the country since 2017 and are subject to Capital Gains Tax.
Barbados. Cryptocurrencies operate legally in Barbados. Barbados has its own digital currency, DCash, that has been active since 2022.
Belgium. Cryptocurrencies are subject to a miscellaneous income tax. Crypto is not considered legal tender, even though it is recognized as a possible alternative to money.
Bulgaria. Licenses are not required to engage in crypto businesses, and they are treated as income from the sale of financial assets.
Cayman Islands. New laws have been passed regulating cryptocurrencies. They have favorable tax laws for businesses, including cryptocurrency businesses.
Chile. Cryptocurrencies are under the country's money policies. There are protections for cryptocurrency exchanges in Chile.
Croatia. There is a tax-free threshold of 3800 HRK and a capital gains tax of 12%-18%. The government warns of the high-risk nature of crypto.
Dominica. Planning to test out a cryptocurrency, DCash, crypto outlook is positive in the country. There was a project to hand out Bitcoin to the population, but it had been canceled.
Estonia. Crypto is considered virtual currency and has digital value as a payment method, although it is not considered legal tender.
Finland. Crypto is legal and regarded as a virtual currency. The Financial Supervisory Authority is the authority on virtual currencies.
Germany. Crypto assets are allowed to be bought, sold, and held as long as they are from a licensed institution.
Indonesia. Cryptocurrencies have been legal in Indonesia since 2019. It is regarded as a commodity when trading and not as a payment method.
Italy. Regarded as a virtual currency, cryptocurrencies are subject to corporate and personal income tax.
Ireland. Crypto is regarded as virtual currency and is taxed differently based on several scenarios.
Japan. Crypto assets are under the 'miscellaneous income' category.
Lithuania. Lithuania became one of the first countries to have a framework regarding cryptocurrencies and taxation, with earnings up to 2500 euros considered tax-free.
Malta. Malta is known for being the home to some of the biggest cryptocurrency exchanges like Binance and OKEx because of their open stance when it comes to crypto.
Mauritius. Their regulations are under the category of Digital Asset.
Marshall Islands. The SOV, or sovereign, is the legal currency of the Marshall Islands and it is powered by blockchain.
New Zealand. Cryptocurrencies are compared to gold and are subject to taxes.
Norway. Cryptocurrencies are considered assets and taxed.
The Philippines. Cryptocurrencies are in the security and investment contract categories and are subject to regulations by the SEC. Any financial services that are related to cryptocurrencies, like exchanges, are subject to the guidelines of the Philippines Central Bank.
Serbia. Crypto is regarded as a digital asset for taxes. Crypto services need a license.
South Korea. Crypto is legal and subject to anti-money laundering laws while being closely regulated by the government. Financial institutions are required to report cryptocurrency transactions.
Sweden. Trade in Bitcoin is regarded as a financial service. Gains are taxed as business income.
Switzerland. As early as 2017, crypto was being accepted as payment by the Commercial Register Office. Institutions need licenses in order to operate cryptocurrencies. There are extensive regulations implemented with a very positive outlook on crypto as a whole.
Ukraine. Crypto is classified as property in the country. It is the growing destination for several crypto businesses.
The United Kingdom. Exchanges need to fit certain FCA requirements. Bitcoin is private money.
The United Arab Emirates. Considered a crypto-friendly country, UAE has its own Emirates Blockchain Strategy 2022 to move a majority of its transactions to blockchain and becoming a government powered by blockchain.
The United States. Crypto is subject to tax laws in the United States. It is regulated if the sale of securities involves cryptocurrencies.
Uzbekistan. Crypto is now legal in the country. Income gained from cryptocurrencies is not taxed and exchanges need specific requirements and licensing to be in operation.
Venezuela. Having created its own petroleum-backed cryptocurrency in 2017, Venezuela seemed like a prime candidate for widespread crypto adoption. It was declared illegal in 2018 and efforts to make it legal again came about in January 2020. Mining, which had been illegal and those who did it were charged, have had their charges dismissed. Cryptocurrency activities are now legal in Venezuela.
Countries Where Bitcoin is Official Legal Tender
El Salvador. This is the only country so far that recognizes Bitcoin as legal tender. Before this action, it was recognized as the risk of the investor. Bitcoin investors should rejoice. Bitcoin as legal tender in any country is a huge event, one that deserves all the press it has been getting. El Salvador's move could be a notable precedent in history if more and more countries begin to adopt Bitcoin in the future.
Countries where Bitcoin is neither legal nor illegal
Some countries still haven't made their minds what to do with Bitcoin. In such cases, the usage of BTC is legal in the sense that you can own it, but there are no clear rules or legal protection concerning its status. These countries are either already creating a legal framework for Bitcoin and cryptocurrencies, or have taken a wait-and-see approach.
These undecided countries include:
Albania. Warns citizens to use cryptocurrency responsibly.
Afghanistan. The Ministry of Health plans to use blockchain to identify fraud in medicine. Still, crypto's legal status is unclear.
Angola. There is no legislation on it.
Anguilla. They have policies regulating ICOs but make no mention of banning cryptocurrencies outright.
Argentina. Specified that their Central Bank is the only one that can issue legal currency and emphasizes that citizens treat crypto responsibly.
Belize. Belize has no crypto regulations to this date.
The British Virgin Islands. They have been regarded as ICO-friendly but nothing official on cryptocurrencies is available. The government is on standby with cryptocurrency policies, wanting to see how the crypto scene plays out first before further action.
Brunei. There is an emphasis on cryptocurrency not being legal tender. The government urges caution.
Cambodia. Although the government is developing its own currency backed by blockchain, cryptocurrencies are still a gray area legally, with the government warning of the potential risks involved with cryptocurrencies.
Costa Rica. Cryptocurrencies are emphasized as the individual's risk and responsibility and are not recognized as legal tender.
Cuba. There is no overarching framework to operate crypto under the government. An exchange, however, has still propped up with no domestic backlash.
Guatemala. Citizens are warned about the decentralized nature of cryptocurrency. It is not recognized as domestic or foreign tender.
Haiti. No framework is given for crypto to operate on.
India. Although there was a fear of a ban earlier in 2021, the government is going to create a board that will decide how to handle cryptocurrency.
Honduras. Bitcoin and other cryptocurrencies are not backed by the country's Central Bank. The individual is solely responsible for the risks.
Kenya. The government has issued warnings of crypto's volatile nature, lack of regulation, and susceptibility to criminal activity and urges caution to the citizens who want to engage in it.
Jamaica. The government urges caution when handling crypto.
Latvia. Although crypto is subject to personal and corporate income tax, cryptocurrencies are still in a gray area legally in Latvia.
Lesotho. Discouraging cryptocurrency practices, Lesotho does not allow the operation of cryptocurrencies that are unlicensed.
Macau. The Monetary Authority of Macau discourages cryptocurrency participation.
Malaysia. Bitcoin and other cryptocurrencies are not legal tender and the Malaysian government advises citizens to use them with caution. Using Bitcoin and cryptocurrency with transparency is heavily emphasized.
Mexico. There is an emphasis for financial institutions to relay the risk of cryptocurrencies to citizens. It is not backed by the Central Bank and is not considered legal currency.
Moldova. The National Bank of Moldova suggests treading cautiously.
Montenegro. Crypto is regarded as an individual's risk. Given their desire to join the European Union and use the euro as legal tender, the government is treading cautiously with crypto.
Pakistan. Although investigating cryptocurrencies for the potential for tax evasion and money laundering, Bitcoin and other cryptocurrencies are not recognized.
Tajikistan. Although the Central Bank wants to make its own digital currency, it is one of the least cyber-secure places in the world, making crypto operate through means that are neither legal nor illegal.
Tanzania. The Tanzanian shilling is the only one that is described as legal tender, and crypto is legal but discouraged.
Samoa. Crypto is not considered legal tender and is discouraged by the Central Bank for now because of its risky and speculative nature. Anyone wanting to conduct business with cryptocurrencies needs a business license. The Central Bank acknowledges the potential of blockchain.
Zimbabwe. Cryptocurrencies are unregulated, but the government cautions individuals about their use, citing its possibilities of terrorism financing and fraud.
Fears of widespread cryptocurrency crackdowns have had a long-standing effect on Bitcoin.
Because of that, many people are still wary of trustless systems and rely on traditional banks instead.
Regardless, a growing number of governments choose to embrace digital innovation and play a role in the industry. At the same time jurisdictions which oppose the emerging industry are at risk of being left behind. Ironically, these countries already are some of the poorest nations in the world, and widespread Bitcoin and cryptocurrency crackdowns seem to yield no favorable results to improve the situation. Quite the contrary; embracing the cryptocurrency businesses with favorable regulations present an excellent opportunity to bring in innovation, capital, tax revenue and improve the living standard for the whole population.
You may also like to read: How to buy Bitcoin?