Who Are the Bitcoin Whales and What Are They Good For?
Not much is known about the Bitcoin whales. Sure, we know they're holders of large quantities of Bitcoin, but beyond a few names most of us are in the dark as to who exactly they are and what functions they have within the BTC ecosystem.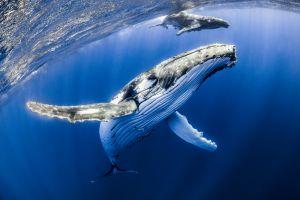 As reported in May, there is new information intriguing the cryptoverse as reportedly the Bitcoin whale called 'Loaded' has moved BTC 40.000 (which translated to USD 211.9 million at the time) crypto-wealth in a single transaction.
Well, aside from being public champions of Bitcoin and also investors in numerous crypto-related companies, October report from blockchain analysis firm Chainalysis shows that, contrary to perceptions of volatility and pump-and-dump manipulation, their main function within markets has been to drive the price of BTC upwards.
What is a Bitcoin whale?
While views on what qualifies someone as a "Bitcoin whale" vary, it would seem that it makes most sense to regard the top 100 wallets as whales, which would cover any wallet – not including exchange wallets – containing anything from BTC 10,000 to BTC 100,000.
The reason for this categorization – rather than, say, the top 1,000 wallets – can be outlined by data from BitInfoCharts. For instance, in the space of the two months between December 16 and February 26, the top 100 wallets, including those that belong to exchanges, saw their overall balance of BTC increase by 165,000.
By contrast, the top 100 to 1,000 wallets saw their balance decline by 132,000 over this period. As explained in further detail below, what this provides is further evidence of the whales' tendency to accumulate Bitcoin during bear markets, while smaller investors tend to sell off (and vice versa).
But who are the Bitcoin whales?
Forgetting the wallets that belong to exchanges, it's hard to pin down just who the 100 biggest BTC wallets belong to, given Bitcoin's pseudonymity.
However, thanks to media reports and personal admissions it is possible to provide the names of many of the individuals who belong in this list, even though it's not possible identify specific addresses. So here's a rundown of ten individuals and/or institutions likely to control some of the biggest 100 addresses:
Barry Silbert: the founder/CEO of Digital Currency Group. His cryptocurrency holdings were reportedly worth USD 500 million in January 2018.
Tim Draper: founder of Draper Associates, bought 29,656 Bitcoins in 2014, his holdings were worth USD 350 million to 500 million last year.
Michael Novogratz: founder and CEO of Galaxy Digital, has invested much of his personal fortune in Bitcoin and has holdings worth up to USD 1 billion (as of January 2018).
Tyler and Cameron Winklevoss: co-founders of the Gemini exchange. In 2013, the Winklevoss twins reportedly spent USD 11 million on Bitcoin, back when one BTC was worth around USD 120.
Blockchain Capital: a venture capital firm and investment fund, it has invested in Bitcoin as well as numerous crypto-related startups and other cryptocurrencies. Bitcoin 'bull' Spencer Bogart is one of three partners at the firm, as are W. Bradford Stephens and P. Bart Stephens.
Brock Pierce: co-founder of Blockchain Capital and Block.one. Although no longer with either company, Pierce has accumulated crypto worth up to USD 1 billion, and while this probably isn't all in Bitcoin, he did recently put down BTC worth USD 3 million as collateral in order to purchase a mansion in Amsterdam.
Matthew Roszak: the founder of investment fund Tally Capital, Roszak has holdings worth between USD 900 million and 1 billion (as of January 2018 prices).
Changpeng Zhao: CEO and founder of Binance, Zhao has according to Forbes amassed a fortune worth anything between USD 1.1 billion and 2 billion (at February 2018 prices), and while much of this is held in Binance Coin, it's likely that a significant portion of it is in Bitcoin.
Roger Ver: also known as "Bitcoin Jesus," Ver is now mostly associated with Bitcoin Cash. Still, Ver reportedly held around 400,000 Bitcoins in 2014, and while he has possibly sold most of this stash, he reveals in a recent video that he still holds "some."
Brian Armstrong: CEO and founder of Coinbase. As of January 2018, Armstrong had cryptocurrency holdings worth up to USD 1 billion.
Other likely Bitcoin whales: Valery Vavilov (Bitfury co-founder); Anthony Gallippi and Stephen Pair (BitPay co-founders); Gavin Andresen (former lead Bitcoin developer); Dan Morehead (Pantera Capital co-founder/CEO); Anthony Di Iorio (early Bitcoin investor); JL van der Velde and Giancarlo Devasini (Bitfinex/Tether CEO and CFO); Peter Thiel (Partner, Founders Fund); Bill Shihara (Bittrex CEO); Song Chi-Hyung (Upbit CEO).
Positive influence
The above list certainly isn't exhaustive, but it's possible to infer the identity of other Bitcoin whales by simply looking into who was an early BTC investor or miner, or into who founded a successful crypto-exchange, business or investment fund. In other words, the Bitcoin whales are pretty much all entrepreneurs who were quick to notice that Bitcoin offered them a massive opportunity to make lots of money.
But while this profit-seeking behavior might suggest that Bitcoin whales are responsible for much of the volatility the market experiences, research suggests that their influence on the market is more positive than negative.
The report from Chainalysis, for instance, revealed that the 32 largest bitcoin wallets "traded against the herd, buying on price declines." In fact, a 2017 research paper found that, even as far back as 2011, the largest traders were responsible more for upward movements in Bitcoin's price, rather than declines.
All of which suggests that, even if Bitcoin whales arguably have too much power over the market, they've long been pushing to make this market a success.
---