Victories, Opportunities and 20 Crypto Jokes
Let's see what crypto was up to this week. Major victories have been won: South Korean National Assembly voted in favor of the country's first cryptocurrency-specific legislation, and India's crypto ban got overruled, though the fight is not over. Bitcoin may be too young to be predictable, but it comes with a major advantage; also, Bitcoin-powered alternative to 5 peso note was issued in Argentina. Developers and dapps started leaving the Steem ecosystem following Tron's and Steem's hard fork decision, Binance halted trading again, Ripple's CEO said the company would be unprofitable without XRP, and Ripple-friendly SBI chief is in talks about launching an STO exchange. Meanwhile, Coinbase has become a second-tier member of JVCEA, while its CEO isn't sure Bitcoin will win crypto adoption race, and Facebook's Libra could become a multi-coin payments network.
In the meantime, investors sued Canaan, a well-functioning government might make private cryptos obsolete, and crypto custody could help keep South Korea's biggest exchanges afloat. While Xiaomi set up a joint venture to focus on new business areas, including blockchain, HTC announced the release of the Exodus 5G Hub, and Beijing started piloting blockchain-based electronic invoicing. We learned that in some regions, over 50% of the population are unbanked, presenting huge opportunities for crypto, and we looked into the importance of the new protocol by EY, ConsenSys, and Microsoft for Ethereum, and into Google possibly purging its app marketplace of crypto media sites.
Victories and opportunities done. Joke time!
__________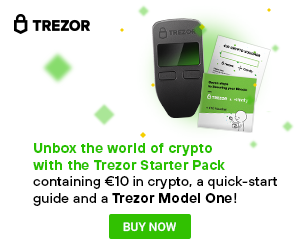 In celebration of the above-mentioned victories.
CRYPTO TWITTER (1) - INDIA (0) pic.twitter.com/MLOMQNB0TI

— TEDDY (₿) (@TeddyCleps) March 4, 2020
__
Crypto slam occasionally haiku night! 👏 👏 👏 👏
He who chases green
Gets rekt every Time
Only noobs FOMO

-Crypto Haiku#Bitcoin #btc #Crypto pic.twitter.com/7jpzYit01C

— ✧🎱 ጠዐጋዐ ƈཞყ℘ɬዐ 🎱✧ (@Mojo_Crypto_BTC) March 2, 2020
__
We're all playing the crypto variation of the cat and mouse game, called 'hit and miss'.
Its going up really high, I'm gonna wait for the pullback to buy tho.

*Pullback happens*

Oh, its definitely going lower, I'm going to wait

— Jeremy Ross (@jebus911) March 4, 2020
__
It's a weird game. It depend on what side of 'buying' you are at any given moment.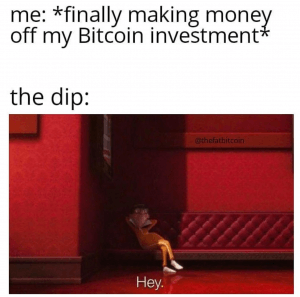 __
No such thing as 'too soon.'
She's the diplomatic one 👀 #steem pic.twitter.com/gNE9pDFQBV

— Finally Friday 💫 (@Crypto_Fridays) March 3, 2020
__
The previous comment is still valid.
how Proof of Stake works in Steem pic.twitter.com/9DkNteCdKV

— David Gerard (@davidgerard) March 4, 2020
__
What I'm worried about is that I can see the teeth of only three of these people.
Dentacoin advertises itself as "The Bitcoin of Dentistry" 😂😂😂 #scam pic.twitter.com/hjLnw8gnJB

— Bitcoin Meme Hub 🔞 (@BitcoinMemeHub) February 27, 2020
__
Ever wondered how BTC maximalists imagine themselves?
- Von welcher Altcoin Granate wurdest du getroffen?
- Welcher Altcoin hat dich am hartesten getroffen?

Newbies sind wie Kinder - sie hören nicht auf dich und dann werden sie von einem Altcoin weggeklatscht und sagen dann, Krypto ist für nichts.😂🤣 pic.twitter.com/LD6bhvusLl

— Ewald Serafini (@cryptofit_76) February 28, 2020
__
Wow, a book with an actual, practical solution!
.@PeterSchiff's book really did have the answer to "how to save yourself and your country"

and yes, we use a @COLDCARDwallet pic.twitter.com/axAeI5bpek

— Blockplate BUDDY (@blockplate) February 25, 2020
__
Well, look, it's…efficient.
Shorting bitcoin in 2020 pic.twitter.com/fqv8sG1P0g

— CryptoComics (@bitcoincomics) February 14, 2020
__
Should I give up
Or should I just keep chasing bankers?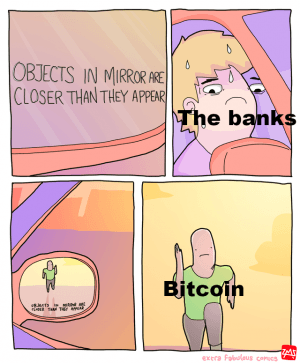 __
Shady things.
When someone is shilling their technical analysis in the replies of a big account pic.twitter.com/m9uIXQ9fAc

— Coinpocαlypse 🤖 (@coinpocalypse) March 5, 2020
__
Keep a mirror by your computer/phone, just in case you forget.
When you finally catch the person responsible for all your bad #crypto trades. pic.twitter.com/Ixxx8GCkra

— Bagsy (@imBagsy) March 3, 2020
__
The governmental view.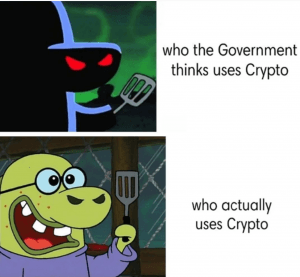 __
We're all culturebuilders.
__
So thoroughly scraped.
A tragic wife laptop cleaning accident is more believable than any boating accident. A solid upgrade for IRSopsec! @fluffypony https://t.co/KHce6c0W0X

— Panic! (@panicfomo) March 5, 2020
__
"Mastering Bitcoin" Part 9000
__
What have Coronavirus and Bitcoin in common? "The virus is spreading!"
A series:
1. RI₿
This dude just sneezed on my neck while we were in line a the grocery store. RIP me, who wants my bitcoin so it doesn't go to waste

— Charles (@CryptoCharles__)
2. Our future is safe!
Not sure why CT is worried about the virus when most of you are already isolated in moms basement.

— fil₿fil₿ (@filbfilb)
3. BTC supply might decrease by 43%. Bullish!
Would you purposely get the #CoronaVirus for 1 full #Bitcoin (?)

— TEDDY (₿) (@TeddyCleps) March 1, 2020