Unrealized Metaverse, Dogs, and 20 Crypto Jokes
It's time to wrap up yet another exciting week in crypto - and what a week it was! Crypto "dogs" have been entangled in a fierce fight which ignited yet another pump of other dog and cat-themed tokens, Shiba Inu fans could learn a lesson from Dogecoin, and Floki Inu ads flooded the city of London. As if that's not enough, someone conducted a fake half-billion CryptoPunk sale, and Facebook renamed itself to Meta after announcing its plans to conquer the metaverse.
Overleveraged crypto traders have not yet learned their lessons again and caused yet another half a billion liquidation spree but El Salvador's president Nayib Bukele has bought the dip and left his anti-BTC critics in silence. Meanwhile, ethereum (ETH) bounced back from the dip even stronger and even tested a new all-time high ahead of its Altair hard fork while Cream Finance (CREAM) suffered another exploit and lost USD 100 million.
Regulators continue to engulf the industry as Financial Action Task Force (FAFT) released its updated guidance and seems to have decentralized finance (DeFi) and non-fungible tokens (NFTs) in its crosshair. At the same time, the US Securities and Exchange Commission (SEC) is moving ahead with its stablecoin crackdown plan and US Commodity Futures Trading Commission (CFTC) is looking for a crypto regulatory role, too. Besides, the US Federal Deposit Insurance Corporation has joined the fun as well and is working on a roadmap for banks to engage with crypto assets as the country's top politicians are mulling a controversial unrealized gains tax. Other countries are not falling behind and are paving the way for "regulated" crypto innovation - Argentina's Futures Options Exchange and Australian Securities and Investments Commission have joined the crypto ETF rush. Still, they have lots of catching up to as Nigeria has launched its central bank digital currency - eNaira, and Mastercard sprints towards integrating global bitcoin payments to its network.
Yes, that's a lot to digest. Let's try that again but this time in memes.
___
The era of FAANG finally turned into…
Meanwhile, in crypto markets...
Sounds reasonable.
Never say inflation three times into the mirror…
Just another day in the office…
Finally a decent analysis…
Welcome to the Printaverse.
What a steal!
"I was just a businessman...doing business…"
Now we have the Byzantine Dog's problem.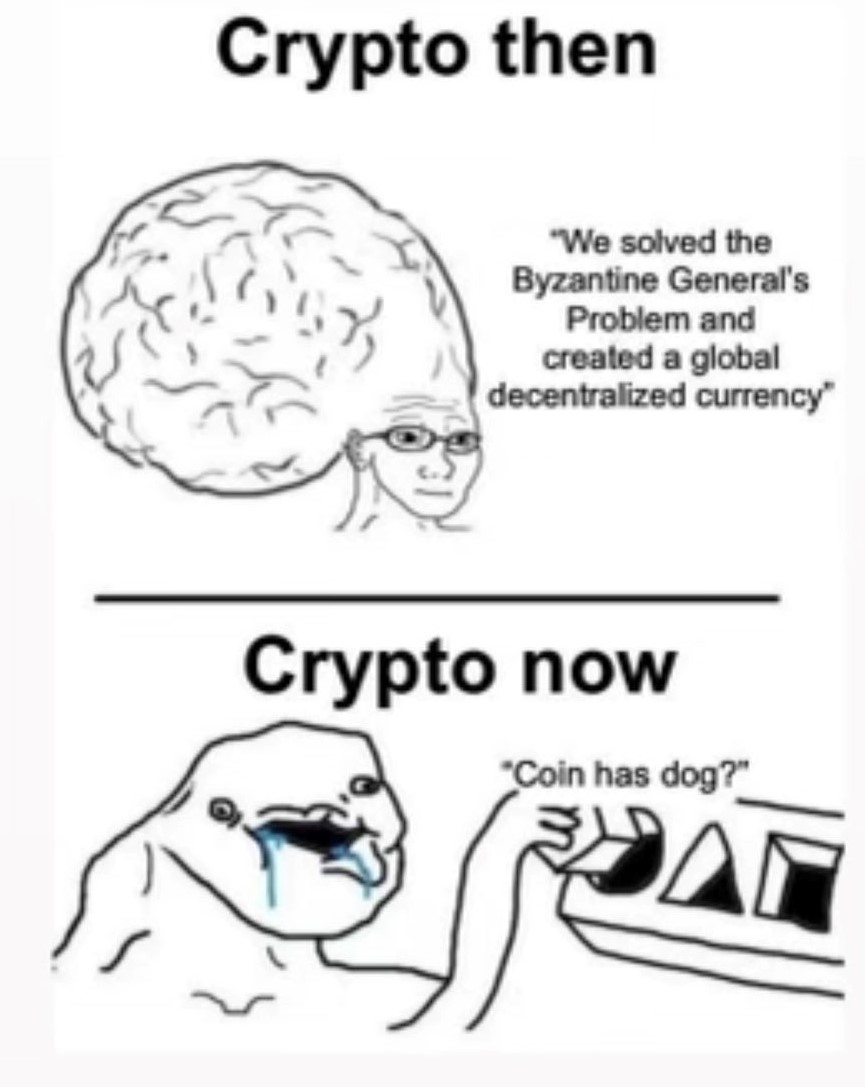 This is bullish.
Who needs intimacy when you have Ethereum.
Oops…
Their loss...I guess…
This is going to revolutionize the eye-ball economy.
Call your accountant now!
Meanwhile at the Bitcoin Twitter…
NFTs are the future of the future.
The crypto economy is backed by leveraged traders.
Self-made.
---